{"id":7738082099451,"title":"Knitted Sun-proof Shawl","handle":"knitted-sun-proof-shawl","description":"\u003ch4 style=\"text-align: center;\"\u003e\u003cstrong\u003e🌻🌼\u003c\/strong\u003e\u003c\/h4\u003e\n\u003ch4 style=\"text-align: center;\" data-mce-fragment=\"1\"\u003e\u003cspan style=\"color: #dc600c;\"\u003e\u003cstrong\u003eA beautiful shawl gives you a variety of matching possibilities, suitable for a variety of daily life occasions.\u003c\/strong\u003e\u003c\/span\u003e\u003c\/h4\u003e\n\u003cp\u003e\u003cspan style=\"color: #dc600c;\"\u003e\u003cstrong\u003e\u003cimg height=\"400\" width=\"400\" style=\"display: block; margin-left: auto; margin-right: auto;\" src=\"https:\/\/cdn.cloudfastin.top\/image\/2022\/05\/e4a1c2effee86f77ebd1a9ae1fffb898554042ed094e6201f6ca5cbe7b7aac74.gif\" alt=\"undefined\"\u003e\u003c\/strong\u003e\u003c\/span\u003e\u003c\/p\u003e\n\u003ch4 style=\"text-align: center;\" data-mce-fragment=\"1\"\u003e\u003cspan style=\"color: #9e972f;\"\u003e\u003cstrong\u003eSimple, fashionable, elegant shawls enhance those single clothes and leave a lasting memory. \u003c\/strong\u003e\u003c\/span\u003e\u003c\/h4\u003e\n\u003cdiv\u003e\u003cimg style=\"display: block; margin-left: auto; margin-right: auto;\" alt=\"undefined\" src=\"https:\/\/cdn.cloudfastin.top\/image\/2022\/05\/0bdb372d24ae1c97e75bec53ac82eb7a611ee70e7d3086408e792a1dd0999899.gif\" data-mce-fragment=\"1\" data-mce-src=\"https:\/\/cdn.cloudfastin.top\/image\/2022\/05\/0bdb372d24ae1c97e75bec53ac82eb7a611ee70e7d3086408e792a1dd0999899.gif\"\u003e\u003c\/div\u003e\n\u003ch3 data-mce-fragment=\"1\"\u003e\u003cspan style=\"color: #c7901e;\"\u003e\u003cstrong\u003eFEATURES\u003c\/strong\u003e\u003c\/span\u003e\u003c\/h3\u003e\n\u003cul\u003e\n\u003cli\u003e\u003cspan style=\"color: #f47c5a;\"\u003e\u003cstrong\u003e🌙 Fashion Item\u003c\/strong\u003e\u003c\/span\u003e\u003c\/li\u003e\n\u003c\/ul\u003e\n\u003cp style=\"padding-left: 30px;\" data-mce-fragment=\"1\"\u003e\u003cspan style=\"font-weight: 400;\" data-mce-fragment=\"1\" data-mce-style=\"font-weight: 400;\"\u003eHollow-out shawl can be matched with any clothes so that the whole outfit becomes more hierarchical and advanced. \u003c\/span\u003e\u003c\/p\u003e\n\u003cul\u003e\n\u003cli\u003e\u003cspan style=\"color: #f47c5a;\"\u003e\u003cstrong\u003e🌙 Sun-protection\u003c\/strong\u003e\u003c\/span\u003e\u003c\/li\u003e\n\u003c\/ul\u003e\n\u003cp style=\"padding-left: 30px;\" data-mce-fragment=\"1\"\u003e\u003cspan style=\"font-weight: 400;\" data-mce-fragment=\"1\" data-mce-style=\"font-weight: 400;\"\u003eIt is also sun-proof that protects your delicate skin. Soft and light polyester fabric is breathable and skin-friendly, making you cool and comfortable throughout the day.\u003c\/span\u003e\u003c\/p\u003e\n\u003cdiv\u003e\u003cimg height=\"399\" width=\"399\" style=\"display: block; margin-left: auto; margin-right: auto;\" alt=\"\" src=\"https:\/\/cdn.shopifycdn.net\/s\/files\/1\/0585\/1925\/7244\/products\/03_621a1aa5-a788-47c7-b4b1-ada930701dbc_480x480.jpg?v=1654587431\" data-mce-fragment=\"1\" data-mce-src=\"https:\/\/cdn.shopifycdn.net\/s\/files\/1\/0585\/1925\/7244\/products\/03_621a1aa5-a788-47c7-b4b1-ada930701dbc_480x480.jpg?v=1654587431\"\u003e\u003c\/div\u003e\n\u003cul\u003e\n\u003cli\u003e\u003cspan style=\"color: #f47c5a;\"\u003e\u003cstrong\u003e🌙 Elastic\u003c\/strong\u003e\u003c\/span\u003e\u003c\/li\u003e\n\u003c\/ul\u003e\n\u003cp style=\"padding-left: 30px;\" data-mce-fragment=\"1\"\u003e\u003cspan style=\"font-weight: 400;\" data-mce-fragment=\"1\" data-mce-style=\"font-weight: 400;\"\u003eKnit is stretchy and fits most body types, hiding the arm fat and making you look more classy. Pullover design, easy to wear.\u003c\/span\u003e\u003c\/p\u003e\n\u003cul\u003e\n\u003cli\u003e\u003cspan style=\"color: #f47c5a;\"\u003e\u003cstrong\u003e🌙 Occasions\u003c\/strong\u003e\u003c\/span\u003e\u003c\/li\u003e\n\u003c\/ul\u003e\n\u003cp style=\"padding-left: 30px;\" data-mce-fragment=\"1\"\u003e\u003cspan style=\"font-weight: 400;\" data-mce-fragment=\"1\" data-mce-style=\"font-weight: 400;\"\u003ePerfect for parties, dinners, dances, home, office, travel, etc.\u003c\/span\u003e\u003c\/p\u003e\n\u003cdiv\u003e\u003cimg height=\"400\" width=\"400\" style=\"display: block; margin-left: auto; margin-right: auto;\" alt=\"\" src=\"https:\/\/cdn.shopifycdn.net\/s\/files\/1\/0585\/1925\/7244\/products\/05_7254e7ff-ab4c-41a3-976a-3ae0aa52c7f5_480x480.jpg?v=1654587433\" data-mce-fragment=\"1\" data-mce-src=\"https:\/\/cdn.shopifycdn.net\/s\/files\/1\/0585\/1925\/7244\/products\/05_7254e7ff-ab4c-41a3-976a-3ae0aa52c7f5_480x480.jpg?v=1654587433\"\u003e\u003c\/div\u003e\n\u003cdiv\u003e\n\u003cul\u003e\n\u003cli\u003e\u003cspan style=\"color: #f47c5a;\"\u003e\u003cstrong\u003e🌙 Pearl Clips for Free\u003c\/strong\u003e\u003c\/span\u003e\u003c\/li\u003e\n\u003c\/ul\u003e\n\u003c\/div\u003e\n\u003cp style=\"padding-left: 30px;\"\u003eA gift of pearl clips (1pcs) can be worn with a shawl, dress, skirt, pants, shirt, etc. Must-have summer fashion items.\u003c\/p\u003e\n\u003cdiv\u003e\u003cimg alt=\"undefined\" src=\"https:\/\/cdn.cloudfastin.top\/image\/2022\/05\/2462eb0eba17a2a2c5f78c374d610ad25ed44c136123f15aa5c9c6b3c0177b70.jpeg\" style=\"display: block; margin-left: auto; margin-right: auto;\" width=\"400\" height=\"400\"\u003e\u003c\/div\u003e\n\u003ch3 data-mce-fragment=\"1\"\u003e\u003cspan style=\"color: #c7901e;\"\u003e\u003cstrong\u003eSPECIFICATIONS\u003c\/strong\u003e\u003c\/span\u003e\u003c\/h3\u003e\n\u003cul\u003e\n\u003cli\u003e\u003cspan style=\"font-weight: 400;\" data-mce-fragment=\"1\" data-mce-style=\"font-weight: 400;\"\u003e\u003cstrong\u003eMaterial\u003c\/strong\u003e: PolyesterFiber\u003c\/span\u003e\u003c\/li\u003e\n\u003cli\u003e\u003cspan style=\"font-weight: 400;\" data-mce-fragment=\"1\" data-mce-style=\"font-weight: 400;\"\u003e\u003cstrong\u003eSize\u003c\/strong\u003e: One size\u003c\/span\u003e\u003c\/li\u003e\n\u003cli\u003e\u003cspan style=\"font-weight: 400;\" data-mce-fragment=\"1\" data-mce-style=\"font-weight: 400;\"\u003e\u003cstrong\u003eWeight\u003c\/strong\u003e: 120g \/ 0.3lb\u003c\/span\u003e\u003c\/li\u003e\n\u003cli\u003e\u003cspan style=\"font-weight: 400;\" data-mce-fragment=\"1\" data-mce-style=\"font-weight: 400;\"\u003e\u003cstrong\u003eColor\u003c\/strong\u003e: Blue, Khaki, Black, White, Beige, Yellow\u003c\/span\u003e\u003c\/li\u003e\n\u003c\/ul\u003e\n\u003ch3 data-mce-fragment=\"1\"\u003e\u003cspan style=\"color: #c7901e;\"\u003e\u003cstrong\u003ePACKAGE INCLUDED\u003c\/strong\u003e\u003c\/span\u003e\u003c\/h3\u003e\n\u003cul\u003e\n\u003cli\u003e\u003cspan style=\"font-weight: 400;\" data-mce-fragment=\"1\" data-mce-style=\"font-weight: 400;\"\u003e1 × Knitted Sun-proof Shawl\u003c\/span\u003e\u003c\/li\u003e\n\u003c\/ul\u003e","published_at":"2022-06-14T20:38:00-10:00","created_at":"2022-06-14T20:38:03-10:00","vendor":"buttylife","type":"","tags":["clothing","clothing \u0026 accessories","women's clothing"],"price":1699,"price_min":1699,"price_max":1999,"available":true,"price_varies":true,"compare_at_price":3399,"compare_at_price_min":3399,"compare_at_price_max":3999,"compare_at_price_varies":true,"variants":[{"id":43159579459835,"title":"Blue \/ Knitted Sun-proof Shawl","option1":"Blue","option2":"Knitted Sun-proof Shawl","option3":null,"sku":"HT31833-C008","requires_shipping":true,"taxable":false,"featured_image":null,"available":true,"name":"Knitted Sun-proof Shawl - Blue \/ Knitted Sun-proof Shawl","public_title":"Blue \/ Knitted Sun-proof Shawl","options":["Blue","Knitted Sun-proof Shawl"],"price":1699,"weight":0,"compare_at_price":3399,"inventory_management":null,"barcode":null,"requires_selling_plan":false,"selling_plan_allocations":[]},{"id":43167347343611,"title":"Blue \/ Knitted Sun-proof Shawl+Gift Pearl Clips 1pcs","option1":"Blue","option2":"Knitted Sun-proof Shawl+Gift Pearl Clips 1pcs","option3":null,"sku":"HT31833-C008","requires_shipping":true,"taxable":false,"featured_image":null,"available":true,"name":"Knitted Sun-proof Shawl - Blue \/ Knitted Sun-proof Shawl+Gift Pearl Clips 1pcs","public_title":"Blue \/ Knitted Sun-proof Shawl+Gift Pearl Clips 1pcs","options":["Blue","Knitted Sun-proof Shawl+Gift Pearl Clips 1pcs"],"price":1999,"weight":0,"compare_at_price":3999,"inventory_management":null,"barcode":"","requires_selling_plan":false,"selling_plan_allocations":[]},{"id":43159579492603,"title":"Khaki \/ Knitted Sun-proof Shawl","option1":"Khaki","option2":"Knitted Sun-proof Shawl","option3":null,"sku":"HT31833-C011","requires_shipping":true,"taxable":false,"featured_image":null,"available":true,"name":"Knitted Sun-proof Shawl - Khaki \/ Knitted Sun-proof Shawl","public_title":"Khaki \/ Knitted Sun-proof Shawl","options":["Khaki","Knitted Sun-proof Shawl"],"price":1699,"weight":0,"compare_at_price":3399,"inventory_management":null,"barcode":null,"requires_selling_plan":false,"selling_plan_allocations":[]},{"id":43167347376379,"title":"Khaki \/ Knitted Sun-proof Shawl+Gift Pearl Clips 1pcs","option1":"Khaki","option2":"Knitted Sun-proof Shawl+Gift Pearl Clips 1pcs","option3":null,"sku":"HT31833-C008","requires_shipping":true,"taxable":false,"featured_image":null,"available":true,"name":"Knitted Sun-proof Shawl - Khaki \/ Knitted Sun-proof Shawl+Gift Pearl Clips 1pcs","public_title":"Khaki \/ Knitted Sun-proof Shawl+Gift Pearl Clips 1pcs","options":["Khaki","Knitted Sun-proof Shawl+Gift Pearl Clips 1pcs"],"price":1999,"weight":0,"compare_at_price":3999,"inventory_management":null,"barcode":"","requires_selling_plan":false,"selling_plan_allocations":[]},{"id":43159579525371,"title":"Black \/ Knitted Sun-proof Shawl","option1":"Black","option2":"Knitted Sun-proof Shawl","option3":null,"sku":"HT31833-C001","requires_shipping":true,"taxable":false,"featured_image":null,"available":true,"name":"Knitted Sun-proof Shawl - Black \/ Knitted Sun-proof Shawl","public_title":"Black \/ Knitted Sun-proof Shawl","options":["Black","Knitted Sun-proof Shawl"],"price":1699,"weight":0,"compare_at_price":3399,"inventory_management":null,"barcode":null,"requires_selling_plan":false,"selling_plan_allocations":[]},{"id":43167347409147,"title":"Black \/ Knitted Sun-proof Shawl+Gift Pearl Clips 1pcs","option1":"Black","option2":"Knitted Sun-proof Shawl+Gift Pearl Clips 1pcs","option3":null,"sku":"HT31833-C008","requires_shipping":true,"taxable":false,"featured_image":null,"available":true,"name":"Knitted Sun-proof Shawl - Black \/ Knitted Sun-proof Shawl+Gift Pearl Clips 1pcs","public_title":"Black \/ Knitted Sun-proof Shawl+Gift Pearl Clips 1pcs","options":["Black","Knitted Sun-proof Shawl+Gift Pearl Clips 1pcs"],"price":1999,"weight":0,"compare_at_price":3999,"inventory_management":null,"barcode":"","requires_selling_plan":false,"selling_plan_allocations":[]},{"id":43159579558139,"title":"White \/ Knitted Sun-proof Shawl","option1":"White","option2":"Knitted Sun-proof Shawl","option3":null,"sku":"HT31833-C005","requires_shipping":true,"taxable":false,"featured_image":null,"available":true,"name":"Knitted Sun-proof Shawl - White \/ Knitted Sun-proof Shawl","public_title":"White \/ Knitted Sun-proof Shawl","options":["White","Knitted Sun-proof Shawl"],"price":1699,"weight":0,"compare_at_price":3399,"inventory_management":null,"barcode":null,"requires_selling_plan":false,"selling_plan_allocations":[]},{"id":43167347441915,"title":"White \/ Knitted Sun-proof Shawl+Gift Pearl Clips 1pcs","option1":"White","option2":"Knitted Sun-proof Shawl+Gift Pearl Clips 1pcs","option3":null,"sku":"HT31833-C008","requires_shipping":true,"taxable":false,"featured_image":null,"available":true,"name":"Knitted Sun-proof Shawl - White \/ Knitted Sun-proof Shawl+Gift Pearl Clips 1pcs","public_title":"White \/ Knitted Sun-proof Shawl+Gift Pearl Clips 1pcs","options":["White","Knitted Sun-proof Shawl+Gift Pearl Clips 1pcs"],"price":1999,"weight":0,"compare_at_price":3999,"inventory_management":null,"barcode":"","requires_selling_plan":false,"selling_plan_allocations":[]},{"id":43159579590907,"title":"Beige \/ Knitted Sun-proof Shawl","option1":"Beige","option2":"Knitted Sun-proof Shawl","option3":null,"sku":"HT31833-C010","requires_shipping":true,"taxable":false,"featured_image":null,"available":true,"name":"Knitted Sun-proof Shawl - Beige \/ Knitted Sun-proof Shawl","public_title":"Beige \/ Knitted Sun-proof Shawl","options":["Beige","Knitted Sun-proof Shawl"],"price":1699,"weight":0,"compare_at_price":3399,"inventory_management":null,"barcode":null,"requires_selling_plan":false,"selling_plan_allocations":[]},{"id":43167347474683,"title":"Beige \/ Knitted Sun-proof Shawl+Gift Pearl Clips 1pcs","option1":"Beige","option2":"Knitted Sun-proof Shawl+Gift Pearl Clips 1pcs","option3":null,"sku":"HT31833-C010","requires_shipping":true,"taxable":false,"featured_image":null,"available":true,"name":"Knitted Sun-proof Shawl - Beige \/ Knitted Sun-proof Shawl+Gift Pearl Clips 1pcs","public_title":"Beige \/ Knitted Sun-proof Shawl+Gift Pearl Clips 1pcs","options":["Beige","Knitted Sun-proof Shawl+Gift Pearl Clips 1pcs"],"price":1999,"weight":0,"compare_at_price":3999,"inventory_management":null,"barcode":"","requires_selling_plan":false,"selling_plan_allocations":[]},{"id":43159579623675,"title":"Yellow \/ Knitted Sun-proof Shawl","option1":"Yellow","option2":"Knitted Sun-proof Shawl","option3":null,"sku":"HT31833-C140","requires_shipping":true,"taxable":false,"featured_image":null,"available":true,"name":"Knitted Sun-proof Shawl - Yellow \/ Knitted Sun-proof Shawl","public_title":"Yellow \/ Knitted Sun-proof Shawl","options":["Yellow","Knitted Sun-proof Shawl"],"price":1699,"weight":0,"compare_at_price":3399,"inventory_management":null,"barcode":null,"requires_selling_plan":false,"selling_plan_allocations":[]},{"id":43167347507451,"title":"Yellow \/ Knitted Sun-proof Shawl+Gift Pearl Clips 1pcs","option1":"Yellow","option2":"Knitted Sun-proof Shawl+Gift Pearl Clips 1pcs","option3":null,"sku":"HT31833-C140","requires_shipping":true,"taxable":false,"featured_image":null,"available":true,"name":"Knitted Sun-proof Shawl - Yellow \/ Knitted Sun-proof Shawl+Gift Pearl Clips 1pcs","public_title":"Yellow \/ Knitted Sun-proof Shawl+Gift Pearl Clips 1pcs","options":["Yellow","Knitted Sun-proof Shawl+Gift Pearl Clips 1pcs"],"price":1999,"weight":0,"compare_at_price":3999,"inventory_management":null,"barcode":"","requires_selling_plan":false,"selling_plan_allocations":[]}],"images":["\/\/www.buttylife.com\/cdn\/shop\/products\/f6e6e9bd25c344b5c1fd5e9c73a56039_7aedeae3-b2d5-4aa2-8b0c-4d870cc5288f.jpg?v=1655275083","\/\/www.buttylife.com\/cdn\/shop\/products\/000878ce6144c05ffac949f66b05a18b_bf9b8edd-fade-4e8f-a15f-649be8466797.jpg?v=1655275083","\/\/www.buttylife.com\/cdn\/shop\/products\/380f150dbe8f3bc026ebe92cc846a9a5_813e1254-2420-4ad5-ab9a-b7798a2cae3e.jpg?v=1655275083"],"featured_image":"\/\/www.buttylife.com\/cdn\/shop\/products\/f6e6e9bd25c344b5c1fd5e9c73a56039_7aedeae3-b2d5-4aa2-8b0c-4d870cc5288f.jpg?v=1655275083","options":["Color","Style"],"media":[{"alt":null,"id":30173719724283,"position":1,"preview_image":{"aspect_ratio":1.0,"height":800,"width":800,"src":"\/\/www.buttylife.com\/cdn\/shop\/products\/f6e6e9bd25c344b5c1fd5e9c73a56039_7aedeae3-b2d5-4aa2-8b0c-4d870cc5288f.jpg?v=1655275083"},"aspect_ratio":1.0,"height":800,"media_type":"image","src":"\/\/www.buttylife.com\/cdn\/shop\/products\/f6e6e9bd25c344b5c1fd5e9c73a56039_7aedeae3-b2d5-4aa2-8b0c-4d870cc5288f.jpg?v=1655275083","width":800},{"alt":null,"id":30173719757051,"position":2,"preview_image":{"aspect_ratio":1.0,"height":800,"width":800,"src":"\/\/www.buttylife.com\/cdn\/shop\/products\/000878ce6144c05ffac949f66b05a18b_bf9b8edd-fade-4e8f-a15f-649be8466797.jpg?v=1655275083"},"aspect_ratio":1.0,"height":800,"media_type":"image","src":"\/\/www.buttylife.com\/cdn\/shop\/products\/000878ce6144c05ffac949f66b05a18b_bf9b8edd-fade-4e8f-a15f-649be8466797.jpg?v=1655275083","width":800},{"alt":null,"id":30173719789819,"position":3,"preview_image":{"aspect_ratio":1.0,"height":800,"width":800,"src":"\/\/www.buttylife.com\/cdn\/shop\/products\/380f150dbe8f3bc026ebe92cc846a9a5_813e1254-2420-4ad5-ab9a-b7798a2cae3e.jpg?v=1655275083"},"aspect_ratio":1.0,"height":800,"media_type":"image","src":"\/\/www.buttylife.com\/cdn\/shop\/products\/380f150dbe8f3bc026ebe92cc846a9a5_813e1254-2420-4ad5-ab9a-b7798a2cae3e.jpg?v=1655275083","width":800}],"requires_selling_plan":false,"selling_plan_groups":[],"content":"\u003ch4 style=\"text-align: center;\"\u003e\u003cstrong\u003e🌻🌼\u003c\/strong\u003e\u003c\/h4\u003e\n\u003ch4 style=\"text-align: center;\" data-mce-fragment=\"1\"\u003e\u003cspan style=\"color: #dc600c;\"\u003e\u003cstrong\u003eA beautiful shawl gives you a variety of matching possibilities, suitable for a variety of daily life occasions.\u003c\/strong\u003e\u003c\/span\u003e\u003c\/h4\u003e\n\u003cp\u003e\u003cspan style=\"color: #dc600c;\"\u003e\u003cstrong\u003e\u003cimg height=\"400\" width=\"400\" style=\"display: block; margin-left: auto; margin-right: auto;\" src=\"https:\/\/cdn.cloudfastin.top\/image\/2022\/05\/e4a1c2effee86f77ebd1a9ae1fffb898554042ed094e6201f6ca5cbe7b7aac74.gif\" alt=\"undefined\"\u003e\u003c\/strong\u003e\u003c\/span\u003e\u003c\/p\u003e\n\u003ch4 style=\"text-align: center;\" data-mce-fragment=\"1\"\u003e\u003cspan style=\"color: #9e972f;\"\u003e\u003cstrong\u003eSimple, fashionable, elegant shawls enhance those single clothes and leave a lasting memory. \u003c\/strong\u003e\u003c\/span\u003e\u003c\/h4\u003e\n\u003cdiv\u003e\u003cimg style=\"display: block; margin-left: auto; margin-right: auto;\" alt=\"undefined\" src=\"https:\/\/cdn.cloudfastin.top\/image\/2022\/05\/0bdb372d24ae1c97e75bec53ac82eb7a611ee70e7d3086408e792a1dd0999899.gif\" data-mce-fragment=\"1\" data-mce-src=\"https:\/\/cdn.cloudfastin.top\/image\/2022\/05\/0bdb372d24ae1c97e75bec53ac82eb7a611ee70e7d3086408e792a1dd0999899.gif\"\u003e\u003c\/div\u003e\n\u003ch3 data-mce-fragment=\"1\"\u003e\u003cspan style=\"color: #c7901e;\"\u003e\u003cstrong\u003eFEATURES\u003c\/strong\u003e\u003c\/span\u003e\u003c\/h3\u003e\n\u003cul\u003e\n\u003cli\u003e\u003cspan style=\"color: #f47c5a;\"\u003e\u003cstrong\u003e🌙 Fashion Item\u003c\/strong\u003e\u003c\/span\u003e\u003c\/li\u003e\n\u003c\/ul\u003e\n\u003cp style=\"padding-left: 30px;\" data-mce-fragment=\"1\"\u003e\u003cspan style=\"font-weight: 400;\" data-mce-fragment=\"1\" data-mce-style=\"font-weight: 400;\"\u003eHollow-out shawl can be matched with any clothes so that the whole outfit becomes more hierarchical and advanced. \u003c\/span\u003e\u003c\/p\u003e\n\u003cul\u003e\n\u003cli\u003e\u003cspan style=\"color: #f47c5a;\"\u003e\u003cstrong\u003e🌙 Sun-protection\u003c\/strong\u003e\u003c\/span\u003e\u003c\/li\u003e\n\u003c\/ul\u003e\n\u003cp style=\"padding-left: 30px;\" data-mce-fragment=\"1\"\u003e\u003cspan style=\"font-weight: 400;\" data-mce-fragment=\"1\" data-mce-style=\"font-weight: 400;\"\u003eIt is also sun-proof that protects your delicate skin. Soft and light polyester fabric is breathable and skin-friendly, making you cool and comfortable throughout the day.\u003c\/span\u003e\u003c\/p\u003e\n\u003cdiv\u003e\u003cimg height=\"399\" width=\"399\" style=\"display: block; margin-left: auto; margin-right: auto;\" alt=\"\" src=\"https:\/\/cdn.shopifycdn.net\/s\/files\/1\/0585\/1925\/7244\/products\/03_621a1aa5-a788-47c7-b4b1-ada930701dbc_480x480.jpg?v=1654587431\" data-mce-fragment=\"1\" data-mce-src=\"https:\/\/cdn.shopifycdn.net\/s\/files\/1\/0585\/1925\/7244\/products\/03_621a1aa5-a788-47c7-b4b1-ada930701dbc_480x480.jpg?v=1654587431\"\u003e\u003c\/div\u003e\n\u003cul\u003e\n\u003cli\u003e\u003cspan style=\"color: #f47c5a;\"\u003e\u003cstrong\u003e🌙 Elastic\u003c\/strong\u003e\u003c\/span\u003e\u003c\/li\u003e\n\u003c\/ul\u003e\n\u003cp style=\"padding-left: 30px;\" data-mce-fragment=\"1\"\u003e\u003cspan style=\"font-weight: 400;\" data-mce-fragment=\"1\" data-mce-style=\"font-weight: 400;\"\u003eKnit is stretchy and fits most body types, hiding the arm fat and making you look more classy. Pullover design, easy to wear.\u003c\/span\u003e\u003c\/p\u003e\n\u003cul\u003e\n\u003cli\u003e\u003cspan style=\"color: #f47c5a;\"\u003e\u003cstrong\u003e🌙 Occasions\u003c\/strong\u003e\u003c\/span\u003e\u003c\/li\u003e\n\u003c\/ul\u003e\n\u003cp style=\"padding-left: 30px;\" data-mce-fragment=\"1\"\u003e\u003cspan style=\"font-weight: 400;\" data-mce-fragment=\"1\" data-mce-style=\"font-weight: 400;\"\u003ePerfect for parties, dinners, dances, home, office, travel, etc.\u003c\/span\u003e\u003c\/p\u003e\n\u003cdiv\u003e\u003cimg height=\"400\" width=\"400\" style=\"display: block; margin-left: auto; margin-right: auto;\" alt=\"\" src=\"https:\/\/cdn.shopifycdn.net\/s\/files\/1\/0585\/1925\/7244\/products\/05_7254e7ff-ab4c-41a3-976a-3ae0aa52c7f5_480x480.jpg?v=1654587433\" data-mce-fragment=\"1\" data-mce-src=\"https:\/\/cdn.shopifycdn.net\/s\/files\/1\/0585\/1925\/7244\/products\/05_7254e7ff-ab4c-41a3-976a-3ae0aa52c7f5_480x480.jpg?v=1654587433\"\u003e\u003c\/div\u003e\n\u003cdiv\u003e\n\u003cul\u003e\n\u003cli\u003e\u003cspan style=\"color: #f47c5a;\"\u003e\u003cstrong\u003e🌙 Pearl Clips for Free\u003c\/strong\u003e\u003c\/span\u003e\u003c\/li\u003e\n\u003c\/ul\u003e\n\u003c\/div\u003e\n\u003cp style=\"padding-left: 30px;\"\u003eA gift of pearl clips (1pcs) can be worn with a shawl, dress, skirt, pants, shirt, etc. Must-have summer fashion items.\u003c\/p\u003e\n\u003cdiv\u003e\u003cimg alt=\"undefined\" src=\"https:\/\/cdn.cloudfastin.top\/image\/2022\/05\/2462eb0eba17a2a2c5f78c374d610ad25ed44c136123f15aa5c9c6b3c0177b70.jpeg\" style=\"display: block; margin-left: auto; margin-right: auto;\" width=\"400\" height=\"400\"\u003e\u003c\/div\u003e\n\u003ch3 data-mce-fragment=\"1\"\u003e\u003cspan style=\"color: #c7901e;\"\u003e\u003cstrong\u003eSPECIFICATIONS\u003c\/strong\u003e\u003c\/span\u003e\u003c\/h3\u003e\n\u003cul\u003e\n\u003cli\u003e\u003cspan style=\"font-weight: 400;\" data-mce-fragment=\"1\" data-mce-style=\"font-weight: 400;\"\u003e\u003cstrong\u003eMaterial\u003c\/strong\u003e: PolyesterFiber\u003c\/span\u003e\u003c\/li\u003e\n\u003cli\u003e\u003cspan style=\"font-weight: 400;\" data-mce-fragment=\"1\" data-mce-style=\"font-weight: 400;\"\u003e\u003cstrong\u003eSize\u003c\/strong\u003e: One size\u003c\/span\u003e\u003c\/li\u003e\n\u003cli\u003e\u003cspan style=\"font-weight: 400;\" data-mce-fragment=\"1\" data-mce-style=\"font-weight: 400;\"\u003e\u003cstrong\u003eWeight\u003c\/strong\u003e: 120g \/ 0.3lb\u003c\/span\u003e\u003c\/li\u003e\n\u003cli\u003e\u003cspan style=\"font-weight: 400;\" data-mce-fragment=\"1\" data-mce-style=\"font-weight: 400;\"\u003e\u003cstrong\u003eColor\u003c\/strong\u003e: Blue, Khaki, Black, White, Beige, Yellow\u003c\/span\u003e\u003c\/li\u003e\n\u003c\/ul\u003e\n\u003ch3 data-mce-fragment=\"1\"\u003e\u003cspan style=\"color: #c7901e;\"\u003e\u003cstrong\u003ePACKAGE INCLUDED\u003c\/strong\u003e\u003c\/span\u003e\u003c\/h3\u003e\n\u003cul\u003e\n\u003cli\u003e\u003cspan style=\"font-weight: 400;\" data-mce-fragment=\"1\" data-mce-style=\"font-weight: 400;\"\u003e1 × Knitted Sun-proof Shawl\u003c\/span\u003e\u003c\/li\u003e\n\u003c\/ul\u003e"}
Knitted Sun-proof Shawl
Product Description
🌻🌼
A beautiful shawl gives you a variety of matching possibilities, suitable for a variety of daily life occasions.
Simple, fashionable, elegant shawls enhance those single clothes and leave a lasting memory.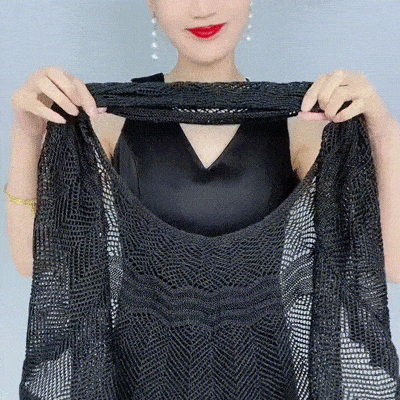 FEATURES
Hollow-out shawl can be matched with any clothes so that the whole outfit becomes more hierarchical and advanced. 
It is also sun-proof that protects your delicate skin. Soft and light polyester fabric is breathable and skin-friendly, making you cool and comfortable throughout the day.
Knit is stretchy and fits most body types, hiding the arm fat and making you look more classy. Pullover design, easy to wear.
Perfect for parties, dinners, dances, home, office, travel, etc.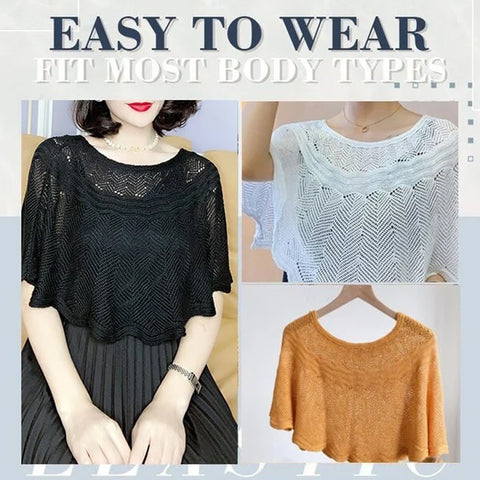 A gift of pearl clips (1pcs) can be worn with a shawl, dress, skirt, pants, shirt, etc. Must-have summer fashion items.
SPECIFICATIONS
Material: PolyesterFiber
Size: One size
Weight: 120g / 0.3lb
Color: Blue, Khaki, Black, White, Beige, Yellow
PACKAGE INCLUDED
1 × Knitted Sun-proof Shawl
people are currently looking at this product