{"id":7951281979643,"title":"Car Sensor Interior Led Light","handle":"car-sensor-interior-led-light","description":"\u003ch4 style=\"text-align: center;\"\u003e\u003cstrong\u003e🌃🌟\u003c\/strong\u003e\u003c\/h4\u003e\n\u003ch4 style=\"text-align: center;\" data-mce-fragment=\"1\"\u003e\u003cstrong\u003e\u003cspan style=\"color: #f9ac2b;\"\u003eWhether you're heading home from work or traveling long distances, turn on your car lights and turn on the music, \u003c\/span\u003e\u003cspan style=\"color: #2c8084;\"\u003elet them bring brightness and joy, and ease your fatigue.\u003c\/span\u003e\u003c\/strong\u003e\u003c\/h4\u003e\n\u003cdiv\u003e\u003cimg src=\"https:\/\/cdn.cloudfastin.top\/image\/2022\/04\/d494ac184dc90416f664d1213a91c0a11e0856fb3119047ffa5f9d844be89a17.gif\" alt=\"undefined\" style=\"display: block; margin-left: auto; margin-right: auto;\" data-mce-fragment=\"1\" data-mce-src=\"https:\/\/cdn.cloudfastin.top\/image\/2022\/04\/d494ac184dc90416f664d1213a91c0a11e0856fb3119047ffa5f9d844be89a17.gif\"\u003e\u003c\/div\u003e\n\u003ch3 data-mce-fragment=\"1\"\u003e\u003cspan style=\"color: #d23204;\"\u003e\u003cstrong\u003eFEATURES\u003c\/strong\u003e\u003c\/span\u003e\u003c\/h3\u003e\n\u003cul\u003e\n\u003cli\u003e\u003cspan style=\"color: #9c8b26;\"\u003e\u003cstrong\u003eOne Touch Light\u003c\/strong\u003e\u003c\/span\u003e\u003c\/li\u003e\n\u003c\/ul\u003e\n\u003cdiv style=\"padding-left: 30px;\" data-mce-fragment=\"1\"\u003e\u003cspan style=\"font-weight: 400;\" data-mce-fragment=\"1\" data-mce-style=\"font-weight: 400;\"\u003eTouch sensor switch design, one-click perspective lighting.\u003c\/span\u003e\u003c\/div\u003e\n\u003ch4 data-mce-fragment=\"1\"\u003e\u003cspan style=\"font-weight: 400;\" data-mce-fragment=\"1\" data-mce-style=\"font-weight: 400;\"\u003e\u003cimg alt=\"undefined\" src=\"https:\/\/cdn.cloudfastin.top\/image\/2022\/04\/e05b7f999a770ced89b7fcb218fd0db251c8ba4a77547256e1a705b2c18871e6.gif\" style=\"display: block; margin-left: auto; margin-right: auto;\" width=\"350\" height=\"350\"\u003e\u003c\/span\u003e\u003c\/h4\u003e\n\u003cul\u003e\n\u003cli\u003e\u003cspan style=\"color: #9c8b26;\"\u003e\u003cstrong\u003eOne Piece Design\u003c\/strong\u003e\u003c\/span\u003e\u003c\/li\u003e\n\u003c\/ul\u003e\n\u003cdiv style=\"padding-left: 30px;\" data-mce-fragment=\"1\"\u003e\u003cspan style=\"font-weight: 400;\" data-mce-fragment=\"1\" data-mce-style=\"font-weight: 400;\"\u003eIntegral lampshade design, strong sealing\/dustproof, scratch and abrasion resistance.\u003c\/span\u003e\u003c\/div\u003e\n\u003cul\u003e\n\u003cli\u003e\u003cspan style=\"color: #9c8b26;\"\u003e\u003cstrong\u003eLight Lighting\u003c\/strong\u003e\u003c\/span\u003e\u003c\/li\u003e\n\u003c\/ul\u003e\n\u003cdiv style=\"padding-left: 30px;\" data-mce-fragment=\"1\"\u003e\u003cspan style=\"font-weight: 400;\" data-mce-fragment=\"1\" data-mce-style=\"font-weight: 400;\"\u003eHigh brightness LED lamp beads, clear auxiliary lighting, objects easy to find. See through light through translucent cover, not dazzling or dazzling.\u003c\/span\u003e\u003c\/div\u003e\n\u003cdiv data-mce-fragment=\"1\"\u003e\u003cspan style=\"font-weight: 400;\" data-mce-fragment=\"1\" data-mce-style=\"font-weight: 400;\"\u003e\u003cimg alt=\"undefined\" src=\"https:\/\/cdn.cloudfastin.top\/image\/2022\/04\/1024f99a9024dd5ced0f8de36f3ebdc8c43d3cd067cbfad67d68e7b176f300e4.gif\" style=\"display: block; margin-left: auto; margin-right: auto;\"\u003e\u003c\/span\u003e\u003c\/div\u003e\n\u003cul\u003e\n\u003cli\u003e\u003cspan style=\"color: #9c8b26;\"\u003e\u003cstrong\u003e6 Bright LED Bulb Beads\u003c\/strong\u003e\u003c\/span\u003e\u003c\/li\u003e\n\u003c\/ul\u003e\n\u003cdiv style=\"padding-left: 30px;\" data-mce-fragment=\"1\"\u003e\u003cspan style=\"font-weight: 400;\" data-mce-fragment=\"1\" data-mce-style=\"font-weight: 400;\"\u003eBuilt-in spring switch, smart lighting, longer lifespan.\u003c\/span\u003e\u003c\/div\u003e\n\u003cul\u003e\n\u003cli\u003e\u003cspan style=\"color: #9c8b26;\"\u003e\u003cstrong\u003eSave Space\u003c\/strong\u003e\u003c\/span\u003e\u003c\/li\u003e\n\u003c\/ul\u003e\n\u003cdiv style=\"padding-left: 30px;\" data-mce-fragment=\"1\"\u003e\u003cspan style=\"font-weight: 400;\" data-mce-fragment=\"1\" data-mce-style=\"font-weight: 400;\"\u003eMini and compact design, installed inside the car, illuminating perspective, not taking up space, and not obsessive.\u003c\/span\u003e\u003c\/div\u003e\n\u003cdiv data-mce-fragment=\"1\"\u003e\u003cspan style=\"font-weight: 400;\" data-mce-fragment=\"1\" data-mce-style=\"font-weight: 400;\"\u003e\u003cimg alt=\"\" src=\"https:\/\/cdn.shopifycdn.net\/s\/files\/1\/0585\/1925\/7244\/files\/6_c0fbdad8-bb16-4bc1-acd7-46f59cb995a7_480x480.jpg?v=1650518219\" style=\"display: block; margin-left: auto; margin-right: auto;\"\u003e\u003c\/span\u003e\u003c\/div\u003e\n\u003cul\u003e\n\u003cli\u003e\u003cspan style=\"color: #9c8b26;\"\u003e\u003cstrong\u003eEasy To Install\u003c\/strong\u003e\u003c\/span\u003e\u003c\/li\u003e\n\u003c\/ul\u003e\n\u003cp style=\"padding-left: 30px;\" data-mce-fragment=\"1\"\u003e\u003cspan style=\"font-weight: 400;\" data-mce-fragment=\"1\" data-mce-style=\"font-weight: 400;\"\u003eThe magnetic type is attracted by the magnetic absorption of the double-sided tape attachment, and the Velcro type is attracted by the Velcro with adhesive backing. Easy to install, can be installed in dark places, such as storage boxes, armrest boxes, doors, seat corners, etc.\u003c\/span\u003e\u003c\/p\u003e\n\u003ch3 data-mce-fragment=\"1\"\u003e\u003cspan style=\"color: #d23204;\"\u003e\u003cstrong\u003eSPECIFICATIONS\u003c\/strong\u003e\u003c\/span\u003e\u003c\/h3\u003e\n\u003cul\u003e\n\u003cli\u003e\u003cspan style=\"font-weight: 400;\"\u003e\u003cstrong\u003eMaterials\u003c\/strong\u003e: ABS\u003c\/span\u003e\u003c\/li\u003e\n\u003cli\u003e\u003cspan style=\"font-weight: 400;\"\u003e\u003cstrong\u003eBattery life cycle rechargeable\u003c\/strong\u003e: more than 500 times\u003c\/span\u003e\u003c\/li\u003e\n\u003cli\u003e\u003cspan style=\"font-weight: 400;\"\u003e\u003cstrong\u003eInput voltage\u003c\/strong\u003e: 5V\u003c\/span\u003e\u003c\/li\u003e\n\u003cli\u003e\u003cspan style=\"font-weight: 400;\"\u003e\u003cstrong\u003eStyle\u003c\/strong\u003e: Magnetic, Velcro\u003c\/span\u003e\u003c\/li\u003e\n\u003cli\u003e\u003cspan style=\"font-weight: 400;\"\u003e\u003cstrong\u003eLighting\u003c\/strong\u003e: White\/Ice Blue\/Blue\/Purple Pink\/Colorful\u003c\/span\u003e\u003c\/li\u003e\n\u003cli\u003e\u003cspan style=\"font-weight: 400;\"\u003e\u003cstrong\u003eBattery capacity\u003c\/strong\u003e: 120mA\/h\u003c\/span\u003e\u003c\/li\u003e\n\u003cli\u003e\u003cspan style=\"font-weight: 400;\"\u003e\u003cstrong\u003eNumber of lamp beads\u003c\/strong\u003e: high-brightness LED lamp beads * 6\u003c\/span\u003e\u003c\/li\u003e\n\u003cli\u003e\u003cspan style=\"font-weight: 400;\"\u003e\u003cstrong\u003eLighting time about\u003c\/strong\u003e: 2h\u003c\/span\u003e\u003c\/li\u003e\n\u003cli\u003e\u003cspan style=\"font-weight: 400;\"\u003e\u003cstrong\u003eCharging time about\u003c\/strong\u003e: 40min\u003c\/span\u003e\u003c\/li\u003e\n\u003cli\u003e\u003cspan style=\"font-weight: 400;\"\u003e\u003cstrong\u003eWeight\u003c\/strong\u003e: 50g \/ 0.11lb\u003c\/span\u003e\u003c\/li\u003e\n\u003cli\u003e\u003cspan style=\"font-weight: 400;\"\u003e\u003cstrong\u003eSize\u003c\/strong\u003e: 5.3*2.7cm \/ 2.1*1.1in\u003c\/span\u003e\u003c\/li\u003e\n\u003c\/ul\u003e\n\u003ch3 data-mce-fragment=\"1\"\u003e\u003cspan style=\"color: #d23204;\"\u003e\u003cstrong\u003ePACKAGE INCLUDES\u003c\/strong\u003e\u003c\/span\u003e\u003c\/h3\u003e\n\u003cul\u003e\n\u003cli\u003e\u003cspan style=\"font-weight: 400;\" data-mce-fragment=\"1\" data-mce-style=\"font-weight: 400;\"\u003e1\/3\/5 × Car Sensor Interior Led Light\u003c\/span\u003e\u003c\/li\u003e\n\u003c\/ul\u003e","published_at":"2022-10-23T23:19:11-10:00","created_at":"2022-10-23T23:19:21-10:00","vendor":"buttylife","type":"","tags":["car accessories"],"price":899,"price_min":899,"price_max":2999,"available":true,"price_varies":true,"compare_at_price":1799,"compare_at_price_min":1799,"compare_at_price_max":5999,"compare_at_price_varies":true,"variants":[{"id":43954294423803,"title":"White \/ Magnetic \/ 1 PC","option1":"White","option2":"Magnetic","option3":"1 PC","sku":"CP29793-C005-X23763","requires_shipping":true,"taxable":false,"featured_image":{"id":38514695766267,"product_id":7951281979643,"position":12,"created_at":"2022-10-23T23:19:30-10:00","updated_at":"2022-10-23T23:19:30-10:00","alt":null,"width":800,"height":800,"src":"https:\/\/cdn.shopify.com\/s\/files\/1\/0584\/7760\/9115\/products\/sku1_3dea2701-d955-459f-997c-6d0b217344df.jpg?v=1666603170","variant_ids":[43954294423803,43954294456571,43954294489339,43954294653179,43954294718715,43954294784251,43954295046395,43954295111931,43954295210235,43954295472379,43954295537915,43954295603451,43954295865595,43954295931131,43954295996667]},"available":true,"name":"Car Sensor Interior Led Light - White \/ Magnetic \/ 1 PC","public_title":"White \/ Magnetic \/ 1 PC","options":["White","Magnetic","1 PC"],"price":899,"weight":0,"compare_at_price":1799,"inventory_management":null,"barcode":null,"featured_media":{"alt":null,"id":31098749419771,"position":12,"preview_image":{"aspect_ratio":1.0,"height":800,"width":800,"src":"https:\/\/cdn.shopify.com\/s\/files\/1\/0584\/7760\/9115\/products\/sku1_3dea2701-d955-459f-997c-6d0b217344df.jpg?v=1666603170"}},"requires_selling_plan":false,"selling_plan_allocations":[],"quantity_rule":{"min":1,"max":null,"increment":1}},{"id":43954294456571,"title":"White \/ Magnetic \/ 3 PCS","option1":"White","option2":"Magnetic","option3":"3 PCS","sku":"CP29793-Z04732","requires_shipping":true,"taxable":false,"featured_image":{"id":38514695766267,"product_id":7951281979643,"position":12,"created_at":"2022-10-23T23:19:30-10:00","updated_at":"2022-10-23T23:19:30-10:00","alt":null,"width":800,"height":800,"src":"https:\/\/cdn.shopify.com\/s\/files\/1\/0584\/7760\/9115\/products\/sku1_3dea2701-d955-459f-997c-6d0b217344df.jpg?v=1666603170","variant_ids":[43954294423803,43954294456571,43954294489339,43954294653179,43954294718715,43954294784251,43954295046395,43954295111931,43954295210235,43954295472379,43954295537915,43954295603451,43954295865595,43954295931131,43954295996667]},"available":true,"name":"Car Sensor Interior Led Light - White \/ Magnetic \/ 3 PCS","public_title":"White \/ Magnetic \/ 3 PCS","options":["White","Magnetic","3 PCS"],"price":1999,"weight":0,"compare_at_price":3999,"inventory_management":null,"barcode":null,"featured_media":{"alt":null,"id":31098749419771,"position":12,"preview_image":{"aspect_ratio":1.0,"height":800,"width":800,"src":"https:\/\/cdn.shopify.com\/s\/files\/1\/0584\/7760\/9115\/products\/sku1_3dea2701-d955-459f-997c-6d0b217344df.jpg?v=1666603170"}},"requires_selling_plan":false,"selling_plan_allocations":[],"quantity_rule":{"min":1,"max":null,"increment":1}},{"id":43954294489339,"title":"White \/ Magnetic \/ 5 PCS","option1":"White","option2":"Magnetic","option3":"5 PCS","sku":"CP29793-Z04742","requires_shipping":true,"taxable":false,"featured_image":{"id":38514695766267,"product_id":7951281979643,"position":12,"created_at":"2022-10-23T23:19:30-10:00","updated_at":"2022-10-23T23:19:30-10:00","alt":null,"width":800,"height":800,"src":"https:\/\/cdn.shopify.com\/s\/files\/1\/0584\/7760\/9115\/products\/sku1_3dea2701-d955-459f-997c-6d0b217344df.jpg?v=1666603170","variant_ids":[43954294423803,43954294456571,43954294489339,43954294653179,43954294718715,43954294784251,43954295046395,43954295111931,43954295210235,43954295472379,43954295537915,43954295603451,43954295865595,43954295931131,43954295996667]},"available":true,"name":"Car Sensor Interior Led Light - White \/ Magnetic \/ 5 PCS","public_title":"White \/ Magnetic \/ 5 PCS","options":["White","Magnetic","5 PCS"],"price":2999,"weight":0,"compare_at_price":5999,"inventory_management":null,"barcode":null,"featured_media":{"alt":null,"id":31098749419771,"position":12,"preview_image":{"aspect_ratio":1.0,"height":800,"width":800,"src":"https:\/\/cdn.shopify.com\/s\/files\/1\/0584\/7760\/9115\/products\/sku1_3dea2701-d955-459f-997c-6d0b217344df.jpg?v=1666603170"}},"requires_selling_plan":false,"selling_plan_allocations":[],"quantity_rule":{"min":1,"max":null,"increment":1}},{"id":43954294522107,"title":"White \/ Velcro \/ 1 PC","option1":"White","option2":"Velcro","option3":"1 PC","sku":"CP29793-C005-X23764","requires_shipping":true,"taxable":false,"featured_image":{"id":38514695373051,"product_id":7951281979643,"position":11,"created_at":"2022-10-23T23:19:26-10:00","updated_at":"2022-10-23T23:19:26-10:00","alt":null,"width":800,"height":800,"src":"https:\/\/cdn.shopify.com\/s\/files\/1\/0584\/7760\/9115\/products\/sku2_828ac336-012b-42ee-9739-d1b5f6e4a9e9.jpg?v=1666603166","variant_ids":[43954294522107,43954294554875,43954294587643,43954294849787,43954294915323,43954294980859,43954295275771,43954295341307,43954295406843,43954295668987,43954295734523,43954295800059,43954296062203,43954296127739,43954296193275]},"available":true,"name":"Car Sensor Interior Led Light - White \/ Velcro \/ 1 PC","public_title":"White \/ Velcro \/ 1 PC","options":["White","Velcro","1 PC"],"price":899,"weight":0,"compare_at_price":1799,"inventory_management":null,"barcode":null,"featured_media":{"alt":null,"id":31098749026555,"position":11,"preview_image":{"aspect_ratio":1.0,"height":800,"width":800,"src":"https:\/\/cdn.shopify.com\/s\/files\/1\/0584\/7760\/9115\/products\/sku2_828ac336-012b-42ee-9739-d1b5f6e4a9e9.jpg?v=1666603166"}},"requires_selling_plan":false,"selling_plan_allocations":[],"quantity_rule":{"min":1,"max":null,"increment":1}},{"id":43954294554875,"title":"White \/ Velcro \/ 3 PCS","option1":"White","option2":"Velcro","option3":"3 PCS","sku":"CP29793-Z04733","requires_shipping":true,"taxable":false,"featured_image":{"id":38514695373051,"product_id":7951281979643,"position":11,"created_at":"2022-10-23T23:19:26-10:00","updated_at":"2022-10-23T23:19:26-10:00","alt":null,"width":800,"height":800,"src":"https:\/\/cdn.shopify.com\/s\/files\/1\/0584\/7760\/9115\/products\/sku2_828ac336-012b-42ee-9739-d1b5f6e4a9e9.jpg?v=1666603166","variant_ids":[43954294522107,43954294554875,43954294587643,43954294849787,43954294915323,43954294980859,43954295275771,43954295341307,43954295406843,43954295668987,43954295734523,43954295800059,43954296062203,43954296127739,43954296193275]},"available":true,"name":"Car Sensor Interior Led Light - White \/ Velcro \/ 3 PCS","public_title":"White \/ Velcro \/ 3 PCS","options":["White","Velcro","3 PCS"],"price":1999,"weight":0,"compare_at_price":3999,"inventory_management":null,"barcode":null,"featured_media":{"alt":null,"id":31098749026555,"position":11,"preview_image":{"aspect_ratio":1.0,"height":800,"width":800,"src":"https:\/\/cdn.shopify.com\/s\/files\/1\/0584\/7760\/9115\/products\/sku2_828ac336-012b-42ee-9739-d1b5f6e4a9e9.jpg?v=1666603166"}},"requires_selling_plan":false,"selling_plan_allocations":[],"quantity_rule":{"min":1,"max":null,"increment":1}},{"id":43954294587643,"title":"White \/ Velcro \/ 5 PCS","option1":"White","option2":"Velcro","option3":"5 PCS","sku":"CP29793-Z04743","requires_shipping":true,"taxable":false,"featured_image":{"id":38514695373051,"product_id":7951281979643,"position":11,"created_at":"2022-10-23T23:19:26-10:00","updated_at":"2022-10-23T23:19:26-10:00","alt":null,"width":800,"height":800,"src":"https:\/\/cdn.shopify.com\/s\/files\/1\/0584\/7760\/9115\/products\/sku2_828ac336-012b-42ee-9739-d1b5f6e4a9e9.jpg?v=1666603166","variant_ids":[43954294522107,43954294554875,43954294587643,43954294849787,43954294915323,43954294980859,43954295275771,43954295341307,43954295406843,43954295668987,43954295734523,43954295800059,43954296062203,43954296127739,43954296193275]},"available":true,"name":"Car Sensor Interior Led Light - White \/ Velcro \/ 5 PCS","public_title":"White \/ Velcro \/ 5 PCS","options":["White","Velcro","5 PCS"],"price":2999,"weight":0,"compare_at_price":5999,"inventory_management":null,"barcode":null,"featured_media":{"alt":null,"id":31098749026555,"position":11,"preview_image":{"aspect_ratio":1.0,"height":800,"width":800,"src":"https:\/\/cdn.shopify.com\/s\/files\/1\/0584\/7760\/9115\/products\/sku2_828ac336-012b-42ee-9739-d1b5f6e4a9e9.jpg?v=1666603166"}},"requires_selling_plan":false,"selling_plan_allocations":[],"quantity_rule":{"min":1,"max":null,"increment":1}},{"id":43954294653179,"title":"Purple Pink \/ Magnetic \/ 1 PC","option1":"Purple Pink","option2":"Magnetic","option3":"1 PC","sku":"CP29793-C670-X23763","requires_shipping":true,"taxable":false,"featured_image":{"id":38514695766267,"product_id":7951281979643,"position":12,"created_at":"2022-10-23T23:19:30-10:00","updated_at":"2022-10-23T23:19:30-10:00","alt":null,"width":800,"height":800,"src":"https:\/\/cdn.shopify.com\/s\/files\/1\/0584\/7760\/9115\/products\/sku1_3dea2701-d955-459f-997c-6d0b217344df.jpg?v=1666603170","variant_ids":[43954294423803,43954294456571,43954294489339,43954294653179,43954294718715,43954294784251,43954295046395,43954295111931,43954295210235,43954295472379,43954295537915,43954295603451,43954295865595,43954295931131,43954295996667]},"available":true,"name":"Car Sensor Interior Led Light - Purple Pink \/ Magnetic \/ 1 PC","public_title":"Purple Pink \/ Magnetic \/ 1 PC","options":["Purple Pink","Magnetic","1 PC"],"price":899,"weight":0,"compare_at_price":1799,"inventory_management":null,"barcode":null,"featured_media":{"alt":null,"id":31098749419771,"position":12,"preview_image":{"aspect_ratio":1.0,"height":800,"width":800,"src":"https:\/\/cdn.shopify.com\/s\/files\/1\/0584\/7760\/9115\/products\/sku1_3dea2701-d955-459f-997c-6d0b217344df.jpg?v=1666603170"}},"requires_selling_plan":false,"selling_plan_allocations":[],"quantity_rule":{"min":1,"max":null,"increment":1}},{"id":43954294718715,"title":"Purple Pink \/ Magnetic \/ 3 PCS","option1":"Purple Pink","option2":"Magnetic","option3":"3 PCS","sku":"CP29793-Z04734","requires_shipping":true,"taxable":false,"featured_image":{"id":38514695766267,"product_id":7951281979643,"position":12,"created_at":"2022-10-23T23:19:30-10:00","updated_at":"2022-10-23T23:19:30-10:00","alt":null,"width":800,"height":800,"src":"https:\/\/cdn.shopify.com\/s\/files\/1\/0584\/7760\/9115\/products\/sku1_3dea2701-d955-459f-997c-6d0b217344df.jpg?v=1666603170","variant_ids":[43954294423803,43954294456571,43954294489339,43954294653179,43954294718715,43954294784251,43954295046395,43954295111931,43954295210235,43954295472379,43954295537915,43954295603451,43954295865595,43954295931131,43954295996667]},"available":true,"name":"Car Sensor Interior Led Light - Purple Pink \/ Magnetic \/ 3 PCS","public_title":"Purple Pink \/ Magnetic \/ 3 PCS","options":["Purple Pink","Magnetic","3 PCS"],"price":1999,"weight":0,"compare_at_price":3999,"inventory_management":null,"barcode":null,"featured_media":{"alt":null,"id":31098749419771,"position":12,"preview_image":{"aspect_ratio":1.0,"height":800,"width":800,"src":"https:\/\/cdn.shopify.com\/s\/files\/1\/0584\/7760\/9115\/products\/sku1_3dea2701-d955-459f-997c-6d0b217344df.jpg?v=1666603170"}},"requires_selling_plan":false,"selling_plan_allocations":[],"quantity_rule":{"min":1,"max":null,"increment":1}},{"id":43954294784251,"title":"Purple Pink \/ Magnetic \/ 5 PCS","option1":"Purple Pink","option2":"Magnetic","option3":"5 PCS","sku":"CP29793-Z04744","requires_shipping":true,"taxable":false,"featured_image":{"id":38514695766267,"product_id":7951281979643,"position":12,"created_at":"2022-10-23T23:19:30-10:00","updated_at":"2022-10-23T23:19:30-10:00","alt":null,"width":800,"height":800,"src":"https:\/\/cdn.shopify.com\/s\/files\/1\/0584\/7760\/9115\/products\/sku1_3dea2701-d955-459f-997c-6d0b217344df.jpg?v=1666603170","variant_ids":[43954294423803,43954294456571,43954294489339,43954294653179,43954294718715,43954294784251,43954295046395,43954295111931,43954295210235,43954295472379,43954295537915,43954295603451,43954295865595,43954295931131,43954295996667]},"available":true,"name":"Car Sensor Interior Led Light - Purple Pink \/ Magnetic \/ 5 PCS","public_title":"Purple Pink \/ Magnetic \/ 5 PCS","options":["Purple Pink","Magnetic","5 PCS"],"price":2999,"weight":0,"compare_at_price":5999,"inventory_management":null,"barcode":null,"featured_media":{"alt":null,"id":31098749419771,"position":12,"preview_image":{"aspect_ratio":1.0,"height":800,"width":800,"src":"https:\/\/cdn.shopify.com\/s\/files\/1\/0584\/7760\/9115\/products\/sku1_3dea2701-d955-459f-997c-6d0b217344df.jpg?v=1666603170"}},"requires_selling_plan":false,"selling_plan_allocations":[],"quantity_rule":{"min":1,"max":null,"increment":1}},{"id":43954294849787,"title":"Purple Pink \/ Velcro \/ 1 PC","option1":"Purple Pink","option2":"Velcro","option3":"1 PC","sku":"CP29793-C670-X23764","requires_shipping":true,"taxable":false,"featured_image":{"id":38514695373051,"product_id":7951281979643,"position":11,"created_at":"2022-10-23T23:19:26-10:00","updated_at":"2022-10-23T23:19:26-10:00","alt":null,"width":800,"height":800,"src":"https:\/\/cdn.shopify.com\/s\/files\/1\/0584\/7760\/9115\/products\/sku2_828ac336-012b-42ee-9739-d1b5f6e4a9e9.jpg?v=1666603166","variant_ids":[43954294522107,43954294554875,43954294587643,43954294849787,43954294915323,43954294980859,43954295275771,43954295341307,43954295406843,43954295668987,43954295734523,43954295800059,43954296062203,43954296127739,43954296193275]},"available":true,"name":"Car Sensor Interior Led Light - Purple Pink \/ Velcro \/ 1 PC","public_title":"Purple Pink \/ Velcro \/ 1 PC","options":["Purple Pink","Velcro","1 PC"],"price":899,"weight":0,"compare_at_price":1799,"inventory_management":null,"barcode":null,"featured_media":{"alt":null,"id":31098749026555,"position":11,"preview_image":{"aspect_ratio":1.0,"height":800,"width":800,"src":"https:\/\/cdn.shopify.com\/s\/files\/1\/0584\/7760\/9115\/products\/sku2_828ac336-012b-42ee-9739-d1b5f6e4a9e9.jpg?v=1666603166"}},"requires_selling_plan":false,"selling_plan_allocations":[],"quantity_rule":{"min":1,"max":null,"increment":1}},{"id":43954294915323,"title":"Purple Pink \/ Velcro \/ 3 PCS","option1":"Purple Pink","option2":"Velcro","option3":"3 PCS","sku":"CP29793-Z04735","requires_shipping":true,"taxable":false,"featured_image":{"id":38514695373051,"product_id":7951281979643,"position":11,"created_at":"2022-10-23T23:19:26-10:00","updated_at":"2022-10-23T23:19:26-10:00","alt":null,"width":800,"height":800,"src":"https:\/\/cdn.shopify.com\/s\/files\/1\/0584\/7760\/9115\/products\/sku2_828ac336-012b-42ee-9739-d1b5f6e4a9e9.jpg?v=1666603166","variant_ids":[43954294522107,43954294554875,43954294587643,43954294849787,43954294915323,43954294980859,43954295275771,43954295341307,43954295406843,43954295668987,43954295734523,43954295800059,43954296062203,43954296127739,43954296193275]},"available":true,"name":"Car Sensor Interior Led Light - Purple Pink \/ Velcro \/ 3 PCS","public_title":"Purple Pink \/ Velcro \/ 3 PCS","options":["Purple Pink","Velcro","3 PCS"],"price":1999,"weight":0,"compare_at_price":3999,"inventory_management":null,"barcode":null,"featured_media":{"alt":null,"id":31098749026555,"position":11,"preview_image":{"aspect_ratio":1.0,"height":800,"width":800,"src":"https:\/\/cdn.shopify.com\/s\/files\/1\/0584\/7760\/9115\/products\/sku2_828ac336-012b-42ee-9739-d1b5f6e4a9e9.jpg?v=1666603166"}},"requires_selling_plan":false,"selling_plan_allocations":[],"quantity_rule":{"min":1,"max":null,"increment":1}},{"id":43954294980859,"title":"Purple Pink \/ Velcro \/ 5 PCS","option1":"Purple Pink","option2":"Velcro","option3":"5 PCS","sku":"CP29793-Z04745","requires_shipping":true,"taxable":false,"featured_image":{"id":38514695373051,"product_id":7951281979643,"position":11,"created_at":"2022-10-23T23:19:26-10:00","updated_at":"2022-10-23T23:19:26-10:00","alt":null,"width":800,"height":800,"src":"https:\/\/cdn.shopify.com\/s\/files\/1\/0584\/7760\/9115\/products\/sku2_828ac336-012b-42ee-9739-d1b5f6e4a9e9.jpg?v=1666603166","variant_ids":[43954294522107,43954294554875,43954294587643,43954294849787,43954294915323,43954294980859,43954295275771,43954295341307,43954295406843,43954295668987,43954295734523,43954295800059,43954296062203,43954296127739,43954296193275]},"available":true,"name":"Car Sensor Interior Led Light - Purple Pink \/ Velcro \/ 5 PCS","public_title":"Purple Pink \/ Velcro \/ 5 PCS","options":["Purple Pink","Velcro","5 PCS"],"price":2999,"weight":0,"compare_at_price":5999,"inventory_management":null,"barcode":null,"featured_media":{"alt":null,"id":31098749026555,"position":11,"preview_image":{"aspect_ratio":1.0,"height":800,"width":800,"src":"https:\/\/cdn.shopify.com\/s\/files\/1\/0584\/7760\/9115\/products\/sku2_828ac336-012b-42ee-9739-d1b5f6e4a9e9.jpg?v=1666603166"}},"requires_selling_plan":false,"selling_plan_allocations":[],"quantity_rule":{"min":1,"max":null,"increment":1}},{"id":43954295046395,"title":"Blue \/ Magnetic \/ 1 PC","option1":"Blue","option2":"Magnetic","option3":"1 PC","sku":"CP29793-C008-X23763","requires_shipping":true,"taxable":false,"featured_image":{"id":38514695766267,"product_id":7951281979643,"position":12,"created_at":"2022-10-23T23:19:30-10:00","updated_at":"2022-10-23T23:19:30-10:00","alt":null,"width":800,"height":800,"src":"https:\/\/cdn.shopify.com\/s\/files\/1\/0584\/7760\/9115\/products\/sku1_3dea2701-d955-459f-997c-6d0b217344df.jpg?v=1666603170","variant_ids":[43954294423803,43954294456571,43954294489339,43954294653179,43954294718715,43954294784251,43954295046395,43954295111931,43954295210235,43954295472379,43954295537915,43954295603451,43954295865595,43954295931131,43954295996667]},"available":true,"name":"Car Sensor Interior Led Light - Blue \/ Magnetic \/ 1 PC","public_title":"Blue \/ Magnetic \/ 1 PC","options":["Blue","Magnetic","1 PC"],"price":899,"weight":0,"compare_at_price":1799,"inventory_management":null,"barcode":null,"featured_media":{"alt":null,"id":31098749419771,"position":12,"preview_image":{"aspect_ratio":1.0,"height":800,"width":800,"src":"https:\/\/cdn.shopify.com\/s\/files\/1\/0584\/7760\/9115\/products\/sku1_3dea2701-d955-459f-997c-6d0b217344df.jpg?v=1666603170"}},"requires_selling_plan":false,"selling_plan_allocations":[],"quantity_rule":{"min":1,"max":null,"increment":1}},{"id":43954295111931,"title":"Blue \/ Magnetic \/ 3 PCS","option1":"Blue","option2":"Magnetic","option3":"3 PCS","sku":"CP29793-Z04736","requires_shipping":true,"taxable":false,"featured_image":{"id":38514695766267,"product_id":7951281979643,"position":12,"created_at":"2022-10-23T23:19:30-10:00","updated_at":"2022-10-23T23:19:30-10:00","alt":null,"width":800,"height":800,"src":"https:\/\/cdn.shopify.com\/s\/files\/1\/0584\/7760\/9115\/products\/sku1_3dea2701-d955-459f-997c-6d0b217344df.jpg?v=1666603170","variant_ids":[43954294423803,43954294456571,43954294489339,43954294653179,43954294718715,43954294784251,43954295046395,43954295111931,43954295210235,43954295472379,43954295537915,43954295603451,43954295865595,43954295931131,43954295996667]},"available":true,"name":"Car Sensor Interior Led Light - Blue \/ Magnetic \/ 3 PCS","public_title":"Blue \/ Magnetic \/ 3 PCS","options":["Blue","Magnetic","3 PCS"],"price":1999,"weight":0,"compare_at_price":3999,"inventory_management":null,"barcode":null,"featured_media":{"alt":null,"id":31098749419771,"position":12,"preview_image":{"aspect_ratio":1.0,"height":800,"width":800,"src":"https:\/\/cdn.shopify.com\/s\/files\/1\/0584\/7760\/9115\/products\/sku1_3dea2701-d955-459f-997c-6d0b217344df.jpg?v=1666603170"}},"requires_selling_plan":false,"selling_plan_allocations":[],"quantity_rule":{"min":1,"max":null,"increment":1}},{"id":43954295210235,"title":"Blue \/ Magnetic \/ 5 PCS","option1":"Blue","option2":"Magnetic","option3":"5 PCS","sku":"CP29793-Z04746","requires_shipping":true,"taxable":false,"featured_image":{"id":38514695766267,"product_id":7951281979643,"position":12,"created_at":"2022-10-23T23:19:30-10:00","updated_at":"2022-10-23T23:19:30-10:00","alt":null,"width":800,"height":800,"src":"https:\/\/cdn.shopify.com\/s\/files\/1\/0584\/7760\/9115\/products\/sku1_3dea2701-d955-459f-997c-6d0b217344df.jpg?v=1666603170","variant_ids":[43954294423803,43954294456571,43954294489339,43954294653179,43954294718715,43954294784251,43954295046395,43954295111931,43954295210235,43954295472379,43954295537915,43954295603451,43954295865595,43954295931131,43954295996667]},"available":true,"name":"Car Sensor Interior Led Light - Blue \/ Magnetic \/ 5 PCS","public_title":"Blue \/ Magnetic \/ 5 PCS","options":["Blue","Magnetic","5 PCS"],"price":2999,"weight":0,"compare_at_price":5999,"inventory_management":null,"barcode":null,"featured_media":{"alt":null,"id":31098749419771,"position":12,"preview_image":{"aspect_ratio":1.0,"height":800,"width":800,"src":"https:\/\/cdn.shopify.com\/s\/files\/1\/0584\/7760\/9115\/products\/sku1_3dea2701-d955-459f-997c-6d0b217344df.jpg?v=1666603170"}},"requires_selling_plan":false,"selling_plan_allocations":[],"quantity_rule":{"min":1,"max":null,"increment":1}},{"id":43954295275771,"title":"Blue \/ Velcro \/ 1 PC","option1":"Blue","option2":"Velcro","option3":"1 PC","sku":"CP29793-C008-X23764","requires_shipping":true,"taxable":false,"featured_image":{"id":38514695373051,"product_id":7951281979643,"position":11,"created_at":"2022-10-23T23:19:26-10:00","updated_at":"2022-10-23T23:19:26-10:00","alt":null,"width":800,"height":800,"src":"https:\/\/cdn.shopify.com\/s\/files\/1\/0584\/7760\/9115\/products\/sku2_828ac336-012b-42ee-9739-d1b5f6e4a9e9.jpg?v=1666603166","variant_ids":[43954294522107,43954294554875,43954294587643,43954294849787,43954294915323,43954294980859,43954295275771,43954295341307,43954295406843,43954295668987,43954295734523,43954295800059,43954296062203,43954296127739,43954296193275]},"available":true,"name":"Car Sensor Interior Led Light - Blue \/ Velcro \/ 1 PC","public_title":"Blue \/ Velcro \/ 1 PC","options":["Blue","Velcro","1 PC"],"price":899,"weight":0,"compare_at_price":1799,"inventory_management":null,"barcode":null,"featured_media":{"alt":null,"id":31098749026555,"position":11,"preview_image":{"aspect_ratio":1.0,"height":800,"width":800,"src":"https:\/\/cdn.shopify.com\/s\/files\/1\/0584\/7760\/9115\/products\/sku2_828ac336-012b-42ee-9739-d1b5f6e4a9e9.jpg?v=1666603166"}},"requires_selling_plan":false,"selling_plan_allocations":[],"quantity_rule":{"min":1,"max":null,"increment":1}},{"id":43954295341307,"title":"Blue \/ Velcro \/ 3 PCS","option1":"Blue","option2":"Velcro","option3":"3 PCS","sku":"CP29793-Z04737","requires_shipping":true,"taxable":false,"featured_image":{"id":38514695373051,"product_id":7951281979643,"position":11,"created_at":"2022-10-23T23:19:26-10:00","updated_at":"2022-10-23T23:19:26-10:00","alt":null,"width":800,"height":800,"src":"https:\/\/cdn.shopify.com\/s\/files\/1\/0584\/7760\/9115\/products\/sku2_828ac336-012b-42ee-9739-d1b5f6e4a9e9.jpg?v=1666603166","variant_ids":[43954294522107,43954294554875,43954294587643,43954294849787,43954294915323,43954294980859,43954295275771,43954295341307,43954295406843,43954295668987,43954295734523,43954295800059,43954296062203,43954296127739,43954296193275]},"available":true,"name":"Car Sensor Interior Led Light - Blue \/ Velcro \/ 3 PCS","public_title":"Blue \/ Velcro \/ 3 PCS","options":["Blue","Velcro","3 PCS"],"price":1999,"weight":0,"compare_at_price":3999,"inventory_management":null,"barcode":null,"featured_media":{"alt":null,"id":31098749026555,"position":11,"preview_image":{"aspect_ratio":1.0,"height":800,"width":800,"src":"https:\/\/cdn.shopify.com\/s\/files\/1\/0584\/7760\/9115\/products\/sku2_828ac336-012b-42ee-9739-d1b5f6e4a9e9.jpg?v=1666603166"}},"requires_selling_plan":false,"selling_plan_allocations":[],"quantity_rule":{"min":1,"max":null,"increment":1}},{"id":43954295406843,"title":"Blue \/ Velcro \/ 5 PCS","option1":"Blue","option2":"Velcro","option3":"5 PCS","sku":"CP29793-Z04747","requires_shipping":true,"taxable":false,"featured_image":{"id":38514695373051,"product_id":7951281979643,"position":11,"created_at":"2022-10-23T23:19:26-10:00","updated_at":"2022-10-23T23:19:26-10:00","alt":null,"width":800,"height":800,"src":"https:\/\/cdn.shopify.com\/s\/files\/1\/0584\/7760\/9115\/products\/sku2_828ac336-012b-42ee-9739-d1b5f6e4a9e9.jpg?v=1666603166","variant_ids":[43954294522107,43954294554875,43954294587643,43954294849787,43954294915323,43954294980859,43954295275771,43954295341307,43954295406843,43954295668987,43954295734523,43954295800059,43954296062203,43954296127739,43954296193275]},"available":true,"name":"Car Sensor Interior Led Light - Blue \/ Velcro \/ 5 PCS","public_title":"Blue \/ Velcro \/ 5 PCS","options":["Blue","Velcro","5 PCS"],"price":2999,"weight":0,"compare_at_price":5999,"inventory_management":null,"barcode":null,"featured_media":{"alt":null,"id":31098749026555,"position":11,"preview_image":{"aspect_ratio":1.0,"height":800,"width":800,"src":"https:\/\/cdn.shopify.com\/s\/files\/1\/0584\/7760\/9115\/products\/sku2_828ac336-012b-42ee-9739-d1b5f6e4a9e9.jpg?v=1666603166"}},"requires_selling_plan":false,"selling_plan_allocations":[],"quantity_rule":{"min":1,"max":null,"increment":1}},{"id":43954295472379,"title":"Ice Blue \/ Magnetic \/ 1 PC","option1":"Ice Blue","option2":"Magnetic","option3":"1 PC","sku":"CP29793-C198-X23763","requires_shipping":true,"taxable":false,"featured_image":{"id":38514695766267,"product_id":7951281979643,"position":12,"created_at":"2022-10-23T23:19:30-10:00","updated_at":"2022-10-23T23:19:30-10:00","alt":null,"width":800,"height":800,"src":"https:\/\/cdn.shopify.com\/s\/files\/1\/0584\/7760\/9115\/products\/sku1_3dea2701-d955-459f-997c-6d0b217344df.jpg?v=1666603170","variant_ids":[43954294423803,43954294456571,43954294489339,43954294653179,43954294718715,43954294784251,43954295046395,43954295111931,43954295210235,43954295472379,43954295537915,43954295603451,43954295865595,43954295931131,43954295996667]},"available":true,"name":"Car Sensor Interior Led Light - Ice Blue \/ Magnetic \/ 1 PC","public_title":"Ice Blue \/ Magnetic \/ 1 PC","options":["Ice Blue","Magnetic","1 PC"],"price":899,"weight":0,"compare_at_price":1799,"inventory_management":null,"barcode":null,"featured_media":{"alt":null,"id":31098749419771,"position":12,"preview_image":{"aspect_ratio":1.0,"height":800,"width":800,"src":"https:\/\/cdn.shopify.com\/s\/files\/1\/0584\/7760\/9115\/products\/sku1_3dea2701-d955-459f-997c-6d0b217344df.jpg?v=1666603170"}},"requires_selling_plan":false,"selling_plan_allocations":[],"quantity_rule":{"min":1,"max":null,"increment":1}},{"id":43954295537915,"title":"Ice Blue \/ Magnetic \/ 3 PCS","option1":"Ice Blue","option2":"Magnetic","option3":"3 PCS","sku":"CP29793-Z04738","requires_shipping":true,"taxable":false,"featured_image":{"id":38514695766267,"product_id":7951281979643,"position":12,"created_at":"2022-10-23T23:19:30-10:00","updated_at":"2022-10-23T23:19:30-10:00","alt":null,"width":800,"height":800,"src":"https:\/\/cdn.shopify.com\/s\/files\/1\/0584\/7760\/9115\/products\/sku1_3dea2701-d955-459f-997c-6d0b217344df.jpg?v=1666603170","variant_ids":[43954294423803,43954294456571,43954294489339,43954294653179,43954294718715,43954294784251,43954295046395,43954295111931,43954295210235,43954295472379,43954295537915,43954295603451,43954295865595,43954295931131,43954295996667]},"available":true,"name":"Car Sensor Interior Led Light - Ice Blue \/ Magnetic \/ 3 PCS","public_title":"Ice Blue \/ Magnetic \/ 3 PCS","options":["Ice Blue","Magnetic","3 PCS"],"price":1999,"weight":0,"compare_at_price":3999,"inventory_management":null,"barcode":null,"featured_media":{"alt":null,"id":31098749419771,"position":12,"preview_image":{"aspect_ratio":1.0,"height":800,"width":800,"src":"https:\/\/cdn.shopify.com\/s\/files\/1\/0584\/7760\/9115\/products\/sku1_3dea2701-d955-459f-997c-6d0b217344df.jpg?v=1666603170"}},"requires_selling_plan":false,"selling_plan_allocations":[],"quantity_rule":{"min":1,"max":null,"increment":1}},{"id":43954295603451,"title":"Ice Blue \/ Magnetic \/ 5 PCS","option1":"Ice Blue","option2":"Magnetic","option3":"5 PCS","sku":"CP29793-Z04748","requires_shipping":true,"taxable":false,"featured_image":{"id":38514695766267,"product_id":7951281979643,"position":12,"created_at":"2022-10-23T23:19:30-10:00","updated_at":"2022-10-23T23:19:30-10:00","alt":null,"width":800,"height":800,"src":"https:\/\/cdn.shopify.com\/s\/files\/1\/0584\/7760\/9115\/products\/sku1_3dea2701-d955-459f-997c-6d0b217344df.jpg?v=1666603170","variant_ids":[43954294423803,43954294456571,43954294489339,43954294653179,43954294718715,43954294784251,43954295046395,43954295111931,43954295210235,43954295472379,43954295537915,43954295603451,43954295865595,43954295931131,43954295996667]},"available":true,"name":"Car Sensor Interior Led Light - Ice Blue \/ Magnetic \/ 5 PCS","public_title":"Ice Blue \/ Magnetic \/ 5 PCS","options":["Ice Blue","Magnetic","5 PCS"],"price":2999,"weight":0,"compare_at_price":5999,"inventory_management":null,"barcode":null,"featured_media":{"alt":null,"id":31098749419771,"position":12,"preview_image":{"aspect_ratio":1.0,"height":800,"width":800,"src":"https:\/\/cdn.shopify.com\/s\/files\/1\/0584\/7760\/9115\/products\/sku1_3dea2701-d955-459f-997c-6d0b217344df.jpg?v=1666603170"}},"requires_selling_plan":false,"selling_plan_allocations":[],"quantity_rule":{"min":1,"max":null,"increment":1}},{"id":43954295668987,"title":"Ice Blue \/ Velcro \/ 1 PC","option1":"Ice Blue","option2":"Velcro","option3":"1 PC","sku":"CP29793-C198-X23764","requires_shipping":true,"taxable":false,"featured_image":{"id":38514695373051,"product_id":7951281979643,"position":11,"created_at":"2022-10-23T23:19:26-10:00","updated_at":"2022-10-23T23:19:26-10:00","alt":null,"width":800,"height":800,"src":"https:\/\/cdn.shopify.com\/s\/files\/1\/0584\/7760\/9115\/products\/sku2_828ac336-012b-42ee-9739-d1b5f6e4a9e9.jpg?v=1666603166","variant_ids":[43954294522107,43954294554875,43954294587643,43954294849787,43954294915323,43954294980859,43954295275771,43954295341307,43954295406843,43954295668987,43954295734523,43954295800059,43954296062203,43954296127739,43954296193275]},"available":true,"name":"Car Sensor Interior Led Light - Ice Blue \/ Velcro \/ 1 PC","public_title":"Ice Blue \/ Velcro \/ 1 PC","options":["Ice Blue","Velcro","1 PC"],"price":899,"weight":0,"compare_at_price":1799,"inventory_management":null,"barcode":null,"featured_media":{"alt":null,"id":31098749026555,"position":11,"preview_image":{"aspect_ratio":1.0,"height":800,"width":800,"src":"https:\/\/cdn.shopify.com\/s\/files\/1\/0584\/7760\/9115\/products\/sku2_828ac336-012b-42ee-9739-d1b5f6e4a9e9.jpg?v=1666603166"}},"requires_selling_plan":false,"selling_plan_allocations":[],"quantity_rule":{"min":1,"max":null,"increment":1}},{"id":43954295734523,"title":"Ice Blue \/ Velcro \/ 3 PCS","option1":"Ice Blue","option2":"Velcro","option3":"3 PCS","sku":"CP29793-Z04739","requires_shipping":true,"taxable":false,"featured_image":{"id":38514695373051,"product_id":7951281979643,"position":11,"created_at":"2022-10-23T23:19:26-10:00","updated_at":"2022-10-23T23:19:26-10:00","alt":null,"width":800,"height":800,"src":"https:\/\/cdn.shopify.com\/s\/files\/1\/0584\/7760\/9115\/products\/sku2_828ac336-012b-42ee-9739-d1b5f6e4a9e9.jpg?v=1666603166","variant_ids":[43954294522107,43954294554875,43954294587643,43954294849787,43954294915323,43954294980859,43954295275771,43954295341307,43954295406843,43954295668987,43954295734523,43954295800059,43954296062203,43954296127739,43954296193275]},"available":true,"name":"Car Sensor Interior Led Light - Ice Blue \/ Velcro \/ 3 PCS","public_title":"Ice Blue \/ Velcro \/ 3 PCS","options":["Ice Blue","Velcro","3 PCS"],"price":1999,"weight":0,"compare_at_price":3999,"inventory_management":null,"barcode":null,"featured_media":{"alt":null,"id":31098749026555,"position":11,"preview_image":{"aspect_ratio":1.0,"height":800,"width":800,"src":"https:\/\/cdn.shopify.com\/s\/files\/1\/0584\/7760\/9115\/products\/sku2_828ac336-012b-42ee-9739-d1b5f6e4a9e9.jpg?v=1666603166"}},"requires_selling_plan":false,"selling_plan_allocations":[],"quantity_rule":{"min":1,"max":null,"increment":1}},{"id":43954295800059,"title":"Ice Blue \/ Velcro \/ 5 PCS","option1":"Ice Blue","option2":"Velcro","option3":"5 PCS","sku":"CP29793-Z04749","requires_shipping":true,"taxable":false,"featured_image":{"id":38514695373051,"product_id":7951281979643,"position":11,"created_at":"2022-10-23T23:19:26-10:00","updated_at":"2022-10-23T23:19:26-10:00","alt":null,"width":800,"height":800,"src":"https:\/\/cdn.shopify.com\/s\/files\/1\/0584\/7760\/9115\/products\/sku2_828ac336-012b-42ee-9739-d1b5f6e4a9e9.jpg?v=1666603166","variant_ids":[43954294522107,43954294554875,43954294587643,43954294849787,43954294915323,43954294980859,43954295275771,43954295341307,43954295406843,43954295668987,43954295734523,43954295800059,43954296062203,43954296127739,43954296193275]},"available":true,"name":"Car Sensor Interior Led Light - Ice Blue \/ Velcro \/ 5 PCS","public_title":"Ice Blue \/ Velcro \/ 5 PCS","options":["Ice Blue","Velcro","5 PCS"],"price":2999,"weight":0,"compare_at_price":5999,"inventory_management":null,"barcode":null,"featured_media":{"alt":null,"id":31098749026555,"position":11,"preview_image":{"aspect_ratio":1.0,"height":800,"width":800,"src":"https:\/\/cdn.shopify.com\/s\/files\/1\/0584\/7760\/9115\/products\/sku2_828ac336-012b-42ee-9739-d1b5f6e4a9e9.jpg?v=1666603166"}},"requires_selling_plan":false,"selling_plan_allocations":[],"quantity_rule":{"min":1,"max":null,"increment":1}},{"id":43954295865595,"title":"Colorful \/ Magnetic \/ 1 PC","option1":"Colorful","option2":"Magnetic","option3":"1 PC","sku":"CP29793-C357-X23763","requires_shipping":true,"taxable":false,"featured_image":{"id":38514695766267,"product_id":7951281979643,"position":12,"created_at":"2022-10-23T23:19:30-10:00","updated_at":"2022-10-23T23:19:30-10:00","alt":null,"width":800,"height":800,"src":"https:\/\/cdn.shopify.com\/s\/files\/1\/0584\/7760\/9115\/products\/sku1_3dea2701-d955-459f-997c-6d0b217344df.jpg?v=1666603170","variant_ids":[43954294423803,43954294456571,43954294489339,43954294653179,43954294718715,43954294784251,43954295046395,43954295111931,43954295210235,43954295472379,43954295537915,43954295603451,43954295865595,43954295931131,43954295996667]},"available":true,"name":"Car Sensor Interior Led Light - Colorful \/ Magnetic \/ 1 PC","public_title":"Colorful \/ Magnetic \/ 1 PC","options":["Colorful","Magnetic","1 PC"],"price":899,"weight":0,"compare_at_price":1799,"inventory_management":null,"barcode":null,"featured_media":{"alt":null,"id":31098749419771,"position":12,"preview_image":{"aspect_ratio":1.0,"height":800,"width":800,"src":"https:\/\/cdn.shopify.com\/s\/files\/1\/0584\/7760\/9115\/products\/sku1_3dea2701-d955-459f-997c-6d0b217344df.jpg?v=1666603170"}},"requires_selling_plan":false,"selling_plan_allocations":[],"quantity_rule":{"min":1,"max":null,"increment":1}},{"id":43954295931131,"title":"Colorful \/ Magnetic \/ 3 PCS","option1":"Colorful","option2":"Magnetic","option3":"3 PCS","sku":"CP29793-Z04740","requires_shipping":true,"taxable":false,"featured_image":{"id":38514695766267,"product_id":7951281979643,"position":12,"created_at":"2022-10-23T23:19:30-10:00","updated_at":"2022-10-23T23:19:30-10:00","alt":null,"width":800,"height":800,"src":"https:\/\/cdn.shopify.com\/s\/files\/1\/0584\/7760\/9115\/products\/sku1_3dea2701-d955-459f-997c-6d0b217344df.jpg?v=1666603170","variant_ids":[43954294423803,43954294456571,43954294489339,43954294653179,43954294718715,43954294784251,43954295046395,43954295111931,43954295210235,43954295472379,43954295537915,43954295603451,43954295865595,43954295931131,43954295996667]},"available":true,"name":"Car Sensor Interior Led Light - Colorful \/ Magnetic \/ 3 PCS","public_title":"Colorful \/ Magnetic \/ 3 PCS","options":["Colorful","Magnetic","3 PCS"],"price":1999,"weight":0,"compare_at_price":3999,"inventory_management":null,"barcode":null,"featured_media":{"alt":null,"id":31098749419771,"position":12,"preview_image":{"aspect_ratio":1.0,"height":800,"width":800,"src":"https:\/\/cdn.shopify.com\/s\/files\/1\/0584\/7760\/9115\/products\/sku1_3dea2701-d955-459f-997c-6d0b217344df.jpg?v=1666603170"}},"requires_selling_plan":false,"selling_plan_allocations":[],"quantity_rule":{"min":1,"max":null,"increment":1}},{"id":43954295996667,"title":"Colorful \/ Magnetic \/ 5 PCS","option1":"Colorful","option2":"Magnetic","option3":"5 PCS","sku":"CP29793-Z04750","requires_shipping":true,"taxable":false,"featured_image":{"id":38514695766267,"product_id":7951281979643,"position":12,"created_at":"2022-10-23T23:19:30-10:00","updated_at":"2022-10-23T23:19:30-10:00","alt":null,"width":800,"height":800,"src":"https:\/\/cdn.shopify.com\/s\/files\/1\/0584\/7760\/9115\/products\/sku1_3dea2701-d955-459f-997c-6d0b217344df.jpg?v=1666603170","variant_ids":[43954294423803,43954294456571,43954294489339,43954294653179,43954294718715,43954294784251,43954295046395,43954295111931,43954295210235,43954295472379,43954295537915,43954295603451,43954295865595,43954295931131,43954295996667]},"available":true,"name":"Car Sensor Interior Led Light - Colorful \/ Magnetic \/ 5 PCS","public_title":"Colorful \/ Magnetic \/ 5 PCS","options":["Colorful","Magnetic","5 PCS"],"price":2999,"weight":0,"compare_at_price":5999,"inventory_management":null,"barcode":null,"featured_media":{"alt":null,"id":31098749419771,"position":12,"preview_image":{"aspect_ratio":1.0,"height":800,"width":800,"src":"https:\/\/cdn.shopify.com\/s\/files\/1\/0584\/7760\/9115\/products\/sku1_3dea2701-d955-459f-997c-6d0b217344df.jpg?v=1666603170"}},"requires_selling_plan":false,"selling_plan_allocations":[],"quantity_rule":{"min":1,"max":null,"increment":1}},{"id":43954296062203,"title":"Colorful \/ Velcro \/ 1 PC","option1":"Colorful","option2":"Velcro","option3":"1 PC","sku":"CP29793-C357-X23764","requires_shipping":true,"taxable":false,"featured_image":{"id":38514695373051,"product_id":7951281979643,"position":11,"created_at":"2022-10-23T23:19:26-10:00","updated_at":"2022-10-23T23:19:26-10:00","alt":null,"width":800,"height":800,"src":"https:\/\/cdn.shopify.com\/s\/files\/1\/0584\/7760\/9115\/products\/sku2_828ac336-012b-42ee-9739-d1b5f6e4a9e9.jpg?v=1666603166","variant_ids":[43954294522107,43954294554875,43954294587643,43954294849787,43954294915323,43954294980859,43954295275771,43954295341307,43954295406843,43954295668987,43954295734523,43954295800059,43954296062203,43954296127739,43954296193275]},"available":true,"name":"Car Sensor Interior Led Light - Colorful \/ Velcro \/ 1 PC","public_title":"Colorful \/ Velcro \/ 1 PC","options":["Colorful","Velcro","1 PC"],"price":899,"weight":0,"compare_at_price":1799,"inventory_management":null,"barcode":null,"featured_media":{"alt":null,"id":31098749026555,"position":11,"preview_image":{"aspect_ratio":1.0,"height":800,"width":800,"src":"https:\/\/cdn.shopify.com\/s\/files\/1\/0584\/7760\/9115\/products\/sku2_828ac336-012b-42ee-9739-d1b5f6e4a9e9.jpg?v=1666603166"}},"requires_selling_plan":false,"selling_plan_allocations":[],"quantity_rule":{"min":1,"max":null,"increment":1}},{"id":43954296127739,"title":"Colorful \/ Velcro \/ 3 PCS","option1":"Colorful","option2":"Velcro","option3":"3 PCS","sku":"CP29793-Z04741","requires_shipping":true,"taxable":false,"featured_image":{"id":38514695373051,"product_id":7951281979643,"position":11,"created_at":"2022-10-23T23:19:26-10:00","updated_at":"2022-10-23T23:19:26-10:00","alt":null,"width":800,"height":800,"src":"https:\/\/cdn.shopify.com\/s\/files\/1\/0584\/7760\/9115\/products\/sku2_828ac336-012b-42ee-9739-d1b5f6e4a9e9.jpg?v=1666603166","variant_ids":[43954294522107,43954294554875,43954294587643,43954294849787,43954294915323,43954294980859,43954295275771,43954295341307,43954295406843,43954295668987,43954295734523,43954295800059,43954296062203,43954296127739,43954296193275]},"available":true,"name":"Car Sensor Interior Led Light - Colorful \/ Velcro \/ 3 PCS","public_title":"Colorful \/ Velcro \/ 3 PCS","options":["Colorful","Velcro","3 PCS"],"price":1999,"weight":0,"compare_at_price":3999,"inventory_management":null,"barcode":null,"featured_media":{"alt":null,"id":31098749026555,"position":11,"preview_image":{"aspect_ratio":1.0,"height":800,"width":800,"src":"https:\/\/cdn.shopify.com\/s\/files\/1\/0584\/7760\/9115\/products\/sku2_828ac336-012b-42ee-9739-d1b5f6e4a9e9.jpg?v=1666603166"}},"requires_selling_plan":false,"selling_plan_allocations":[],"quantity_rule":{"min":1,"max":null,"increment":1}},{"id":43954296193275,"title":"Colorful \/ Velcro \/ 5 PCS","option1":"Colorful","option2":"Velcro","option3":"5 PCS","sku":"CP29793-Z04751","requires_shipping":true,"taxable":false,"featured_image":{"id":38514695373051,"product_id":7951281979643,"position":11,"created_at":"2022-10-23T23:19:26-10:00","updated_at":"2022-10-23T23:19:26-10:00","alt":null,"width":800,"height":800,"src":"https:\/\/cdn.shopify.com\/s\/files\/1\/0584\/7760\/9115\/products\/sku2_828ac336-012b-42ee-9739-d1b5f6e4a9e9.jpg?v=1666603166","variant_ids":[43954294522107,43954294554875,43954294587643,43954294849787,43954294915323,43954294980859,43954295275771,43954295341307,43954295406843,43954295668987,43954295734523,43954295800059,43954296062203,43954296127739,43954296193275]},"available":true,"name":"Car Sensor Interior Led Light - Colorful \/ Velcro \/ 5 PCS","public_title":"Colorful \/ Velcro \/ 5 PCS","options":["Colorful","Velcro","5 PCS"],"price":2999,"weight":0,"compare_at_price":5999,"inventory_management":null,"barcode":null,"featured_media":{"alt":null,"id":31098749026555,"position":11,"preview_image":{"aspect_ratio":1.0,"height":800,"width":800,"src":"https:\/\/cdn.shopify.com\/s\/files\/1\/0584\/7760\/9115\/products\/sku2_828ac336-012b-42ee-9739-d1b5f6e4a9e9.jpg?v=1666603166"}},"requires_selling_plan":false,"selling_plan_allocations":[],"quantity_rule":{"min":1,"max":null,"increment":1}}],"images":["\/\/cdn.shopify.com\/s\/files\/1\/0584\/7760\/9115\/products\/FM1_2b5def90-cc35-4b36-b79f-da3d421c8c00.jpg?v=1666603161","\/\/cdn.shopify.com\/s\/files\/1\/0584\/7760\/9115\/products\/3_a4e2a6c6-24b6-4037-91a6-31e6a485dc5c.jpg?v=1666603162","\/\/cdn.shopify.com\/s\/files\/1\/0584\/7760\/9115\/products\/4_b26b2a0d-73e5-49f9-8426-432acb3f8440.jpg?v=1666603162","\/\/cdn.shopify.com\/s\/files\/1\/0584\/7760\/9115\/products\/7_146d1dea-0ef9-41c1-b3b6-a7c27a7bc726.jpg?v=1666603162","\/\/cdn.shopify.com\/s\/files\/1\/0584\/7760\/9115\/products\/8_60e40def-fc9d-44bc-9963-c0f5d3668eca.jpg?v=1666603162","\/\/cdn.shopify.com\/s\/files\/1\/0584\/7760\/9115\/products\/6_709709c6-6cf8-459a-b0a4-96b912f47944.jpg?v=1666603162","\/\/cdn.shopify.com\/s\/files\/1\/0584\/7760\/9115\/products\/FM_b2441556-a0f2-4b86-ba4c-22dc27debccf.jpg?v=1666603162","\/\/cdn.shopify.com\/s\/files\/1\/0584\/7760\/9115\/products\/2_bb3eb4a5-70dd-461b-8057-0f1c0211e2c8.jpg?v=1666603162","\/\/cdn.shopify.com\/s\/files\/1\/0584\/7760\/9115\/products\/1_e19e746e-8aaa-418f-9a2c-f8c1202a5287.jpg?v=1666603162","\/\/cdn.shopify.com\/s\/files\/1\/0584\/7760\/9115\/products\/5_6c8e8035-52f4-4507-aca6-b70af551c875.jpg?v=1666603162","\/\/cdn.shopify.com\/s\/files\/1\/0584\/7760\/9115\/products\/sku2_828ac336-012b-42ee-9739-d1b5f6e4a9e9.jpg?v=1666603166","\/\/cdn.shopify.com\/s\/files\/1\/0584\/7760\/9115\/products\/sku1_3dea2701-d955-459f-997c-6d0b217344df.jpg?v=1666603170"],"featured_image":"\/\/cdn.shopify.com\/s\/files\/1\/0584\/7760\/9115\/products\/FM1_2b5def90-cc35-4b36-b79f-da3d421c8c00.jpg?v=1666603161","options":["Color","Style","Quantity"],"media":[{"alt":null,"id":31098748567803,"position":1,"preview_image":{"aspect_ratio":1.0,"height":800,"width":800,"src":"https:\/\/cdn.shopify.com\/s\/files\/1\/0584\/7760\/9115\/products\/FM1_2b5def90-cc35-4b36-b79f-da3d421c8c00.jpg?v=1666603161"},"aspect_ratio":1.0,"height":800,"media_type":"image","src":"https:\/\/cdn.shopify.com\/s\/files\/1\/0584\/7760\/9115\/products\/FM1_2b5def90-cc35-4b36-b79f-da3d421c8c00.jpg?v=1666603161","width":800},{"alt":null,"id":31098748600571,"position":2,"preview_image":{"aspect_ratio":1.0,"height":800,"width":800,"src":"https:\/\/cdn.shopify.com\/s\/files\/1\/0584\/7760\/9115\/products\/3_a4e2a6c6-24b6-4037-91a6-31e6a485dc5c.jpg?v=1666603162"},"aspect_ratio":1.0,"height":800,"media_type":"image","src":"https:\/\/cdn.shopify.com\/s\/files\/1\/0584\/7760\/9115\/products\/3_a4e2a6c6-24b6-4037-91a6-31e6a485dc5c.jpg?v=1666603162","width":800},{"alt":null,"id":31098748633339,"position":3,"preview_image":{"aspect_ratio":1.0,"height":800,"width":800,"src":"https:\/\/cdn.shopify.com\/s\/files\/1\/0584\/7760\/9115\/products\/4_b26b2a0d-73e5-49f9-8426-432acb3f8440.jpg?v=1666603162"},"aspect_ratio":1.0,"height":800,"media_type":"image","src":"https:\/\/cdn.shopify.com\/s\/files\/1\/0584\/7760\/9115\/products\/4_b26b2a0d-73e5-49f9-8426-432acb3f8440.jpg?v=1666603162","width":800},{"alt":null,"id":31098748666107,"position":4,"preview_image":{"aspect_ratio":1.0,"height":800,"width":800,"src":"https:\/\/cdn.shopify.com\/s\/files\/1\/0584\/7760\/9115\/products\/7_146d1dea-0ef9-41c1-b3b6-a7c27a7bc726.jpg?v=1666603162"},"aspect_ratio":1.0,"height":800,"media_type":"image","src":"https:\/\/cdn.shopify.com\/s\/files\/1\/0584\/7760\/9115\/products\/7_146d1dea-0ef9-41c1-b3b6-a7c27a7bc726.jpg?v=1666603162","width":800},{"alt":null,"id":31098748698875,"position":5,"preview_image":{"aspect_ratio":1.0,"height":800,"width":800,"src":"https:\/\/cdn.shopify.com\/s\/files\/1\/0584\/7760\/9115\/products\/8_60e40def-fc9d-44bc-9963-c0f5d3668eca.jpg?v=1666603162"},"aspect_ratio":1.0,"height":800,"media_type":"image","src":"https:\/\/cdn.shopify.com\/s\/files\/1\/0584\/7760\/9115\/products\/8_60e40def-fc9d-44bc-9963-c0f5d3668eca.jpg?v=1666603162","width":800},{"alt":null,"id":31098748731643,"position":6,"preview_image":{"aspect_ratio":1.0,"height":800,"width":800,"src":"https:\/\/cdn.shopify.com\/s\/files\/1\/0584\/7760\/9115\/products\/6_709709c6-6cf8-459a-b0a4-96b912f47944.jpg?v=1666603162"},"aspect_ratio":1.0,"height":800,"media_type":"image","src":"https:\/\/cdn.shopify.com\/s\/files\/1\/0584\/7760\/9115\/products\/6_709709c6-6cf8-459a-b0a4-96b912f47944.jpg?v=1666603162","width":800},{"alt":null,"id":31098748764411,"position":7,"preview_image":{"aspect_ratio":1.0,"height":800,"width":800,"src":"https:\/\/cdn.shopify.com\/s\/files\/1\/0584\/7760\/9115\/products\/FM_b2441556-a0f2-4b86-ba4c-22dc27debccf.jpg?v=1666603162"},"aspect_ratio":1.0,"height":800,"media_type":"image","src":"https:\/\/cdn.shopify.com\/s\/files\/1\/0584\/7760\/9115\/products\/FM_b2441556-a0f2-4b86-ba4c-22dc27debccf.jpg?v=1666603162","width":800},{"alt":null,"id":31098748797179,"position":8,"preview_image":{"aspect_ratio":1.0,"height":800,"width":800,"src":"https:\/\/cdn.shopify.com\/s\/files\/1\/0584\/7760\/9115\/products\/2_bb3eb4a5-70dd-461b-8057-0f1c0211e2c8.jpg?v=1666603162"},"aspect_ratio":1.0,"height":800,"media_type":"image","src":"https:\/\/cdn.shopify.com\/s\/files\/1\/0584\/7760\/9115\/products\/2_bb3eb4a5-70dd-461b-8057-0f1c0211e2c8.jpg?v=1666603162","width":800},{"alt":null,"id":31098748829947,"position":9,"preview_image":{"aspect_ratio":1.0,"height":800,"width":800,"src":"https:\/\/cdn.shopify.com\/s\/files\/1\/0584\/7760\/9115\/products\/1_e19e746e-8aaa-418f-9a2c-f8c1202a5287.jpg?v=1666603162"},"aspect_ratio":1.0,"height":800,"media_type":"image","src":"https:\/\/cdn.shopify.com\/s\/files\/1\/0584\/7760\/9115\/products\/1_e19e746e-8aaa-418f-9a2c-f8c1202a5287.jpg?v=1666603162","width":800},{"alt":null,"id":31098748862715,"position":10,"preview_image":{"aspect_ratio":1.0,"height":800,"width":800,"src":"https:\/\/cdn.shopify.com\/s\/files\/1\/0584\/7760\/9115\/products\/5_6c8e8035-52f4-4507-aca6-b70af551c875.jpg?v=1666603162"},"aspect_ratio":1.0,"height":800,"media_type":"image","src":"https:\/\/cdn.shopify.com\/s\/files\/1\/0584\/7760\/9115\/products\/5_6c8e8035-52f4-4507-aca6-b70af551c875.jpg?v=1666603162","width":800},{"alt":null,"id":31098749026555,"position":11,"preview_image":{"aspect_ratio":1.0,"height":800,"width":800,"src":"https:\/\/cdn.shopify.com\/s\/files\/1\/0584\/7760\/9115\/products\/sku2_828ac336-012b-42ee-9739-d1b5f6e4a9e9.jpg?v=1666603166"},"aspect_ratio":1.0,"height":800,"media_type":"image","src":"https:\/\/cdn.shopify.com\/s\/files\/1\/0584\/7760\/9115\/products\/sku2_828ac336-012b-42ee-9739-d1b5f6e4a9e9.jpg?v=1666603166","width":800},{"alt":null,"id":31098749419771,"position":12,"preview_image":{"aspect_ratio":1.0,"height":800,"width":800,"src":"https:\/\/cdn.shopify.com\/s\/files\/1\/0584\/7760\/9115\/products\/sku1_3dea2701-d955-459f-997c-6d0b217344df.jpg?v=1666603170"},"aspect_ratio":1.0,"height":800,"media_type":"image","src":"https:\/\/cdn.shopify.com\/s\/files\/1\/0584\/7760\/9115\/products\/sku1_3dea2701-d955-459f-997c-6d0b217344df.jpg?v=1666603170","width":800}],"requires_selling_plan":false,"selling_plan_groups":[],"content":"\u003ch4 style=\"text-align: center;\"\u003e\u003cstrong\u003e🌃🌟\u003c\/strong\u003e\u003c\/h4\u003e\n\u003ch4 style=\"text-align: center;\" data-mce-fragment=\"1\"\u003e\u003cstrong\u003e\u003cspan style=\"color: #f9ac2b;\"\u003eWhether you're heading home from work or traveling long distances, turn on your car lights and turn on the music, \u003c\/span\u003e\u003cspan style=\"color: #2c8084;\"\u003elet them bring brightness and joy, and ease your fatigue.\u003c\/span\u003e\u003c\/strong\u003e\u003c\/h4\u003e\n\u003cdiv\u003e\u003cimg src=\"https:\/\/cdn.cloudfastin.top\/image\/2022\/04\/d494ac184dc90416f664d1213a91c0a11e0856fb3119047ffa5f9d844be89a17.gif\" alt=\"undefined\" style=\"display: block; margin-left: auto; margin-right: auto;\" data-mce-fragment=\"1\" data-mce-src=\"https:\/\/cdn.cloudfastin.top\/image\/2022\/04\/d494ac184dc90416f664d1213a91c0a11e0856fb3119047ffa5f9d844be89a17.gif\"\u003e\u003c\/div\u003e\n\u003ch3 data-mce-fragment=\"1\"\u003e\u003cspan style=\"color: #d23204;\"\u003e\u003cstrong\u003eFEATURES\u003c\/strong\u003e\u003c\/span\u003e\u003c\/h3\u003e\n\u003cul\u003e\n\u003cli\u003e\u003cspan style=\"color: #9c8b26;\"\u003e\u003cstrong\u003eOne Touch Light\u003c\/strong\u003e\u003c\/span\u003e\u003c\/li\u003e\n\u003c\/ul\u003e\n\u003cdiv style=\"padding-left: 30px;\" data-mce-fragment=\"1\"\u003e\u003cspan style=\"font-weight: 400;\" data-mce-fragment=\"1\" data-mce-style=\"font-weight: 400;\"\u003eTouch sensor switch design, one-click perspective lighting.\u003c\/span\u003e\u003c\/div\u003e\n\u003ch4 data-mce-fragment=\"1\"\u003e\u003cspan style=\"font-weight: 400;\" data-mce-fragment=\"1\" data-mce-style=\"font-weight: 400;\"\u003e\u003cimg alt=\"undefined\" src=\"https:\/\/cdn.cloudfastin.top\/image\/2022\/04\/e05b7f999a770ced89b7fcb218fd0db251c8ba4a77547256e1a705b2c18871e6.gif\" style=\"display: block; margin-left: auto; margin-right: auto;\" width=\"350\" height=\"350\"\u003e\u003c\/span\u003e\u003c\/h4\u003e\n\u003cul\u003e\n\u003cli\u003e\u003cspan style=\"color: #9c8b26;\"\u003e\u003cstrong\u003eOne Piece Design\u003c\/strong\u003e\u003c\/span\u003e\u003c\/li\u003e\n\u003c\/ul\u003e\n\u003cdiv style=\"padding-left: 30px;\" data-mce-fragment=\"1\"\u003e\u003cspan style=\"font-weight: 400;\" data-mce-fragment=\"1\" data-mce-style=\"font-weight: 400;\"\u003eIntegral lampshade design, strong sealing\/dustproof, scratch and abrasion resistance.\u003c\/span\u003e\u003c\/div\u003e\n\u003cul\u003e\n\u003cli\u003e\u003cspan style=\"color: #9c8b26;\"\u003e\u003cstrong\u003eLight Lighting\u003c\/strong\u003e\u003c\/span\u003e\u003c\/li\u003e\n\u003c\/ul\u003e\n\u003cdiv style=\"padding-left: 30px;\" data-mce-fragment=\"1\"\u003e\u003cspan style=\"font-weight: 400;\" data-mce-fragment=\"1\" data-mce-style=\"font-weight: 400;\"\u003eHigh brightness LED lamp beads, clear auxiliary lighting, objects easy to find. See through light through translucent cover, not dazzling or dazzling.\u003c\/span\u003e\u003c\/div\u003e\n\u003cdiv data-mce-fragment=\"1\"\u003e\u003cspan style=\"font-weight: 400;\" data-mce-fragment=\"1\" data-mce-style=\"font-weight: 400;\"\u003e\u003cimg alt=\"undefined\" src=\"https:\/\/cdn.cloudfastin.top\/image\/2022\/04\/1024f99a9024dd5ced0f8de36f3ebdc8c43d3cd067cbfad67d68e7b176f300e4.gif\" style=\"display: block; margin-left: auto; margin-right: auto;\"\u003e\u003c\/span\u003e\u003c\/div\u003e\n\u003cul\u003e\n\u003cli\u003e\u003cspan style=\"color: #9c8b26;\"\u003e\u003cstrong\u003e6 Bright LED Bulb Beads\u003c\/strong\u003e\u003c\/span\u003e\u003c\/li\u003e\n\u003c\/ul\u003e\n\u003cdiv style=\"padding-left: 30px;\" data-mce-fragment=\"1\"\u003e\u003cspan style=\"font-weight: 400;\" data-mce-fragment=\"1\" data-mce-style=\"font-weight: 400;\"\u003eBuilt-in spring switch, smart lighting, longer lifespan.\u003c\/span\u003e\u003c\/div\u003e\n\u003cul\u003e\n\u003cli\u003e\u003cspan style=\"color: #9c8b26;\"\u003e\u003cstrong\u003eSave Space\u003c\/strong\u003e\u003c\/span\u003e\u003c\/li\u003e\n\u003c\/ul\u003e\n\u003cdiv style=\"padding-left: 30px;\" data-mce-fragment=\"1\"\u003e\u003cspan style=\"font-weight: 400;\" data-mce-fragment=\"1\" data-mce-style=\"font-weight: 400;\"\u003eMini and compact design, installed inside the car, illuminating perspective, not taking up space, and not obsessive.\u003c\/span\u003e\u003c\/div\u003e\n\u003cdiv data-mce-fragment=\"1\"\u003e\u003cspan style=\"font-weight: 400;\" data-mce-fragment=\"1\" data-mce-style=\"font-weight: 400;\"\u003e\u003cimg alt=\"\" src=\"https:\/\/cdn.shopifycdn.net\/s\/files\/1\/0585\/1925\/7244\/files\/6_c0fbdad8-bb16-4bc1-acd7-46f59cb995a7_480x480.jpg?v=1650518219\" style=\"display: block; margin-left: auto; margin-right: auto;\"\u003e\u003c\/span\u003e\u003c\/div\u003e\n\u003cul\u003e\n\u003cli\u003e\u003cspan style=\"color: #9c8b26;\"\u003e\u003cstrong\u003eEasy To Install\u003c\/strong\u003e\u003c\/span\u003e\u003c\/li\u003e\n\u003c\/ul\u003e\n\u003cp style=\"padding-left: 30px;\" data-mce-fragment=\"1\"\u003e\u003cspan style=\"font-weight: 400;\" data-mce-fragment=\"1\" data-mce-style=\"font-weight: 400;\"\u003eThe magnetic type is attracted by the magnetic absorption of the double-sided tape attachment, and the Velcro type is attracted by the Velcro with adhesive backing. Easy to install, can be installed in dark places, such as storage boxes, armrest boxes, doors, seat corners, etc.\u003c\/span\u003e\u003c\/p\u003e\n\u003ch3 data-mce-fragment=\"1\"\u003e\u003cspan style=\"color: #d23204;\"\u003e\u003cstrong\u003eSPECIFICATIONS\u003c\/strong\u003e\u003c\/span\u003e\u003c\/h3\u003e\n\u003cul\u003e\n\u003cli\u003e\u003cspan style=\"font-weight: 400;\"\u003e\u003cstrong\u003eMaterials\u003c\/strong\u003e: ABS\u003c\/span\u003e\u003c\/li\u003e\n\u003cli\u003e\u003cspan style=\"font-weight: 400;\"\u003e\u003cstrong\u003eBattery life cycle rechargeable\u003c\/strong\u003e: more than 500 times\u003c\/span\u003e\u003c\/li\u003e\n\u003cli\u003e\u003cspan style=\"font-weight: 400;\"\u003e\u003cstrong\u003eInput voltage\u003c\/strong\u003e: 5V\u003c\/span\u003e\u003c\/li\u003e\n\u003cli\u003e\u003cspan style=\"font-weight: 400;\"\u003e\u003cstrong\u003eStyle\u003c\/strong\u003e: Magnetic, Velcro\u003c\/span\u003e\u003c\/li\u003e\n\u003cli\u003e\u003cspan style=\"font-weight: 400;\"\u003e\u003cstrong\u003eLighting\u003c\/strong\u003e: White\/Ice Blue\/Blue\/Purple Pink\/Colorful\u003c\/span\u003e\u003c\/li\u003e\n\u003cli\u003e\u003cspan style=\"font-weight: 400;\"\u003e\u003cstrong\u003eBattery capacity\u003c\/strong\u003e: 120mA\/h\u003c\/span\u003e\u003c\/li\u003e\n\u003cli\u003e\u003cspan style=\"font-weight: 400;\"\u003e\u003cstrong\u003eNumber of lamp beads\u003c\/strong\u003e: high-brightness LED lamp beads * 6\u003c\/span\u003e\u003c\/li\u003e\n\u003cli\u003e\u003cspan style=\"font-weight: 400;\"\u003e\u003cstrong\u003eLighting time about\u003c\/strong\u003e: 2h\u003c\/span\u003e\u003c\/li\u003e\n\u003cli\u003e\u003cspan style=\"font-weight: 400;\"\u003e\u003cstrong\u003eCharging time about\u003c\/strong\u003e: 40min\u003c\/span\u003e\u003c\/li\u003e\n\u003cli\u003e\u003cspan style=\"font-weight: 400;\"\u003e\u003cstrong\u003eWeight\u003c\/strong\u003e: 50g \/ 0.11lb\u003c\/span\u003e\u003c\/li\u003e\n\u003cli\u003e\u003cspan style=\"font-weight: 400;\"\u003e\u003cstrong\u003eSize\u003c\/strong\u003e: 5.3*2.7cm \/ 2.1*1.1in\u003c\/span\u003e\u003c\/li\u003e\n\u003c\/ul\u003e\n\u003ch3 data-mce-fragment=\"1\"\u003e\u003cspan style=\"color: #d23204;\"\u003e\u003cstrong\u003ePACKAGE INCLUDES\u003c\/strong\u003e\u003c\/span\u003e\u003c\/h3\u003e\n\u003cul\u003e\n\u003cli\u003e\u003cspan style=\"font-weight: 400;\" data-mce-fragment=\"1\" data-mce-style=\"font-weight: 400;\"\u003e1\/3\/5 × Car Sensor Interior Led Light\u003c\/span\u003e\u003c\/li\u003e\n\u003c\/ul\u003e"}
Car Sensor Interior Led Light
Product Description
🌃🌟
Whether you're heading home from work or traveling long distances, turn on your car lights and turn on the music,

let them bring brightness and joy, and ease your fatigue.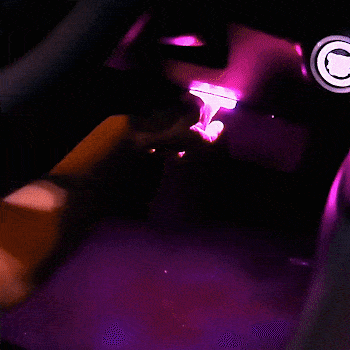 FEATURES
Touch sensor switch design, one-click perspective lighting.

Integral lampshade design, strong sealing/dustproof, scratch and abrasion resistance.
High brightness LED lamp beads, clear auxiliary lighting, objects easy to find. See through light through translucent cover, not dazzling or dazzling.
Built-in spring switch, smart lighting, longer lifespan.
Mini and compact design, installed inside the car, illuminating perspective, not taking up space, and not obsessive.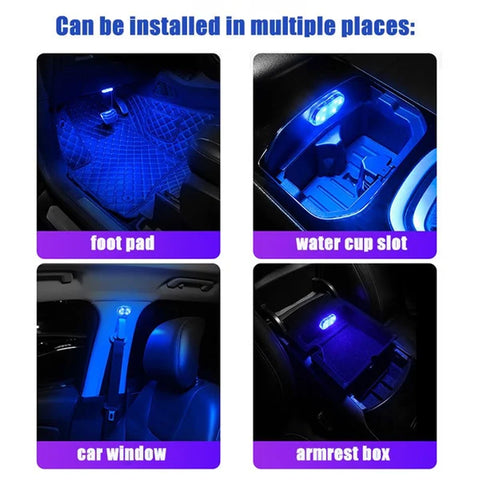 The magnetic type is attracted by the magnetic absorption of the double-sided tape attachment, and the Velcro type is attracted by the Velcro with adhesive backing. Easy to install, can be installed in dark places, such as storage boxes, armrest boxes, doors, seat corners, etc.
SPECIFICATIONS
Materials: ABS
Battery life cycle rechargeable: more than 500 times
Input voltage: 5V
Style: Magnetic, Velcro
Lighting: White/Ice Blue/Blue/Purple Pink/Colorful
Battery capacity: 120mA/h
Number of lamp beads: high-brightness LED lamp beads * 6
Lighting time about: 2h
Charging time about: 40min
Weight: 50g / 0.11lb
Size: 5.3*2.7cm / 2.1*1.1in
PACKAGE INCLUDES
1/3/5 × Car Sensor Interior Led Light
people are currently looking at this product