{"id":7854946582779,"title":"Christmas Nozzle Set (10 PCS)","handle":"christmas-nozzle-set-10-pcs","description":"\u003ch2 data-mce-fragment=\"1\"\u003e\u003cspan style=\"color: #27844f;\" data-mce-fragment=\"1\"\u003e\u003cstrong data-mce-fragment=\"1\"\u003e\u003cspan\u003eGive your cakes and sweets a fantastic look this Christmas season with a Russian Christmas pipedyset !!\u003c\/span\u003e\u003c\/strong\u003e\u003c\/span\u003e\u003c\/h2\u003e\n\u003cp data-mce-fragment=\"1\"\u003e\u003cspan\u003eThis kitchen equipment is available in fantastic designs that both children and adults are guaranteed to love.\u003cspan\u003e \u003c\/span\u003eAnd the combination box with the pretzel bag PLUS gives an even more fantastic Christmas atmosphere.\u003c\/span\u003e\u003c\/p\u003e\n\u003cp data-mce-fragment=\"1\"\u003e\u003cimg style=\"display: block; margin-left: auto; margin-right: auto;\" class=\"sep-lazyload lazyautosizes ls-is-cached lazyloaded\" data-sizes=\"auto\" data-src=\"https:\/\/img.staticdj.com\/24ea094d2c00d681e6257ff5f77f8c2d.gif\" alt=\"\" height=\"500\" width=\"500\" sizes=\"500px\" src=\"https:\/\/img.staticdj.com\/24ea094d2c00d681e6257ff5f77f8c2d.gif\" data-mce-fragment=\"1\" data-mce-src=\"https:\/\/img.staticdj.com\/24ea094d2c00d681e6257ff5f77f8c2d.gif\"\u003e\u003c\/p\u003e\n\u003ch3 data-mce-fragment=\"1\"\u003e\u003cspan style=\"color: #bb7127;\" data-mce-fragment=\"1\"\u003e\u003cstrong data-mce-fragment=\"1\"\u003e\u003cspan\u003eCHARACTERISTICS:\u003c\/span\u003e\u003c\/strong\u003e\u003c\/span\u003e\u003c\/h3\u003e\n\u003cul class=\"default\" data-mce-fragment=\"1\"\u003e\n\u003cli class=\"default\" data-mce-fragment=\"1\"\u003e\n\u003cstrong\u003e\u003cspan\u003eTOP QUALITY\u003c\/span\u003e\u003c\/strong\u003e\u003cspan\u003e\u003cspan\u003e \u003c\/span\u003e: These Russian ice cream tips and baking tools are made of materials that are exceptionally strong, durable and reliable.\u003c\/span\u003e\u003cimg style=\"display: block; margin-left: auto; margin-right: auto;\" class=\"sep-lazyload lazyautosizes lazyloaded\" data-sizes=\"auto\" data-src=\"https:\/\/img.staticdj.com\/fd1554f5412985de427f811a9c5098b5.gif\" alt=\"\" height=\"500\" width=\"500\" sizes=\"500px\" src=\"https:\/\/img.staticdj.com\/fd1554f5412985de427f811a9c5098b5.gif\" data-mce-fragment=\"1\" data-mce-src=\"https:\/\/img.staticdj.com\/fd1554f5412985de427f811a9c5098b5.gif\"\u003e\n\u003c\/li\u003e\n\u003c\/ul\u003e\n\u003cul class=\"default\" data-mce-fragment=\"1\"\u003e\n\u003cli class=\"default\" data-mce-fragment=\"1\"\u003e\n\u003cstrong\u003e\u003cspan\u003eSWEET DESIGN: \u003c\/span\u003e\u003c\/strong\u003eThe\u003cspan\u003e\u003cspan\u003e \u003c\/span\u003eChristmas engine designs adorn cakes, cookies and muffins.\u003cspan\u003e \u003c\/span\u003eYour homemade delicacies are guaranteed to look so delicious that both children and adults will want to eat them!\u003c\/span\u003e\u003cimg style=\"display: block; margin-left: auto; margin-right: auto;\" class=\"sep-lazyload lazyautosizes lazyloaded\" data-sizes=\"auto\" alt=\"\" height=\"500\" width=\"500\" data-srcset=\"https:\/\/img.staticdj.com\/e6e2fe1cff68dd2add6bece46468539c_720.jpeg 48w, https:\/\/img.staticdj.com\/e6e2fe1cff68dd2add6bece46468539c_720.jpeg 180w, https:\/\/img.staticdj.com\/e6e2fe1cff68dd2add6bece46468539c_720.jpeg 360w, https:\/\/img.staticdj.com\/e6e2fe1cff68dd2add6bece46468539c_720.jpeg 540w, https:\/\/img.staticdj.com\/e6e2fe1cff68dd2add6bece46468539c_720.jpeg 720w, https:\/\/img.staticdj.com\/e6e2fe1cff68dd2add6bece46468539c_720.jpeg 900w, https:\/\/img.staticdj.com\/e6e2fe1cff68dd2add6bece46468539c_720.jpeg 1024w, https:\/\/img.staticdj.com\/e6e2fe1cff68dd2add6bece46468539c_720.jpeg 1280w, https:\/\/img.staticdj.com\/e6e2fe1cff68dd2add6bece46468539c_720.jpeg 1366w, https:\/\/img.staticdj.com\/e6e2fe1cff68dd2add6bece46468539c_720.jpeg 1440w, https:\/\/img.staticdj.com\/e6e2fe1cff68dd2add6bece46468539c_720.jpeg 1536w, https:\/\/img.staticdj.com\/e6e2fe1cff68dd2add6bece46468539c_720.jpeg 1600w, https:\/\/img.staticdj.com\/e6e2fe1cff68dd2add6bece46468539c_720.jpeg 1920w, https:\/\/img.staticdj.com\/e6e2fe1cff68dd2add6bece46468539c_720.jpeg 2056w, https:\/\/img.staticdj.com\/e6e2fe1cff68dd2add6bece46468539c_720.jpeg 2560w, https:\/\/img.staticdj.com\/e6e2fe1cff68dd2add6bece46468539c_720.jpeg 2732w, https:\/\/img.staticdj.com\/e6e2fe1cff68dd2add6bece46468539c_720.jpeg 2880w, https:\/\/img.staticdj.com\/e6e2fe1cff68dd2add6bece46468539c_720.jpeg 3072w, https:\/\/img.staticdj.com\/e6e2fe1cff68dd2add6bece46468539c_720.jpeg 3200w, https:\/\/img.staticdj.com\/e6e2fe1cff68dd2add6bece46468539c_720.jpeg 3840w\" sizes=\"500px\" srcset=\"https:\/\/img.staticdj.com\/e6e2fe1cff68dd2add6bece46468539c_720.jpeg 48w, https:\/\/img.staticdj.com\/e6e2fe1cff68dd2add6bece46468539c_720.jpeg 180w, https:\/\/img.staticdj.com\/e6e2fe1cff68dd2add6bece46468539c_720.jpeg 360w, https:\/\/img.staticdj.com\/e6e2fe1cff68dd2add6bece46468539c_720.jpeg 540w, https:\/\/img.staticdj.com\/e6e2fe1cff68dd2add6bece46468539c_720.jpeg 720w, https:\/\/img.staticdj.com\/e6e2fe1cff68dd2add6bece46468539c_720.jpeg 900w, https:\/\/img.staticdj.com\/e6e2fe1cff68dd2add6bece46468539c_720.jpeg 1024w, https:\/\/img.staticdj.com\/e6e2fe1cff68dd2add6bece46468539c_720.jpeg 1280w, https:\/\/img.staticdj.com\/e6e2fe1cff68dd2add6bece46468539c_720.jpeg 1366w, https:\/\/img.staticdj.com\/e6e2fe1cff68dd2add6bece46468539c_720.jpeg 1440w, https:\/\/img.staticdj.com\/e6e2fe1cff68dd2add6bece46468539c_720.jpeg 1536w, https:\/\/img.staticdj.com\/e6e2fe1cff68dd2add6bece46468539c_720.jpeg 1600w, https:\/\/img.staticdj.com\/e6e2fe1cff68dd2add6bece46468539c_720.jpeg 1920w, https:\/\/img.staticdj.com\/e6e2fe1cff68dd2add6bece46468539c_720.jpeg 2056w, https:\/\/img.staticdj.com\/e6e2fe1cff68dd2add6bece46468539c_720.jpeg 2560w, https:\/\/img.staticdj.com\/e6e2fe1cff68dd2add6bece46468539c_720.jpeg 2732w, https:\/\/img.staticdj.com\/e6e2fe1cff68dd2add6bece46468539c_720.jpeg 2880w, https:\/\/img.staticdj.com\/e6e2fe1cff68dd2add6bece46468539c_720.jpeg 3072w, https:\/\/img.staticdj.com\/e6e2fe1cff68dd2add6bece46468539c_720.jpeg 3200w, https:\/\/img.staticdj.com\/e6e2fe1cff68dd2add6bece46468539c_720.jpeg 3840w\" data-mce-fragment=\"1\"\u003e\n\u003c\/li\u003e\n\u003c\/ul\u003e\n\u003cul\u003e\n\u003cli\u003e\n\u003cstrong\u003e\u003cspan\u003eEASY TO USE: \u003c\/span\u003e\u003c\/strong\u003eThe\u003cspan\u003e\u003cspan\u003e \u003c\/span\u003ebaking accessories included in this set are fairly easy to use, which is why they are recommended for beginners or culinary masters.\u003c\/span\u003e\u003cbr\u003e\n\u003c\/li\u003e\n\u003cli\u003e\n\u003cstrong\u003e\u003cspan\u003eFOOD SAFE:\u003c\/span\u003e\u003c\/strong\u003e\u003cspan\u003e\u003cspan\u003e \u003c\/span\u003eHave absolutely no toxic materials used in this kit!\u003cspan\u003e \u003c\/span\u003eThe nozzles are made of corrosion-resistant stainless steel and the pastry bags are made of non-toxic TPU.\u003c\/span\u003e\n\u003c\/li\u003e\n\u003c\/ul\u003e\n\u003cp data-mce-fragment=\"1\"\u003e\u003cimg style=\"display: block; margin-left: auto; margin-right: auto;\" class=\"lozad lazyloaded sep-lazyload lazyautosizes\" data-sizes=\"auto\" data-src=\"https:\/\/img.cdncloud.top\/uploader\/f5abac4814536be790ba61495aee01ab.gif\" width=\"500\" height=\"500\" data-loaded=\"true\" data-aspect-ratio=\"1.00\" sizes=\"500px\" src=\"https:\/\/img.cdncloud.top\/uploader\/f5abac4814536be790ba61495aee01ab.gif\" data-mce-fragment=\"1\" data-mce-src=\"https:\/\/img.cdncloud.top\/uploader\/f5abac4814536be790ba61495aee01ab.gif\"\u003e\u003c\/p\u003e\n\u003cul class=\"default\" data-mce-fragment=\"1\"\u003e\n\u003cli class=\"default\"\u003e\n\u003cstrong\u003e\u003cspan\u003ePERFECT GIFT:\u003c\/span\u003e\u003c\/strong\u003e\u003cspan\u003e\u003cspan\u003e \u003c\/span\u003eThere is no better time to share love than this July season.\u003cspan\u003e \u003c\/span\u003eIt's a rewarding season!\u003cspan\u003e \u003c\/span\u003e🍨🎂🧁 Enjoy a sweet holiday with your family❗\u003c\/span\u003e\n\u003c\/li\u003e\n\u003c\/ul\u003e\n\u003ch3 data-mce-fragment=\"1\"\u003e\u003cspan style=\"color: #ff8000;\" data-mce-fragment=\"1\"\u003e\u003cspan\u003eHow to use:\u003c\/span\u003e\u003c\/span\u003e\u003c\/h3\u003e\n\u003ch3 data-mce-fragment=\"1\"\u003e\u003cimg style=\"display: block; margin-left: auto; margin-right: auto;\" src=\"https:\/\/cdn.shopifycdn.net\/s\/files\/1\/0519\/0723\/1915\/files\/2440d9dad14f5830f381e566dc5b4af8_720_480x480.jpg?v=1634523714\" alt=\"\"\u003e\u003c\/h3\u003e\n\u003cul\u003e\n\u003cli\u003e\n\u003cstrong\u003e\u003cspan\u003eMaterial:\u003c\/span\u003e\u003c\/strong\u003e\u003cspan\u003e\u003cspan\u003e \u003c\/span\u003e Stainless steel\u003c\/span\u003e\n\u003c\/li\u003e\n\u003cli\u003e\n\u003cstrong\u003e\u003cspan\u003eWeight:\u003c\/span\u003e\u003c\/strong\u003e\u003cspan\u003e\u003cspan\u003e \u003c\/span\u003e13g \/ pc\u003c\/span\u003e\n\u003c\/li\u003e\n\u003c\/ul\u003e\n\u003ch4 data-mce-fragment=\"1\"\u003e\u003cspan style=\"color: #ff2a00;\" data-mce-fragment=\"1\"\u003e\u003cstrong data-mce-fragment=\"1\"\u003e\u003cspan\u003ePackage Includes:\u003c\/span\u003e\u003c\/strong\u003e\u003c\/span\u003e\u003c\/h4\u003e\n\u003cul\u003e\n\u003cli\u003e\u003cspan\u003e1 * Christmas nozzle set (10 PCS)\u003c\/span\u003e\u003c\/li\u003e\n\u003c\/ul\u003e\n\u003cp\u003e\u003cimg style=\"display: block; margin-left: auto; margin-right: auto;\" src=\"https:\/\/cdn.shopify.com\/s\/files\/1\/0519\/0723\/1915\/files\/0_480x480.jpg?v=1634538031\" alt=\"\"\u003e\u003c\/p\u003e","published_at":"2022-09-14T23:52:28-10:00","created_at":"2022-09-14T23:52:35-10:00","vendor":"buttylife","type":"","tags":["cooking tools"],"price":1699,"price_min":1699,"price_max":1699,"available":true,"price_varies":false,"compare_at_price":3299,"compare_at_price_min":3299,"compare_at_price_max":3299,"compare_at_price_varies":false,"variants":[{"id":43689896902907,"title":"Default Title","option1":"Default Title","option2":null,"option3":null,"sku":"SAK1702-Z03310","requires_shipping":true,"taxable":false,"featured_image":null,"available":true,"name":"Christmas Nozzle Set (10 PCS)","public_title":null,"options":["Default Title"],"price":1699,"weight":0,"compare_at_price":3299,"inventory_management":null,"barcode":"","requires_selling_plan":false,"selling_plan_allocations":[]}],"images":["\/\/www.buttylife.com\/cdn\/shop\/products\/3_2c2c7158-4fe7-4054-9257-b5fe730f8c83.jpg?v=1663235555","\/\/www.buttylife.com\/cdn\/shop\/products\/2_d283e7d6-f187-484c-8c06-0abafc0782e6.jpg?v=1663235555","\/\/www.buttylife.com\/cdn\/shop\/products\/1_fb25f55a-3d3b-4127-890e-17d3628800a1.jpg?v=1663235555","\/\/www.buttylife.com\/cdn\/shop\/products\/4_9ddb8c44-78d9-4ba0-b5a2-954975a19b1f.jpg?v=1663235555","\/\/www.buttylife.com\/cdn\/shop\/products\/5_be12762a-a153-4a0d-a4dd-64b5c113130c.jpg?v=1663235555","\/\/www.buttylife.com\/cdn\/shop\/products\/6_2cfcea94-4c99-4dda-addc-eca1e0e10988.jpg?v=1663235555","\/\/www.buttylife.com\/cdn\/shop\/products\/8_3ae5c37b-0a83-44bd-87d4-61cf88309db6.jpg?v=1663235555","\/\/www.buttylife.com\/cdn\/shop\/products\/0_248e74f1-42ed-4056-9155-eeb2751bf87d.jpg?v=1663235555"],"featured_image":"\/\/www.buttylife.com\/cdn\/shop\/products\/3_2c2c7158-4fe7-4054-9257-b5fe730f8c83.jpg?v=1663235555","options":["Title"],"media":[{"alt":null,"id":30826393436411,"position":1,"preview_image":{"aspect_ratio":1.0,"height":800,"width":800,"src":"\/\/www.buttylife.com\/cdn\/shop\/products\/3_2c2c7158-4fe7-4054-9257-b5fe730f8c83.jpg?v=1663235555"},"aspect_ratio":1.0,"height":800,"media_type":"image","src":"\/\/www.buttylife.com\/cdn\/shop\/products\/3_2c2c7158-4fe7-4054-9257-b5fe730f8c83.jpg?v=1663235555","width":800},{"alt":null,"id":30826393469179,"position":2,"preview_image":{"aspect_ratio":1.0,"height":800,"width":800,"src":"\/\/www.buttylife.com\/cdn\/shop\/products\/2_d283e7d6-f187-484c-8c06-0abafc0782e6.jpg?v=1663235555"},"aspect_ratio":1.0,"height":800,"media_type":"image","src":"\/\/www.buttylife.com\/cdn\/shop\/products\/2_d283e7d6-f187-484c-8c06-0abafc0782e6.jpg?v=1663235555","width":800},{"alt":null,"id":30826393501947,"position":3,"preview_image":{"aspect_ratio":1.0,"height":800,"width":800,"src":"\/\/www.buttylife.com\/cdn\/shop\/products\/1_fb25f55a-3d3b-4127-890e-17d3628800a1.jpg?v=1663235555"},"aspect_ratio":1.0,"height":800,"media_type":"image","src":"\/\/www.buttylife.com\/cdn\/shop\/products\/1_fb25f55a-3d3b-4127-890e-17d3628800a1.jpg?v=1663235555","width":800},{"alt":null,"id":30826393534715,"position":4,"preview_image":{"aspect_ratio":1.0,"height":800,"width":800,"src":"\/\/www.buttylife.com\/cdn\/shop\/products\/4_9ddb8c44-78d9-4ba0-b5a2-954975a19b1f.jpg?v=1663235555"},"aspect_ratio":1.0,"height":800,"media_type":"image","src":"\/\/www.buttylife.com\/cdn\/shop\/products\/4_9ddb8c44-78d9-4ba0-b5a2-954975a19b1f.jpg?v=1663235555","width":800},{"alt":null,"id":30826393567483,"position":5,"preview_image":{"aspect_ratio":1.0,"height":800,"width":800,"src":"\/\/www.buttylife.com\/cdn\/shop\/products\/5_be12762a-a153-4a0d-a4dd-64b5c113130c.jpg?v=1663235555"},"aspect_ratio":1.0,"height":800,"media_type":"image","src":"\/\/www.buttylife.com\/cdn\/shop\/products\/5_be12762a-a153-4a0d-a4dd-64b5c113130c.jpg?v=1663235555","width":800},{"alt":null,"id":30826393600251,"position":6,"preview_image":{"aspect_ratio":1.0,"height":800,"width":800,"src":"\/\/www.buttylife.com\/cdn\/shop\/products\/6_2cfcea94-4c99-4dda-addc-eca1e0e10988.jpg?v=1663235555"},"aspect_ratio":1.0,"height":800,"media_type":"image","src":"\/\/www.buttylife.com\/cdn\/shop\/products\/6_2cfcea94-4c99-4dda-addc-eca1e0e10988.jpg?v=1663235555","width":800},{"alt":null,"id":30826393633019,"position":7,"preview_image":{"aspect_ratio":1.0,"height":800,"width":800,"src":"\/\/www.buttylife.com\/cdn\/shop\/products\/8_3ae5c37b-0a83-44bd-87d4-61cf88309db6.jpg?v=1663235555"},"aspect_ratio":1.0,"height":800,"media_type":"image","src":"\/\/www.buttylife.com\/cdn\/shop\/products\/8_3ae5c37b-0a83-44bd-87d4-61cf88309db6.jpg?v=1663235555","width":800},{"alt":null,"id":30826393665787,"position":8,"preview_image":{"aspect_ratio":1.0,"height":800,"width":800,"src":"\/\/www.buttylife.com\/cdn\/shop\/products\/0_248e74f1-42ed-4056-9155-eeb2751bf87d.jpg?v=1663235555"},"aspect_ratio":1.0,"height":800,"media_type":"image","src":"\/\/www.buttylife.com\/cdn\/shop\/products\/0_248e74f1-42ed-4056-9155-eeb2751bf87d.jpg?v=1663235555","width":800}],"requires_selling_plan":false,"selling_plan_groups":[],"content":"\u003ch2 data-mce-fragment=\"1\"\u003e\u003cspan style=\"color: #27844f;\" data-mce-fragment=\"1\"\u003e\u003cstrong data-mce-fragment=\"1\"\u003e\u003cspan\u003eGive your cakes and sweets a fantastic look this Christmas season with a Russian Christmas pipedyset !!\u003c\/span\u003e\u003c\/strong\u003e\u003c\/span\u003e\u003c\/h2\u003e\n\u003cp data-mce-fragment=\"1\"\u003e\u003cspan\u003eThis kitchen equipment is available in fantastic designs that both children and adults are guaranteed to love.\u003cspan\u003e \u003c\/span\u003eAnd the combination box with the pretzel bag PLUS gives an even more fantastic Christmas atmosphere.\u003c\/span\u003e\u003c\/p\u003e\n\u003cp data-mce-fragment=\"1\"\u003e\u003cimg style=\"display: block; margin-left: auto; margin-right: auto;\" class=\"sep-lazyload lazyautosizes ls-is-cached lazyloaded\" data-sizes=\"auto\" data-src=\"https:\/\/img.staticdj.com\/24ea094d2c00d681e6257ff5f77f8c2d.gif\" alt=\"\" height=\"500\" width=\"500\" sizes=\"500px\" src=\"https:\/\/img.staticdj.com\/24ea094d2c00d681e6257ff5f77f8c2d.gif\" data-mce-fragment=\"1\" data-mce-src=\"https:\/\/img.staticdj.com\/24ea094d2c00d681e6257ff5f77f8c2d.gif\"\u003e\u003c\/p\u003e\n\u003ch3 data-mce-fragment=\"1\"\u003e\u003cspan style=\"color: #bb7127;\" data-mce-fragment=\"1\"\u003e\u003cstrong data-mce-fragment=\"1\"\u003e\u003cspan\u003eCHARACTERISTICS:\u003c\/span\u003e\u003c\/strong\u003e\u003c\/span\u003e\u003c\/h3\u003e\n\u003cul class=\"default\" data-mce-fragment=\"1\"\u003e\n\u003cli class=\"default\" data-mce-fragment=\"1\"\u003e\n\u003cstrong\u003e\u003cspan\u003eTOP QUALITY\u003c\/span\u003e\u003c\/strong\u003e\u003cspan\u003e\u003cspan\u003e \u003c\/span\u003e: These Russian ice cream tips and baking tools are made of materials that are exceptionally strong, durable and reliable.\u003c\/span\u003e\u003cimg style=\"display: block; margin-left: auto; margin-right: auto;\" class=\"sep-lazyload lazyautosizes lazyloaded\" data-sizes=\"auto\" data-src=\"https:\/\/img.staticdj.com\/fd1554f5412985de427f811a9c5098b5.gif\" alt=\"\" height=\"500\" width=\"500\" sizes=\"500px\" src=\"https:\/\/img.staticdj.com\/fd1554f5412985de427f811a9c5098b5.gif\" data-mce-fragment=\"1\" data-mce-src=\"https:\/\/img.staticdj.com\/fd1554f5412985de427f811a9c5098b5.gif\"\u003e\n\u003c\/li\u003e\n\u003c\/ul\u003e\n\u003cul class=\"default\" data-mce-fragment=\"1\"\u003e\n\u003cli class=\"default\" data-mce-fragment=\"1\"\u003e\n\u003cstrong\u003e\u003cspan\u003eSWEET DESIGN: \u003c\/span\u003e\u003c\/strong\u003eThe\u003cspan\u003e\u003cspan\u003e \u003c\/span\u003eChristmas engine designs adorn cakes, cookies and muffins.\u003cspan\u003e \u003c\/span\u003eYour homemade delicacies are guaranteed to look so delicious that both children and adults will want to eat them!\u003c\/span\u003e\u003cimg style=\"display: block; margin-left: auto; margin-right: auto;\" class=\"sep-lazyload lazyautosizes lazyloaded\" data-sizes=\"auto\" alt=\"\" height=\"500\" width=\"500\" data-srcset=\"https:\/\/img.staticdj.com\/e6e2fe1cff68dd2add6bece46468539c_720.jpeg 48w, https:\/\/img.staticdj.com\/e6e2fe1cff68dd2add6bece46468539c_720.jpeg 180w, https:\/\/img.staticdj.com\/e6e2fe1cff68dd2add6bece46468539c_720.jpeg 360w, https:\/\/img.staticdj.com\/e6e2fe1cff68dd2add6bece46468539c_720.jpeg 540w, https:\/\/img.staticdj.com\/e6e2fe1cff68dd2add6bece46468539c_720.jpeg 720w, https:\/\/img.staticdj.com\/e6e2fe1cff68dd2add6bece46468539c_720.jpeg 900w, https:\/\/img.staticdj.com\/e6e2fe1cff68dd2add6bece46468539c_720.jpeg 1024w, https:\/\/img.staticdj.com\/e6e2fe1cff68dd2add6bece46468539c_720.jpeg 1280w, https:\/\/img.staticdj.com\/e6e2fe1cff68dd2add6bece46468539c_720.jpeg 1366w, https:\/\/img.staticdj.com\/e6e2fe1cff68dd2add6bece46468539c_720.jpeg 1440w, https:\/\/img.staticdj.com\/e6e2fe1cff68dd2add6bece46468539c_720.jpeg 1536w, https:\/\/img.staticdj.com\/e6e2fe1cff68dd2add6bece46468539c_720.jpeg 1600w, https:\/\/img.staticdj.com\/e6e2fe1cff68dd2add6bece46468539c_720.jpeg 1920w, https:\/\/img.staticdj.com\/e6e2fe1cff68dd2add6bece46468539c_720.jpeg 2056w, https:\/\/img.staticdj.com\/e6e2fe1cff68dd2add6bece46468539c_720.jpeg 2560w, https:\/\/img.staticdj.com\/e6e2fe1cff68dd2add6bece46468539c_720.jpeg 2732w, https:\/\/img.staticdj.com\/e6e2fe1cff68dd2add6bece46468539c_720.jpeg 2880w, https:\/\/img.staticdj.com\/e6e2fe1cff68dd2add6bece46468539c_720.jpeg 3072w, https:\/\/img.staticdj.com\/e6e2fe1cff68dd2add6bece46468539c_720.jpeg 3200w, https:\/\/img.staticdj.com\/e6e2fe1cff68dd2add6bece46468539c_720.jpeg 3840w\" sizes=\"500px\" srcset=\"https:\/\/img.staticdj.com\/e6e2fe1cff68dd2add6bece46468539c_720.jpeg 48w, https:\/\/img.staticdj.com\/e6e2fe1cff68dd2add6bece46468539c_720.jpeg 180w, https:\/\/img.staticdj.com\/e6e2fe1cff68dd2add6bece46468539c_720.jpeg 360w, https:\/\/img.staticdj.com\/e6e2fe1cff68dd2add6bece46468539c_720.jpeg 540w, https:\/\/img.staticdj.com\/e6e2fe1cff68dd2add6bece46468539c_720.jpeg 720w, https:\/\/img.staticdj.com\/e6e2fe1cff68dd2add6bece46468539c_720.jpeg 900w, https:\/\/img.staticdj.com\/e6e2fe1cff68dd2add6bece46468539c_720.jpeg 1024w, https:\/\/img.staticdj.com\/e6e2fe1cff68dd2add6bece46468539c_720.jpeg 1280w, https:\/\/img.staticdj.com\/e6e2fe1cff68dd2add6bece46468539c_720.jpeg 1366w, https:\/\/img.staticdj.com\/e6e2fe1cff68dd2add6bece46468539c_720.jpeg 1440w, https:\/\/img.staticdj.com\/e6e2fe1cff68dd2add6bece46468539c_720.jpeg 1536w, https:\/\/img.staticdj.com\/e6e2fe1cff68dd2add6bece46468539c_720.jpeg 1600w, https:\/\/img.staticdj.com\/e6e2fe1cff68dd2add6bece46468539c_720.jpeg 1920w, https:\/\/img.staticdj.com\/e6e2fe1cff68dd2add6bece46468539c_720.jpeg 2056w, https:\/\/img.staticdj.com\/e6e2fe1cff68dd2add6bece46468539c_720.jpeg 2560w, https:\/\/img.staticdj.com\/e6e2fe1cff68dd2add6bece46468539c_720.jpeg 2732w, https:\/\/img.staticdj.com\/e6e2fe1cff68dd2add6bece46468539c_720.jpeg 2880w, https:\/\/img.staticdj.com\/e6e2fe1cff68dd2add6bece46468539c_720.jpeg 3072w, https:\/\/img.staticdj.com\/e6e2fe1cff68dd2add6bece46468539c_720.jpeg 3200w, https:\/\/img.staticdj.com\/e6e2fe1cff68dd2add6bece46468539c_720.jpeg 3840w\" data-mce-fragment=\"1\"\u003e\n\u003c\/li\u003e\n\u003c\/ul\u003e\n\u003cul\u003e\n\u003cli\u003e\n\u003cstrong\u003e\u003cspan\u003eEASY TO USE: \u003c\/span\u003e\u003c\/strong\u003eThe\u003cspan\u003e\u003cspan\u003e \u003c\/span\u003ebaking accessories included in this set are fairly easy to use, which is why they are recommended for beginners or culinary masters.\u003c\/span\u003e\u003cbr\u003e\n\u003c\/li\u003e\n\u003cli\u003e\n\u003cstrong\u003e\u003cspan\u003eFOOD SAFE:\u003c\/span\u003e\u003c\/strong\u003e\u003cspan\u003e\u003cspan\u003e \u003c\/span\u003eHave absolutely no toxic materials used in this kit!\u003cspan\u003e \u003c\/span\u003eThe nozzles are made of corrosion-resistant stainless steel and the pastry bags are made of non-toxic TPU.\u003c\/span\u003e\n\u003c\/li\u003e\n\u003c\/ul\u003e\n\u003cp data-mce-fragment=\"1\"\u003e\u003cimg style=\"display: block; margin-left: auto; margin-right: auto;\" class=\"lozad lazyloaded sep-lazyload lazyautosizes\" data-sizes=\"auto\" data-src=\"https:\/\/img.cdncloud.top\/uploader\/f5abac4814536be790ba61495aee01ab.gif\" width=\"500\" height=\"500\" data-loaded=\"true\" data-aspect-ratio=\"1.00\" sizes=\"500px\" src=\"https:\/\/img.cdncloud.top\/uploader\/f5abac4814536be790ba61495aee01ab.gif\" data-mce-fragment=\"1\" data-mce-src=\"https:\/\/img.cdncloud.top\/uploader\/f5abac4814536be790ba61495aee01ab.gif\"\u003e\u003c\/p\u003e\n\u003cul class=\"default\" data-mce-fragment=\"1\"\u003e\n\u003cli class=\"default\"\u003e\n\u003cstrong\u003e\u003cspan\u003ePERFECT GIFT:\u003c\/span\u003e\u003c\/strong\u003e\u003cspan\u003e\u003cspan\u003e \u003c\/span\u003eThere is no better time to share love than this July season.\u003cspan\u003e \u003c\/span\u003eIt's a rewarding season!\u003cspan\u003e \u003c\/span\u003e🍨🎂🧁 Enjoy a sweet holiday with your family❗\u003c\/span\u003e\n\u003c\/li\u003e\n\u003c\/ul\u003e\n\u003ch3 data-mce-fragment=\"1\"\u003e\u003cspan style=\"color: #ff8000;\" data-mce-fragment=\"1\"\u003e\u003cspan\u003eHow to use:\u003c\/span\u003e\u003c\/span\u003e\u003c\/h3\u003e\n\u003ch3 data-mce-fragment=\"1\"\u003e\u003cimg style=\"display: block; margin-left: auto; margin-right: auto;\" src=\"https:\/\/cdn.shopifycdn.net\/s\/files\/1\/0519\/0723\/1915\/files\/2440d9dad14f5830f381e566dc5b4af8_720_480x480.jpg?v=1634523714\" alt=\"\"\u003e\u003c\/h3\u003e\n\u003cul\u003e\n\u003cli\u003e\n\u003cstrong\u003e\u003cspan\u003eMaterial:\u003c\/span\u003e\u003c\/strong\u003e\u003cspan\u003e\u003cspan\u003e \u003c\/span\u003e Stainless steel\u003c\/span\u003e\n\u003c\/li\u003e\n\u003cli\u003e\n\u003cstrong\u003e\u003cspan\u003eWeight:\u003c\/span\u003e\u003c\/strong\u003e\u003cspan\u003e\u003cspan\u003e \u003c\/span\u003e13g \/ pc\u003c\/span\u003e\n\u003c\/li\u003e\n\u003c\/ul\u003e\n\u003ch4 data-mce-fragment=\"1\"\u003e\u003cspan style=\"color: #ff2a00;\" data-mce-fragment=\"1\"\u003e\u003cstrong data-mce-fragment=\"1\"\u003e\u003cspan\u003ePackage Includes:\u003c\/span\u003e\u003c\/strong\u003e\u003c\/span\u003e\u003c\/h4\u003e\n\u003cul\u003e\n\u003cli\u003e\u003cspan\u003e1 * Christmas nozzle set (10 PCS)\u003c\/span\u003e\u003c\/li\u003e\n\u003c\/ul\u003e\n\u003cp\u003e\u003cimg style=\"display: block; margin-left: auto; margin-right: auto;\" src=\"https:\/\/cdn.shopify.com\/s\/files\/1\/0519\/0723\/1915\/files\/0_480x480.jpg?v=1634538031\" alt=\"\"\u003e\u003c\/p\u003e"}
Christmas Nozzle Set (10 PCS)
Product Description
Give your cakes and sweets a fantastic look this Christmas season with a Russian Christmas pipedyset !!
This kitchen equipment is available in fantastic designs that both children and adults are guaranteed to love. And the combination box with the pretzel bag PLUS gives an even more fantastic Christmas atmosphere.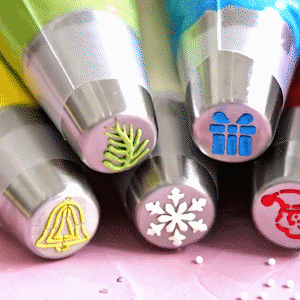 CHARACTERISTICS:
TOP QUALITY

 

: These Russian ice cream tips and baking tools are made of materials that are exceptionally strong, durable and reliable.
SWEET DESIGN:

The

 

Christmas engine designs adorn cakes, cookies and muffins.

 

Your homemade delicacies are guaranteed to look so delicious that both children and adults will want to eat them!
EASY TO USE:

The

 

baking accessories included in this set are fairly easy to use, which is why they are recommended for beginners or culinary masters.


FOOD SAFE:

 

Have absolutely no toxic materials used in this kit!

 

The nozzles are made of corrosion-resistant stainless steel and the pastry bags are made of non-toxic TPU.
PERFECT GIFT:

 

There is no better time to share love than this July season.

 

It's a rewarding season!

 

🍨🎂🧁 Enjoy a sweet holiday with your family❗
How to use:

Material:

 

 Stainless steel

Weight:

 

13g / pc
Package Includes:
1 * Christmas nozzle set (10 PCS)
people are currently looking at this product