{"id":7781563760891,"title":"Eyebrow Trimming Scissors","handle":"eyebrow-trimming-scissors","description":"\u003cspan style=\"color: #ff2a00;\"\u003e\u003cstrong\u003e👑Properties\u003c\/strong\u003e\u003c\/span\u003e\u003cbr\u003e\n\u003cul\u003e\n\u003cli\u003e\n\u003cstrong\u003eRemovable eyebrow comb:\u003c\/strong\u003e The eyebrow comb can be easily removed for easy cleaning.\u003c\/li\u003e\n\u003c\/ul\u003e\n\u003cp\u003e\u003cimg data-mce-fragment=\"1\" height=\"350\" width=\"350\" alt=\"\" src=\"https:\/\/cdn.shopifycdn.net\/s\/files\/1\/0519\/0723\/1915\/files\/6_485c1caf-f77b-49ae-a7d4-1ec62ebaf679_480x480.jpg?v=1619426775\" style=\"display: block; margin-left: auto; margin-right: auto;\" data-mce-selected=\"1\" data-mce-src=\"https:\/\/cdn.shopifycdn.net\/s\/files\/1\/0519\/0723\/1915\/files\/6_485c1caf-f77b-49ae-a7d4-1ec62ebaf679_480x480.jpg?v=1619426775\"\u003e\u003c\/p\u003e\n\u003cul\u003e\n\u003cli\u003e\n\u003cstrong\u003eSharp scissors:\u003c\/strong\u003e The sharp blade allows you to trim the eyebrows nicely.\u003c\/li\u003e\n\u003cli\u003e\n\u003cstrong\u003eWashable:\u003c\/strong\u003e Made of stainless steel, washable and not easy to rust.\u003c\/li\u003e\n\u003c\/ul\u003e\n\u003cp\u003e\u003cimg data-mce-fragment=\"1\" height=\"350\" width=\"350\" alt=\"\" src=\"https:\/\/cdn.shopifycdn.net\/s\/files\/1\/0519\/0723\/1915\/files\/7_15f68583-b170-4362-821b-e76b6aa2a5ad_480x480.jpg?v=1619426957\" style=\"display: block; margin-left: auto; margin-right: auto;\" data-mce-selected=\"1\" data-mce-src=\"https:\/\/cdn.shopifycdn.net\/s\/files\/1\/0519\/0723\/1915\/files\/7_15f68583-b170-4362-821b-e76b6aa2a5ad_480x480.jpg?v=1619426957\"\u003e\u003c\/p\u003e\n\u003cul\u003e\u003c\/ul\u003e\n\u003cul\u003e\n\u003cli\u003e\n\u003cstrong\u003eSmooth opening and closing:\u003c\/strong\u003e The central shaft in solid stainless steel makes the scissors smooth and firmer at the same time.\u003c\/li\u003e\n\u003c\/ul\u003e\n\u003cspan style=\"color: #ff2a00;\"\u003e\u003cstrong\u003e👑Specification\u003c\/strong\u003e\u003c\/span\u003e\u003cbr\u003e\n\u003cul\u003e\n\u003cli\u003e\n\u003cstrong\u003eType:\u003c\/strong\u003e Scissors for eyebrows with comb\u003c\/li\u003e\n\u003cli\u003e\n\u003cstrong\u003eBeauty tool classification:\u003c\/strong\u003e Facial beauty cosmetics\u003c\/li\u003e\n\u003cli\u003e\n\u003cstrong\u003eMaterial:\u003c\/strong\u003e stainless steel + ABS\u003c\/li\u003e\n\u003cli\u003e\n\u003cstrong\u003eSuitable for the audience:\u003c\/strong\u003e all people\u003c\/li\u003e\n\u003c\/ul\u003e\n\u003cspan style=\"color: #ff2a00;\"\u003e\u003cstrong\u003e👑How to use\u003c\/strong\u003e\u003c\/span\u003e\u003cbr\u003e\n\u003cul\u003e\n\u003cli\u003eStep 1 - Use an eyebrow comb to comb the eyebrows.\u003c\/li\u003e\n\u003cli\u003eStep 2 - Outline the eyebrow shape you want to trim.\u003c\/li\u003e\n\u003cli\u003eStep 3 - Close the eyebrow comb against the eyebrows, and trim the eyebrows on the outside of the comb to the length you need.\u003c\/li\u003e\n\u003cli\u003eStep 4 - After the general eyebrow shape comes out, use an eyebrow trimmer to trim the remaining eyebrows.\u003c\/li\u003e\n\u003c\/ul\u003e\n\u003ch3 data-mce-fragment=\"1\"\u003e\u003cimg style=\"display: block; margin-left: auto; margin-right: auto;\" alt=\"\" src=\"https:\/\/cdn.shopifycdn.net\/s\/files\/1\/0519\/0723\/1915\/files\/8_26167e80-5144-4bb3-82bc-39a4646c7c8c_480x480.jpg?v=1619427484\" width=\"386\" height=\"386\" data-mce-selected=\"1\"\u003e\u003c\/h3\u003e\n\u003cspan style=\"color: #ff2a00;\"\u003e\u003cstrong\u003e👑The package includes\u003c\/strong\u003e\u003c\/span\u003e\u003cbr\u003e\n\u003cul\u003e\n\u003cli\u003e1 * Scissors for eyebrow comb\u003c\/li\u003e\n\u003c\/ul\u003e","published_at":"2022-07-20T21:43:49-10:00","created_at":"2022-07-20T21:44:00-10:00","vendor":"buttylife","type":"","tags":[],"price":999,"price_min":999,"price_max":999,"available":true,"price_varies":false,"compare_at_price":1998,"compare_at_price_min":1998,"compare_at_price_max":1998,"compare_at_price_varies":false,"variants":[{"id":43315880853755,"title":"Black","option1":"Black","option2":null,"option3":null,"sku":"CP17102-C001","requires_shipping":true,"taxable":false,"featured_image":null,"available":true,"name":"Eyebrow Trimming Scissors - Black","public_title":"Black","options":["Black"],"price":999,"weight":0,"compare_at_price":1998,"inventory_management":null,"barcode":null,"requires_selling_plan":false,"selling_plan_allocations":[]},{"id":43315880886523,"title":"Pink","option1":"Pink","option2":null,"option3":null,"sku":"CP17102-C009","requires_shipping":true,"taxable":false,"featured_image":null,"available":true,"name":"Eyebrow Trimming Scissors - Pink","public_title":"Pink","options":["Pink"],"price":999,"weight":0,"compare_at_price":1998,"inventory_management":null,"barcode":null,"requires_selling_plan":false,"selling_plan_allocations":[]},{"id":43315880919291,"title":"Bean paste","option1":"Bean paste","option2":null,"option3":null,"sku":"CP17102-C019","requires_shipping":true,"taxable":false,"featured_image":null,"available":true,"name":"Eyebrow Trimming Scissors - Bean paste","public_title":"Bean paste","options":["Bean paste"],"price":999,"weight":0,"compare_at_price":1998,"inventory_management":null,"barcode":null,"requires_selling_plan":false,"selling_plan_allocations":[]},{"id":43315880952059,"title":"Green","option1":"Green","option2":null,"option3":null,"sku":"CP17102-C079","requires_shipping":true,"taxable":false,"featured_image":null,"available":true,"name":"Eyebrow Trimming Scissors - Green","public_title":"Green","options":["Green"],"price":999,"weight":0,"compare_at_price":1998,"inventory_management":null,"barcode":null,"requires_selling_plan":false,"selling_plan_allocations":[]},{"id":43315880984827,"title":"White","option1":"White","option2":null,"option3":null,"sku":"CP17102-C005","requires_shipping":true,"taxable":false,"featured_image":null,"available":true,"name":"Eyebrow Trimming Scissors - White","public_title":"White","options":["White"],"price":999,"weight":0,"compare_at_price":1998,"inventory_management":null,"barcode":null,"requires_selling_plan":false,"selling_plan_allocations":[]},{"id":43315881017595,"title":"Rosy Red","option1":"Rosy Red","option2":null,"option3":null,"sku":"CP17102-C014","requires_shipping":true,"taxable":false,"featured_image":null,"available":true,"name":"Eyebrow Trimming Scissors - Rosy Red","public_title":"Rosy Red","options":["Rosy Red"],"price":999,"weight":0,"compare_at_price":1998,"inventory_management":null,"barcode":null,"requires_selling_plan":false,"selling_plan_allocations":[]}],"images":["\/\/www.buttylife.com\/cdn\/shop\/products\/1_c03e118c-ed99-4d85-af02-5cb604106dc4.jpg?v=1658389440","\/\/www.buttylife.com\/cdn\/shop\/products\/2_f6a5f4cc-9e20-4f26-b677-c4f2c1e355e2.jpg?v=1658389440","\/\/www.buttylife.com\/cdn\/shop\/products\/3_50871d0d-03e1-4151-9d9d-1d48e0964eef.jpg?v=1658389440","\/\/www.buttylife.com\/cdn\/shop\/products\/4_1a43c2b8-cbda-431b-909d-9d6732e9b41b.jpg?v=1658389440","\/\/www.buttylife.com\/cdn\/shop\/products\/5_a3ec2573-b8c5-428d-830b-52355935d1dd.jpg?v=1658389440","\/\/www.buttylife.com\/cdn\/shop\/products\/6_a1324c25-017a-4126-a3d6-75b6ab61cb6b.jpg?v=1658389440","\/\/www.buttylife.com\/cdn\/shop\/products\/7_75199203-c290-4c05-96cd-0e9a4871d92b.jpg?v=1658389440","\/\/www.buttylife.com\/cdn\/shop\/products\/8_18c18d25-776b-4f2b-b628-565e53ba5d3c.jpg?v=1658389440","\/\/www.buttylife.com\/cdn\/shop\/products\/9_424d7ef1-6fc2-49a3-8c7f-a86f8a99d296.jpg?v=1658389440","\/\/www.buttylife.com\/cdn\/shop\/products\/10_2adf23b0-e940-432d-9018-76fc7348eb1c.jpg?v=1658389440","\/\/www.buttylife.com\/cdn\/shop\/products\/15_76925700-e6c1-402c-a2d7-a3773d087bb4.jpg?v=1658389440","\/\/www.buttylife.com\/cdn\/shop\/products\/14_0fa92f51-5d57-4b49-b581-08e270514767.jpg?v=1658389440","\/\/www.buttylife.com\/cdn\/shop\/products\/12_0189b0a3-7d86-4439-b182-11026deffd69.jpg?v=1658389440","\/\/www.buttylife.com\/cdn\/shop\/products\/13_98ecb516-61b0-4b3e-b41c-43c5c4f1c2e2.jpg?v=1658389440","\/\/www.buttylife.com\/cdn\/shop\/products\/11_9cca757f-8944-4c6c-bec0-3647fb473132.jpg?v=1658389440","\/\/www.buttylife.com\/cdn\/shop\/products\/16_6884cd6d-6167-4f02-956c-f593aa56a323.jpg?v=1658389440"],"featured_image":"\/\/www.buttylife.com\/cdn\/shop\/products\/1_c03e118c-ed99-4d85-af02-5cb604106dc4.jpg?v=1658389440","options":["Color"],"media":[{"alt":null,"id":30407334691067,"position":1,"preview_image":{"aspect_ratio":1.0,"height":800,"width":800,"src":"\/\/www.buttylife.com\/cdn\/shop\/products\/1_c03e118c-ed99-4d85-af02-5cb604106dc4.jpg?v=1658389440"},"aspect_ratio":1.0,"height":800,"media_type":"image","src":"\/\/www.buttylife.com\/cdn\/shop\/products\/1_c03e118c-ed99-4d85-af02-5cb604106dc4.jpg?v=1658389440","width":800},{"alt":null,"id":30407334723835,"position":2,"preview_image":{"aspect_ratio":1.0,"height":500,"width":500,"src":"\/\/www.buttylife.com\/cdn\/shop\/products\/2_f6a5f4cc-9e20-4f26-b677-c4f2c1e355e2.jpg?v=1658389440"},"aspect_ratio":1.0,"height":500,"media_type":"image","src":"\/\/www.buttylife.com\/cdn\/shop\/products\/2_f6a5f4cc-9e20-4f26-b677-c4f2c1e355e2.jpg?v=1658389440","width":500},{"alt":null,"id":30407334756603,"position":3,"preview_image":{"aspect_ratio":1.0,"height":500,"width":500,"src":"\/\/www.buttylife.com\/cdn\/shop\/products\/3_50871d0d-03e1-4151-9d9d-1d48e0964eef.jpg?v=1658389440"},"aspect_ratio":1.0,"height":500,"media_type":"image","src":"\/\/www.buttylife.com\/cdn\/shop\/products\/3_50871d0d-03e1-4151-9d9d-1d48e0964eef.jpg?v=1658389440","width":500},{"alt":null,"id":30407334789371,"position":4,"preview_image":{"aspect_ratio":1.0,"height":500,"width":500,"src":"\/\/www.buttylife.com\/cdn\/shop\/products\/4_1a43c2b8-cbda-431b-909d-9d6732e9b41b.jpg?v=1658389440"},"aspect_ratio":1.0,"height":500,"media_type":"image","src":"\/\/www.buttylife.com\/cdn\/shop\/products\/4_1a43c2b8-cbda-431b-909d-9d6732e9b41b.jpg?v=1658389440","width":500},{"alt":null,"id":30407334822139,"position":5,"preview_image":{"aspect_ratio":1.0,"height":500,"width":500,"src":"\/\/www.buttylife.com\/cdn\/shop\/products\/5_a3ec2573-b8c5-428d-830b-52355935d1dd.jpg?v=1658389440"},"aspect_ratio":1.0,"height":500,"media_type":"image","src":"\/\/www.buttylife.com\/cdn\/shop\/products\/5_a3ec2573-b8c5-428d-830b-52355935d1dd.jpg?v=1658389440","width":500},{"alt":null,"id":30407334854907,"position":6,"preview_image":{"aspect_ratio":1.0,"height":500,"width":500,"src":"\/\/www.buttylife.com\/cdn\/shop\/products\/6_a1324c25-017a-4126-a3d6-75b6ab61cb6b.jpg?v=1658389440"},"aspect_ratio":1.0,"height":500,"media_type":"image","src":"\/\/www.buttylife.com\/cdn\/shop\/products\/6_a1324c25-017a-4126-a3d6-75b6ab61cb6b.jpg?v=1658389440","width":500},{"alt":null,"id":30407334887675,"position":7,"preview_image":{"aspect_ratio":1.0,"height":500,"width":500,"src":"\/\/www.buttylife.com\/cdn\/shop\/products\/7_75199203-c290-4c05-96cd-0e9a4871d92b.jpg?v=1658389440"},"aspect_ratio":1.0,"height":500,"media_type":"image","src":"\/\/www.buttylife.com\/cdn\/shop\/products\/7_75199203-c290-4c05-96cd-0e9a4871d92b.jpg?v=1658389440","width":500},{"alt":null,"id":30407334920443,"position":8,"preview_image":{"aspect_ratio":1.0,"height":500,"width":500,"src":"\/\/www.buttylife.com\/cdn\/shop\/products\/8_18c18d25-776b-4f2b-b628-565e53ba5d3c.jpg?v=1658389440"},"aspect_ratio":1.0,"height":500,"media_type":"image","src":"\/\/www.buttylife.com\/cdn\/shop\/products\/8_18c18d25-776b-4f2b-b628-565e53ba5d3c.jpg?v=1658389440","width":500},{"alt":null,"id":30407334953211,"position":9,"preview_image":{"aspect_ratio":1.0,"height":500,"width":500,"src":"\/\/www.buttylife.com\/cdn\/shop\/products\/9_424d7ef1-6fc2-49a3-8c7f-a86f8a99d296.jpg?v=1658389440"},"aspect_ratio":1.0,"height":500,"media_type":"image","src":"\/\/www.buttylife.com\/cdn\/shop\/products\/9_424d7ef1-6fc2-49a3-8c7f-a86f8a99d296.jpg?v=1658389440","width":500},{"alt":null,"id":30407334985979,"position":10,"preview_image":{"aspect_ratio":1.0,"height":500,"width":500,"src":"\/\/www.buttylife.com\/cdn\/shop\/products\/10_2adf23b0-e940-432d-9018-76fc7348eb1c.jpg?v=1658389440"},"aspect_ratio":1.0,"height":500,"media_type":"image","src":"\/\/www.buttylife.com\/cdn\/shop\/products\/10_2adf23b0-e940-432d-9018-76fc7348eb1c.jpg?v=1658389440","width":500},{"alt":null,"id":30407335018747,"position":11,"preview_image":{"aspect_ratio":1.0,"height":500,"width":500,"src":"\/\/www.buttylife.com\/cdn\/shop\/products\/15_76925700-e6c1-402c-a2d7-a3773d087bb4.jpg?v=1658389440"},"aspect_ratio":1.0,"height":500,"media_type":"image","src":"\/\/www.buttylife.com\/cdn\/shop\/products\/15_76925700-e6c1-402c-a2d7-a3773d087bb4.jpg?v=1658389440","width":500},{"alt":null,"id":30407335051515,"position":12,"preview_image":{"aspect_ratio":1.0,"height":500,"width":500,"src":"\/\/www.buttylife.com\/cdn\/shop\/products\/14_0fa92f51-5d57-4b49-b581-08e270514767.jpg?v=1658389440"},"aspect_ratio":1.0,"height":500,"media_type":"image","src":"\/\/www.buttylife.com\/cdn\/shop\/products\/14_0fa92f51-5d57-4b49-b581-08e270514767.jpg?v=1658389440","width":500},{"alt":null,"id":30407335084283,"position":13,"preview_image":{"aspect_ratio":1.0,"height":500,"width":500,"src":"\/\/www.buttylife.com\/cdn\/shop\/products\/12_0189b0a3-7d86-4439-b182-11026deffd69.jpg?v=1658389440"},"aspect_ratio":1.0,"height":500,"media_type":"image","src":"\/\/www.buttylife.com\/cdn\/shop\/products\/12_0189b0a3-7d86-4439-b182-11026deffd69.jpg?v=1658389440","width":500},{"alt":null,"id":30407335117051,"position":14,"preview_image":{"aspect_ratio":1.0,"height":500,"width":500,"src":"\/\/www.buttylife.com\/cdn\/shop\/products\/13_98ecb516-61b0-4b3e-b41c-43c5c4f1c2e2.jpg?v=1658389440"},"aspect_ratio":1.0,"height":500,"media_type":"image","src":"\/\/www.buttylife.com\/cdn\/shop\/products\/13_98ecb516-61b0-4b3e-b41c-43c5c4f1c2e2.jpg?v=1658389440","width":500},{"alt":null,"id":30407335149819,"position":15,"preview_image":{"aspect_ratio":1.0,"height":500,"width":500,"src":"\/\/www.buttylife.com\/cdn\/shop\/products\/11_9cca757f-8944-4c6c-bec0-3647fb473132.jpg?v=1658389440"},"aspect_ratio":1.0,"height":500,"media_type":"image","src":"\/\/www.buttylife.com\/cdn\/shop\/products\/11_9cca757f-8944-4c6c-bec0-3647fb473132.jpg?v=1658389440","width":500},{"alt":null,"id":30407335182587,"position":16,"preview_image":{"aspect_ratio":1.0,"height":500,"width":500,"src":"\/\/www.buttylife.com\/cdn\/shop\/products\/16_6884cd6d-6167-4f02-956c-f593aa56a323.jpg?v=1658389440"},"aspect_ratio":1.0,"height":500,"media_type":"image","src":"\/\/www.buttylife.com\/cdn\/shop\/products\/16_6884cd6d-6167-4f02-956c-f593aa56a323.jpg?v=1658389440","width":500}],"requires_selling_plan":false,"selling_plan_groups":[],"content":"\u003cspan style=\"color: #ff2a00;\"\u003e\u003cstrong\u003e👑Properties\u003c\/strong\u003e\u003c\/span\u003e\u003cbr\u003e\n\u003cul\u003e\n\u003cli\u003e\n\u003cstrong\u003eRemovable eyebrow comb:\u003c\/strong\u003e The eyebrow comb can be easily removed for easy cleaning.\u003c\/li\u003e\n\u003c\/ul\u003e\n\u003cp\u003e\u003cimg data-mce-fragment=\"1\" height=\"350\" width=\"350\" alt=\"\" src=\"https:\/\/cdn.shopifycdn.net\/s\/files\/1\/0519\/0723\/1915\/files\/6_485c1caf-f77b-49ae-a7d4-1ec62ebaf679_480x480.jpg?v=1619426775\" style=\"display: block; margin-left: auto; margin-right: auto;\" data-mce-selected=\"1\" data-mce-src=\"https:\/\/cdn.shopifycdn.net\/s\/files\/1\/0519\/0723\/1915\/files\/6_485c1caf-f77b-49ae-a7d4-1ec62ebaf679_480x480.jpg?v=1619426775\"\u003e\u003c\/p\u003e\n\u003cul\u003e\n\u003cli\u003e\n\u003cstrong\u003eSharp scissors:\u003c\/strong\u003e The sharp blade allows you to trim the eyebrows nicely.\u003c\/li\u003e\n\u003cli\u003e\n\u003cstrong\u003eWashable:\u003c\/strong\u003e Made of stainless steel, washable and not easy to rust.\u003c\/li\u003e\n\u003c\/ul\u003e\n\u003cp\u003e\u003cimg data-mce-fragment=\"1\" height=\"350\" width=\"350\" alt=\"\" src=\"https:\/\/cdn.shopifycdn.net\/s\/files\/1\/0519\/0723\/1915\/files\/7_15f68583-b170-4362-821b-e76b6aa2a5ad_480x480.jpg?v=1619426957\" style=\"display: block; margin-left: auto; margin-right: auto;\" data-mce-selected=\"1\" data-mce-src=\"https:\/\/cdn.shopifycdn.net\/s\/files\/1\/0519\/0723\/1915\/files\/7_15f68583-b170-4362-821b-e76b6aa2a5ad_480x480.jpg?v=1619426957\"\u003e\u003c\/p\u003e\n\u003cul\u003e\u003c\/ul\u003e\n\u003cul\u003e\n\u003cli\u003e\n\u003cstrong\u003eSmooth opening and closing:\u003c\/strong\u003e The central shaft in solid stainless steel makes the scissors smooth and firmer at the same time.\u003c\/li\u003e\n\u003c\/ul\u003e\n\u003cspan style=\"color: #ff2a00;\"\u003e\u003cstrong\u003e👑Specification\u003c\/strong\u003e\u003c\/span\u003e\u003cbr\u003e\n\u003cul\u003e\n\u003cli\u003e\n\u003cstrong\u003eType:\u003c\/strong\u003e Scissors for eyebrows with comb\u003c\/li\u003e\n\u003cli\u003e\n\u003cstrong\u003eBeauty tool classification:\u003c\/strong\u003e Facial beauty cosmetics\u003c\/li\u003e\n\u003cli\u003e\n\u003cstrong\u003eMaterial:\u003c\/strong\u003e stainless steel + ABS\u003c\/li\u003e\n\u003cli\u003e\n\u003cstrong\u003eSuitable for the audience:\u003c\/strong\u003e all people\u003c\/li\u003e\n\u003c\/ul\u003e\n\u003cspan style=\"color: #ff2a00;\"\u003e\u003cstrong\u003e👑How to use\u003c\/strong\u003e\u003c\/span\u003e\u003cbr\u003e\n\u003cul\u003e\n\u003cli\u003eStep 1 - Use an eyebrow comb to comb the eyebrows.\u003c\/li\u003e\n\u003cli\u003eStep 2 - Outline the eyebrow shape you want to trim.\u003c\/li\u003e\n\u003cli\u003eStep 3 - Close the eyebrow comb against the eyebrows, and trim the eyebrows on the outside of the comb to the length you need.\u003c\/li\u003e\n\u003cli\u003eStep 4 - After the general eyebrow shape comes out, use an eyebrow trimmer to trim the remaining eyebrows.\u003c\/li\u003e\n\u003c\/ul\u003e\n\u003ch3 data-mce-fragment=\"1\"\u003e\u003cimg style=\"display: block; margin-left: auto; margin-right: auto;\" alt=\"\" src=\"https:\/\/cdn.shopifycdn.net\/s\/files\/1\/0519\/0723\/1915\/files\/8_26167e80-5144-4bb3-82bc-39a4646c7c8c_480x480.jpg?v=1619427484\" width=\"386\" height=\"386\" data-mce-selected=\"1\"\u003e\u003c\/h3\u003e\n\u003cspan style=\"color: #ff2a00;\"\u003e\u003cstrong\u003e👑The package includes\u003c\/strong\u003e\u003c\/span\u003e\u003cbr\u003e\n\u003cul\u003e\n\u003cli\u003e1 * Scissors for eyebrow comb\u003c\/li\u003e\n\u003c\/ul\u003e"}
Eyebrow Trimming Scissors
Product Description
👑Properties
Removable eyebrow comb: The eyebrow comb can be easily removed for easy cleaning.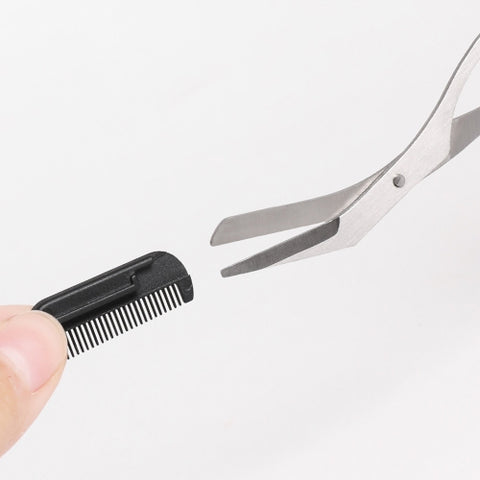 Sharp scissors: The sharp blade allows you to trim the eyebrows nicely.
Washable: Made of stainless steel, washable and not easy to rust.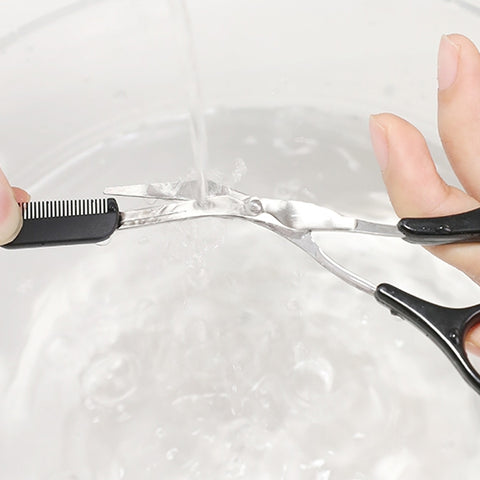 Smooth opening and closing: The central shaft in solid stainless steel makes the scissors smooth and firmer at the same time.
👑Specification
Type: Scissors for eyebrows with comb
Beauty tool classification: Facial beauty cosmetics
Material: stainless steel + ABS
Suitable for the audience: all people
👑How to use
Step 1 - Use an eyebrow comb to comb the eyebrows.
Step 2 - Outline the eyebrow shape you want to trim.
Step 3 - Close the eyebrow comb against the eyebrows, and trim the eyebrows on the outside of the comb to the length you need.
Step 4 - After the general eyebrow shape comes out, use an eyebrow trimmer to trim the remaining eyebrows.

👑The package includes
1 * Scissors for eyebrow comb
people are currently looking at this product