{"id":7792933339387,"title":"Food-Grade Baby Bottle Cleaning Brush","handle":"food-grade-baby-bottle-cleaning-brush","description":"\u003ch4 style=\"text-align: center;\"\u003e\u003cstrong\u003e🍼🍼🍼\u003c\/strong\u003e\u003c\/h4\u003e\n\u003cp style=\"text-align: center;\" data-mce-fragment=\"1\"\u003e\u003cstrong\u003e\u003cspan style=\"color: #df620e;\"\u003e\"I love this brush set. It works so well for cleaning my pump stuff and breastmilk bottles! Highly recommend this for new moms and in general for cleaning bottles.💯\u003c\/span\u003e\"-Samantha Grise\u003c\/strong\u003e\u003c\/p\u003e\n\u003cdiv\u003e\u003cimg src=\"https:\/\/cdn.cloudfastin.top\/image\/2022\/07\/391fb40c5211975897fc24ce9c3b4805e761ccb4ad5fc99fdf5553aa9d52ceed.gif\" alt=\"undefined\" style=\"display: block; margin-left: auto; margin-right: auto;\" width=\"350\" height=\"438\" data-mce-fragment=\"1\" data-mce-src=\"https:\/\/cdn.cloudfastin.top\/image\/2022\/07\/391fb40c5211975897fc24ce9c3b4805e761ccb4ad5fc99fdf5553aa9d52ceed.gif\"\u003e\u003c\/div\u003e\n\u003ch3 data-mce-fragment=\"1\"\u003e\u003cspan style=\"color: #248937;\"\u003e\u003cstrong\u003eFEATURES\u003c\/strong\u003e\u003c\/span\u003e\u003c\/h3\u003e\n\u003cul\u003e\n\u003cli\u003e\u003cspan style=\"color: #e68a1f;\"\u003e\u003cstrong\u003eHigh-Quality Silica Gel\u003c\/strong\u003e\u003c\/span\u003e\u003c\/li\u003e\n\u003c\/ul\u003e\n\u003cp style=\"padding-left: 30px;\" data-mce-fragment=\"1\"\u003e\u003cspan style=\"font-weight: 400;\" data-mce-fragment=\"1\" data-mce-style=\"font-weight: 400;\"\u003eThe silicone bottle brush heads are all made of food-grade contactable silica gel, BPA-free, and no peculiar smell, so mothers can rest assured to clean the baby bottle.\u003c\/span\u003e\u003c\/p\u003e\n\u003cdiv\u003e\u003cimg src=\"https:\/\/cdn.shopifycdn.net\/s\/files\/1\/0598\/7804\/7902\/products\/800X800__1_480x480.jpg?v=1657774892\" alt=\"\" style=\"display: block; margin-left: auto; margin-right: auto;\" width=\"400\" height=\"400\" data-mce-fragment=\"1\" data-mce-src=\"https:\/\/cdn.shopifycdn.net\/s\/files\/1\/0598\/7804\/7902\/products\/800X800__1_480x480.jpg?v=1657774892\"\u003e\u003c\/div\u003e\n\u003cul\u003e\n\u003cli\u003e\u003cspan style=\"color: #e68a1f;\"\u003e\u003cstrong\u003eRich Foaming\u003c\/strong\u003e\u003c\/span\u003e\u003c\/li\u003e\n\u003c\/ul\u003e\n\u003cp style=\"padding-left: 30px;\" data-mce-fragment=\"1\"\u003e\u003cspan style=\"font-weight: 400;\" data-mce-fragment=\"1\" data-mce-style=\"font-weight: 400;\"\u003eThe bristles are densely packed and a small amount of cleaning agent is poured in to create rich and delicate foam, which makes the cleaning cleaner.\u003c\/span\u003e\u003c\/p\u003e\n\u003cdiv\u003e\u003cimg src=\"https:\/\/cdn.cloudfastin.top\/image\/2022\/07\/e616cd51634610c09d57a1fb25feb3ce15bff6a30f5425014809def484b9296d.gif\" alt=\"undefined\" style=\"display: block; margin-left: auto; margin-right: auto;\" width=\"400\" height=\"500\" data-mce-fragment=\"1\" data-mce-src=\"https:\/\/cdn.cloudfastin.top\/image\/2022\/07\/e616cd51634610c09d57a1fb25feb3ce15bff6a30f5425014809def484b9296d.gif\"\u003e\u003c\/div\u003e\n\u003cul\u003e\n\u003cli\u003e\u003cspan style=\"color: #e68a1f;\"\u003e\u003cstrong\u003eAll-round Cleaning\u003c\/strong\u003e\u003c\/span\u003e\u003c\/li\u003e\n\u003c\/ul\u003e\n\u003cp style=\"padding-left: 30px;\" data-mce-fragment=\"1\"\u003e\u003cspan style=\"font-weight: 400;\" data-mce-fragment=\"1\" data-mce-style=\"font-weight: 400;\"\u003eThe silicone brush head is soft and flexible, and can go deep into the bottom of the bottle and fit at any angle of the bottle body to clean without dead ends.\u003c\/span\u003e\u003c\/p\u003e\n\u003cdiv\u003e\u003cimg src=\"https:\/\/cdn.shopifycdn.net\/s\/files\/1\/0598\/7804\/7902\/products\/800X800-07_480x480.jpg?v=1657774892\" alt=\"\" style=\"display: block; margin-left: auto; margin-right: auto;\" width=\"400\" height=\"401\" data-mce-fragment=\"1\" data-mce-src=\"https:\/\/cdn.shopifycdn.net\/s\/files\/1\/0598\/7804\/7902\/products\/800X800-07_480x480.jpg?v=1657774892\"\u003e\u003c\/div\u003e\n\u003cul\u003e\n\u003cli\u003e\u003cspan style=\"color: #e68a1f;\"\u003e\u003cstrong\u003eEasy to Dry\u003c\/strong\u003e\u003c\/span\u003e\u003c\/li\u003e\n\u003c\/ul\u003e\n\u003cp style=\"padding-left: 30px;\" data-mce-fragment=\"1\"\u003e\u003cspan style=\"font-weight: 400;\" data-mce-fragment=\"1\" data-mce-style=\"font-weight: 400;\"\u003eBecause it is made of silicone, the silicone brush does not absorb water after cleaning, and there will be no residual water stains in the gaps, so you can easily dry it.\u003c\/span\u003e\u003c\/p\u003e\n\u003cdiv\u003e\u003cimg src=\"https:\/\/cdn.shopifycdn.net\/s\/files\/1\/0598\/7804\/7902\/products\/800X800-04_480x480.jpg?v=1657774892\" alt=\"\" style=\"display: block; margin-left: auto; margin-right: auto;\" width=\"400\" height=\"400\" data-mce-fragment=\"1\" data-mce-src=\"https:\/\/cdn.shopifycdn.net\/s\/files\/1\/0598\/7804\/7902\/products\/800X800-04_480x480.jpg?v=1657774892\"\u003e\u003c\/div\u003e\n\u003cul\u003e\n\u003cli\u003e\u003cspan style=\"color: #e68a1f;\"\u003e\u003cstrong\u003eGeneral\u003c\/strong\u003e\u003c\/span\u003e\u003c\/li\u003e\n\u003c\/ul\u003e\n\u003cp style=\"padding-left: 30px;\" data-mce-fragment=\"1\"\u003e\u003cspan style=\"font-weight: 400;\" data-mce-fragment=\"1\" data-mce-style=\"font-weight: 400;\"\u003eA set of silicone brushes contains bottle brush, nipple brush and straw brush, which can be used for exclusive cleaning. It is suitable for cleaning of PPSU, silicone, glass and other materials, such as milk bottles, tableware, etc.\u003c\/span\u003e\u003c\/p\u003e\n\u003cdiv\u003e\u003cimg src=\"https:\/\/cdn.shopifycdn.net\/s\/files\/1\/0598\/7804\/7902\/products\/800X800-03_480x480.jpg?v=1657774892\" alt=\"\" style=\"display: block; margin-left: auto; margin-right: auto;\" width=\"400\" height=\"400\" data-mce-fragment=\"1\" data-mce-src=\"https:\/\/cdn.shopifycdn.net\/s\/files\/1\/0598\/7804\/7902\/products\/800X800-03_480x480.jpg?v=1657774892\"\u003e\u003c\/div\u003e\n\u003ch3 data-mce-fragment=\"1\"\u003e\u003cspan style=\"color: #248937;\"\u003e\u003cstrong\u003eSPECIFICATIONS\u003c\/strong\u003e\u003c\/span\u003e\u003c\/h3\u003e\n\u003cul\u003e\n\u003cli\u003e\u003cspan style=\"font-weight: 400;\" data-mce-fragment=\"1\" data-mce-style=\"font-weight: 400;\"\u003e\u003cstrong\u003eMaterial\u003c\/strong\u003e: Silicone\u003c\/span\u003e\u003c\/li\u003e\n\u003cli\u003e\u003cspan style=\"font-weight: 400;\" data-mce-fragment=\"1\" data-mce-style=\"font-weight: 400;\"\u003e\u003cstrong\u003eColor\u003c\/strong\u003e: green, red, blue\u003c\/span\u003e\u003c\/li\u003e\n\u003cli\u003e\u003cspan style=\"font-weight: 400;\" data-mce-fragment=\"1\" data-mce-style=\"font-weight: 400;\"\u003e\u003cstrong\u003eWeight\u003c\/strong\u003e: 120g \/ 0.3lb\u003c\/span\u003e\u003c\/li\u003e\n\u003cli\u003e\u003cspan style=\"font-weight: 400;\" data-mce-fragment=\"1\" data-mce-style=\"font-weight: 400;\"\u003e\u003cstrong\u003eSize\u003c\/strong\u003e: \u003c\/span\u003e\u003c\/li\u003e\n\u003c\/ul\u003e\n\u003cdiv\u003e\u003cimg src=\"https:\/\/cdn.shopifycdn.net\/s\/files\/1\/0598\/7804\/7902\/products\/11_af50b0ad-7a69-41df-a737-4795b5c4c451_480x480.jpg?v=1657774892\" alt=\"\" style=\"display: block; margin-left: auto; margin-right: auto;\" width=\"400\" height=\"400\" data-mce-fragment=\"1\" data-mce-src=\"https:\/\/cdn.shopifycdn.net\/s\/files\/1\/0598\/7804\/7902\/products\/11_af50b0ad-7a69-41df-a737-4795b5c4c451_480x480.jpg?v=1657774892\"\u003e\u003c\/div\u003e\n\u003ch3 data-mce-fragment=\"1\"\u003e\u003cspan style=\"color: #248937;\"\u003e\u003cstrong\u003ePACKAGE INCLUDED\u003c\/strong\u003e\u003c\/span\u003e\u003c\/h3\u003e\n\u003cul\u003e\n\u003cli\u003e\u003cspan style=\"font-weight: 400;\" data-mce-fragment=\"1\" data-mce-style=\"font-weight: 400;\"\u003e1 × Food-Grade Baby Bottle Cleaning Brush\u003c\/span\u003e\u003c\/li\u003e\n\u003c\/ul\u003e","published_at":"2022-07-25T19:34:44-10:00","created_at":"2022-07-25T19:34:54-10:00","vendor":"buttylife","type":"","tags":["baby products"],"price":1799,"price_min":1799,"price_max":1799,"available":true,"price_varies":false,"compare_at_price":3599,"compare_at_price_min":3599,"compare_at_price_max":3599,"compare_at_price_varies":false,"variants":[{"id":43364610638075,"title":"green","option1":"green","option2":null,"option3":null,"sku":"CP33973-C004","requires_shipping":true,"taxable":false,"featured_image":null,"available":true,"name":"Food-Grade Baby Bottle Cleaning Brush - green","public_title":"green","options":["green"],"price":1799,"weight":0,"compare_at_price":3599,"inventory_management":null,"barcode":null,"requires_selling_plan":false,"selling_plan_allocations":[],"quantity_rule":{"min":1,"max":null,"increment":1}},{"id":43364610670843,"title":"red","option1":"red","option2":null,"option3":null,"sku":"CP33973-C002","requires_shipping":true,"taxable":false,"featured_image":null,"available":true,"name":"Food-Grade Baby Bottle Cleaning Brush - red","public_title":"red","options":["red"],"price":1799,"weight":0,"compare_at_price":3599,"inventory_management":null,"barcode":null,"requires_selling_plan":false,"selling_plan_allocations":[],"quantity_rule":{"min":1,"max":null,"increment":1}},{"id":43364610703611,"title":"blue","option1":"blue","option2":null,"option3":null,"sku":"CP33973-C008","requires_shipping":true,"taxable":false,"featured_image":null,"available":true,"name":"Food-Grade Baby Bottle Cleaning Brush - blue","public_title":"blue","options":["blue"],"price":1799,"weight":0,"compare_at_price":3599,"inventory_management":null,"barcode":null,"requires_selling_plan":false,"selling_plan_allocations":[],"quantity_rule":{"min":1,"max":null,"increment":1}}],"images":["\/\/cdn.shopify.com\/s\/files\/1\/0584\/7760\/9115\/products\/2_000e0c04-2263-4d40-90a5-58ea486e30df.jpg?v=1658813695","\/\/cdn.shopify.com\/s\/files\/1\/0584\/7760\/9115\/products\/12_cfa204d7-451e-453d-8b25-3a2771af30cd.jpg?v=1658813695","\/\/cdn.shopify.com\/s\/files\/1\/0584\/7760\/9115\/products\/800X800__1_5713aeb0-2664-4e33-a171-b74df9c75c80.jpg?v=1658813695","\/\/cdn.shopify.com\/s\/files\/1\/0584\/7760\/9115\/products\/800X800-02_3464e830-28b3-4168-8637-cad3538e2671.jpg?v=1658813695","\/\/cdn.shopify.com\/s\/files\/1\/0584\/7760\/9115\/products\/800X800-03_d203f95e-afb6-4c1e-ba37-c64eff914547.jpg?v=1658813695","\/\/cdn.shopify.com\/s\/files\/1\/0584\/7760\/9115\/products\/800X800-04_86e3718d-2051-4bc0-9981-7782fcbd3cfb.jpg?v=1658813695","\/\/cdn.shopify.com\/s\/files\/1\/0584\/7760\/9115\/products\/800X800-05_3d51547b-9977-495f-b085-65febb4b78fd.jpg?v=1658813695","\/\/cdn.shopify.com\/s\/files\/1\/0584\/7760\/9115\/products\/800X800-06_fb530562-f292-49ce-870d-deeba57b8210.jpg?v=1658813695","\/\/cdn.shopify.com\/s\/files\/1\/0584\/7760\/9115\/products\/800X800-07_5368e05a-117b-4cb9-b4eb-af06e6eb4ee2.jpg?v=1658813695","\/\/cdn.shopify.com\/s\/files\/1\/0584\/7760\/9115\/products\/800X800-08_b2de0216-616e-459d-870e-72725802f089.jpg?v=1658813695","\/\/cdn.shopify.com\/s\/files\/1\/0584\/7760\/9115\/products\/800X800-10.jpg?v=1658813695","\/\/cdn.shopify.com\/s\/files\/1\/0584\/7760\/9115\/products\/11_af50b0ad-7a69-41df-a737-4795b5c4c451.jpg?v=1658813695"],"featured_image":"\/\/cdn.shopify.com\/s\/files\/1\/0584\/7760\/9115\/products\/2_000e0c04-2263-4d40-90a5-58ea486e30df.jpg?v=1658813695","options":["Color"],"media":[{"alt":null,"id":30452953448699,"position":1,"preview_image":{"aspect_ratio":0.999,"height":801,"width":800,"src":"https:\/\/cdn.shopify.com\/s\/files\/1\/0584\/7760\/9115\/products\/2_000e0c04-2263-4d40-90a5-58ea486e30df.jpg?v=1658813695"},"aspect_ratio":0.999,"height":801,"media_type":"image","src":"https:\/\/cdn.shopify.com\/s\/files\/1\/0584\/7760\/9115\/products\/2_000e0c04-2263-4d40-90a5-58ea486e30df.jpg?v=1658813695","width":800},{"alt":null,"id":30452953481467,"position":2,"preview_image":{"aspect_ratio":1.0,"height":800,"width":800,"src":"https:\/\/cdn.shopify.com\/s\/files\/1\/0584\/7760\/9115\/products\/12_cfa204d7-451e-453d-8b25-3a2771af30cd.jpg?v=1658813695"},"aspect_ratio":1.0,"height":800,"media_type":"image","src":"https:\/\/cdn.shopify.com\/s\/files\/1\/0584\/7760\/9115\/products\/12_cfa204d7-451e-453d-8b25-3a2771af30cd.jpg?v=1658813695","width":800},{"alt":null,"id":30452953514235,"position":3,"preview_image":{"aspect_ratio":1.0,"height":800,"width":800,"src":"https:\/\/cdn.shopify.com\/s\/files\/1\/0584\/7760\/9115\/products\/800X800__1_5713aeb0-2664-4e33-a171-b74df9c75c80.jpg?v=1658813695"},"aspect_ratio":1.0,"height":800,"media_type":"image","src":"https:\/\/cdn.shopify.com\/s\/files\/1\/0584\/7760\/9115\/products\/800X800__1_5713aeb0-2664-4e33-a171-b74df9c75c80.jpg?v=1658813695","width":800},{"alt":null,"id":30452953547003,"position":4,"preview_image":{"aspect_ratio":1.0,"height":800,"width":800,"src":"https:\/\/cdn.shopify.com\/s\/files\/1\/0584\/7760\/9115\/products\/800X800-02_3464e830-28b3-4168-8637-cad3538e2671.jpg?v=1658813695"},"aspect_ratio":1.0,"height":800,"media_type":"image","src":"https:\/\/cdn.shopify.com\/s\/files\/1\/0584\/7760\/9115\/products\/800X800-02_3464e830-28b3-4168-8637-cad3538e2671.jpg?v=1658813695","width":800},{"alt":null,"id":30452953579771,"position":5,"preview_image":{"aspect_ratio":1.0,"height":800,"width":800,"src":"https:\/\/cdn.shopify.com\/s\/files\/1\/0584\/7760\/9115\/products\/800X800-03_d203f95e-afb6-4c1e-ba37-c64eff914547.jpg?v=1658813695"},"aspect_ratio":1.0,"height":800,"media_type":"image","src":"https:\/\/cdn.shopify.com\/s\/files\/1\/0584\/7760\/9115\/products\/800X800-03_d203f95e-afb6-4c1e-ba37-c64eff914547.jpg?v=1658813695","width":800},{"alt":null,"id":30452953612539,"position":6,"preview_image":{"aspect_ratio":1.0,"height":800,"width":800,"src":"https:\/\/cdn.shopify.com\/s\/files\/1\/0584\/7760\/9115\/products\/800X800-04_86e3718d-2051-4bc0-9981-7782fcbd3cfb.jpg?v=1658813695"},"aspect_ratio":1.0,"height":800,"media_type":"image","src":"https:\/\/cdn.shopify.com\/s\/files\/1\/0584\/7760\/9115\/products\/800X800-04_86e3718d-2051-4bc0-9981-7782fcbd3cfb.jpg?v=1658813695","width":800},{"alt":null,"id":30452953645307,"position":7,"preview_image":{"aspect_ratio":1.0,"height":800,"width":800,"src":"https:\/\/cdn.shopify.com\/s\/files\/1\/0584\/7760\/9115\/products\/800X800-05_3d51547b-9977-495f-b085-65febb4b78fd.jpg?v=1658813695"},"aspect_ratio":1.0,"height":800,"media_type":"image","src":"https:\/\/cdn.shopify.com\/s\/files\/1\/0584\/7760\/9115\/products\/800X800-05_3d51547b-9977-495f-b085-65febb4b78fd.jpg?v=1658813695","width":800},{"alt":null,"id":30452953678075,"position":8,"preview_image":{"aspect_ratio":1.0,"height":800,"width":800,"src":"https:\/\/cdn.shopify.com\/s\/files\/1\/0584\/7760\/9115\/products\/800X800-06_fb530562-f292-49ce-870d-deeba57b8210.jpg?v=1658813695"},"aspect_ratio":1.0,"height":800,"media_type":"image","src":"https:\/\/cdn.shopify.com\/s\/files\/1\/0584\/7760\/9115\/products\/800X800-06_fb530562-f292-49ce-870d-deeba57b8210.jpg?v=1658813695","width":800},{"alt":null,"id":30452953710843,"position":9,"preview_image":{"aspect_ratio":0.999,"height":801,"width":800,"src":"https:\/\/cdn.shopify.com\/s\/files\/1\/0584\/7760\/9115\/products\/800X800-07_5368e05a-117b-4cb9-b4eb-af06e6eb4ee2.jpg?v=1658813695"},"aspect_ratio":0.999,"height":801,"media_type":"image","src":"https:\/\/cdn.shopify.com\/s\/files\/1\/0584\/7760\/9115\/products\/800X800-07_5368e05a-117b-4cb9-b4eb-af06e6eb4ee2.jpg?v=1658813695","width":800},{"alt":null,"id":30452953743611,"position":10,"preview_image":{"aspect_ratio":0.999,"height":801,"width":800,"src":"https:\/\/cdn.shopify.com\/s\/files\/1\/0584\/7760\/9115\/products\/800X800-08_b2de0216-616e-459d-870e-72725802f089.jpg?v=1658813695"},"aspect_ratio":0.999,"height":801,"media_type":"image","src":"https:\/\/cdn.shopify.com\/s\/files\/1\/0584\/7760\/9115\/products\/800X800-08_b2de0216-616e-459d-870e-72725802f089.jpg?v=1658813695","width":800},{"alt":null,"id":30452953776379,"position":11,"preview_image":{"aspect_ratio":0.999,"height":801,"width":800,"src":"https:\/\/cdn.shopify.com\/s\/files\/1\/0584\/7760\/9115\/products\/800X800-10.jpg?v=1658813695"},"aspect_ratio":0.999,"height":801,"media_type":"image","src":"https:\/\/cdn.shopify.com\/s\/files\/1\/0584\/7760\/9115\/products\/800X800-10.jpg?v=1658813695","width":800},{"alt":null,"id":30452953809147,"position":12,"preview_image":{"aspect_ratio":1.0,"height":800,"width":800,"src":"https:\/\/cdn.shopify.com\/s\/files\/1\/0584\/7760\/9115\/products\/11_af50b0ad-7a69-41df-a737-4795b5c4c451.jpg?v=1658813695"},"aspect_ratio":1.0,"height":800,"media_type":"image","src":"https:\/\/cdn.shopify.com\/s\/files\/1\/0584\/7760\/9115\/products\/11_af50b0ad-7a69-41df-a737-4795b5c4c451.jpg?v=1658813695","width":800}],"requires_selling_plan":false,"selling_plan_groups":[],"content":"\u003ch4 style=\"text-align: center;\"\u003e\u003cstrong\u003e🍼🍼🍼\u003c\/strong\u003e\u003c\/h4\u003e\n\u003cp style=\"text-align: center;\" data-mce-fragment=\"1\"\u003e\u003cstrong\u003e\u003cspan style=\"color: #df620e;\"\u003e\"I love this brush set. It works so well for cleaning my pump stuff and breastmilk bottles! Highly recommend this for new moms and in general for cleaning bottles.💯\u003c\/span\u003e\"-Samantha Grise\u003c\/strong\u003e\u003c\/p\u003e\n\u003cdiv\u003e\u003cimg src=\"https:\/\/cdn.cloudfastin.top\/image\/2022\/07\/391fb40c5211975897fc24ce9c3b4805e761ccb4ad5fc99fdf5553aa9d52ceed.gif\" alt=\"undefined\" style=\"display: block; margin-left: auto; margin-right: auto;\" width=\"350\" height=\"438\" data-mce-fragment=\"1\" data-mce-src=\"https:\/\/cdn.cloudfastin.top\/image\/2022\/07\/391fb40c5211975897fc24ce9c3b4805e761ccb4ad5fc99fdf5553aa9d52ceed.gif\"\u003e\u003c\/div\u003e\n\u003ch3 data-mce-fragment=\"1\"\u003e\u003cspan style=\"color: #248937;\"\u003e\u003cstrong\u003eFEATURES\u003c\/strong\u003e\u003c\/span\u003e\u003c\/h3\u003e\n\u003cul\u003e\n\u003cli\u003e\u003cspan style=\"color: #e68a1f;\"\u003e\u003cstrong\u003eHigh-Quality Silica Gel\u003c\/strong\u003e\u003c\/span\u003e\u003c\/li\u003e\n\u003c\/ul\u003e\n\u003cp style=\"padding-left: 30px;\" data-mce-fragment=\"1\"\u003e\u003cspan style=\"font-weight: 400;\" data-mce-fragment=\"1\" data-mce-style=\"font-weight: 400;\"\u003eThe silicone bottle brush heads are all made of food-grade contactable silica gel, BPA-free, and no peculiar smell, so mothers can rest assured to clean the baby bottle.\u003c\/span\u003e\u003c\/p\u003e\n\u003cdiv\u003e\u003cimg src=\"https:\/\/cdn.shopifycdn.net\/s\/files\/1\/0598\/7804\/7902\/products\/800X800__1_480x480.jpg?v=1657774892\" alt=\"\" style=\"display: block; margin-left: auto; margin-right: auto;\" width=\"400\" height=\"400\" data-mce-fragment=\"1\" data-mce-src=\"https:\/\/cdn.shopifycdn.net\/s\/files\/1\/0598\/7804\/7902\/products\/800X800__1_480x480.jpg?v=1657774892\"\u003e\u003c\/div\u003e\n\u003cul\u003e\n\u003cli\u003e\u003cspan style=\"color: #e68a1f;\"\u003e\u003cstrong\u003eRich Foaming\u003c\/strong\u003e\u003c\/span\u003e\u003c\/li\u003e\n\u003c\/ul\u003e\n\u003cp style=\"padding-left: 30px;\" data-mce-fragment=\"1\"\u003e\u003cspan style=\"font-weight: 400;\" data-mce-fragment=\"1\" data-mce-style=\"font-weight: 400;\"\u003eThe bristles are densely packed and a small amount of cleaning agent is poured in to create rich and delicate foam, which makes the cleaning cleaner.\u003c\/span\u003e\u003c\/p\u003e\n\u003cdiv\u003e\u003cimg src=\"https:\/\/cdn.cloudfastin.top\/image\/2022\/07\/e616cd51634610c09d57a1fb25feb3ce15bff6a30f5425014809def484b9296d.gif\" alt=\"undefined\" style=\"display: block; margin-left: auto; margin-right: auto;\" width=\"400\" height=\"500\" data-mce-fragment=\"1\" data-mce-src=\"https:\/\/cdn.cloudfastin.top\/image\/2022\/07\/e616cd51634610c09d57a1fb25feb3ce15bff6a30f5425014809def484b9296d.gif\"\u003e\u003c\/div\u003e\n\u003cul\u003e\n\u003cli\u003e\u003cspan style=\"color: #e68a1f;\"\u003e\u003cstrong\u003eAll-round Cleaning\u003c\/strong\u003e\u003c\/span\u003e\u003c\/li\u003e\n\u003c\/ul\u003e\n\u003cp style=\"padding-left: 30px;\" data-mce-fragment=\"1\"\u003e\u003cspan style=\"font-weight: 400;\" data-mce-fragment=\"1\" data-mce-style=\"font-weight: 400;\"\u003eThe silicone brush head is soft and flexible, and can go deep into the bottom of the bottle and fit at any angle of the bottle body to clean without dead ends.\u003c\/span\u003e\u003c\/p\u003e\n\u003cdiv\u003e\u003cimg src=\"https:\/\/cdn.shopifycdn.net\/s\/files\/1\/0598\/7804\/7902\/products\/800X800-07_480x480.jpg?v=1657774892\" alt=\"\" style=\"display: block; margin-left: auto; margin-right: auto;\" width=\"400\" height=\"401\" data-mce-fragment=\"1\" data-mce-src=\"https:\/\/cdn.shopifycdn.net\/s\/files\/1\/0598\/7804\/7902\/products\/800X800-07_480x480.jpg?v=1657774892\"\u003e\u003c\/div\u003e\n\u003cul\u003e\n\u003cli\u003e\u003cspan style=\"color: #e68a1f;\"\u003e\u003cstrong\u003eEasy to Dry\u003c\/strong\u003e\u003c\/span\u003e\u003c\/li\u003e\n\u003c\/ul\u003e\n\u003cp style=\"padding-left: 30px;\" data-mce-fragment=\"1\"\u003e\u003cspan style=\"font-weight: 400;\" data-mce-fragment=\"1\" data-mce-style=\"font-weight: 400;\"\u003eBecause it is made of silicone, the silicone brush does not absorb water after cleaning, and there will be no residual water stains in the gaps, so you can easily dry it.\u003c\/span\u003e\u003c\/p\u003e\n\u003cdiv\u003e\u003cimg src=\"https:\/\/cdn.shopifycdn.net\/s\/files\/1\/0598\/7804\/7902\/products\/800X800-04_480x480.jpg?v=1657774892\" alt=\"\" style=\"display: block; margin-left: auto; margin-right: auto;\" width=\"400\" height=\"400\" data-mce-fragment=\"1\" data-mce-src=\"https:\/\/cdn.shopifycdn.net\/s\/files\/1\/0598\/7804\/7902\/products\/800X800-04_480x480.jpg?v=1657774892\"\u003e\u003c\/div\u003e\n\u003cul\u003e\n\u003cli\u003e\u003cspan style=\"color: #e68a1f;\"\u003e\u003cstrong\u003eGeneral\u003c\/strong\u003e\u003c\/span\u003e\u003c\/li\u003e\n\u003c\/ul\u003e\n\u003cp style=\"padding-left: 30px;\" data-mce-fragment=\"1\"\u003e\u003cspan style=\"font-weight: 400;\" data-mce-fragment=\"1\" data-mce-style=\"font-weight: 400;\"\u003eA set of silicone brushes contains bottle brush, nipple brush and straw brush, which can be used for exclusive cleaning. It is suitable for cleaning of PPSU, silicone, glass and other materials, such as milk bottles, tableware, etc.\u003c\/span\u003e\u003c\/p\u003e\n\u003cdiv\u003e\u003cimg src=\"https:\/\/cdn.shopifycdn.net\/s\/files\/1\/0598\/7804\/7902\/products\/800X800-03_480x480.jpg?v=1657774892\" alt=\"\" style=\"display: block; margin-left: auto; margin-right: auto;\" width=\"400\" height=\"400\" data-mce-fragment=\"1\" data-mce-src=\"https:\/\/cdn.shopifycdn.net\/s\/files\/1\/0598\/7804\/7902\/products\/800X800-03_480x480.jpg?v=1657774892\"\u003e\u003c\/div\u003e\n\u003ch3 data-mce-fragment=\"1\"\u003e\u003cspan style=\"color: #248937;\"\u003e\u003cstrong\u003eSPECIFICATIONS\u003c\/strong\u003e\u003c\/span\u003e\u003c\/h3\u003e\n\u003cul\u003e\n\u003cli\u003e\u003cspan style=\"font-weight: 400;\" data-mce-fragment=\"1\" data-mce-style=\"font-weight: 400;\"\u003e\u003cstrong\u003eMaterial\u003c\/strong\u003e: Silicone\u003c\/span\u003e\u003c\/li\u003e\n\u003cli\u003e\u003cspan style=\"font-weight: 400;\" data-mce-fragment=\"1\" data-mce-style=\"font-weight: 400;\"\u003e\u003cstrong\u003eColor\u003c\/strong\u003e: green, red, blue\u003c\/span\u003e\u003c\/li\u003e\n\u003cli\u003e\u003cspan style=\"font-weight: 400;\" data-mce-fragment=\"1\" data-mce-style=\"font-weight: 400;\"\u003e\u003cstrong\u003eWeight\u003c\/strong\u003e: 120g \/ 0.3lb\u003c\/span\u003e\u003c\/li\u003e\n\u003cli\u003e\u003cspan style=\"font-weight: 400;\" data-mce-fragment=\"1\" data-mce-style=\"font-weight: 400;\"\u003e\u003cstrong\u003eSize\u003c\/strong\u003e: \u003c\/span\u003e\u003c\/li\u003e\n\u003c\/ul\u003e\n\u003cdiv\u003e\u003cimg src=\"https:\/\/cdn.shopifycdn.net\/s\/files\/1\/0598\/7804\/7902\/products\/11_af50b0ad-7a69-41df-a737-4795b5c4c451_480x480.jpg?v=1657774892\" alt=\"\" style=\"display: block; margin-left: auto; margin-right: auto;\" width=\"400\" height=\"400\" data-mce-fragment=\"1\" data-mce-src=\"https:\/\/cdn.shopifycdn.net\/s\/files\/1\/0598\/7804\/7902\/products\/11_af50b0ad-7a69-41df-a737-4795b5c4c451_480x480.jpg?v=1657774892\"\u003e\u003c\/div\u003e\n\u003ch3 data-mce-fragment=\"1\"\u003e\u003cspan style=\"color: #248937;\"\u003e\u003cstrong\u003ePACKAGE INCLUDED\u003c\/strong\u003e\u003c\/span\u003e\u003c\/h3\u003e\n\u003cul\u003e\n\u003cli\u003e\u003cspan style=\"font-weight: 400;\" data-mce-fragment=\"1\" data-mce-style=\"font-weight: 400;\"\u003e1 × Food-Grade Baby Bottle Cleaning Brush\u003c\/span\u003e\u003c\/li\u003e\n\u003c\/ul\u003e"}
Food-Grade Baby Bottle Cleaning Brush
Product Description
🍼🍼🍼
"I love this brush set. It works so well for cleaning my pump stuff and breastmilk bottles! Highly recommend this for new moms and in general for cleaning bottles.💯"-Samantha Grise
FEATURES
The silicone bottle brush heads are all made of food-grade contactable silica gel, BPA-free, and no peculiar smell, so mothers can rest assured to clean the baby bottle.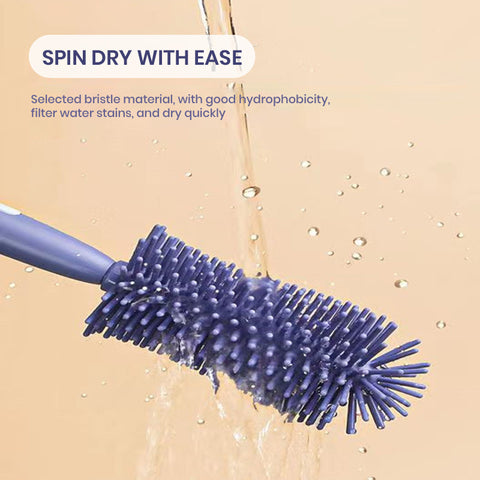 The bristles are densely packed and a small amount of cleaning agent is poured in to create rich and delicate foam, which makes the cleaning cleaner.
The silicone brush head is soft and flexible, and can go deep into the bottom of the bottle and fit at any angle of the bottle body to clean without dead ends.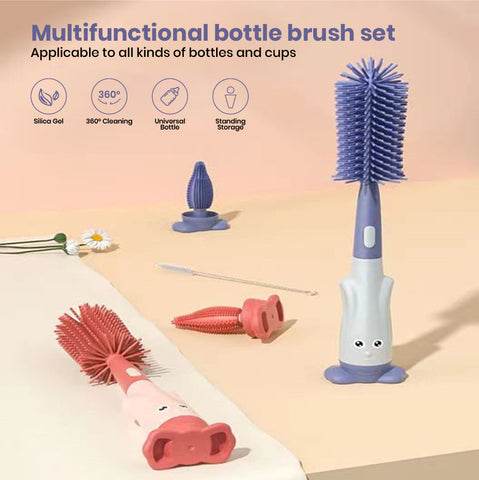 Because it is made of silicone, the silicone brush does not absorb water after cleaning, and there will be no residual water stains in the gaps, so you can easily dry it.
A set of silicone brushes contains bottle brush, nipple brush and straw brush, which can be used for exclusive cleaning. It is suitable for cleaning of PPSU, silicone, glass and other materials, such as milk bottles, tableware, etc.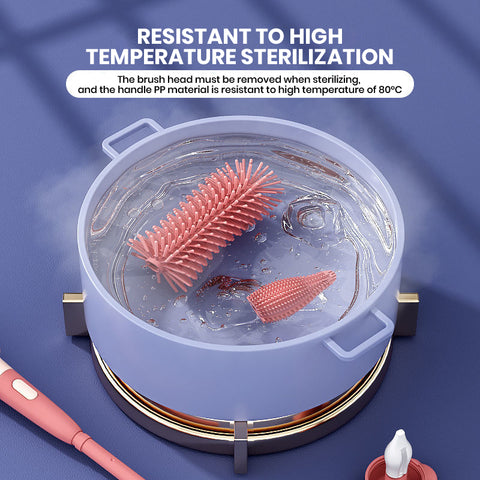 SPECIFICATIONS
Material: Silicone
Color: green, red, blue
Weight: 120g / 0.3lb
Size: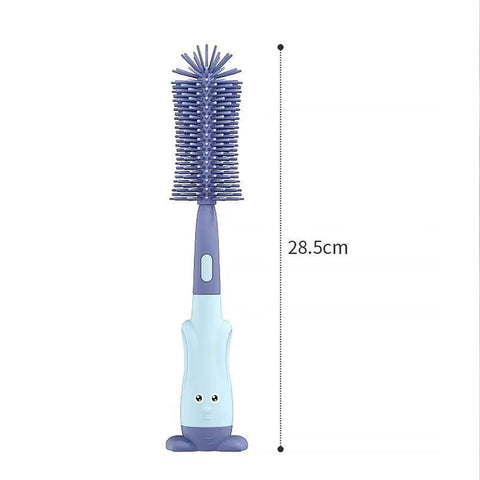 PACKAGE INCLUDED
1 × Food-Grade Baby Bottle Cleaning Brush
people are currently looking at this product