{"id":7770000589051,"title":"Kitchen Sink Disposable Straine Trash Bags (100pcs)","handle":"kitchen-sink-disposable-straine-trash-bags-100pcs","description":"\u003ch4 style=\"text-align: center;\"\u003e\u003cstrong\u003e👩‍🍳💦\u003c\/strong\u003e\u003c\/h4\u003e\n\u003ch4 style=\"text-align: center;\" data-mce-fragment=\"1\"\u003e\u003cspan style=\"color: #da5308;\"\u003e\u003cstrong\u003eAre you still digging up food waste by hand? \u003c\/strong\u003e\u003c\/span\u003e\u003c\/h4\u003e\n\u003ch4 style=\"text-align: center;\" data-mce-fragment=\"1\"\u003e\u003cstrong\u003eThis kitchen sink trash mesh bag \u003cspan style=\"color: #29898e;\"\u003ekeeps your kitchen sink always clean\u003c\/span\u003e.\u003c\/strong\u003e\u003c\/h4\u003e\n\u003cdiv\u003e\u003cimg src=\"https:\/\/cdn.shopifycdn.net\/s\/files\/1\/0555\/6243\/6659\/files\/01_480x480.jpg?v=1645773954\" alt=\"\" style=\"display: block; margin-left: auto; margin-right: auto;\" width=\"400\" height=\"400\" data-mce-fragment=\"1\" data-mce-src=\"https:\/\/cdn.shopifycdn.net\/s\/files\/1\/0555\/6243\/6659\/files\/01_480x480.jpg?v=1645773954\"\u003e\u003c\/div\u003e\n\u003ch3 data-mce-fragment=\"1\"\u003e\u003cspan style=\"color: #937139;\"\u003e\u003cstrong\u003eFEATURES\u003c\/strong\u003e\u003c\/span\u003e\u003c\/h3\u003e\n\u003cul\u003e\n\u003cli\u003e\u003cspan style=\"font-weight: 400;\" data-mce-fragment=\"1\" data-mce-style=\"font-weight: 400;\"\u003e\u003cspan style=\"color: #818c2d;\"\u003e\u003cstrong\u003eKitchen Helper\u003c\/strong\u003e\u003c\/span\u003e: Made of high-quality polyester, with small meshes to prevent the sink from being blocked, which can effectively prevent hair, paper, food residues, fabrics and other garbage from entering the drain.\u003c\/span\u003e\u003c\/li\u003e\n\u003c\/ul\u003e\n\u003cp\u003e\u003cspan style=\"font-weight: 400;\" data-mce-fragment=\"1\" data-mce-style=\"font-weight: 400;\"\u003e\u003cimg alt=\"\" src=\"https:\/\/cdn.shopifycdn.net\/s\/files\/1\/0555\/6243\/6659\/files\/06_480x480.jpg?v=1645773982\" style=\"display: block; margin-left: auto; margin-right: auto;\" width=\"400\" height=\"400\"\u003e\u003c\/span\u003e\u003c\/p\u003e\n\u003cul\u003e\n\u003cli\u003e\u003cspan style=\"font-weight: 400;\" data-mce-fragment=\"1\" data-mce-style=\"font-weight: 400;\"\u003e\u003cspan style=\"color: #818c2d;\"\u003e\u003cstrong\u003eEasy To Use\u003c\/strong\u003e\u003c\/span\u003e: Just put the net on the stainless steel sink filter net, the operation is very simple, you don't need to clean it manually, just lift them gently and throw them into the trash can.\u003c\/span\u003e\u003c\/li\u003e\n\u003c\/ul\u003e\n\u003cdiv\u003e\u003cimg src=\"https:\/\/img.cdncloud.top\/uploader\/2fbce7a4e23c85d434c67cb8cd1223b2.gif\" style=\"display: block; margin-left: auto; margin-right: auto;\" width=\"400\" height=\"400\" data-mce-fragment=\"1\" data-mce-src=\"https:\/\/img.cdncloud.top\/uploader\/2fbce7a4e23c85d434c67cb8cd1223b2.gif\"\u003e\u003c\/div\u003e\n\u003cul\u003e\n\u003cli\u003e\u003cspan style=\"font-weight: 400;\" data-mce-fragment=\"1\" data-mce-style=\"font-weight: 400;\"\u003e\u003cspan style=\"color: #818c2d;\"\u003e\u003cstrong\u003eSuitable For\u003c\/strong\u003e\u003c\/span\u003e: It can filter most sink filters. Easy to stick on the sink filter and maintain stability. After use, just lift it gently and throw it into the trash can. Very suitable for kitchen sink filters.\u003c\/span\u003e\u003c\/li\u003e\n\u003c\/ul\u003e\n\u003cdiv\u003e\u003cimg src=\"https:\/\/cdn.cloudfastin.top\/assets\/2021\/08\/3bd5825fd909833adf7ea116a2b6ebf4.jpg\" width=\"400\" height=\"328\" style=\"display: block; margin-left: auto; margin-right: auto;\" data-mce-fragment=\"1\" data-mce-src=\"https:\/\/cdn.cloudfastin.top\/assets\/2021\/08\/3bd5825fd909833adf7ea116a2b6ebf4.jpg\"\u003e\u003c\/div\u003e\n\u003ch3 data-mce-fragment=\"1\"\u003e\u003cspan style=\"color: #937139;\"\u003e\u003cstrong\u003eSPECIFICATIONS\u003c\/strong\u003e\u003c\/span\u003e\u003c\/h3\u003e\n\u003cul\u003e\n\u003cli\u003e\u003cspan style=\"font-weight: 400;\" data-mce-fragment=\"1\" data-mce-style=\"font-weight: 400;\"\u003e\u003cstrong\u003eMaterial\u003c\/strong\u003e: Polyester\u003c\/span\u003e\u003c\/li\u003e\n\u003cli\u003e\u003cspan style=\"font-weight: 400;\" data-mce-fragment=\"1\" data-mce-style=\"font-weight: 400;\"\u003e\u003cstrong\u003eColor\u003c\/strong\u003e: White\u003c\/span\u003e\u003c\/li\u003e\n\u003cli\u003e\u003cspan style=\"font-weight: 400;\" data-mce-fragment=\"1\" data-mce-style=\"font-weight: 400;\"\u003e\u003cstrong\u003eWeight\u003c\/strong\u003e: 200g \/ 0.44lb\u003c\/span\u003e\u003c\/li\u003e\n\u003cli\u003e\u003cspan style=\"font-weight: 400;\" data-mce-fragment=\"1\" data-mce-style=\"font-weight: 400;\"\u003e\u003cstrong\u003eSize\u003c\/strong\u003e: 9*9cm \/ 3.5*3.5in\u003c\/span\u003e\u003c\/li\u003e\n\u003c\/ul\u003e\n\u003ch3 data-mce-fragment=\"1\"\u003e\u003cstrong\u003ePACKAGE INCLUDED\u003c\/strong\u003e\u003c\/h3\u003e\n\u003cul\u003e\n\u003cli\u003e\u003cspan style=\"font-weight: 400;\" data-mce-fragment=\"1\" data-mce-style=\"font-weight: 400;\"\u003e100 × Kitchen Sink Disposable Straine Trash Bags\u003c\/span\u003e\u003c\/li\u003e\n\u003c\/ul\u003e","published_at":"2022-07-10T20:22:33-10:00","created_at":"2022-07-10T20:22:39-10:00","vendor":"buttylife","type":"","tags":["houseware","kitchen"],"price":599,"price_min":599,"price_max":599,"available":true,"price_varies":false,"compare_at_price":1999,"compare_at_price_min":1999,"compare_at_price_max":1999,"compare_at_price_varies":false,"variants":[{"id":43276054561019,"title":"Default Title","option1":"Default Title","option2":null,"option3":null,"sku":"CP25999-X21252","requires_shipping":true,"taxable":false,"featured_image":null,"available":true,"name":"Kitchen Sink Disposable Straine Trash Bags (100pcs)","public_title":null,"options":["Default Title"],"price":599,"weight":0,"compare_at_price":1999,"inventory_management":null,"barcode":null,"requires_selling_plan":false,"selling_plan_allocations":[],"quantity_rule":{"min":1,"max":null,"increment":1}}],"images":["\/\/cdn.shopify.com\/s\/files\/1\/0584\/7760\/9115\/products\/01_5ec2c8cb-1d3a-4013-92ca-dfa974cbcec3.jpg?v=1657520559","\/\/cdn.shopify.com\/s\/files\/1\/0584\/7760\/9115\/products\/02_dc40c0ee-20b6-4557-a158-ff1cb982e157.jpg?v=1657520559","\/\/cdn.shopify.com\/s\/files\/1\/0584\/7760\/9115\/products\/03_ad6388ae-50a3-49ca-b864-23eac10309ee.jpg?v=1657520559","\/\/cdn.shopify.com\/s\/files\/1\/0584\/7760\/9115\/products\/04_3809c52d-ce35-4c96-b603-7d19b3abf00d.jpg?v=1657520559","\/\/cdn.shopify.com\/s\/files\/1\/0584\/7760\/9115\/products\/05_2cf69dc7-ca9c-46f8-ac80-9577aba724cc.jpg?v=1657520559","\/\/cdn.shopify.com\/s\/files\/1\/0584\/7760\/9115\/products\/06_2aa27be1-1bdf-4ba4-b6b9-56c8866c7695.jpg?v=1657520559","\/\/cdn.shopify.com\/s\/files\/1\/0584\/7760\/9115\/products\/08_4770f102-1dc0-438c-bf2c-002fe0da51e6.jpg?v=1657520559","\/\/cdn.shopify.com\/s\/files\/1\/0584\/7760\/9115\/products\/07_a3a126e1-7b31-40ce-b1b7-38f68ff99099.jpg?v=1657520559"],"featured_image":"\/\/cdn.shopify.com\/s\/files\/1\/0584\/7760\/9115\/products\/01_5ec2c8cb-1d3a-4013-92ca-dfa974cbcec3.jpg?v=1657520559","options":["Title"],"media":[{"alt":null,"id":30341534482683,"position":1,"preview_image":{"aspect_ratio":1.0,"height":800,"width":800,"src":"https:\/\/cdn.shopify.com\/s\/files\/1\/0584\/7760\/9115\/products\/01_5ec2c8cb-1d3a-4013-92ca-dfa974cbcec3.jpg?v=1657520559"},"aspect_ratio":1.0,"height":800,"media_type":"image","src":"https:\/\/cdn.shopify.com\/s\/files\/1\/0584\/7760\/9115\/products\/01_5ec2c8cb-1d3a-4013-92ca-dfa974cbcec3.jpg?v=1657520559","width":800},{"alt":null,"id":30341534515451,"position":2,"preview_image":{"aspect_ratio":1.0,"height":800,"width":800,"src":"https:\/\/cdn.shopify.com\/s\/files\/1\/0584\/7760\/9115\/products\/02_dc40c0ee-20b6-4557-a158-ff1cb982e157.jpg?v=1657520559"},"aspect_ratio":1.0,"height":800,"media_type":"image","src":"https:\/\/cdn.shopify.com\/s\/files\/1\/0584\/7760\/9115\/products\/02_dc40c0ee-20b6-4557-a158-ff1cb982e157.jpg?v=1657520559","width":800},{"alt":null,"id":30341534548219,"position":3,"preview_image":{"aspect_ratio":1.0,"height":800,"width":800,"src":"https:\/\/cdn.shopify.com\/s\/files\/1\/0584\/7760\/9115\/products\/03_ad6388ae-50a3-49ca-b864-23eac10309ee.jpg?v=1657520559"},"aspect_ratio":1.0,"height":800,"media_type":"image","src":"https:\/\/cdn.shopify.com\/s\/files\/1\/0584\/7760\/9115\/products\/03_ad6388ae-50a3-49ca-b864-23eac10309ee.jpg?v=1657520559","width":800},{"alt":null,"id":30341534580987,"position":4,"preview_image":{"aspect_ratio":1.0,"height":800,"width":800,"src":"https:\/\/cdn.shopify.com\/s\/files\/1\/0584\/7760\/9115\/products\/04_3809c52d-ce35-4c96-b603-7d19b3abf00d.jpg?v=1657520559"},"aspect_ratio":1.0,"height":800,"media_type":"image","src":"https:\/\/cdn.shopify.com\/s\/files\/1\/0584\/7760\/9115\/products\/04_3809c52d-ce35-4c96-b603-7d19b3abf00d.jpg?v=1657520559","width":800},{"alt":null,"id":30341534613755,"position":5,"preview_image":{"aspect_ratio":1.0,"height":800,"width":800,"src":"https:\/\/cdn.shopify.com\/s\/files\/1\/0584\/7760\/9115\/products\/05_2cf69dc7-ca9c-46f8-ac80-9577aba724cc.jpg?v=1657520559"},"aspect_ratio":1.0,"height":800,"media_type":"image","src":"https:\/\/cdn.shopify.com\/s\/files\/1\/0584\/7760\/9115\/products\/05_2cf69dc7-ca9c-46f8-ac80-9577aba724cc.jpg?v=1657520559","width":800},{"alt":null,"id":30341534646523,"position":6,"preview_image":{"aspect_ratio":1.0,"height":800,"width":800,"src":"https:\/\/cdn.shopify.com\/s\/files\/1\/0584\/7760\/9115\/products\/06_2aa27be1-1bdf-4ba4-b6b9-56c8866c7695.jpg?v=1657520559"},"aspect_ratio":1.0,"height":800,"media_type":"image","src":"https:\/\/cdn.shopify.com\/s\/files\/1\/0584\/7760\/9115\/products\/06_2aa27be1-1bdf-4ba4-b6b9-56c8866c7695.jpg?v=1657520559","width":800},{"alt":null,"id":30341534679291,"position":7,"preview_image":{"aspect_ratio":1.0,"height":800,"width":800,"src":"https:\/\/cdn.shopify.com\/s\/files\/1\/0584\/7760\/9115\/products\/08_4770f102-1dc0-438c-bf2c-002fe0da51e6.jpg?v=1657520559"},"aspect_ratio":1.0,"height":800,"media_type":"image","src":"https:\/\/cdn.shopify.com\/s\/files\/1\/0584\/7760\/9115\/products\/08_4770f102-1dc0-438c-bf2c-002fe0da51e6.jpg?v=1657520559","width":800},{"alt":null,"id":30341534712059,"position":8,"preview_image":{"aspect_ratio":1.0,"height":800,"width":800,"src":"https:\/\/cdn.shopify.com\/s\/files\/1\/0584\/7760\/9115\/products\/07_a3a126e1-7b31-40ce-b1b7-38f68ff99099.jpg?v=1657520559"},"aspect_ratio":1.0,"height":800,"media_type":"image","src":"https:\/\/cdn.shopify.com\/s\/files\/1\/0584\/7760\/9115\/products\/07_a3a126e1-7b31-40ce-b1b7-38f68ff99099.jpg?v=1657520559","width":800}],"requires_selling_plan":false,"selling_plan_groups":[],"content":"\u003ch4 style=\"text-align: center;\"\u003e\u003cstrong\u003e👩‍🍳💦\u003c\/strong\u003e\u003c\/h4\u003e\n\u003ch4 style=\"text-align: center;\" data-mce-fragment=\"1\"\u003e\u003cspan style=\"color: #da5308;\"\u003e\u003cstrong\u003eAre you still digging up food waste by hand? \u003c\/strong\u003e\u003c\/span\u003e\u003c\/h4\u003e\n\u003ch4 style=\"text-align: center;\" data-mce-fragment=\"1\"\u003e\u003cstrong\u003eThis kitchen sink trash mesh bag \u003cspan style=\"color: #29898e;\"\u003ekeeps your kitchen sink always clean\u003c\/span\u003e.\u003c\/strong\u003e\u003c\/h4\u003e\n\u003cdiv\u003e\u003cimg src=\"https:\/\/cdn.shopifycdn.net\/s\/files\/1\/0555\/6243\/6659\/files\/01_480x480.jpg?v=1645773954\" alt=\"\" style=\"display: block; margin-left: auto; margin-right: auto;\" width=\"400\" height=\"400\" data-mce-fragment=\"1\" data-mce-src=\"https:\/\/cdn.shopifycdn.net\/s\/files\/1\/0555\/6243\/6659\/files\/01_480x480.jpg?v=1645773954\"\u003e\u003c\/div\u003e\n\u003ch3 data-mce-fragment=\"1\"\u003e\u003cspan style=\"color: #937139;\"\u003e\u003cstrong\u003eFEATURES\u003c\/strong\u003e\u003c\/span\u003e\u003c\/h3\u003e\n\u003cul\u003e\n\u003cli\u003e\u003cspan style=\"font-weight: 400;\" data-mce-fragment=\"1\" data-mce-style=\"font-weight: 400;\"\u003e\u003cspan style=\"color: #818c2d;\"\u003e\u003cstrong\u003eKitchen Helper\u003c\/strong\u003e\u003c\/span\u003e: Made of high-quality polyester, with small meshes to prevent the sink from being blocked, which can effectively prevent hair, paper, food residues, fabrics and other garbage from entering the drain.\u003c\/span\u003e\u003c\/li\u003e\n\u003c\/ul\u003e\n\u003cp\u003e\u003cspan style=\"font-weight: 400;\" data-mce-fragment=\"1\" data-mce-style=\"font-weight: 400;\"\u003e\u003cimg alt=\"\" src=\"https:\/\/cdn.shopifycdn.net\/s\/files\/1\/0555\/6243\/6659\/files\/06_480x480.jpg?v=1645773982\" style=\"display: block; margin-left: auto; margin-right: auto;\" width=\"400\" height=\"400\"\u003e\u003c\/span\u003e\u003c\/p\u003e\n\u003cul\u003e\n\u003cli\u003e\u003cspan style=\"font-weight: 400;\" data-mce-fragment=\"1\" data-mce-style=\"font-weight: 400;\"\u003e\u003cspan style=\"color: #818c2d;\"\u003e\u003cstrong\u003eEasy To Use\u003c\/strong\u003e\u003c\/span\u003e: Just put the net on the stainless steel sink filter net, the operation is very simple, you don't need to clean it manually, just lift them gently and throw them into the trash can.\u003c\/span\u003e\u003c\/li\u003e\n\u003c\/ul\u003e\n\u003cdiv\u003e\u003cimg src=\"https:\/\/img.cdncloud.top\/uploader\/2fbce7a4e23c85d434c67cb8cd1223b2.gif\" style=\"display: block; margin-left: auto; margin-right: auto;\" width=\"400\" height=\"400\" data-mce-fragment=\"1\" data-mce-src=\"https:\/\/img.cdncloud.top\/uploader\/2fbce7a4e23c85d434c67cb8cd1223b2.gif\"\u003e\u003c\/div\u003e\n\u003cul\u003e\n\u003cli\u003e\u003cspan style=\"font-weight: 400;\" data-mce-fragment=\"1\" data-mce-style=\"font-weight: 400;\"\u003e\u003cspan style=\"color: #818c2d;\"\u003e\u003cstrong\u003eSuitable For\u003c\/strong\u003e\u003c\/span\u003e: It can filter most sink filters. Easy to stick on the sink filter and maintain stability. After use, just lift it gently and throw it into the trash can. Very suitable for kitchen sink filters.\u003c\/span\u003e\u003c\/li\u003e\n\u003c\/ul\u003e\n\u003cdiv\u003e\u003cimg src=\"https:\/\/cdn.cloudfastin.top\/assets\/2021\/08\/3bd5825fd909833adf7ea116a2b6ebf4.jpg\" width=\"400\" height=\"328\" style=\"display: block; margin-left: auto; margin-right: auto;\" data-mce-fragment=\"1\" data-mce-src=\"https:\/\/cdn.cloudfastin.top\/assets\/2021\/08\/3bd5825fd909833adf7ea116a2b6ebf4.jpg\"\u003e\u003c\/div\u003e\n\u003ch3 data-mce-fragment=\"1\"\u003e\u003cspan style=\"color: #937139;\"\u003e\u003cstrong\u003eSPECIFICATIONS\u003c\/strong\u003e\u003c\/span\u003e\u003c\/h3\u003e\n\u003cul\u003e\n\u003cli\u003e\u003cspan style=\"font-weight: 400;\" data-mce-fragment=\"1\" data-mce-style=\"font-weight: 400;\"\u003e\u003cstrong\u003eMaterial\u003c\/strong\u003e: Polyester\u003c\/span\u003e\u003c\/li\u003e\n\u003cli\u003e\u003cspan style=\"font-weight: 400;\" data-mce-fragment=\"1\" data-mce-style=\"font-weight: 400;\"\u003e\u003cstrong\u003eColor\u003c\/strong\u003e: White\u003c\/span\u003e\u003c\/li\u003e\n\u003cli\u003e\u003cspan style=\"font-weight: 400;\" data-mce-fragment=\"1\" data-mce-style=\"font-weight: 400;\"\u003e\u003cstrong\u003eWeight\u003c\/strong\u003e: 200g \/ 0.44lb\u003c\/span\u003e\u003c\/li\u003e\n\u003cli\u003e\u003cspan style=\"font-weight: 400;\" data-mce-fragment=\"1\" data-mce-style=\"font-weight: 400;\"\u003e\u003cstrong\u003eSize\u003c\/strong\u003e: 9*9cm \/ 3.5*3.5in\u003c\/span\u003e\u003c\/li\u003e\n\u003c\/ul\u003e\n\u003ch3 data-mce-fragment=\"1\"\u003e\u003cstrong\u003ePACKAGE INCLUDED\u003c\/strong\u003e\u003c\/h3\u003e\n\u003cul\u003e\n\u003cli\u003e\u003cspan style=\"font-weight: 400;\" data-mce-fragment=\"1\" data-mce-style=\"font-weight: 400;\"\u003e100 × Kitchen Sink Disposable Straine Trash Bags\u003c\/span\u003e\u003c\/li\u003e\n\u003c\/ul\u003e"}
Kitchen Sink Disposable Straine Trash Bags (100pcs)
Product Description
👩‍🍳💦
Are you still digging up food waste by hand? 
This kitchen sink trash mesh bag

keeps your kitchen sink always clean

.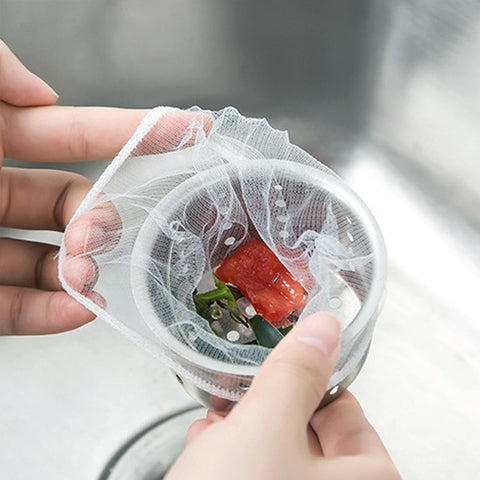 FEATURES
Kitchen Helper: Made of high-quality polyester, with small meshes to prevent the sink from being blocked, which can effectively prevent hair, paper, food residues, fabrics and other garbage from entering the drain.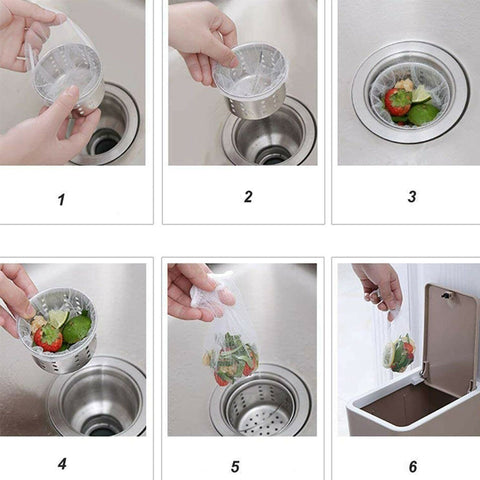 Easy To Use: Just put the net on the stainless steel sink filter net, the operation is very simple, you don't need to clean it manually, just lift them gently and throw them into the trash can.
Suitable For: It can filter most sink filters. Easy to stick on the sink filter and maintain stability. After use, just lift it gently and throw it into the trash can. Very suitable for kitchen sink filters.
SPECIFICATIONS
Material: Polyester
Color: White
Weight: 200g / 0.44lb
Size: 9*9cm / 3.5*3.5in
PACKAGE INCLUDED
100 × Kitchen Sink Disposable Straine Trash Bags
people are currently looking at this product