{"id":7781630542075,"title":"Lovely Diver Aquarium Fish Tank Decorations","handle":"lovely-diver-aquarium-fish-tank-decorations","description":"\u003ch4 style=\"text-align: center;\"\u003e\u003cstrong\u003e🐟🤿\u003c\/strong\u003e\u003c\/h4\u003e\n\u003ch4 style=\"text-align: center;\" data-mce-fragment=\"1\"\u003e\u003cspan style=\"color: #e79739;\"\u003e\u003cstrong\u003eAdd some fun to your life!\u003c\/strong\u003e\u003c\/span\u003e\u003c\/h4\u003e\n\u003ch4 style=\"text-align: center;\" data-mce-fragment=\"1\"\u003e\u003cspan style=\"color: #52a9bc;\"\u003e\u003cstrong\u003eAquarium decorations, cute diver fish tank decorations, are floating units suitable for all kinds of fish tanks.\u003c\/strong\u003e\u003c\/span\u003e\u003c\/h4\u003e\n\u003cp\u003e\u003cspan style=\"color: #52a9bc;\"\u003e\u003cstrong\u003e\u003cimg style=\"display: block; margin-left: auto; margin-right: auto;\" src=\"https:\/\/img.cdncloud.top\/uploader\/a95752893fed8ff52eb846e55d7da93e.gif\"\u003e\u003c\/strong\u003e\u003c\/span\u003e\u003c\/p\u003e\n\u003ch3 data-mce-fragment=\"1\"\u003e\u003cspan style=\"color: #6a992c;\"\u003e\u003cstrong\u003eFEATURES\u003c\/strong\u003e\u003c\/span\u003e\u003c\/h3\u003e\n\u003cul\u003e\n\u003cli\u003e\u003cspan style=\"color: #f2b857;\"\u003e\u003cstrong\u003eSafety Material\u003c\/strong\u003e\u003c\/span\u003e\u003c\/li\u003e\n\u003c\/ul\u003e\n\u003cp style=\"padding-left: 30px;\" data-mce-fragment=\"1\"\u003e\u003cspan style=\"font-weight: 400;\" data-mce-fragment=\"1\" data-mce-style=\"font-weight: 400;\"\u003eDiver aquarium decoration is made of safe and durable resin,Hand coloring,Suitable for fresh water and salt water, not easy to fade.\u003c\/span\u003e\u003c\/p\u003e\n\u003cul\u003e\n\u003cli\u003e\u003cspan style=\"color: #f2b857;\"\u003e\u003cstrong\u003eAdjustable Position\u003c\/strong\u003e\u003c\/span\u003e\u003c\/li\u003e\n\u003c\/ul\u003e\n\u003cp style=\"padding-left: 30px;\" data-mce-fragment=\"1\"\u003e\u003cspan style=\"font-weight: 400;\" data-mce-fragment=\"1\" data-mce-style=\"font-weight: 400;\"\u003eUses buoyancy to allow divers to dive without sinking to the bottom. The diving position of the diver can be adjusted according to the length of the fishing line. The floating ball can be opened. If you feel that the diver is floating too fast, you can add water appropriately.\u003c\/span\u003e\u003c\/p\u003e\n\u003cp data-mce-fragment=\"1\"\u003e\u003cspan style=\"font-weight: 400;\" data-mce-fragment=\"1\" data-mce-style=\"font-weight: 400;\"\u003e\u003cimg alt=\"\" src=\"https:\/\/cdn.shopifycdn.net\/s\/files\/1\/0529\/3418\/1026\/products\/5_80145679-fd68-4faa-b5d7-9953c80dc7ef_480x480.jpg?v=1657863602\" style=\"display: block; margin-left: auto; margin-right: auto;\" width=\"400\" height=\"400\"\u003e\u003c\/span\u003e\u003c\/p\u003e\n\u003cul\u003e\n\u003cli\u003e\u003cspan style=\"color: #f2b857;\"\u003e\u003cstrong\u003eSuitable For All Kinds of Fish Tanks\u003c\/strong\u003e\u003c\/span\u003e\u003c\/li\u003e\n\u003c\/ul\u003e\n\u003cp style=\"padding-left: 30px;\" data-mce-fragment=\"1\"\u003e\u003cspan style=\"font-weight: 400;\" data-mce-fragment=\"1\" data-mce-style=\"font-weight: 400;\"\u003eAquarium decorations are suitable for your existing landscape matching, whether it is natural wind or with interesting cartoon characters. In addition to large tanks, it is also suitable for small fish tanks. If you only have one fish, you can make him no longer alone.\u003c\/span\u003e\u003c\/p\u003e\n\u003cul\u003e\n\u003cli\u003e\u003cspan style=\"color: #f2b857;\"\u003e\u003cstrong\u003eFor Fish Health\u003c\/strong\u003e\u003c\/span\u003e\u003c\/li\u003e\n\u003c\/ul\u003e\n\u003cp style=\"padding-left: 30px;\" data-mce-fragment=\"1\"\u003e\u003cspan style=\"font-weight: 400;\" data-mce-fragment=\"1\" data-mce-style=\"font-weight: 400;\"\u003eProper water flow is also helpful for the health of fish.As a fish tank accessories, it can help you observe the water flow direction of the fish tank.No sharp edges. Don't worry about scratching small fish.\u003c\/span\u003e\u003c\/p\u003e\n\u003cp data-mce-fragment=\"1\"\u003e\u003cspan style=\"font-weight: 400;\" data-mce-fragment=\"1\" data-mce-style=\"font-weight: 400;\"\u003e\u003cimg alt=\"\" src=\"https:\/\/cdn.shopifycdn.net\/s\/files\/1\/0529\/3418\/1026\/products\/6_da37b136-099e-423e-802e-d04e6e401a4d_480x480.jpg?v=1657863602\" style=\"display: block; margin-left: auto; margin-right: auto;\" width=\"400\" height=\"400\"\u003e\u003c\/span\u003e\u003c\/p\u003e\n\u003cul\u003e\n\u003cli\u003e\u003cspan style=\"color: #f2b857;\"\u003e\u003cstrong\u003eWonderful Human Pet Life\u003c\/strong\u003e\u003c\/span\u003e\u003c\/li\u003e\n\u003c\/ul\u003e\n\u003cp style=\"padding-left: 30px;\" data-mce-fragment=\"1\"\u003e\u003cspan style=\"font-weight: 400;\" data-mce-fragment=\"1\" data-mce-style=\"font-weight: 400;\"\u003eAs an aquarium decoration, I hope it will make the aquarium beautiful and add fun to your life at the same time. Let your child like it and give it a positive meaning.\u003c\/span\u003e\u003c\/p\u003e\n\u003ch3 data-mce-fragment=\"1\"\u003e\u003cspan style=\"color: #6a992c;\"\u003e\u003cstrong\u003eSPECIFICATIONS\u003c\/strong\u003e\u003c\/span\u003e\u003c\/h3\u003e\n\u003cul\u003e\n\u003cli\u003e\u003cspan style=\"font-weight: 400;\" data-mce-fragment=\"1\" data-mce-style=\"font-weight: 400;\"\u003e\u003cstrong\u003eMaterial\u003c\/strong\u003e: Resin\u003c\/span\u003e\u003c\/li\u003e\n\u003cli\u003e\u003cspan style=\"font-weight: 400;\" data-mce-fragment=\"1\" data-mce-style=\"font-weight: 400;\"\u003e\u003cstrong\u003eColor\u003c\/strong\u003e: blue, red\u003c\/span\u003e\u003c\/li\u003e\n\u003cli\u003e\u003cspan style=\"font-weight: 400;\" data-mce-fragment=\"1\" data-mce-style=\"font-weight: 400;\"\u003e\u003cstrong\u003eWeight\u003c\/strong\u003e: 50g \/ 0.1lb\u003c\/span\u003e\u003c\/li\u003e\n\u003cli\u003e\u003cspan style=\"font-weight: 400;\" data-mce-fragment=\"1\" data-mce-style=\"font-weight: 400;\"\u003e\u003cstrong\u003eSize\u003c\/strong\u003e: \u003c\/span\u003e\u003c\/li\u003e\n\u003c\/ul\u003e\n\u003cp\u003e\u003cspan style=\"font-weight: 400;\" data-mce-fragment=\"1\" data-mce-style=\"font-weight: 400;\"\u003e\u003cimg alt=\"\" src=\"https:\/\/cdn.shopifycdn.net\/s\/files\/1\/0529\/3418\/1026\/products\/f7d7c897f798fc44c391847188c3ac79_480x480.jpg?v=1657863597\" style=\"display: block; margin-left: auto; margin-right: auto;\" width=\"400\" height=\"400\"\u003e\u003c\/span\u003e\u003c\/p\u003e\n\u003ch3 data-mce-fragment=\"1\"\u003e\u003cspan style=\"color: #6a992c;\"\u003e\u003cstrong\u003ePACKAGE INCLUDED\u003c\/strong\u003e\u003c\/span\u003e\u003c\/h3\u003e\n\u003cul\u003e\n\u003cli\u003e\u003cspan style=\"font-weight: 400;\" data-mce-fragment=\"1\" data-mce-style=\"font-weight: 400;\"\u003e1\/2 × Lovely Diver Aquarium Fish Tank Decoration (with floating ball + line)\u003c\/span\u003e\u003c\/li\u003e\n\u003c\/ul\u003e","published_at":"2022-07-21T00:26:08-10:00","created_at":"2022-07-21T00:26:17-10:00","vendor":"buttylife","type":"","tags":["decoration"],"price":999,"price_min":999,"price_max":1499,"available":true,"price_varies":true,"compare_at_price":1999,"compare_at_price_min":1999,"compare_at_price_max":2999,"compare_at_price_varies":true,"variants":[{"id":43316115865851,"title":"blue","option1":"blue","option2":null,"option3":null,"sku":"CP34089-C008","requires_shipping":true,"taxable":false,"featured_image":{"id":37836357992699,"product_id":7781630542075,"position":12,"created_at":"2022-07-21T00:26:21-10:00","updated_at":"2022-07-21T00:26:21-10:00","alt":null,"width":800,"height":800,"src":"https:\/\/cdn.shopify.com\/s\/files\/1\/0584\/7760\/9115\/products\/3_43ecf734-bce7-486d-87fb-c0b5686a8d97.jpg?v=1658399181","variant_ids":[43316115865851]},"available":true,"name":"Lovely Diver Aquarium Fish Tank Decorations - blue","public_title":"blue","options":["blue"],"price":999,"weight":0,"compare_at_price":1999,"inventory_management":null,"barcode":null,"featured_media":{"alt":null,"id":30408148418811,"position":12,"preview_image":{"aspect_ratio":1.0,"height":800,"width":800,"src":"https:\/\/cdn.shopify.com\/s\/files\/1\/0584\/7760\/9115\/products\/3_43ecf734-bce7-486d-87fb-c0b5686a8d97.jpg?v=1658399181"}},"requires_selling_plan":false,"selling_plan_allocations":[],"quantity_rule":{"min":1,"max":null,"increment":1}},{"id":43316115898619,"title":"red","option1":"red","option2":null,"option3":null,"sku":"CP34089-C002","requires_shipping":true,"taxable":false,"featured_image":{"id":37836357337339,"product_id":7781630542075,"position":11,"created_at":"2022-07-21T00:26:19-10:00","updated_at":"2022-07-21T00:26:19-10:00","alt":null,"width":800,"height":800,"src":"https:\/\/cdn.shopify.com\/s\/files\/1\/0584\/7760\/9115\/products\/8_5e428537-3c88-48a6-a398-23320c127564.jpg?v=1658399179","variant_ids":[43316115898619]},"available":true,"name":"Lovely Diver Aquarium Fish Tank Decorations - red","public_title":"red","options":["red"],"price":999,"weight":0,"compare_at_price":1999,"inventory_management":null,"barcode":null,"featured_media":{"alt":null,"id":30408147763451,"position":11,"preview_image":{"aspect_ratio":1.0,"height":800,"width":800,"src":"https:\/\/cdn.shopify.com\/s\/files\/1\/0584\/7760\/9115\/products\/8_5e428537-3c88-48a6-a398-23320c127564.jpg?v=1658399179"}},"requires_selling_plan":false,"selling_plan_allocations":[],"quantity_rule":{"min":1,"max":null,"increment":1}},{"id":43316115931387,"title":"blue+red","option1":"blue+red","option2":null,"option3":null,"sku":"CP34089-Z05715","requires_shipping":true,"taxable":false,"featured_image":null,"available":true,"name":"Lovely Diver Aquarium Fish Tank Decorations - blue+red","public_title":"blue+red","options":["blue+red"],"price":1499,"weight":0,"compare_at_price":2999,"inventory_management":null,"barcode":null,"requires_selling_plan":false,"selling_plan_allocations":[],"quantity_rule":{"min":1,"max":null,"increment":1}}],"images":["\/\/cdn.shopify.com\/s\/files\/1\/0584\/7760\/9115\/products\/1_fdbfaa61-d374-4117-beda-36c18276a6b2.jpg?v=1658399177","\/\/cdn.shopify.com\/s\/files\/1\/0584\/7760\/9115\/products\/1_1f18ffcb-d3e2-4f7c-b2d4-fb174ab651f6.jpg?v=1658399177","\/\/cdn.shopify.com\/s\/files\/1\/0584\/7760\/9115\/products\/2_b6642f23-62c7-4612-9f68-83f4548364c7.jpg?v=1658399177","\/\/cdn.shopify.com\/s\/files\/1\/0584\/7760\/9115\/products\/4_8dab4def-c5e9-410c-8c1c-c80c51910597.jpg?v=1658399177","\/\/cdn.shopify.com\/s\/files\/1\/0584\/7760\/9115\/products\/5_80145679-fd68-4faa-b5d7-9953c80dc7ef.jpg?v=1658399177","\/\/cdn.shopify.com\/s\/files\/1\/0584\/7760\/9115\/products\/6_da37b136-099e-423e-802e-d04e6e401a4d.jpg?v=1658399177","\/\/cdn.shopify.com\/s\/files\/1\/0584\/7760\/9115\/products\/7_96659e35-0ab7-4cfe-bfe0-d28e7ade6e0a.jpg?v=1658399177","\/\/cdn.shopify.com\/s\/files\/1\/0584\/7760\/9115\/products\/9_c9a10996-d1bb-4ae3-a74d-1777bb449109.jpg?v=1658399177","\/\/cdn.shopify.com\/s\/files\/1\/0584\/7760\/9115\/products\/10_70b0e15e-50a6-4be7-ae77-6806a167b606.jpg?v=1658399177","\/\/cdn.shopify.com\/s\/files\/1\/0584\/7760\/9115\/products\/f7d7c897f798fc44c391847188c3ac79_bc659b4a-81ea-4d1b-84e9-1092021b844b.jpg?v=1658399177","\/\/cdn.shopify.com\/s\/files\/1\/0584\/7760\/9115\/products\/8_5e428537-3c88-48a6-a398-23320c127564.jpg?v=1658399179","\/\/cdn.shopify.com\/s\/files\/1\/0584\/7760\/9115\/products\/3_43ecf734-bce7-486d-87fb-c0b5686a8d97.jpg?v=1658399181"],"featured_image":"\/\/cdn.shopify.com\/s\/files\/1\/0584\/7760\/9115\/products\/1_fdbfaa61-d374-4117-beda-36c18276a6b2.jpg?v=1658399177","options":["Color"],"media":[{"alt":null,"id":30408146321659,"position":1,"preview_image":{"aspect_ratio":1.0,"height":800,"width":800,"src":"https:\/\/cdn.shopify.com\/s\/files\/1\/0584\/7760\/9115\/products\/1_fdbfaa61-d374-4117-beda-36c18276a6b2.jpg?v=1658399177"},"aspect_ratio":1.0,"height":800,"media_type":"image","src":"https:\/\/cdn.shopify.com\/s\/files\/1\/0584\/7760\/9115\/products\/1_fdbfaa61-d374-4117-beda-36c18276a6b2.jpg?v=1658399177","width":800},{"alt":null,"id":30408146354427,"position":2,"preview_image":{"aspect_ratio":1.0,"height":800,"width":800,"src":"https:\/\/cdn.shopify.com\/s\/files\/1\/0584\/7760\/9115\/products\/1_1f18ffcb-d3e2-4f7c-b2d4-fb174ab651f6.jpg?v=1658399177"},"aspect_ratio":1.0,"height":800,"media_type":"image","src":"https:\/\/cdn.shopify.com\/s\/files\/1\/0584\/7760\/9115\/products\/1_1f18ffcb-d3e2-4f7c-b2d4-fb174ab651f6.jpg?v=1658399177","width":800},{"alt":null,"id":30408146387195,"position":3,"preview_image":{"aspect_ratio":1.0,"height":800,"width":800,"src":"https:\/\/cdn.shopify.com\/s\/files\/1\/0584\/7760\/9115\/products\/2_b6642f23-62c7-4612-9f68-83f4548364c7.jpg?v=1658399177"},"aspect_ratio":1.0,"height":800,"media_type":"image","src":"https:\/\/cdn.shopify.com\/s\/files\/1\/0584\/7760\/9115\/products\/2_b6642f23-62c7-4612-9f68-83f4548364c7.jpg?v=1658399177","width":800},{"alt":null,"id":30408146419963,"position":4,"preview_image":{"aspect_ratio":1.0,"height":800,"width":800,"src":"https:\/\/cdn.shopify.com\/s\/files\/1\/0584\/7760\/9115\/products\/4_8dab4def-c5e9-410c-8c1c-c80c51910597.jpg?v=1658399177"},"aspect_ratio":1.0,"height":800,"media_type":"image","src":"https:\/\/cdn.shopify.com\/s\/files\/1\/0584\/7760\/9115\/products\/4_8dab4def-c5e9-410c-8c1c-c80c51910597.jpg?v=1658399177","width":800},{"alt":null,"id":30408146452731,"position":5,"preview_image":{"aspect_ratio":1.0,"height":800,"width":800,"src":"https:\/\/cdn.shopify.com\/s\/files\/1\/0584\/7760\/9115\/products\/5_80145679-fd68-4faa-b5d7-9953c80dc7ef.jpg?v=1658399177"},"aspect_ratio":1.0,"height":800,"media_type":"image","src":"https:\/\/cdn.shopify.com\/s\/files\/1\/0584\/7760\/9115\/products\/5_80145679-fd68-4faa-b5d7-9953c80dc7ef.jpg?v=1658399177","width":800},{"alt":null,"id":30408146485499,"position":6,"preview_image":{"aspect_ratio":1.0,"height":800,"width":800,"src":"https:\/\/cdn.shopify.com\/s\/files\/1\/0584\/7760\/9115\/products\/6_da37b136-099e-423e-802e-d04e6e401a4d.jpg?v=1658399177"},"aspect_ratio":1.0,"height":800,"media_type":"image","src":"https:\/\/cdn.shopify.com\/s\/files\/1\/0584\/7760\/9115\/products\/6_da37b136-099e-423e-802e-d04e6e401a4d.jpg?v=1658399177","width":800},{"alt":null,"id":30408146551035,"position":7,"preview_image":{"aspect_ratio":1.0,"height":800,"width":800,"src":"https:\/\/cdn.shopify.com\/s\/files\/1\/0584\/7760\/9115\/products\/7_96659e35-0ab7-4cfe-bfe0-d28e7ade6e0a.jpg?v=1658399177"},"aspect_ratio":1.0,"height":800,"media_type":"image","src":"https:\/\/cdn.shopify.com\/s\/files\/1\/0584\/7760\/9115\/products\/7_96659e35-0ab7-4cfe-bfe0-d28e7ade6e0a.jpg?v=1658399177","width":800},{"alt":null,"id":30408146583803,"position":8,"preview_image":{"aspect_ratio":1.0,"height":800,"width":800,"src":"https:\/\/cdn.shopify.com\/s\/files\/1\/0584\/7760\/9115\/products\/9_c9a10996-d1bb-4ae3-a74d-1777bb449109.jpg?v=1658399177"},"aspect_ratio":1.0,"height":800,"media_type":"image","src":"https:\/\/cdn.shopify.com\/s\/files\/1\/0584\/7760\/9115\/products\/9_c9a10996-d1bb-4ae3-a74d-1777bb449109.jpg?v=1658399177","width":800},{"alt":null,"id":30408146616571,"position":9,"preview_image":{"aspect_ratio":1.0,"height":800,"width":800,"src":"https:\/\/cdn.shopify.com\/s\/files\/1\/0584\/7760\/9115\/products\/10_70b0e15e-50a6-4be7-ae77-6806a167b606.jpg?v=1658399177"},"aspect_ratio":1.0,"height":800,"media_type":"image","src":"https:\/\/cdn.shopify.com\/s\/files\/1\/0584\/7760\/9115\/products\/10_70b0e15e-50a6-4be7-ae77-6806a167b606.jpg?v=1658399177","width":800},{"alt":null,"id":30408146649339,"position":10,"preview_image":{"aspect_ratio":1.0,"height":800,"width":800,"src":"https:\/\/cdn.shopify.com\/s\/files\/1\/0584\/7760\/9115\/products\/f7d7c897f798fc44c391847188c3ac79_bc659b4a-81ea-4d1b-84e9-1092021b844b.jpg?v=1658399177"},"aspect_ratio":1.0,"height":800,"media_type":"image","src":"https:\/\/cdn.shopify.com\/s\/files\/1\/0584\/7760\/9115\/products\/f7d7c897f798fc44c391847188c3ac79_bc659b4a-81ea-4d1b-84e9-1092021b844b.jpg?v=1658399177","width":800},{"alt":null,"id":30408147763451,"position":11,"preview_image":{"aspect_ratio":1.0,"height":800,"width":800,"src":"https:\/\/cdn.shopify.com\/s\/files\/1\/0584\/7760\/9115\/products\/8_5e428537-3c88-48a6-a398-23320c127564.jpg?v=1658399179"},"aspect_ratio":1.0,"height":800,"media_type":"image","src":"https:\/\/cdn.shopify.com\/s\/files\/1\/0584\/7760\/9115\/products\/8_5e428537-3c88-48a6-a398-23320c127564.jpg?v=1658399179","width":800},{"alt":null,"id":30408148418811,"position":12,"preview_image":{"aspect_ratio":1.0,"height":800,"width":800,"src":"https:\/\/cdn.shopify.com\/s\/files\/1\/0584\/7760\/9115\/products\/3_43ecf734-bce7-486d-87fb-c0b5686a8d97.jpg?v=1658399181"},"aspect_ratio":1.0,"height":800,"media_type":"image","src":"https:\/\/cdn.shopify.com\/s\/files\/1\/0584\/7760\/9115\/products\/3_43ecf734-bce7-486d-87fb-c0b5686a8d97.jpg?v=1658399181","width":800}],"requires_selling_plan":false,"selling_plan_groups":[],"content":"\u003ch4 style=\"text-align: center;\"\u003e\u003cstrong\u003e🐟🤿\u003c\/strong\u003e\u003c\/h4\u003e\n\u003ch4 style=\"text-align: center;\" data-mce-fragment=\"1\"\u003e\u003cspan style=\"color: #e79739;\"\u003e\u003cstrong\u003eAdd some fun to your life!\u003c\/strong\u003e\u003c\/span\u003e\u003c\/h4\u003e\n\u003ch4 style=\"text-align: center;\" data-mce-fragment=\"1\"\u003e\u003cspan style=\"color: #52a9bc;\"\u003e\u003cstrong\u003eAquarium decorations, cute diver fish tank decorations, are floating units suitable for all kinds of fish tanks.\u003c\/strong\u003e\u003c\/span\u003e\u003c\/h4\u003e\n\u003cp\u003e\u003cspan style=\"color: #52a9bc;\"\u003e\u003cstrong\u003e\u003cimg style=\"display: block; margin-left: auto; margin-right: auto;\" src=\"https:\/\/img.cdncloud.top\/uploader\/a95752893fed8ff52eb846e55d7da93e.gif\"\u003e\u003c\/strong\u003e\u003c\/span\u003e\u003c\/p\u003e\n\u003ch3 data-mce-fragment=\"1\"\u003e\u003cspan style=\"color: #6a992c;\"\u003e\u003cstrong\u003eFEATURES\u003c\/strong\u003e\u003c\/span\u003e\u003c\/h3\u003e\n\u003cul\u003e\n\u003cli\u003e\u003cspan style=\"color: #f2b857;\"\u003e\u003cstrong\u003eSafety Material\u003c\/strong\u003e\u003c\/span\u003e\u003c\/li\u003e\n\u003c\/ul\u003e\n\u003cp style=\"padding-left: 30px;\" data-mce-fragment=\"1\"\u003e\u003cspan style=\"font-weight: 400;\" data-mce-fragment=\"1\" data-mce-style=\"font-weight: 400;\"\u003eDiver aquarium decoration is made of safe and durable resin,Hand coloring,Suitable for fresh water and salt water, not easy to fade.\u003c\/span\u003e\u003c\/p\u003e\n\u003cul\u003e\n\u003cli\u003e\u003cspan style=\"color: #f2b857;\"\u003e\u003cstrong\u003eAdjustable Position\u003c\/strong\u003e\u003c\/span\u003e\u003c\/li\u003e\n\u003c\/ul\u003e\n\u003cp style=\"padding-left: 30px;\" data-mce-fragment=\"1\"\u003e\u003cspan style=\"font-weight: 400;\" data-mce-fragment=\"1\" data-mce-style=\"font-weight: 400;\"\u003eUses buoyancy to allow divers to dive without sinking to the bottom. The diving position of the diver can be adjusted according to the length of the fishing line. The floating ball can be opened. If you feel that the diver is floating too fast, you can add water appropriately.\u003c\/span\u003e\u003c\/p\u003e\n\u003cp data-mce-fragment=\"1\"\u003e\u003cspan style=\"font-weight: 400;\" data-mce-fragment=\"1\" data-mce-style=\"font-weight: 400;\"\u003e\u003cimg alt=\"\" src=\"https:\/\/cdn.shopifycdn.net\/s\/files\/1\/0529\/3418\/1026\/products\/5_80145679-fd68-4faa-b5d7-9953c80dc7ef_480x480.jpg?v=1657863602\" style=\"display: block; margin-left: auto; margin-right: auto;\" width=\"400\" height=\"400\"\u003e\u003c\/span\u003e\u003c\/p\u003e\n\u003cul\u003e\n\u003cli\u003e\u003cspan style=\"color: #f2b857;\"\u003e\u003cstrong\u003eSuitable For All Kinds of Fish Tanks\u003c\/strong\u003e\u003c\/span\u003e\u003c\/li\u003e\n\u003c\/ul\u003e\n\u003cp style=\"padding-left: 30px;\" data-mce-fragment=\"1\"\u003e\u003cspan style=\"font-weight: 400;\" data-mce-fragment=\"1\" data-mce-style=\"font-weight: 400;\"\u003eAquarium decorations are suitable for your existing landscape matching, whether it is natural wind or with interesting cartoon characters. In addition to large tanks, it is also suitable for small fish tanks. If you only have one fish, you can make him no longer alone.\u003c\/span\u003e\u003c\/p\u003e\n\u003cul\u003e\n\u003cli\u003e\u003cspan style=\"color: #f2b857;\"\u003e\u003cstrong\u003eFor Fish Health\u003c\/strong\u003e\u003c\/span\u003e\u003c\/li\u003e\n\u003c\/ul\u003e\n\u003cp style=\"padding-left: 30px;\" data-mce-fragment=\"1\"\u003e\u003cspan style=\"font-weight: 400;\" data-mce-fragment=\"1\" data-mce-style=\"font-weight: 400;\"\u003eProper water flow is also helpful for the health of fish.As a fish tank accessories, it can help you observe the water flow direction of the fish tank.No sharp edges. Don't worry about scratching small fish.\u003c\/span\u003e\u003c\/p\u003e\n\u003cp data-mce-fragment=\"1\"\u003e\u003cspan style=\"font-weight: 400;\" data-mce-fragment=\"1\" data-mce-style=\"font-weight: 400;\"\u003e\u003cimg alt=\"\" src=\"https:\/\/cdn.shopifycdn.net\/s\/files\/1\/0529\/3418\/1026\/products\/6_da37b136-099e-423e-802e-d04e6e401a4d_480x480.jpg?v=1657863602\" style=\"display: block; margin-left: auto; margin-right: auto;\" width=\"400\" height=\"400\"\u003e\u003c\/span\u003e\u003c\/p\u003e\n\u003cul\u003e\n\u003cli\u003e\u003cspan style=\"color: #f2b857;\"\u003e\u003cstrong\u003eWonderful Human Pet Life\u003c\/strong\u003e\u003c\/span\u003e\u003c\/li\u003e\n\u003c\/ul\u003e\n\u003cp style=\"padding-left: 30px;\" data-mce-fragment=\"1\"\u003e\u003cspan style=\"font-weight: 400;\" data-mce-fragment=\"1\" data-mce-style=\"font-weight: 400;\"\u003eAs an aquarium decoration, I hope it will make the aquarium beautiful and add fun to your life at the same time. Let your child like it and give it a positive meaning.\u003c\/span\u003e\u003c\/p\u003e\n\u003ch3 data-mce-fragment=\"1\"\u003e\u003cspan style=\"color: #6a992c;\"\u003e\u003cstrong\u003eSPECIFICATIONS\u003c\/strong\u003e\u003c\/span\u003e\u003c\/h3\u003e\n\u003cul\u003e\n\u003cli\u003e\u003cspan style=\"font-weight: 400;\" data-mce-fragment=\"1\" data-mce-style=\"font-weight: 400;\"\u003e\u003cstrong\u003eMaterial\u003c\/strong\u003e: Resin\u003c\/span\u003e\u003c\/li\u003e\n\u003cli\u003e\u003cspan style=\"font-weight: 400;\" data-mce-fragment=\"1\" data-mce-style=\"font-weight: 400;\"\u003e\u003cstrong\u003eColor\u003c\/strong\u003e: blue, red\u003c\/span\u003e\u003c\/li\u003e\n\u003cli\u003e\u003cspan style=\"font-weight: 400;\" data-mce-fragment=\"1\" data-mce-style=\"font-weight: 400;\"\u003e\u003cstrong\u003eWeight\u003c\/strong\u003e: 50g \/ 0.1lb\u003c\/span\u003e\u003c\/li\u003e\n\u003cli\u003e\u003cspan style=\"font-weight: 400;\" data-mce-fragment=\"1\" data-mce-style=\"font-weight: 400;\"\u003e\u003cstrong\u003eSize\u003c\/strong\u003e: \u003c\/span\u003e\u003c\/li\u003e\n\u003c\/ul\u003e\n\u003cp\u003e\u003cspan style=\"font-weight: 400;\" data-mce-fragment=\"1\" data-mce-style=\"font-weight: 400;\"\u003e\u003cimg alt=\"\" src=\"https:\/\/cdn.shopifycdn.net\/s\/files\/1\/0529\/3418\/1026\/products\/f7d7c897f798fc44c391847188c3ac79_480x480.jpg?v=1657863597\" style=\"display: block; margin-left: auto; margin-right: auto;\" width=\"400\" height=\"400\"\u003e\u003c\/span\u003e\u003c\/p\u003e\n\u003ch3 data-mce-fragment=\"1\"\u003e\u003cspan style=\"color: #6a992c;\"\u003e\u003cstrong\u003ePACKAGE INCLUDED\u003c\/strong\u003e\u003c\/span\u003e\u003c\/h3\u003e\n\u003cul\u003e\n\u003cli\u003e\u003cspan style=\"font-weight: 400;\" data-mce-fragment=\"1\" data-mce-style=\"font-weight: 400;\"\u003e1\/2 × Lovely Diver Aquarium Fish Tank Decoration (with floating ball + line)\u003c\/span\u003e\u003c\/li\u003e\n\u003c\/ul\u003e"}
Lovely Diver Aquarium Fish Tank Decorations
Product Description
🐟🤿
Add some fun to your life!
Aquarium decorations, cute diver fish tank decorations, are floating units suitable for all kinds of fish tanks.
FEATURES
Diver aquarium decoration is made of safe and durable resin,Hand coloring,Suitable for fresh water and salt water, not easy to fade.
Uses buoyancy to allow divers to dive without sinking to the bottom. The diving position of the diver can be adjusted according to the length of the fishing line. The floating ball can be opened. If you feel that the diver is floating too fast, you can add water appropriately.
Suitable For All Kinds of Fish Tanks
Aquarium decorations are suitable for your existing landscape matching, whether it is natural wind or with interesting cartoon characters. In addition to large tanks, it is also suitable for small fish tanks. If you only have one fish, you can make him no longer alone.
Proper water flow is also helpful for the health of fish.As a fish tank accessories, it can help you observe the water flow direction of the fish tank.No sharp edges. Don't worry about scratching small fish.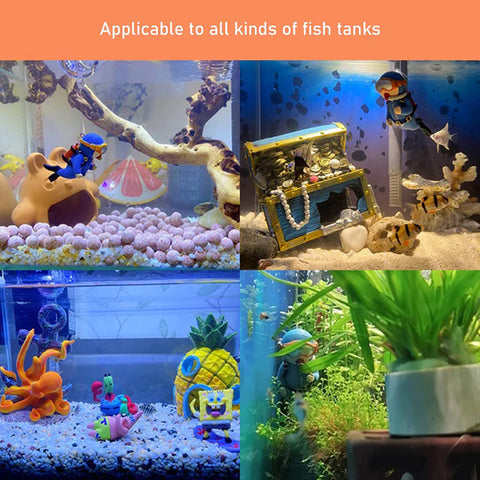 As an aquarium decoration, I hope it will make the aquarium beautiful and add fun to your life at the same time. Let your child like it and give it a positive meaning.
SPECIFICATIONS
Material: Resin
Color: blue, red
Weight: 50g / 0.1lb
Size: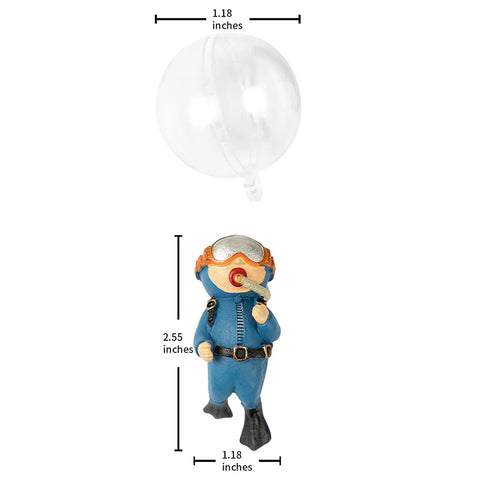 PACKAGE INCLUDED
1/2 × Lovely Diver Aquarium Fish Tank Decoration (with floating ball + line)
people are currently looking at this product