{"id":6997470544027,"title":"Screwdriver Pen Pocket Multi-Tool","handle":"screwdriver-pen-pocket-multi-tool","description":"\u003cdiv\u003e\u003cspan\u003e\u003cspan style=\"color: #f1c232;\"\u003e\u003cstrong\u003e🔥Domom Screwdriver Pen Pocket Multi-Tool\u003c\/strong\u003e\u003c\/span\u003e is an innovative, practical and space-saving tool !\u003c\/span\u003e\u003c\/div\u003e\n\u003cdiv\u003e\u003cspan\u003e\u003c\/span\u003e\u003c\/div\u003e\n\u003cdiv\u003e\u003cspan\u003e\u003cimg style=\"display: block; margin-left: auto; margin-right: auto;\" src=\"https:\/\/cdn.shopify.com\/s\/files\/1\/0100\/4814\/3417\/files\/1_e35c8130-0d2a-4bec-ae47-b83f69a8262a_480x480.gif?v=1574404681\"\u003e\u003c\/span\u003e\u003c\/div\u003e\n\u003cul class=\"a-unordered-list a-vertical a-spacing-none\"\u003e\n\u003cli\u003e\u003cspan class=\"a-list-item\"\u003e\u003cspan style=\"color: #ff0000;\"\u003e\u003cstrong\u003eTHE ULTIMATE GADGET FOR DIY ENTHUSIASTS: \u003c\/strong\u003e\u003c\/span\u003eThe incredible functions and robust design will make it be your most trustworthy companion during your weekend projects!\u003c\/span\u003e\u003c\/li\u003e\n\u003cli\u003e\u003cspan class=\"a-list-item\"\u003e\u003cspan style=\"color: #ff0000;\"\u003e\u003cstrong\u003e7 MINI TOOLS FOR THE PRICE OF JUST 1: \u003c\/strong\u003e\u003c\/span\u003eOur heavy-duty and ergonomic pen tool means a handy tablet\u0026amp;smartphone stylus, \u003cspan\u003ea ruler,\u003c\/span\u003e a bubble level, a \u003cspan\u003escrewdriver\u003c\/span\u003e a handy Phillips screwdriver bit and a ballpoint pen!\u003c\/span\u003e\u003c\/li\u003e\n\u003cli\u003e\u003cspan class=\"a-list-item\"\u003e\u003cspan style=\"color: #ff0000;\"\u003e\u003cstrong\u003eDESIGNED TO PASS THE TEST OF TIME: \u003c\/strong\u003e\u003c\/span\u003eUnlike flimsy alternatives, our multi-tool has no moving parts which can be broke easily, plus the vibrant yellow color will make sure you can find it easily and never misplace it!\u003c\/span\u003e\u003c\/li\u003e\n\u003cli\u003e\u003cspan class=\"a-list-item\"\u003e\u003cspan style=\"color: #ff0000;\"\u003e\u003cstrong\u003eTHE PERFECT GIFT FOR THE WHOLE FAMILY: \u003c\/strong\u003e\u003c\/span\u003eSurprise your dad who loves DIY home improvement projects, your mom who needs a multi-tool for the car or introduce your children to the amazing world of 007-like gadgets with multi-tool!\u003c\/span\u003e\u003c\/li\u003e\n\u003c\/ul\u003e\n\u003cp\u003e\u003cspan class=\"a-list-item\"\u003e\u003cimg style=\"display: block; margin-left: auto; margin-right: auto;\" src=\"https:\/\/cdn.shopify.com\/s\/files\/1\/0100\/4814\/3417\/files\/GIF3_d4277125-ee72-406d-9e9c-21c7f50b7b61_480x480.gif?v=1574157821\" width=\"379\" height=\"243\"\u003e\u003c\/span\u003e\u003c\/p\u003e\n\u003cp\u003e\u003cb\u003e❗Maximize Your Productivity \u0026amp; Save Precious Time, Effort \u0026amp; Money!\u003c\/b\u003e\u003c\/p\u003e\n\u003cp\u003eUnlike bulky and impractical tools, our multi-tool pen can be easily carried in your pocket or you can even leave it your car and always have a comprehensive toolbox with you!\u003c\/p\u003e\n\u003cp\u003e\u003cimg src=\"https:\/\/cdn.shopifycdn.net\/s\/files\/1\/0479\/2926\/2235\/files\/gif_00_00_00-00_00_30.gif?v=1600065636\" width=\"554\" height=\"554\"\u003e\u003c\/p\u003e\n\u003cp\u003e\u003cb\u003e🌟The Most Essential Tools For Amateur Handymen!\u003c\/b\u003e\u003c\/p\u003e\n\u003col\u003e\n\u003cli\u003eTablet \u0026amp; Smartphone Stylus –use your device even if your hands are dirty\u003c\/li\u003e\n\u003cli\u003eSpirit Ruler \u0026amp; metric ruler- measure anything on-the-go with readings in inches AND centimeters\u003c\/li\u003e\n\u003cli\u003eBubble Level- make sure your next carpentry project is picture-perfect\u003c\/li\u003e\n\u003cli\u003eScrewdriver- the most basic and most useful tool in your arsenal\u003c\/li\u003e\n\u003cli\u003ePhillips Flathead Screwdriver Bit- make the most of your power tools\u003c\/li\u003e\n\u003cli\u003eBallpoint Pen- so you can write down anything you need on almost any surface!\u003c\/li\u003e\n\u003c\/ol\u003e\n\u003cp\u003e\u003cstrong\u003e🎁Package:\u003c\/strong\u003e\u003c\/p\u003e\n\u003cul\u003e\n\u003cli\u003e\u003cstrong\u003e1 * Domom Screwdriver Pen Pocket Multi-Tool\u003c\/strong\u003e\u003c\/li\u003e\n\u003c\/ul\u003e","published_at":"2021-08-17T20:35:12-10:00","created_at":"2021-08-17T20:35:23-10:00","vendor":"buttylife","type":"","tags":["Tools"],"price":1499,"price_min":1499,"price_max":1499,"available":true,"price_varies":false,"compare_at_price":2999,"compare_at_price_min":2999,"compare_at_price_max":2999,"compare_at_price_varies":false,"variants":[{"id":40872562327707,"title":"1 red","option1":"1 red","option2":null,"option3":null,"sku":"SAK1876-C002-E001","requires_shipping":true,"taxable":false,"featured_image":{"id":32135207092379,"product_id":6997470544027,"position":10,"created_at":"2021-08-17T20:35:23-10:00","updated_at":"2021-08-17T20:35:23-10:00","alt":null,"width":738,"height":739,"src":"\/\/www.buttylife.com\/cdn\/shop\/products\/79655EC4-E02F-4cdc-9FF7-99C0DDFF535C.png?v=1629268523","variant_ids":[40872562327707]},"available":true,"name":"Screwdriver Pen Pocket Multi-Tool - 1 red","public_title":"1 red","options":["1 red"],"price":1499,"weight":0,"compare_at_price":2999,"inventory_management":null,"barcode":null,"featured_media":{"alt":null,"id":24513660813467,"position":10,"preview_image":{"aspect_ratio":0.999,"height":739,"width":738,"src":"\/\/www.buttylife.com\/cdn\/shop\/products\/79655EC4-E02F-4cdc-9FF7-99C0DDFF535C.png?v=1629268523"}},"requires_selling_plan":false,"selling_plan_allocations":[]},{"id":40872562360475,"title":"1 blue","option1":"1 blue","option2":null,"option3":null,"sku":"SAK1876-C008-E001","requires_shipping":true,"taxable":false,"featured_image":{"id":32135207059611,"product_id":6997470544027,"position":9,"created_at":"2021-08-17T20:35:23-10:00","updated_at":"2021-08-17T20:35:23-10:00","alt":null,"width":740,"height":736,"src":"\/\/www.buttylife.com\/cdn\/shop\/products\/3B9621D8-5DCC-4e82-AAD2-2D4A2AE3652E.png?v=1629268523","variant_ids":[40872562360475]},"available":true,"name":"Screwdriver Pen Pocket Multi-Tool - 1 blue","public_title":"1 blue","options":["1 blue"],"price":1499,"weight":0,"compare_at_price":2999,"inventory_management":null,"barcode":null,"featured_media":{"alt":null,"id":24513660780699,"position":9,"preview_image":{"aspect_ratio":1.005,"height":736,"width":740,"src":"\/\/www.buttylife.com\/cdn\/shop\/products\/3B9621D8-5DCC-4e82-AAD2-2D4A2AE3652E.png?v=1629268523"}},"requires_selling_plan":false,"selling_plan_allocations":[]},{"id":40872562393243,"title":"1 black","option1":"1 black","option2":null,"option3":null,"sku":"SAK1876-C001-E001","requires_shipping":true,"taxable":false,"featured_image":{"id":32135207026843,"product_id":6997470544027,"position":8,"created_at":"2021-08-17T20:35:23-10:00","updated_at":"2021-08-17T20:35:23-10:00","alt":null,"width":800,"height":800,"src":"\/\/www.buttylife.com\/cdn\/shop\/products\/9_43b93b5f-c414-46a3-9cff-160d77d2c3d3.jpg?v=1629268523","variant_ids":[40872562393243]},"available":true,"name":"Screwdriver Pen Pocket Multi-Tool - 1 black","public_title":"1 black","options":["1 black"],"price":1499,"weight":0,"compare_at_price":2999,"inventory_management":null,"barcode":null,"featured_media":{"alt":null,"id":24513660747931,"position":8,"preview_image":{"aspect_ratio":1.0,"height":800,"width":800,"src":"\/\/www.buttylife.com\/cdn\/shop\/products\/9_43b93b5f-c414-46a3-9cff-160d77d2c3d3.jpg?v=1629268523"}},"requires_selling_plan":false,"selling_plan_allocations":[]},{"id":40872562426011,"title":"1 silver","option1":"1 silver","option2":null,"option3":null,"sku":"SAK1876-C022-E001","requires_shipping":true,"taxable":false,"featured_image":{"id":32135206928539,"product_id":6997470544027,"position":5,"created_at":"2021-08-17T20:35:23-10:00","updated_at":"2021-08-17T20:35:23-10:00","alt":null,"width":800,"height":800,"src":"\/\/www.buttylife.com\/cdn\/shop\/products\/6_4e62ff49-1fba-4809-b213-5edfe3918532.jpg?v=1629268523","variant_ids":[40872562426011]},"available":true,"name":"Screwdriver Pen Pocket Multi-Tool - 1 silver","public_title":"1 silver","options":["1 silver"],"price":1499,"weight":0,"compare_at_price":2999,"inventory_management":null,"barcode":null,"featured_media":{"alt":null,"id":24513660649627,"position":5,"preview_image":{"aspect_ratio":1.0,"height":800,"width":800,"src":"\/\/www.buttylife.com\/cdn\/shop\/products\/6_4e62ff49-1fba-4809-b213-5edfe3918532.jpg?v=1629268523"}},"requires_selling_plan":false,"selling_plan_allocations":[]},{"id":43361455112443,"title":"1 yellow","option1":"1 yellow","option2":null,"option3":null,"sku":"SAK1876-C003-E001","requires_shipping":true,"taxable":false,"featured_image":null,"available":true,"name":"Screwdriver Pen Pocket Multi-Tool - 1 yellow","public_title":"1 yellow","options":["1 yellow"],"price":1499,"weight":0,"compare_at_price":2999,"inventory_management":null,"barcode":"","requires_selling_plan":false,"selling_plan_allocations":[]}],"images":["\/\/www.buttylife.com\/cdn\/shop\/products\/2_1a2ab91e-658f-4306-99b6-44b12b776c41.jpg?v=1629268523","\/\/www.buttylife.com\/cdn\/shop\/products\/3_3cdf0d1a-2c4c-45b8-b55c-c75f53786853.jpg?v=1629268523","\/\/www.buttylife.com\/cdn\/shop\/products\/4_fd9eb5f9-d49f-498d-9aee-e2952f62c20e.jpg?v=1629268523","\/\/www.buttylife.com\/cdn\/shop\/products\/5_10473c23-6ed4-4308-9eac-514c0a40f111.jpg?v=1629268523","\/\/www.buttylife.com\/cdn\/shop\/products\/6_4e62ff49-1fba-4809-b213-5edfe3918532.jpg?v=1629268523","\/\/www.buttylife.com\/cdn\/shop\/products\/7_be3eaea9-7929-4589-ab71-2ad4342275e6.jpg?v=1629268523","\/\/www.buttylife.com\/cdn\/shop\/products\/8_4e979ceb-641c-4613-abbd-76111206e27e.jpg?v=1629268523","\/\/www.buttylife.com\/cdn\/shop\/products\/9_43b93b5f-c414-46a3-9cff-160d77d2c3d3.jpg?v=1629268523","\/\/www.buttylife.com\/cdn\/shop\/products\/3B9621D8-5DCC-4e82-AAD2-2D4A2AE3652E.png?v=1629268523","\/\/www.buttylife.com\/cdn\/shop\/products\/79655EC4-E02F-4cdc-9FF7-99C0DDFF535C.png?v=1629268523"],"featured_image":"\/\/www.buttylife.com\/cdn\/shop\/products\/2_1a2ab91e-658f-4306-99b6-44b12b776c41.jpg?v=1629268523","options":["Color"],"media":[{"alt":null,"id":24513660518555,"position":1,"preview_image":{"aspect_ratio":1.0,"height":800,"width":800,"src":"\/\/www.buttylife.com\/cdn\/shop\/products\/2_1a2ab91e-658f-4306-99b6-44b12b776c41.jpg?v=1629268523"},"aspect_ratio":1.0,"height":800,"media_type":"image","src":"\/\/www.buttylife.com\/cdn\/shop\/products\/2_1a2ab91e-658f-4306-99b6-44b12b776c41.jpg?v=1629268523","width":800},{"alt":null,"id":24513660551323,"position":2,"preview_image":{"aspect_ratio":1.0,"height":800,"width":800,"src":"\/\/www.buttylife.com\/cdn\/shop\/products\/3_3cdf0d1a-2c4c-45b8-b55c-c75f53786853.jpg?v=1629268523"},"aspect_ratio":1.0,"height":800,"media_type":"image","src":"\/\/www.buttylife.com\/cdn\/shop\/products\/3_3cdf0d1a-2c4c-45b8-b55c-c75f53786853.jpg?v=1629268523","width":800},{"alt":null,"id":24513660584091,"position":3,"preview_image":{"aspect_ratio":1.0,"height":800,"width":800,"src":"\/\/www.buttylife.com\/cdn\/shop\/products\/4_fd9eb5f9-d49f-498d-9aee-e2952f62c20e.jpg?v=1629268523"},"aspect_ratio":1.0,"height":800,"media_type":"image","src":"\/\/www.buttylife.com\/cdn\/shop\/products\/4_fd9eb5f9-d49f-498d-9aee-e2952f62c20e.jpg?v=1629268523","width":800},{"alt":null,"id":24513660616859,"position":4,"preview_image":{"aspect_ratio":1.0,"height":800,"width":800,"src":"\/\/www.buttylife.com\/cdn\/shop\/products\/5_10473c23-6ed4-4308-9eac-514c0a40f111.jpg?v=1629268523"},"aspect_ratio":1.0,"height":800,"media_type":"image","src":"\/\/www.buttylife.com\/cdn\/shop\/products\/5_10473c23-6ed4-4308-9eac-514c0a40f111.jpg?v=1629268523","width":800},{"alt":null,"id":24513660649627,"position":5,"preview_image":{"aspect_ratio":1.0,"height":800,"width":800,"src":"\/\/www.buttylife.com\/cdn\/shop\/products\/6_4e62ff49-1fba-4809-b213-5edfe3918532.jpg?v=1629268523"},"aspect_ratio":1.0,"height":800,"media_type":"image","src":"\/\/www.buttylife.com\/cdn\/shop\/products\/6_4e62ff49-1fba-4809-b213-5edfe3918532.jpg?v=1629268523","width":800},{"alt":null,"id":24513660682395,"position":6,"preview_image":{"aspect_ratio":1.0,"height":800,"width":800,"src":"\/\/www.buttylife.com\/cdn\/shop\/products\/7_be3eaea9-7929-4589-ab71-2ad4342275e6.jpg?v=1629268523"},"aspect_ratio":1.0,"height":800,"media_type":"image","src":"\/\/www.buttylife.com\/cdn\/shop\/products\/7_be3eaea9-7929-4589-ab71-2ad4342275e6.jpg?v=1629268523","width":800},{"alt":null,"id":24513660715163,"position":7,"preview_image":{"aspect_ratio":1.0,"height":800,"width":800,"src":"\/\/www.buttylife.com\/cdn\/shop\/products\/8_4e979ceb-641c-4613-abbd-76111206e27e.jpg?v=1629268523"},"aspect_ratio":1.0,"height":800,"media_type":"image","src":"\/\/www.buttylife.com\/cdn\/shop\/products\/8_4e979ceb-641c-4613-abbd-76111206e27e.jpg?v=1629268523","width":800},{"alt":null,"id":24513660747931,"position":8,"preview_image":{"aspect_ratio":1.0,"height":800,"width":800,"src":"\/\/www.buttylife.com\/cdn\/shop\/products\/9_43b93b5f-c414-46a3-9cff-160d77d2c3d3.jpg?v=1629268523"},"aspect_ratio":1.0,"height":800,"media_type":"image","src":"\/\/www.buttylife.com\/cdn\/shop\/products\/9_43b93b5f-c414-46a3-9cff-160d77d2c3d3.jpg?v=1629268523","width":800},{"alt":null,"id":24513660780699,"position":9,"preview_image":{"aspect_ratio":1.005,"height":736,"width":740,"src":"\/\/www.buttylife.com\/cdn\/shop\/products\/3B9621D8-5DCC-4e82-AAD2-2D4A2AE3652E.png?v=1629268523"},"aspect_ratio":1.005,"height":736,"media_type":"image","src":"\/\/www.buttylife.com\/cdn\/shop\/products\/3B9621D8-5DCC-4e82-AAD2-2D4A2AE3652E.png?v=1629268523","width":740},{"alt":null,"id":24513660813467,"position":10,"preview_image":{"aspect_ratio":0.999,"height":739,"width":738,"src":"\/\/www.buttylife.com\/cdn\/shop\/products\/79655EC4-E02F-4cdc-9FF7-99C0DDFF535C.png?v=1629268523"},"aspect_ratio":0.999,"height":739,"media_type":"image","src":"\/\/www.buttylife.com\/cdn\/shop\/products\/79655EC4-E02F-4cdc-9FF7-99C0DDFF535C.png?v=1629268523","width":738}],"requires_selling_plan":false,"selling_plan_groups":[],"content":"\u003cdiv\u003e\u003cspan\u003e\u003cspan style=\"color: #f1c232;\"\u003e\u003cstrong\u003e🔥Domom Screwdriver Pen Pocket Multi-Tool\u003c\/strong\u003e\u003c\/span\u003e is an innovative, practical and space-saving tool !\u003c\/span\u003e\u003c\/div\u003e\n\u003cdiv\u003e\u003cspan\u003e\u003c\/span\u003e\u003c\/div\u003e\n\u003cdiv\u003e\u003cspan\u003e\u003cimg style=\"display: block; margin-left: auto; margin-right: auto;\" src=\"https:\/\/cdn.shopify.com\/s\/files\/1\/0100\/4814\/3417\/files\/1_e35c8130-0d2a-4bec-ae47-b83f69a8262a_480x480.gif?v=1574404681\"\u003e\u003c\/span\u003e\u003c\/div\u003e\n\u003cul class=\"a-unordered-list a-vertical a-spacing-none\"\u003e\n\u003cli\u003e\u003cspan class=\"a-list-item\"\u003e\u003cspan style=\"color: #ff0000;\"\u003e\u003cstrong\u003eTHE ULTIMATE GADGET FOR DIY ENTHUSIASTS: \u003c\/strong\u003e\u003c\/span\u003eThe incredible functions and robust design will make it be your most trustworthy companion during your weekend projects!\u003c\/span\u003e\u003c\/li\u003e\n\u003cli\u003e\u003cspan class=\"a-list-item\"\u003e\u003cspan style=\"color: #ff0000;\"\u003e\u003cstrong\u003e7 MINI TOOLS FOR THE PRICE OF JUST 1: \u003c\/strong\u003e\u003c\/span\u003eOur heavy-duty and ergonomic pen tool means a handy tablet\u0026amp;smartphone stylus, \u003cspan\u003ea ruler,\u003c\/span\u003e a bubble level, a \u003cspan\u003escrewdriver\u003c\/span\u003e a handy Phillips screwdriver bit and a ballpoint pen!\u003c\/span\u003e\u003c\/li\u003e\n\u003cli\u003e\u003cspan class=\"a-list-item\"\u003e\u003cspan style=\"color: #ff0000;\"\u003e\u003cstrong\u003eDESIGNED TO PASS THE TEST OF TIME: \u003c\/strong\u003e\u003c\/span\u003eUnlike flimsy alternatives, our multi-tool has no moving parts which can be broke easily, plus the vibrant yellow color will make sure you can find it easily and never misplace it!\u003c\/span\u003e\u003c\/li\u003e\n\u003cli\u003e\u003cspan class=\"a-list-item\"\u003e\u003cspan style=\"color: #ff0000;\"\u003e\u003cstrong\u003eTHE PERFECT GIFT FOR THE WHOLE FAMILY: \u003c\/strong\u003e\u003c\/span\u003eSurprise your dad who loves DIY home improvement projects, your mom who needs a multi-tool for the car or introduce your children to the amazing world of 007-like gadgets with multi-tool!\u003c\/span\u003e\u003c\/li\u003e\n\u003c\/ul\u003e\n\u003cp\u003e\u003cspan class=\"a-list-item\"\u003e\u003cimg style=\"display: block; margin-left: auto; margin-right: auto;\" src=\"https:\/\/cdn.shopify.com\/s\/files\/1\/0100\/4814\/3417\/files\/GIF3_d4277125-ee72-406d-9e9c-21c7f50b7b61_480x480.gif?v=1574157821\" width=\"379\" height=\"243\"\u003e\u003c\/span\u003e\u003c\/p\u003e\n\u003cp\u003e\u003cb\u003e❗Maximize Your Productivity \u0026amp; Save Precious Time, Effort \u0026amp; Money!\u003c\/b\u003e\u003c\/p\u003e\n\u003cp\u003eUnlike bulky and impractical tools, our multi-tool pen can be easily carried in your pocket or you can even leave it your car and always have a comprehensive toolbox with you!\u003c\/p\u003e\n\u003cp\u003e\u003cimg src=\"https:\/\/cdn.shopifycdn.net\/s\/files\/1\/0479\/2926\/2235\/files\/gif_00_00_00-00_00_30.gif?v=1600065636\" width=\"554\" height=\"554\"\u003e\u003c\/p\u003e\n\u003cp\u003e\u003cb\u003e🌟The Most Essential Tools For Amateur Handymen!\u003c\/b\u003e\u003c\/p\u003e\n\u003col\u003e\n\u003cli\u003eTablet \u0026amp; Smartphone Stylus –use your device even if your hands are dirty\u003c\/li\u003e\n\u003cli\u003eSpirit Ruler \u0026amp; metric ruler- measure anything on-the-go with readings in inches AND centimeters\u003c\/li\u003e\n\u003cli\u003eBubble Level- make sure your next carpentry project is picture-perfect\u003c\/li\u003e\n\u003cli\u003eScrewdriver- the most basic and most useful tool in your arsenal\u003c\/li\u003e\n\u003cli\u003ePhillips Flathead Screwdriver Bit- make the most of your power tools\u003c\/li\u003e\n\u003cli\u003eBallpoint Pen- so you can write down anything you need on almost any surface!\u003c\/li\u003e\n\u003c\/ol\u003e\n\u003cp\u003e\u003cstrong\u003e🎁Package:\u003c\/strong\u003e\u003c\/p\u003e\n\u003cul\u003e\n\u003cli\u003e\u003cstrong\u003e1 * Domom Screwdriver Pen Pocket Multi-Tool\u003c\/strong\u003e\u003c\/li\u003e\n\u003c\/ul\u003e"}
Screwdriver Pen Pocket Multi-Tool
Product Description
🔥Domom Screwdriver Pen Pocket Multi-Tool is an innovative, practical and space-saving tool !
THE ULTIMATE GADGET FOR DIY ENTHUSIASTS: The incredible functions and robust design will make it be your most trustworthy companion during your weekend projects!
7 MINI TOOLS FOR THE PRICE OF JUST 1: Our heavy-duty and ergonomic pen tool means a handy tablet&smartphone stylus,

a ruler,

 a bubble level, a

screwdriver

 a handy Phillips screwdriver bit and a ballpoint pen!
DESIGNED TO PASS THE TEST OF TIME: Unlike flimsy alternatives, our multi-tool has no moving parts which can be broke easily, plus the vibrant yellow color will make sure you can find it easily and never misplace it!
THE PERFECT GIFT FOR THE WHOLE FAMILY: Surprise your dad who loves DIY home improvement projects, your mom who needs a multi-tool for the car or introduce your children to the amazing world of 007-like gadgets with multi-tool!
❗Maximize Your Productivity & Save Precious Time, Effort & Money!
Unlike bulky and impractical tools, our multi-tool pen can be easily carried in your pocket or you can even leave it your car and always have a comprehensive toolbox with you!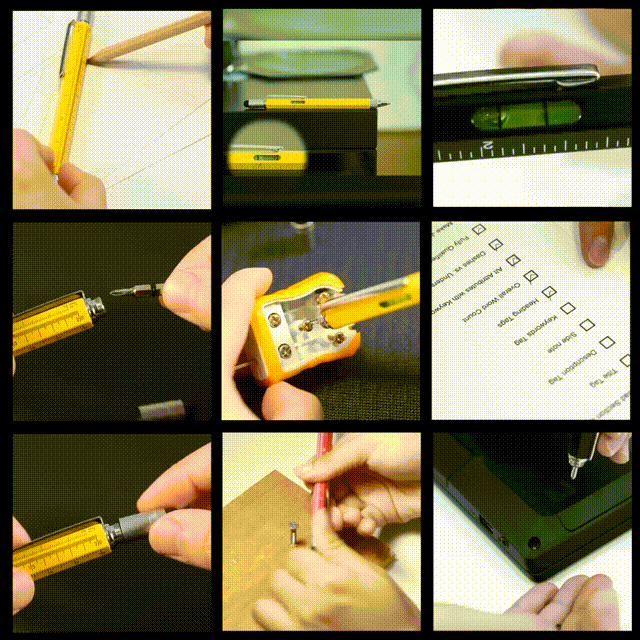 🌟The Most Essential Tools For Amateur Handymen!
Tablet & Smartphone Stylus –use your device even if your hands are dirty
Spirit Ruler & metric ruler- measure anything on-the-go with readings in inches AND centimeters
Bubble Level- make sure your next carpentry project is picture-perfect
Screwdriver- the most basic and most useful tool in your arsenal
Phillips Flathead Screwdriver Bit- make the most of your power tools
Ballpoint Pen- so you can write down anything you need on almost any surface!
🎁Package:
1 * Domom Screwdriver Pen Pocket Multi-Tool
people are currently looking at this product