{"id":7762238931195,"title":"Seat Belt Adjuster For Kids \u0026 Adults","handle":"seat-belt-adjuster-for-kids-adults","description":"\u003ch2 style=\"text-align: center;\"\u003eSeat Belt Adjuster For Kids \u0026amp; Adults\u003c\/h2\u003e\n\u003ch4 style=\"text-align: center;\"\u003e\n\u003cspan style=\"color: #687b32;\"\u003eAre you worried that adult seat belts can't protect children's safety?\u003c\/span\u003e\u003cbr\u003e\u003cspan style=\"color: #687b32;\"\u003eDon't worry, just use our seat belt adjustment. 😊\u003c\/span\u003e\n\u003c\/h4\u003e\n\u003cp\u003e\u003cimg src=\"https:\/\/cdn.shopifycdn.net\/s\/files\/1\/0253\/9156\/2832\/files\/12_2e3bcb61-11f1-4984-8ff6-bda5066c29da_480x480.jpg?v=1594187946\" alt=\"\" style=\"display: block; margin-left: auto; margin-right: auto;\"\u003e\u003c\/p\u003e\n\u003ch4 style=\"text-align: center;\"\u003e\n\u003cspan style=\"color: #8f7c2d;\"\u003e\u003cstrong\u003eOur seat belt fastening system not only prevents the seat belt from scratching the child's skin, but also prevents the neck from strangling and adjusting the child's sitting position. The journey is no longer dangerous and parents can drive with peace of mind.\u003c\/strong\u003e\u003c\/span\u003e\u003cbr\u003e\u003cimg style=\"display: block; margin-left: auto; margin-right: auto;\" data-mce-fragment=\"1\" alt=\"\" src=\"https:\/\/cdn.shopifycdn.net\/s\/files\/1\/0529\/2562\/8588\/products\/8_daf266a8-73b6-48d4-8041-79698eee0236_480x480.jpg?v=1625817300\" data-mce-src=\"https:\/\/cdn.shopifycdn.net\/s\/files\/1\/0529\/2562\/8588\/products\/8_daf266a8-73b6-48d4-8041-79698eee0236_480x480.jpg?v=1625817300\"\u003e\n\u003c\/h4\u003e\n\u003cp\u003e\u003cstrong\u003e\u003cspan\u003e🍀\u003cspan style=\"color: #ff8000;\"\u003eFEATURES\u003c\/span\u003e\u003c\/span\u003e\u003c\/strong\u003e\u003c\/p\u003e\n\u003cul\u003e\n\u003cli\u003e\n\u003cstrong\u003eEco-friendly fabric\u003c\/strong\u003e: Selected high quality eco-friendly fabrics that are both comfortable and breathable, protecting the environment.\u003c\/li\u003e\n\u003cli\u003e\n\u003cstrong\u003eReinforced buttons\u003c\/strong\u003e: Special reinforcement design for buttons, better and more stable quality.\u003c\/li\u003e\n\u003cli\u003e\n\u003cstrong\u003eNeat seams\u003c\/strong\u003e: Proper wiring and excellent workmanship highlight our intentions.\u003c\/li\u003e\n\u003c\/ul\u003e\n\u003cdiv\u003e\u003cspan color=\"#000000\" style=\"color: #000000;\"\u003e\u003cimg src=\"https:\/\/cdn.shopifycdn.net\/s\/files\/1\/0253\/9156\/2832\/files\/5_c4d71825-3ab1-49bf-8240-7977b9ec27dd_480x480.jpg?v=1594187988\" alt=\"\" style=\"display: block; margin-left: auto; margin-right: auto;\"\u003e\u003c\/span\u003e\u003c\/div\u003e\n\u003cp\u003e\u003cstrong\u003e\u003cspan\u003e🍀\u003cspan style=\"color: #ff8000;\"\u003eSPECIFICATIONS\u003c\/span\u003e\u003c\/span\u003e\u003c\/strong\u003e\u003c\/p\u003e\n\u003cdiv\u003e\n\u003cul\u003e\n\u003cli\u003e\u003cspan style=\"color: #000000;\" color=\"#000000\"\u003e\u003cstrong\u003eMaterial\u003c\/strong\u003e: cotton\u003c\/span\u003e\u003c\/li\u003e\n\u003cli\u003e\u003cspan style=\"color: #000000;\" color=\"#000000\"\u003e\u003cstrong\u003eWeight\u003c\/strong\u003e: 45g\u003c\/span\u003e\u003c\/li\u003e\n\u003cli\u003e\u003cspan style=\"color: #000000;\" color=\"#000000\"\u003e\u003cstrong\u003eThickness\u003c\/strong\u003e: 2cm\u003c\/span\u003e\u003c\/li\u003e\n\u003cli\u003e\u003cspan style=\"color: #000000;\" color=\"#000000\"\u003e\u003cstrong\u003eSize\u003c\/strong\u003e: 24 * 18 * 9cm\u003c\/span\u003e\u003c\/li\u003e\n\u003cli\u003e\u003cspan style=\"color: #000000;\" color=\"#000000\"\u003e\u003cstrong\u003eColor\u003c\/strong\u003e: orange \/ blue \/ black \/ red \/ gray\u003c\/span\u003e\u003c\/li\u003e\n\u003c\/ul\u003e\n\u003c\/div\u003e\n\u003cp\u003e\u003cstrong\u003e\u003cspan\u003e🍀\u003cspan style=\"color: #ff8000;\"\u003ePACKAGE INCLUDED\u003c\/span\u003e\u003c\/span\u003e\u003c\/strong\u003e\u003cbr\u003e\u003c\/p\u003e\n\u003cul\u003e\n\u003cli\u003e\u003cspan\u003e1 * Seat Belt Adjuster For Kids \u0026amp; Adults\u003c\/span\u003e\u003c\/li\u003e\n\u003c\/ul\u003e","published_at":"2022-07-04T19:43:31-10:00","created_at":"2022-07-04T19:43:39-10:00","vendor":"buttylife","type":"","tags":["car accessories"],"price":1299,"price_min":1299,"price_max":1299,"available":true,"price_varies":false,"compare_at_price":2599,"compare_at_price_min":2599,"compare_at_price_max":2599,"compare_at_price_varies":false,"variants":[{"id":43253190295803,"title":"orange","option1":"orange","option2":null,"option3":null,"sku":"CP12526-C121","requires_shipping":true,"taxable":false,"featured_image":{"id":37731784786171,"product_id":7762238931195,"position":12,"created_at":"2022-07-04T19:43:43-10:00","updated_at":"2022-07-04T19:43:43-10:00","alt":null,"width":800,"height":800,"src":"\/\/www.buttylife.com\/cdn\/shop\/products\/17_3b79a311-7043-4a9b-8f3c-df9506815675.jpg?v=1656999823","variant_ids":[43253190295803]},"available":true,"name":"Seat Belt Adjuster For Kids \u0026 Adults - orange","public_title":"orange","options":["orange"],"price":1299,"weight":0,"compare_at_price":2599,"inventory_management":null,"barcode":null,"featured_media":{"alt":null,"id":30301418029307,"position":12,"preview_image":{"aspect_ratio":1.0,"height":800,"width":800,"src":"\/\/www.buttylife.com\/cdn\/shop\/products\/17_3b79a311-7043-4a9b-8f3c-df9506815675.jpg?v=1656999823"}},"requires_selling_plan":false,"selling_plan_allocations":[]},{"id":43253190328571,"title":"blue","option1":"blue","option2":null,"option3":null,"sku":"CP12526-C008","requires_shipping":true,"taxable":false,"featured_image":{"id":37731784917243,"product_id":7762238931195,"position":13,"created_at":"2022-07-04T19:43:45-10:00","updated_at":"2022-07-04T19:43:45-10:00","alt":null,"width":800,"height":800,"src":"\/\/www.buttylife.com\/cdn\/shop\/products\/16_10032fc3-04ba-4ff4-a720-dab21774cd1d.jpg?v=1656999825","variant_ids":[43253190328571]},"available":true,"name":"Seat Belt Adjuster For Kids \u0026 Adults - blue","public_title":"blue","options":["blue"],"price":1299,"weight":0,"compare_at_price":2599,"inventory_management":null,"barcode":null,"featured_media":{"alt":null,"id":30301418160379,"position":13,"preview_image":{"aspect_ratio":1.0,"height":800,"width":800,"src":"\/\/www.buttylife.com\/cdn\/shop\/products\/16_10032fc3-04ba-4ff4-a720-dab21774cd1d.jpg?v=1656999825"}},"requires_selling_plan":false,"selling_plan_allocations":[]},{"id":43253190361339,"title":"black","option1":"black","option2":null,"option3":null,"sku":"CP12526-C001","requires_shipping":true,"taxable":false,"featured_image":{"id":37731785113851,"product_id":7762238931195,"position":14,"created_at":"2022-07-04T19:43:46-10:00","updated_at":"2022-07-04T19:43:46-10:00","alt":null,"width":800,"height":800,"src":"\/\/www.buttylife.com\/cdn\/shop\/products\/13_85bc1bf2-549f-4187-95a0-1000880efeab.jpg?v=1656999826","variant_ids":[43253190361339]},"available":true,"name":"Seat Belt Adjuster For Kids \u0026 Adults - black","public_title":"black","options":["black"],"price":1299,"weight":0,"compare_at_price":2599,"inventory_management":null,"barcode":null,"featured_media":{"alt":null,"id":30301418356987,"position":14,"preview_image":{"aspect_ratio":1.0,"height":800,"width":800,"src":"\/\/www.buttylife.com\/cdn\/shop\/products\/13_85bc1bf2-549f-4187-95a0-1000880efeab.jpg?v=1656999826"}},"requires_selling_plan":false,"selling_plan_allocations":[]},{"id":43253190394107,"title":"red","option1":"red","option2":null,"option3":null,"sku":"CP12526-C002","requires_shipping":true,"taxable":false,"featured_image":{"id":37731784753403,"product_id":7762238931195,"position":11,"created_at":"2022-07-04T19:43:42-10:00","updated_at":"2022-07-04T19:43:42-10:00","alt":null,"width":800,"height":800,"src":"\/\/www.buttylife.com\/cdn\/shop\/products\/15_27210ff8-fb15-459a-a3df-5273d6a28c53.jpg?v=1656999822","variant_ids":[43253190394107]},"available":true,"name":"Seat Belt Adjuster For Kids \u0026 Adults - red","public_title":"red","options":["red"],"price":1299,"weight":0,"compare_at_price":2599,"inventory_management":null,"barcode":null,"featured_media":{"alt":null,"id":30301417996539,"position":11,"preview_image":{"aspect_ratio":1.0,"height":800,"width":800,"src":"\/\/www.buttylife.com\/cdn\/shop\/products\/15_27210ff8-fb15-459a-a3df-5273d6a28c53.jpg?v=1656999822"}},"requires_selling_plan":false,"selling_plan_allocations":[]},{"id":43253190426875,"title":"gray","option1":"gray","option2":null,"option3":null,"sku":"CP12526-C006","requires_shipping":true,"taxable":false,"featured_image":{"id":37731785375995,"product_id":7762238931195,"position":15,"created_at":"2022-07-04T19:43:47-10:00","updated_at":"2022-07-04T19:43:47-10:00","alt":null,"width":800,"height":800,"src":"\/\/www.buttylife.com\/cdn\/shop\/products\/14_fa2bb913-4681-4632-bbd2-1cb2d1cdbf02.jpg?v=1656999827","variant_ids":[43253190426875]},"available":true,"name":"Seat Belt Adjuster For Kids \u0026 Adults - gray","public_title":"gray","options":["gray"],"price":1299,"weight":0,"compare_at_price":2599,"inventory_management":null,"barcode":null,"featured_media":{"alt":null,"id":30301418619131,"position":15,"preview_image":{"aspect_ratio":1.0,"height":800,"width":800,"src":"\/\/www.buttylife.com\/cdn\/shop\/products\/14_fa2bb913-4681-4632-bbd2-1cb2d1cdbf02.jpg?v=1656999827"}},"requires_selling_plan":false,"selling_plan_allocations":[]}],"images":["\/\/www.buttylife.com\/cdn\/shop\/products\/1_c816d0a9-30eb-4443-b8ff-5e317b4c792d.jpg?v=1656999819","\/\/www.buttylife.com\/cdn\/shop\/products\/7_31d82154-22d6-4ddd-b374-7fd0da15268b.jpg?v=1656999819","\/\/www.buttylife.com\/cdn\/shop\/products\/12_e25bff84-ba95-4cad-9460-a4a56ff8029a.jpg?v=1656999819","\/\/www.buttylife.com\/cdn\/shop\/products\/11_5b00c249-25d8-43f0-8b74-1d43147279b7.jpg?v=1656999819","\/\/www.buttylife.com\/cdn\/shop\/products\/10_c82b83c3-c43d-4276-8f46-52765a96e8e3.jpg?v=1656999819","\/\/www.buttylife.com\/cdn\/shop\/products\/8_daf266a8-73b6-48d4-8041-79698eee0236.jpg?v=1656999819","\/\/www.buttylife.com\/cdn\/shop\/products\/5_5587e83f-88c5-4873-9c35-55658f6f472b.jpg?v=1656999819","\/\/www.buttylife.com\/cdn\/shop\/products\/2_87cabf90-2cbb-457d-9475-94a54b2f5612.jpg?v=1656999819","\/\/www.buttylife.com\/cdn\/shop\/products\/4_f0fa3d8f-2ed0-426f-97d9-bbbdd5deeb87.jpg?v=1656999819","\/\/www.buttylife.com\/cdn\/shop\/products\/9_2f79bcb1-ab76-43db-960e-0f2e575154f5.jpg?v=1656999819","\/\/www.buttylife.com\/cdn\/shop\/products\/15_27210ff8-fb15-459a-a3df-5273d6a28c53.jpg?v=1656999822","\/\/www.buttylife.com\/cdn\/shop\/products\/17_3b79a311-7043-4a9b-8f3c-df9506815675.jpg?v=1656999823","\/\/www.buttylife.com\/cdn\/shop\/products\/16_10032fc3-04ba-4ff4-a720-dab21774cd1d.jpg?v=1656999825","\/\/www.buttylife.com\/cdn\/shop\/products\/13_85bc1bf2-549f-4187-95a0-1000880efeab.jpg?v=1656999826","\/\/www.buttylife.com\/cdn\/shop\/products\/14_fa2bb913-4681-4632-bbd2-1cb2d1cdbf02.jpg?v=1656999827"],"featured_image":"\/\/www.buttylife.com\/cdn\/shop\/products\/1_c816d0a9-30eb-4443-b8ff-5e317b4c792d.jpg?v=1656999819","options":["color"],"media":[{"alt":null,"id":30301417341179,"position":1,"preview_image":{"aspect_ratio":1.0,"height":800,"width":800,"src":"\/\/www.buttylife.com\/cdn\/shop\/products\/1_c816d0a9-30eb-4443-b8ff-5e317b4c792d.jpg?v=1656999819"},"aspect_ratio":1.0,"height":800,"media_type":"image","src":"\/\/www.buttylife.com\/cdn\/shop\/products\/1_c816d0a9-30eb-4443-b8ff-5e317b4c792d.jpg?v=1656999819","width":800},{"alt":null,"id":30301417373947,"position":2,"preview_image":{"aspect_ratio":1.0,"height":800,"width":800,"src":"\/\/www.buttylife.com\/cdn\/shop\/products\/7_31d82154-22d6-4ddd-b374-7fd0da15268b.jpg?v=1656999819"},"aspect_ratio":1.0,"height":800,"media_type":"image","src":"\/\/www.buttylife.com\/cdn\/shop\/products\/7_31d82154-22d6-4ddd-b374-7fd0da15268b.jpg?v=1656999819","width":800},{"alt":null,"id":30301417406715,"position":3,"preview_image":{"aspect_ratio":1.0,"height":800,"width":800,"src":"\/\/www.buttylife.com\/cdn\/shop\/products\/12_e25bff84-ba95-4cad-9460-a4a56ff8029a.jpg?v=1656999819"},"aspect_ratio":1.0,"height":800,"media_type":"image","src":"\/\/www.buttylife.com\/cdn\/shop\/products\/12_e25bff84-ba95-4cad-9460-a4a56ff8029a.jpg?v=1656999819","width":800},{"alt":null,"id":30301417439483,"position":4,"preview_image":{"aspect_ratio":1.0,"height":800,"width":800,"src":"\/\/www.buttylife.com\/cdn\/shop\/products\/11_5b00c249-25d8-43f0-8b74-1d43147279b7.jpg?v=1656999819"},"aspect_ratio":1.0,"height":800,"media_type":"image","src":"\/\/www.buttylife.com\/cdn\/shop\/products\/11_5b00c249-25d8-43f0-8b74-1d43147279b7.jpg?v=1656999819","width":800},{"alt":null,"id":30301417472251,"position":5,"preview_image":{"aspect_ratio":1.0,"height":800,"width":800,"src":"\/\/www.buttylife.com\/cdn\/shop\/products\/10_c82b83c3-c43d-4276-8f46-52765a96e8e3.jpg?v=1656999819"},"aspect_ratio":1.0,"height":800,"media_type":"image","src":"\/\/www.buttylife.com\/cdn\/shop\/products\/10_c82b83c3-c43d-4276-8f46-52765a96e8e3.jpg?v=1656999819","width":800},{"alt":null,"id":30301417505019,"position":6,"preview_image":{"aspect_ratio":1.0,"height":800,"width":800,"src":"\/\/www.buttylife.com\/cdn\/shop\/products\/8_daf266a8-73b6-48d4-8041-79698eee0236.jpg?v=1656999819"},"aspect_ratio":1.0,"height":800,"media_type":"image","src":"\/\/www.buttylife.com\/cdn\/shop\/products\/8_daf266a8-73b6-48d4-8041-79698eee0236.jpg?v=1656999819","width":800},{"alt":null,"id":30301417537787,"position":7,"preview_image":{"aspect_ratio":1.0,"height":800,"width":800,"src":"\/\/www.buttylife.com\/cdn\/shop\/products\/5_5587e83f-88c5-4873-9c35-55658f6f472b.jpg?v=1656999819"},"aspect_ratio":1.0,"height":800,"media_type":"image","src":"\/\/www.buttylife.com\/cdn\/shop\/products\/5_5587e83f-88c5-4873-9c35-55658f6f472b.jpg?v=1656999819","width":800},{"alt":null,"id":30301417570555,"position":8,"preview_image":{"aspect_ratio":1.0,"height":800,"width":800,"src":"\/\/www.buttylife.com\/cdn\/shop\/products\/2_87cabf90-2cbb-457d-9475-94a54b2f5612.jpg?v=1656999819"},"aspect_ratio":1.0,"height":800,"media_type":"image","src":"\/\/www.buttylife.com\/cdn\/shop\/products\/2_87cabf90-2cbb-457d-9475-94a54b2f5612.jpg?v=1656999819","width":800},{"alt":null,"id":30301417603323,"position":9,"preview_image":{"aspect_ratio":1.0,"height":800,"width":800,"src":"\/\/www.buttylife.com\/cdn\/shop\/products\/4_f0fa3d8f-2ed0-426f-97d9-bbbdd5deeb87.jpg?v=1656999819"},"aspect_ratio":1.0,"height":800,"media_type":"image","src":"\/\/www.buttylife.com\/cdn\/shop\/products\/4_f0fa3d8f-2ed0-426f-97d9-bbbdd5deeb87.jpg?v=1656999819","width":800},{"alt":null,"id":30301417636091,"position":10,"preview_image":{"aspect_ratio":1.0,"height":800,"width":800,"src":"\/\/www.buttylife.com\/cdn\/shop\/products\/9_2f79bcb1-ab76-43db-960e-0f2e575154f5.jpg?v=1656999819"},"aspect_ratio":1.0,"height":800,"media_type":"image","src":"\/\/www.buttylife.com\/cdn\/shop\/products\/9_2f79bcb1-ab76-43db-960e-0f2e575154f5.jpg?v=1656999819","width":800},{"alt":null,"id":30301417996539,"position":11,"preview_image":{"aspect_ratio":1.0,"height":800,"width":800,"src":"\/\/www.buttylife.com\/cdn\/shop\/products\/15_27210ff8-fb15-459a-a3df-5273d6a28c53.jpg?v=1656999822"},"aspect_ratio":1.0,"height":800,"media_type":"image","src":"\/\/www.buttylife.com\/cdn\/shop\/products\/15_27210ff8-fb15-459a-a3df-5273d6a28c53.jpg?v=1656999822","width":800},{"alt":null,"id":30301418029307,"position":12,"preview_image":{"aspect_ratio":1.0,"height":800,"width":800,"src":"\/\/www.buttylife.com\/cdn\/shop\/products\/17_3b79a311-7043-4a9b-8f3c-df9506815675.jpg?v=1656999823"},"aspect_ratio":1.0,"height":800,"media_type":"image","src":"\/\/www.buttylife.com\/cdn\/shop\/products\/17_3b79a311-7043-4a9b-8f3c-df9506815675.jpg?v=1656999823","width":800},{"alt":null,"id":30301418160379,"position":13,"preview_image":{"aspect_ratio":1.0,"height":800,"width":800,"src":"\/\/www.buttylife.com\/cdn\/shop\/products\/16_10032fc3-04ba-4ff4-a720-dab21774cd1d.jpg?v=1656999825"},"aspect_ratio":1.0,"height":800,"media_type":"image","src":"\/\/www.buttylife.com\/cdn\/shop\/products\/16_10032fc3-04ba-4ff4-a720-dab21774cd1d.jpg?v=1656999825","width":800},{"alt":null,"id":30301418356987,"position":14,"preview_image":{"aspect_ratio":1.0,"height":800,"width":800,"src":"\/\/www.buttylife.com\/cdn\/shop\/products\/13_85bc1bf2-549f-4187-95a0-1000880efeab.jpg?v=1656999826"},"aspect_ratio":1.0,"height":800,"media_type":"image","src":"\/\/www.buttylife.com\/cdn\/shop\/products\/13_85bc1bf2-549f-4187-95a0-1000880efeab.jpg?v=1656999826","width":800},{"alt":null,"id":30301418619131,"position":15,"preview_image":{"aspect_ratio":1.0,"height":800,"width":800,"src":"\/\/www.buttylife.com\/cdn\/shop\/products\/14_fa2bb913-4681-4632-bbd2-1cb2d1cdbf02.jpg?v=1656999827"},"aspect_ratio":1.0,"height":800,"media_type":"image","src":"\/\/www.buttylife.com\/cdn\/shop\/products\/14_fa2bb913-4681-4632-bbd2-1cb2d1cdbf02.jpg?v=1656999827","width":800}],"requires_selling_plan":false,"selling_plan_groups":[],"content":"\u003ch2 style=\"text-align: center;\"\u003eSeat Belt Adjuster For Kids \u0026amp; Adults\u003c\/h2\u003e\n\u003ch4 style=\"text-align: center;\"\u003e\n\u003cspan style=\"color: #687b32;\"\u003eAre you worried that adult seat belts can't protect children's safety?\u003c\/span\u003e\u003cbr\u003e\u003cspan style=\"color: #687b32;\"\u003eDon't worry, just use our seat belt adjustment. 😊\u003c\/span\u003e\n\u003c\/h4\u003e\n\u003cp\u003e\u003cimg src=\"https:\/\/cdn.shopifycdn.net\/s\/files\/1\/0253\/9156\/2832\/files\/12_2e3bcb61-11f1-4984-8ff6-bda5066c29da_480x480.jpg?v=1594187946\" alt=\"\" style=\"display: block; margin-left: auto; margin-right: auto;\"\u003e\u003c\/p\u003e\n\u003ch4 style=\"text-align: center;\"\u003e\n\u003cspan style=\"color: #8f7c2d;\"\u003e\u003cstrong\u003eOur seat belt fastening system not only prevents the seat belt from scratching the child's skin, but also prevents the neck from strangling and adjusting the child's sitting position. The journey is no longer dangerous and parents can drive with peace of mind.\u003c\/strong\u003e\u003c\/span\u003e\u003cbr\u003e\u003cimg style=\"display: block; margin-left: auto; margin-right: auto;\" data-mce-fragment=\"1\" alt=\"\" src=\"https:\/\/cdn.shopifycdn.net\/s\/files\/1\/0529\/2562\/8588\/products\/8_daf266a8-73b6-48d4-8041-79698eee0236_480x480.jpg?v=1625817300\" data-mce-src=\"https:\/\/cdn.shopifycdn.net\/s\/files\/1\/0529\/2562\/8588\/products\/8_daf266a8-73b6-48d4-8041-79698eee0236_480x480.jpg?v=1625817300\"\u003e\n\u003c\/h4\u003e\n\u003cp\u003e\u003cstrong\u003e\u003cspan\u003e🍀\u003cspan style=\"color: #ff8000;\"\u003eFEATURES\u003c\/span\u003e\u003c\/span\u003e\u003c\/strong\u003e\u003c\/p\u003e\n\u003cul\u003e\n\u003cli\u003e\n\u003cstrong\u003eEco-friendly fabric\u003c\/strong\u003e: Selected high quality eco-friendly fabrics that are both comfortable and breathable, protecting the environment.\u003c\/li\u003e\n\u003cli\u003e\n\u003cstrong\u003eReinforced buttons\u003c\/strong\u003e: Special reinforcement design for buttons, better and more stable quality.\u003c\/li\u003e\n\u003cli\u003e\n\u003cstrong\u003eNeat seams\u003c\/strong\u003e: Proper wiring and excellent workmanship highlight our intentions.\u003c\/li\u003e\n\u003c\/ul\u003e\n\u003cdiv\u003e\u003cspan color=\"#000000\" style=\"color: #000000;\"\u003e\u003cimg src=\"https:\/\/cdn.shopifycdn.net\/s\/files\/1\/0253\/9156\/2832\/files\/5_c4d71825-3ab1-49bf-8240-7977b9ec27dd_480x480.jpg?v=1594187988\" alt=\"\" style=\"display: block; margin-left: auto; margin-right: auto;\"\u003e\u003c\/span\u003e\u003c\/div\u003e\n\u003cp\u003e\u003cstrong\u003e\u003cspan\u003e🍀\u003cspan style=\"color: #ff8000;\"\u003eSPECIFICATIONS\u003c\/span\u003e\u003c\/span\u003e\u003c\/strong\u003e\u003c\/p\u003e\n\u003cdiv\u003e\n\u003cul\u003e\n\u003cli\u003e\u003cspan style=\"color: #000000;\" color=\"#000000\"\u003e\u003cstrong\u003eMaterial\u003c\/strong\u003e: cotton\u003c\/span\u003e\u003c\/li\u003e\n\u003cli\u003e\u003cspan style=\"color: #000000;\" color=\"#000000\"\u003e\u003cstrong\u003eWeight\u003c\/strong\u003e: 45g\u003c\/span\u003e\u003c\/li\u003e\n\u003cli\u003e\u003cspan style=\"color: #000000;\" color=\"#000000\"\u003e\u003cstrong\u003eThickness\u003c\/strong\u003e: 2cm\u003c\/span\u003e\u003c\/li\u003e\n\u003cli\u003e\u003cspan style=\"color: #000000;\" color=\"#000000\"\u003e\u003cstrong\u003eSize\u003c\/strong\u003e: 24 * 18 * 9cm\u003c\/span\u003e\u003c\/li\u003e\n\u003cli\u003e\u003cspan style=\"color: #000000;\" color=\"#000000\"\u003e\u003cstrong\u003eColor\u003c\/strong\u003e: orange \/ blue \/ black \/ red \/ gray\u003c\/span\u003e\u003c\/li\u003e\n\u003c\/ul\u003e\n\u003c\/div\u003e\n\u003cp\u003e\u003cstrong\u003e\u003cspan\u003e🍀\u003cspan style=\"color: #ff8000;\"\u003ePACKAGE INCLUDED\u003c\/span\u003e\u003c\/span\u003e\u003c\/strong\u003e\u003cbr\u003e\u003c\/p\u003e\n\u003cul\u003e\n\u003cli\u003e\u003cspan\u003e1 * Seat Belt Adjuster For Kids \u0026amp; Adults\u003c\/span\u003e\u003c\/li\u003e\n\u003c\/ul\u003e"}
Seat Belt Adjuster For Kids & Adults
Product Description
Seat Belt Adjuster For Kids & Adults
Are you worried that adult seat belts can't protect children's safety?
Don't worry, just use our seat belt adjustment. 😊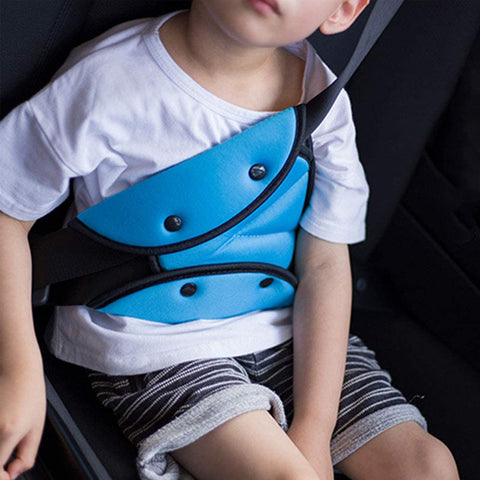 Our seat belt fastening system not only prevents the seat belt from scratching the child's skin, but also prevents the neck from strangling and adjusting the child's sitting position. The journey is no longer dangerous and parents can drive with peace of mind.

🍀FEATURES
Eco-friendly fabric: Selected high quality eco-friendly fabrics that are both comfortable and breathable, protecting the environment.
Reinforced buttons: Special reinforcement design for buttons, better and more stable quality.
Neat seams: Proper wiring and excellent workmanship highlight our intentions.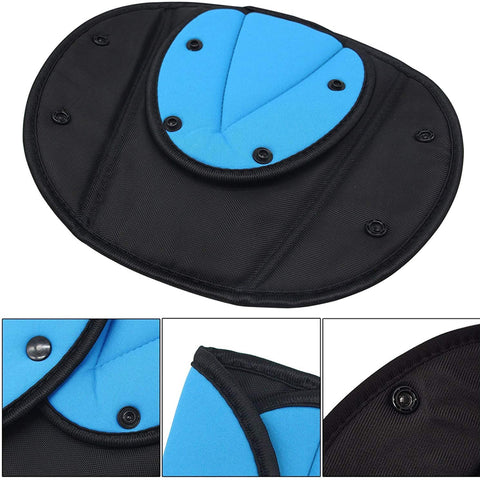 🍀SPECIFICATIONS
Material: cotton
Weight: 45g
Thickness: 2cm
Size: 24 * 18 * 9cm
Color: orange / blue / black / red / gray
🍀PACKAGE INCLUDED

1 * Seat Belt Adjuster For Kids & Adults
people are currently looking at this product