{"id":7754518036731,"title":"Three-layer Leak-proof Panties for Women","handle":"three-layer-leak-proof-panties-for-women","description":"\u003cp data-mce-fragment=\"1\"\u003e2022 Latest Design,\u003cspan style=\"color: #ec9136;\"\u003e\u003cstrong\u003e quick absorbs and lock Liquids and keep your underwear dry,\u003c\/strong\u003e\u003c\/span\u003e No odor all day long!\u003cbr\u003e\u003cbr\u003e\u003cspan style=\"color: #487e9c;\"\u003e\u003cstrong\u003eLadies...does any of these sound familiar to you?\u003c\/strong\u003e\u003c\/span\u003e\u003cbr\u003e\u003cstrong\u003eIncontinence Issues?\u003c\/strong\u003e\u003cbr\u003e\u003cstrong\u003eHeavy Period Flow?\u003c\/strong\u003e\u003cbr\u003e\u003cstrong\u003eLeaks \u0026amp; Stains?\u003c\/strong\u003e\u003cbr\u003e\u003cbr\u003eAfter my first pregnancy I couldn't laugh or sneeze for a long time without peeing myself…I even had a problem wetting the bed.. and the most inconvenient were my leaks throughout the day at work… sadly nobody knew it but me.\u003cbr\u003e\u003cbr\u003e\u003cspan style=\"color: #487e9c;\"\u003e\u003cstrong\u003eIt's called incontinence and it's actually really common for women of all ages and could be caused by any of the following:\u003c\/strong\u003e\u003c\/span\u003e\u003cbr\u003e\u003cimg data-lazy-loaded=\"1024\" data-lg-size=\"3000x3000\" data-height=\"auto\" data-width=\"100%\" data-gemlang=\"en\" height=\"318\" width=\"480\" alt=\"\" src=\"https:\/\/ucarecdn.com\/96ab873d-2262-44e7-8e0b-cb41d418a52d\/-\/format\/auto\/-\/preview\/1024x1024\/-\/quality\/lighter\/incontinence_causes.jpg\" title=\"\" style=\"display: block; margin-left: auto; margin-right: auto;\" data-mce-fragment=\"1\" data-mce-src=\"https:\/\/ucarecdn.com\/96ab873d-2262-44e7-8e0b-cb41d418a52d\/-\/format\/auto\/-\/preview\/1024x1024\/-\/quality\/lighter\/incontinence_causes.jpg\" data-mce-selected=\"1\"\u003e\u003cbr\u003e\u003cspan style=\"color: #487e9c;\"\u003e\u003cstrong\u003eHow does Leakproof Panties Work?\u003c\/strong\u003e\u003c\/span\u003e\u003cbr\u003eOur panties come with three layers of leak-proof protection material:\u003cbr\u003e\u003cimg src=\"https:\/\/img.cdncloud.top\/uploader\/c6e5a0bdec152723bd7422b54f719cc3.gif\" width=\"481\" height=\"443\" style=\"display: block; margin-left: auto; margin-right: auto;\" data-mce-fragment=\"1\" data-mce-src=\"https:\/\/img.cdncloud.top\/uploader\/c6e5a0bdec152723bd7422b54f719cc3.gif\"\u003e\u003cbr\u003e\u003cspan style=\"color: #ec9136;\"\u003e\u003cstrong\u003eClose to skin:\u003c\/strong\u003e\u003c\/span\u003e Comfortable Fabric Layer\u003cbr\u003eWe make our panties of 92% nylon and 8% spandex\u003cbr\u003e\u003cimg src=\"https:\/\/cdn.cloudfastin.top\/image\/2022\/04\/efd7d9e8446737f4f1a12e8bc4a1282fdd288292f95330c39368bb52ff532776.jpeg\" alt=\"undefined\" width=\"480\" height=\"480\" style=\"display: block; margin-left: auto; margin-right: auto;\" data-mce-fragment=\"1\" data-mce-src=\"https:\/\/cdn.cloudfastin.top\/image\/2022\/04\/efd7d9e8446737f4f1a12e8bc4a1282fdd288292f95330c39368bb52ff532776.jpeg\"\u003e\u003cbr\u003e\u003cspan style=\"color: #ec9136;\"\u003e\u003cstrong\u003eMiddle:\u003c\/strong\u003e \u003c\/span\u003eHygroscopic and Leakproof Layer\u003cbr\u003e2022 Latest development of leak-proof materials, Quick absorbs 30-50 mL of liquid and lock them in, which is equivalent to 2-3 standard tampons or pads. And keep your panties dry at all day!\u003cbr\u003e\u003cimg src=\"https:\/\/img.cdncloud.top\/uploader\/f9dd7b0413e4e01cb6a0623408741ecd.gif\" style=\"display: block; margin-left: auto; margin-right: auto;\" width=\"480\" height=\"600\" data-mce-fragment=\"1\" data-mce-src=\"https:\/\/img.cdncloud.top\/uploader\/f9dd7b0413e4e01cb6a0623408741ecd.gif\"\u003e\u003cbr\u003e\u003cspan style=\"color: #ec9136;\"\u003e\u003cstrong\u003eOutermost Layer:\u003c\/strong\u003e \u003c\/span\u003eBreathable Antibacterial Layer\u003cbr\u003ePanties from odor-suppressing textile that keeps all your smells from spreading.24 hours strong antibacterial, close protection, away from itching\u003cbr\u003e\u003cimg src=\"https:\/\/img.cdncloud.top\/uploader\/48c7bc3a4a89d866f0ca68fd370900f4.jpg\" width=\"481\" height=\"624\" style=\"display: block; margin-left: auto; margin-right: auto;\" data-mce-fragment=\"1\" data-mce-src=\"https:\/\/img.cdncloud.top\/uploader\/48c7bc3a4a89d866f0ca68fd370900f4.jpg\"\u003e\u003cbr\u003ethese stretchy and high-waisted Abs Shaping Pants will flatten your waistline and tummy while giving your booty a nice little boost! With optimal compression that holds everything firmly in place, it will create a flattering silhouette even under the tightest dress!\u003cbr\u003e\u003cimg src=\"https:\/\/img.staticdj.com\/7a62fc1ac1190170c001e9d383ac398d.gif\" style=\"display: block; margin-left: auto; margin-right: auto;\" data-mce-fragment=\"1\" data-mce-src=\"https:\/\/img.staticdj.com\/7a62fc1ac1190170c001e9d383ac398d.gif\"\u003e\u003cbr\u003e\u003cspan style=\"color: #ec9136;\"\u003e\u003cstrong\u003eIt helps tighten your bottom and lift your buttock naturally,\u003c\/strong\u003e\u003c\/span\u003e gives you the curves you want, and makes your butts look bigger, sexier, and more beautiful.\u003cbr\u003e\u003cimg src=\"https:\/\/img.cdncloud.top\/uploader\/ea42bba44f0953e1c5e8b5ff5d936767.jpg\" width=\"480\" height=\"417\" style=\"display: block; margin-left: auto; margin-right: auto;\" data-mce-fragment=\"1\" data-mce-src=\"https:\/\/img.cdncloud.top\/uploader\/ea42bba44f0953e1c5e8b5ff5d936767.jpg\"\u003e\u003cbr\u003e\u003cspan style=\"color: #ec9136;\"\u003e\u003cstrong\u003eWashable \u0026amp; Reusable\u003c\/strong\u003e\u003c\/span\u003e\u003cbr\u003eYou don't need to worry about replacing your leak-proof panties because you can machine-wash them as many times as you want without losing their effectiveness.\u003cbr\u003e\u003cimg src=\"https:\/\/media.giphy.com\/media\/O6Wl7mj7rTTM4dS2HZ\/giphy.gif\" style=\"display: block; margin-left: auto; margin-right: auto;\" width=\"480\" height=\"272\" data-mce-fragment=\"1\" data-mce-src=\"https:\/\/media.giphy.com\/media\/O6Wl7mj7rTTM4dS2HZ\/giphy.gif\"\u003e\u003cbr\u003e\u003cspan style=\"color: #ec9136;\"\u003e\u003cstrong\u003eSAVE THE PLANET. SAVE MONEY TOO.\u003c\/strong\u003e\u003c\/span\u003e\u003cbr\u003ePads and tampons and applicators are the 5th most common plastic found floating in our oceans - that's so deadly for marine life. Most women will use as many as 11,000 disposable menstrual pads and tampons in their lifetime! Over 12 billion tampons and pads are thrown out, 90% of those are made from plastic that cannot be broken down. It takes roughly 600 years for a tampon or pad to degrade in a landfill.\u003cbr\u003e\u003cimg src=\"https:\/\/cdn.hotishop.com\/image\/2022\/03\/524a6effe94479e491fcb9d6504165b81bd9cc375a7f8892c7fb4e40bcce9092.jpeg\" width=\"480\" height=\"270\" style=\"display: block; margin-left: auto; margin-right: auto;\" data-mce-fragment=\"1\" data-mce-src=\"https:\/\/cdn.hotishop.com\/image\/2022\/03\/524a6effe94479e491fcb9d6504165b81bd9cc375a7f8892c7fb4e40bcce9092.jpeg\"\u003e\u003cbr\u003eOur leakproof underwear lasts an average of 3 years which means you're personally eliminating thousands of unnecessarily tossed pads or tampons. Best part? You're saving a bundle of money not buying all those indestructible pads or tampons.\u003c\/p\u003e\n\u003cp data-mce-fragment=\"1\"\u003e\u003cspan style=\"color: #487e9c;\"\u003e\u003cstrong data-mce-fragment=\"1\"\u003eSPECIFICATIONS\u003c\/strong\u003e\u003c\/span\u003e\u003c\/p\u003e\n\u003cul\u003e\n\u003cli\u003e\n\u003cp\u003e\u003cstrong\u003eProduct Type:\u003c\/strong\u003e Underpants\u003c\/p\u003e\n\u003c\/li\u003e\n\u003cli\u003e\n\u003cp\u003e\u003cstrong\u003eGender:\u003c\/strong\u003e Women\u003c\/p\u003e\n\u003c\/li\u003e\n\u003cli\u003e\n\u003cp\u003e\u003cstrong\u003eMaterial:\u003c\/strong\u003e Nylon; Cotton\u003c\/p\u003e\n\u003c\/li\u003e\n\u003cli\u003e\n\u003cp\u003e\u003cstrong\u003eSize:\u003c\/strong\u003e M-8XL\u003c\/p\u003e\n\u003c\/li\u003e\n\u003cli\u003e\n\u003cp\u003e\u003cstrong\u003eColor:\u003c\/strong\u003e 8 options\u003c\/p\u003e\n\u003c\/li\u003e\n\u003cli\u003e\n\u003cp\u003e\u003cstrong\u003ePackage:\u003c\/strong\u003e 1 * Three-layer Leak-proof Pantie\u003c\/p\u003e\n\u003c\/li\u003e\n\u003c\/ul\u003e\n\u003cp data-mce-fragment=\"1\"\u003e\u003cspan style=\"color: #ff2a00;\"\u003e\u003cstrong data-mce-fragment=\"1\"\u003e\u003cimg alt=\"\" src=\"https:\/\/cdn.shopifycdn.net\/s\/files\/1\/0356\/3048\/1544\/files\/c397efc275db80573d0516d5f61c9019_5fd77945-d1ba-41bf-8f9f-d635d6046451_480x480.jpg?v=1625455732\" style=\"display: block; margin-left: auto; margin-right: auto;\"\u003e\u003c\/strong\u003e\u003c\/span\u003e\u003c\/p\u003e\n\u003cp data-mce-fragment=\"1\"\u003e \u003c\/p\u003e","published_at":"2022-06-28T19:52:50-10:00","created_at":"2022-06-28T19:52:55-10:00","vendor":"buttylife","type":"","tags":["underwear","women"],"price":1199,"price_min":1199,"price_max":1199,"available":true,"price_varies":false,"compare_at_price":2499,"compare_at_price_min":2499,"compare_at_price_max":2499,"compare_at_price_varies":false,"variants":[{"id":43232742047995,"title":"light purple \/ M","option1":"light purple","option2":"M","option3":null,"sku":"UN18494-C13753-S046","requires_shipping":true,"taxable":false,"featured_image":{"id":37691358609659,"product_id":7754518036731,"position":9,"created_at":"2022-06-28T19:53:04-10:00","updated_at":"2022-06-28T19:53:04-10:00","alt":null,"width":800,"height":800,"src":"\/\/www.buttylife.com\/cdn\/shop\/products\/16_c7ed9e13-2413-4331-bb35-bb7dd324c582.jpg?v=1656481984","variant_ids":[43232742047995,43232742080763,43232742113531,43232742146299,43232742179067,43232742211835,43232742244603,43232742277371,43232742310139,43232742342907]},"available":true,"name":"Three-layer Leak-proof Panties for Women - light purple \/ M","public_title":"light purple \/ M","options":["light purple","M"],"price":1199,"weight":0,"compare_at_price":2499,"inventory_management":null,"barcode":null,"featured_media":{"alt":null,"id":30260305428731,"position":9,"preview_image":{"aspect_ratio":1.0,"height":800,"width":800,"src":"\/\/www.buttylife.com\/cdn\/shop\/products\/16_c7ed9e13-2413-4331-bb35-bb7dd324c582.jpg?v=1656481984"}},"requires_selling_plan":false,"selling_plan_allocations":[]},{"id":43232742080763,"title":"light purple \/ L","option1":"light purple","option2":"L","option3":null,"sku":"UN18494-C13753-S047","requires_shipping":true,"taxable":false,"featured_image":{"id":37691358609659,"product_id":7754518036731,"position":9,"created_at":"2022-06-28T19:53:04-10:00","updated_at":"2022-06-28T19:53:04-10:00","alt":null,"width":800,"height":800,"src":"\/\/www.buttylife.com\/cdn\/shop\/products\/16_c7ed9e13-2413-4331-bb35-bb7dd324c582.jpg?v=1656481984","variant_ids":[43232742047995,43232742080763,43232742113531,43232742146299,43232742179067,43232742211835,43232742244603,43232742277371,43232742310139,43232742342907]},"available":true,"name":"Three-layer Leak-proof Panties for Women - light purple \/ L","public_title":"light purple \/ L","options":["light purple","L"],"price":1199,"weight":0,"compare_at_price":2499,"inventory_management":null,"barcode":null,"featured_media":{"alt":null,"id":30260305428731,"position":9,"preview_image":{"aspect_ratio":1.0,"height":800,"width":800,"src":"\/\/www.buttylife.com\/cdn\/shop\/products\/16_c7ed9e13-2413-4331-bb35-bb7dd324c582.jpg?v=1656481984"}},"requires_selling_plan":false,"selling_plan_allocations":[]},{"id":43232742113531,"title":"light purple \/ XL","option1":"light purple","option2":"XL","option3":null,"sku":"UN18494-C13753-S048","requires_shipping":true,"taxable":false,"featured_image":{"id":37691358609659,"product_id":7754518036731,"position":9,"created_at":"2022-06-28T19:53:04-10:00","updated_at":"2022-06-28T19:53:04-10:00","alt":null,"width":800,"height":800,"src":"\/\/www.buttylife.com\/cdn\/shop\/products\/16_c7ed9e13-2413-4331-bb35-bb7dd324c582.jpg?v=1656481984","variant_ids":[43232742047995,43232742080763,43232742113531,43232742146299,43232742179067,43232742211835,43232742244603,43232742277371,43232742310139,43232742342907]},"available":true,"name":"Three-layer Leak-proof Panties for Women - light purple \/ XL","public_title":"light purple \/ XL","options":["light purple","XL"],"price":1199,"weight":0,"compare_at_price":2499,"inventory_management":null,"barcode":null,"featured_media":{"alt":null,"id":30260305428731,"position":9,"preview_image":{"aspect_ratio":1.0,"height":800,"width":800,"src":"\/\/www.buttylife.com\/cdn\/shop\/products\/16_c7ed9e13-2413-4331-bb35-bb7dd324c582.jpg?v=1656481984"}},"requires_selling_plan":false,"selling_plan_allocations":[]},{"id":43232742146299,"title":"light purple \/ 2XL","option1":"light purple","option2":"2XL","option3":null,"sku":"UN18494-C13753-S049","requires_shipping":true,"taxable":false,"featured_image":{"id":37691358609659,"product_id":7754518036731,"position":9,"created_at":"2022-06-28T19:53:04-10:00","updated_at":"2022-06-28T19:53:04-10:00","alt":null,"width":800,"height":800,"src":"\/\/www.buttylife.com\/cdn\/shop\/products\/16_c7ed9e13-2413-4331-bb35-bb7dd324c582.jpg?v=1656481984","variant_ids":[43232742047995,43232742080763,43232742113531,43232742146299,43232742179067,43232742211835,43232742244603,43232742277371,43232742310139,43232742342907]},"available":true,"name":"Three-layer Leak-proof Panties for Women - light purple \/ 2XL","public_title":"light purple \/ 2XL","options":["light purple","2XL"],"price":1199,"weight":0,"compare_at_price":2499,"inventory_management":null,"barcode":null,"featured_media":{"alt":null,"id":30260305428731,"position":9,"preview_image":{"aspect_ratio":1.0,"height":800,"width":800,"src":"\/\/www.buttylife.com\/cdn\/shop\/products\/16_c7ed9e13-2413-4331-bb35-bb7dd324c582.jpg?v=1656481984"}},"requires_selling_plan":false,"selling_plan_allocations":[]},{"id":43232742179067,"title":"light purple \/ 3XL","option1":"light purple","option2":"3XL","option3":null,"sku":"UN18494-C13753-S050","requires_shipping":true,"taxable":false,"featured_image":{"id":37691358609659,"product_id":7754518036731,"position":9,"created_at":"2022-06-28T19:53:04-10:00","updated_at":"2022-06-28T19:53:04-10:00","alt":null,"width":800,"height":800,"src":"\/\/www.buttylife.com\/cdn\/shop\/products\/16_c7ed9e13-2413-4331-bb35-bb7dd324c582.jpg?v=1656481984","variant_ids":[43232742047995,43232742080763,43232742113531,43232742146299,43232742179067,43232742211835,43232742244603,43232742277371,43232742310139,43232742342907]},"available":true,"name":"Three-layer Leak-proof Panties for Women - light purple \/ 3XL","public_title":"light purple \/ 3XL","options":["light purple","3XL"],"price":1199,"weight":0,"compare_at_price":2499,"inventory_management":null,"barcode":null,"featured_media":{"alt":null,"id":30260305428731,"position":9,"preview_image":{"aspect_ratio":1.0,"height":800,"width":800,"src":"\/\/www.buttylife.com\/cdn\/shop\/products\/16_c7ed9e13-2413-4331-bb35-bb7dd324c582.jpg?v=1656481984"}},"requires_selling_plan":false,"selling_plan_allocations":[]},{"id":43232742211835,"title":"light purple \/ 4XL","option1":"light purple","option2":"4XL","option3":null,"sku":"UN18494-C13753-S051","requires_shipping":true,"taxable":false,"featured_image":{"id":37691358609659,"product_id":7754518036731,"position":9,"created_at":"2022-06-28T19:53:04-10:00","updated_at":"2022-06-28T19:53:04-10:00","alt":null,"width":800,"height":800,"src":"\/\/www.buttylife.com\/cdn\/shop\/products\/16_c7ed9e13-2413-4331-bb35-bb7dd324c582.jpg?v=1656481984","variant_ids":[43232742047995,43232742080763,43232742113531,43232742146299,43232742179067,43232742211835,43232742244603,43232742277371,43232742310139,43232742342907]},"available":true,"name":"Three-layer Leak-proof Panties for Women - light purple \/ 4XL","public_title":"light purple \/ 4XL","options":["light purple","4XL"],"price":1199,"weight":0,"compare_at_price":2499,"inventory_management":null,"barcode":null,"featured_media":{"alt":null,"id":30260305428731,"position":9,"preview_image":{"aspect_ratio":1.0,"height":800,"width":800,"src":"\/\/www.buttylife.com\/cdn\/shop\/products\/16_c7ed9e13-2413-4331-bb35-bb7dd324c582.jpg?v=1656481984"}},"requires_selling_plan":false,"selling_plan_allocations":[]},{"id":43232742244603,"title":"light purple \/ 5XL","option1":"light purple","option2":"5XL","option3":null,"sku":"UN18494-C13753-S052","requires_shipping":true,"taxable":false,"featured_image":{"id":37691358609659,"product_id":7754518036731,"position":9,"created_at":"2022-06-28T19:53:04-10:00","updated_at":"2022-06-28T19:53:04-10:00","alt":null,"width":800,"height":800,"src":"\/\/www.buttylife.com\/cdn\/shop\/products\/16_c7ed9e13-2413-4331-bb35-bb7dd324c582.jpg?v=1656481984","variant_ids":[43232742047995,43232742080763,43232742113531,43232742146299,43232742179067,43232742211835,43232742244603,43232742277371,43232742310139,43232742342907]},"available":true,"name":"Three-layer Leak-proof Panties for Women - light purple \/ 5XL","public_title":"light purple \/ 5XL","options":["light purple","5XL"],"price":1199,"weight":0,"compare_at_price":2499,"inventory_management":null,"barcode":null,"featured_media":{"alt":null,"id":30260305428731,"position":9,"preview_image":{"aspect_ratio":1.0,"height":800,"width":800,"src":"\/\/www.buttylife.com\/cdn\/shop\/products\/16_c7ed9e13-2413-4331-bb35-bb7dd324c582.jpg?v=1656481984"}},"requires_selling_plan":false,"selling_plan_allocations":[]},{"id":43232742277371,"title":"light purple \/ 6XL","option1":"light purple","option2":"6XL","option3":null,"sku":"UN18494-C13753-S095","requires_shipping":true,"taxable":false,"featured_image":{"id":37691358609659,"product_id":7754518036731,"position":9,"created_at":"2022-06-28T19:53:04-10:00","updated_at":"2022-06-28T19:53:04-10:00","alt":null,"width":800,"height":800,"src":"\/\/www.buttylife.com\/cdn\/shop\/products\/16_c7ed9e13-2413-4331-bb35-bb7dd324c582.jpg?v=1656481984","variant_ids":[43232742047995,43232742080763,43232742113531,43232742146299,43232742179067,43232742211835,43232742244603,43232742277371,43232742310139,43232742342907]},"available":true,"name":"Three-layer Leak-proof Panties for Women - light purple \/ 6XL","public_title":"light purple \/ 6XL","options":["light purple","6XL"],"price":1199,"weight":0,"compare_at_price":2499,"inventory_management":null,"barcode":null,"featured_media":{"alt":null,"id":30260305428731,"position":9,"preview_image":{"aspect_ratio":1.0,"height":800,"width":800,"src":"\/\/www.buttylife.com\/cdn\/shop\/products\/16_c7ed9e13-2413-4331-bb35-bb7dd324c582.jpg?v=1656481984"}},"requires_selling_plan":false,"selling_plan_allocations":[]},{"id":43232742310139,"title":"light purple \/ 7XL","option1":"light purple","option2":"7XL","option3":null,"sku":"UN18494-C13753-S5074","requires_shipping":true,"taxable":false,"featured_image":{"id":37691358609659,"product_id":7754518036731,"position":9,"created_at":"2022-06-28T19:53:04-10:00","updated_at":"2022-06-28T19:53:04-10:00","alt":null,"width":800,"height":800,"src":"\/\/www.buttylife.com\/cdn\/shop\/products\/16_c7ed9e13-2413-4331-bb35-bb7dd324c582.jpg?v=1656481984","variant_ids":[43232742047995,43232742080763,43232742113531,43232742146299,43232742179067,43232742211835,43232742244603,43232742277371,43232742310139,43232742342907]},"available":true,"name":"Three-layer Leak-proof Panties for Women - light purple \/ 7XL","public_title":"light purple \/ 7XL","options":["light purple","7XL"],"price":1199,"weight":0,"compare_at_price":2499,"inventory_management":null,"barcode":null,"featured_media":{"alt":null,"id":30260305428731,"position":9,"preview_image":{"aspect_ratio":1.0,"height":800,"width":800,"src":"\/\/www.buttylife.com\/cdn\/shop\/products\/16_c7ed9e13-2413-4331-bb35-bb7dd324c582.jpg?v=1656481984"}},"requires_selling_plan":false,"selling_plan_allocations":[]},{"id":43232742342907,"title":"light purple \/ 8XL","option1":"light purple","option2":"8XL","option3":null,"sku":"UN18494-C13753-S7939","requires_shipping":true,"taxable":false,"featured_image":{"id":37691358609659,"product_id":7754518036731,"position":9,"created_at":"2022-06-28T19:53:04-10:00","updated_at":"2022-06-28T19:53:04-10:00","alt":null,"width":800,"height":800,"src":"\/\/www.buttylife.com\/cdn\/shop\/products\/16_c7ed9e13-2413-4331-bb35-bb7dd324c582.jpg?v=1656481984","variant_ids":[43232742047995,43232742080763,43232742113531,43232742146299,43232742179067,43232742211835,43232742244603,43232742277371,43232742310139,43232742342907]},"available":true,"name":"Three-layer Leak-proof Panties for Women - light purple \/ 8XL","public_title":"light purple \/ 8XL","options":["light purple","8XL"],"price":1199,"weight":0,"compare_at_price":2499,"inventory_management":null,"barcode":null,"featured_media":{"alt":null,"id":30260305428731,"position":9,"preview_image":{"aspect_ratio":1.0,"height":800,"width":800,"src":"\/\/www.buttylife.com\/cdn\/shop\/products\/16_c7ed9e13-2413-4331-bb35-bb7dd324c582.jpg?v=1656481984"}},"requires_selling_plan":false,"selling_plan_allocations":[]},{"id":43232742375675,"title":"beige \/ M","option1":"beige","option2":"M","option3":null,"sku":"UN18494-C2244-S046","requires_shipping":true,"taxable":false,"featured_image":{"id":37691359592699,"product_id":7754518036731,"position":12,"created_at":"2022-06-28T19:53:10-10:00","updated_at":"2022-06-28T19:53:10-10:00","alt":null,"width":800,"height":800,"src":"\/\/www.buttylife.com\/cdn\/shop\/products\/12_580993b2-881d-4b0d-aff2-fc64773564d4.jpg?v=1656481990","variant_ids":[43232742375675,43232742408443,43232742441211,43232742473979,43232742506747,43232742539515,43232742572283,43232742605051,43232742637819,43232742670587]},"available":true,"name":"Three-layer Leak-proof Panties for Women - beige \/ M","public_title":"beige \/ M","options":["beige","M"],"price":1199,"weight":0,"compare_at_price":2499,"inventory_management":null,"barcode":null,"featured_media":{"alt":null,"id":30260306411771,"position":12,"preview_image":{"aspect_ratio":1.0,"height":800,"width":800,"src":"\/\/www.buttylife.com\/cdn\/shop\/products\/12_580993b2-881d-4b0d-aff2-fc64773564d4.jpg?v=1656481990"}},"requires_selling_plan":false,"selling_plan_allocations":[]},{"id":43232742408443,"title":"beige \/ L","option1":"beige","option2":"L","option3":null,"sku":"UN18494-C2244-S047","requires_shipping":true,"taxable":false,"featured_image":{"id":37691359592699,"product_id":7754518036731,"position":12,"created_at":"2022-06-28T19:53:10-10:00","updated_at":"2022-06-28T19:53:10-10:00","alt":null,"width":800,"height":800,"src":"\/\/www.buttylife.com\/cdn\/shop\/products\/12_580993b2-881d-4b0d-aff2-fc64773564d4.jpg?v=1656481990","variant_ids":[43232742375675,43232742408443,43232742441211,43232742473979,43232742506747,43232742539515,43232742572283,43232742605051,43232742637819,43232742670587]},"available":true,"name":"Three-layer Leak-proof Panties for Women - beige \/ L","public_title":"beige \/ L","options":["beige","L"],"price":1199,"weight":0,"compare_at_price":2499,"inventory_management":null,"barcode":null,"featured_media":{"alt":null,"id":30260306411771,"position":12,"preview_image":{"aspect_ratio":1.0,"height":800,"width":800,"src":"\/\/www.buttylife.com\/cdn\/shop\/products\/12_580993b2-881d-4b0d-aff2-fc64773564d4.jpg?v=1656481990"}},"requires_selling_plan":false,"selling_plan_allocations":[]},{"id":43232742441211,"title":"beige \/ XL","option1":"beige","option2":"XL","option3":null,"sku":"UN18494-C2244-S048","requires_shipping":true,"taxable":false,"featured_image":{"id":37691359592699,"product_id":7754518036731,"position":12,"created_at":"2022-06-28T19:53:10-10:00","updated_at":"2022-06-28T19:53:10-10:00","alt":null,"width":800,"height":800,"src":"\/\/www.buttylife.com\/cdn\/shop\/products\/12_580993b2-881d-4b0d-aff2-fc64773564d4.jpg?v=1656481990","variant_ids":[43232742375675,43232742408443,43232742441211,43232742473979,43232742506747,43232742539515,43232742572283,43232742605051,43232742637819,43232742670587]},"available":true,"name":"Three-layer Leak-proof Panties for Women - beige \/ XL","public_title":"beige \/ XL","options":["beige","XL"],"price":1199,"weight":0,"compare_at_price":2499,"inventory_management":null,"barcode":null,"featured_media":{"alt":null,"id":30260306411771,"position":12,"preview_image":{"aspect_ratio":1.0,"height":800,"width":800,"src":"\/\/www.buttylife.com\/cdn\/shop\/products\/12_580993b2-881d-4b0d-aff2-fc64773564d4.jpg?v=1656481990"}},"requires_selling_plan":false,"selling_plan_allocations":[]},{"id":43232742473979,"title":"beige \/ 2XL","option1":"beige","option2":"2XL","option3":null,"sku":"UN18494-C2244-S049","requires_shipping":true,"taxable":false,"featured_image":{"id":37691359592699,"product_id":7754518036731,"position":12,"created_at":"2022-06-28T19:53:10-10:00","updated_at":"2022-06-28T19:53:10-10:00","alt":null,"width":800,"height":800,"src":"\/\/www.buttylife.com\/cdn\/shop\/products\/12_580993b2-881d-4b0d-aff2-fc64773564d4.jpg?v=1656481990","variant_ids":[43232742375675,43232742408443,43232742441211,43232742473979,43232742506747,43232742539515,43232742572283,43232742605051,43232742637819,43232742670587]},"available":true,"name":"Three-layer Leak-proof Panties for Women - beige \/ 2XL","public_title":"beige \/ 2XL","options":["beige","2XL"],"price":1199,"weight":0,"compare_at_price":2499,"inventory_management":null,"barcode":null,"featured_media":{"alt":null,"id":30260306411771,"position":12,"preview_image":{"aspect_ratio":1.0,"height":800,"width":800,"src":"\/\/www.buttylife.com\/cdn\/shop\/products\/12_580993b2-881d-4b0d-aff2-fc64773564d4.jpg?v=1656481990"}},"requires_selling_plan":false,"selling_plan_allocations":[]},{"id":43232742506747,"title":"beige \/ 3XL","option1":"beige","option2":"3XL","option3":null,"sku":"UN18494-C2244-S050","requires_shipping":true,"taxable":false,"featured_image":{"id":37691359592699,"product_id":7754518036731,"position":12,"created_at":"2022-06-28T19:53:10-10:00","updated_at":"2022-06-28T19:53:10-10:00","alt":null,"width":800,"height":800,"src":"\/\/www.buttylife.com\/cdn\/shop\/products\/12_580993b2-881d-4b0d-aff2-fc64773564d4.jpg?v=1656481990","variant_ids":[43232742375675,43232742408443,43232742441211,43232742473979,43232742506747,43232742539515,43232742572283,43232742605051,43232742637819,43232742670587]},"available":true,"name":"Three-layer Leak-proof Panties for Women - beige \/ 3XL","public_title":"beige \/ 3XL","options":["beige","3XL"],"price":1199,"weight":0,"compare_at_price":2499,"inventory_management":null,"barcode":null,"featured_media":{"alt":null,"id":30260306411771,"position":12,"preview_image":{"aspect_ratio":1.0,"height":800,"width":800,"src":"\/\/www.buttylife.com\/cdn\/shop\/products\/12_580993b2-881d-4b0d-aff2-fc64773564d4.jpg?v=1656481990"}},"requires_selling_plan":false,"selling_plan_allocations":[]},{"id":43232742539515,"title":"beige \/ 4XL","option1":"beige","option2":"4XL","option3":null,"sku":"UN18494-C2244-S051","requires_shipping":true,"taxable":false,"featured_image":{"id":37691359592699,"product_id":7754518036731,"position":12,"created_at":"2022-06-28T19:53:10-10:00","updated_at":"2022-06-28T19:53:10-10:00","alt":null,"width":800,"height":800,"src":"\/\/www.buttylife.com\/cdn\/shop\/products\/12_580993b2-881d-4b0d-aff2-fc64773564d4.jpg?v=1656481990","variant_ids":[43232742375675,43232742408443,43232742441211,43232742473979,43232742506747,43232742539515,43232742572283,43232742605051,43232742637819,43232742670587]},"available":true,"name":"Three-layer Leak-proof Panties for Women - beige \/ 4XL","public_title":"beige \/ 4XL","options":["beige","4XL"],"price":1199,"weight":0,"compare_at_price":2499,"inventory_management":null,"barcode":null,"featured_media":{"alt":null,"id":30260306411771,"position":12,"preview_image":{"aspect_ratio":1.0,"height":800,"width":800,"src":"\/\/www.buttylife.com\/cdn\/shop\/products\/12_580993b2-881d-4b0d-aff2-fc64773564d4.jpg?v=1656481990"}},"requires_selling_plan":false,"selling_plan_allocations":[]},{"id":43232742572283,"title":"beige \/ 5XL","option1":"beige","option2":"5XL","option3":null,"sku":"UN18494-C2244-S052","requires_shipping":true,"taxable":false,"featured_image":{"id":37691359592699,"product_id":7754518036731,"position":12,"created_at":"2022-06-28T19:53:10-10:00","updated_at":"2022-06-28T19:53:10-10:00","alt":null,"width":800,"height":800,"src":"\/\/www.buttylife.com\/cdn\/shop\/products\/12_580993b2-881d-4b0d-aff2-fc64773564d4.jpg?v=1656481990","variant_ids":[43232742375675,43232742408443,43232742441211,43232742473979,43232742506747,43232742539515,43232742572283,43232742605051,43232742637819,43232742670587]},"available":true,"name":"Three-layer Leak-proof Panties for Women - beige \/ 5XL","public_title":"beige \/ 5XL","options":["beige","5XL"],"price":1199,"weight":0,"compare_at_price":2499,"inventory_management":null,"barcode":null,"featured_media":{"alt":null,"id":30260306411771,"position":12,"preview_image":{"aspect_ratio":1.0,"height":800,"width":800,"src":"\/\/www.buttylife.com\/cdn\/shop\/products\/12_580993b2-881d-4b0d-aff2-fc64773564d4.jpg?v=1656481990"}},"requires_selling_plan":false,"selling_plan_allocations":[]},{"id":43232742605051,"title":"beige \/ 6XL","option1":"beige","option2":"6XL","option3":null,"sku":"UN18494-C2244-S095","requires_shipping":true,"taxable":false,"featured_image":{"id":37691359592699,"product_id":7754518036731,"position":12,"created_at":"2022-06-28T19:53:10-10:00","updated_at":"2022-06-28T19:53:10-10:00","alt":null,"width":800,"height":800,"src":"\/\/www.buttylife.com\/cdn\/shop\/products\/12_580993b2-881d-4b0d-aff2-fc64773564d4.jpg?v=1656481990","variant_ids":[43232742375675,43232742408443,43232742441211,43232742473979,43232742506747,43232742539515,43232742572283,43232742605051,43232742637819,43232742670587]},"available":true,"name":"Three-layer Leak-proof Panties for Women - beige \/ 6XL","public_title":"beige \/ 6XL","options":["beige","6XL"],"price":1199,"weight":0,"compare_at_price":2499,"inventory_management":null,"barcode":null,"featured_media":{"alt":null,"id":30260306411771,"position":12,"preview_image":{"aspect_ratio":1.0,"height":800,"width":800,"src":"\/\/www.buttylife.com\/cdn\/shop\/products\/12_580993b2-881d-4b0d-aff2-fc64773564d4.jpg?v=1656481990"}},"requires_selling_plan":false,"selling_plan_allocations":[]},{"id":43232742637819,"title":"beige \/ 7XL","option1":"beige","option2":"7XL","option3":null,"sku":"UN18494-C2244-S5074","requires_shipping":true,"taxable":false,"featured_image":{"id":37691359592699,"product_id":7754518036731,"position":12,"created_at":"2022-06-28T19:53:10-10:00","updated_at":"2022-06-28T19:53:10-10:00","alt":null,"width":800,"height":800,"src":"\/\/www.buttylife.com\/cdn\/shop\/products\/12_580993b2-881d-4b0d-aff2-fc64773564d4.jpg?v=1656481990","variant_ids":[43232742375675,43232742408443,43232742441211,43232742473979,43232742506747,43232742539515,43232742572283,43232742605051,43232742637819,43232742670587]},"available":true,"name":"Three-layer Leak-proof Panties for Women - beige \/ 7XL","public_title":"beige \/ 7XL","options":["beige","7XL"],"price":1199,"weight":0,"compare_at_price":2499,"inventory_management":null,"barcode":null,"featured_media":{"alt":null,"id":30260306411771,"position":12,"preview_image":{"aspect_ratio":1.0,"height":800,"width":800,"src":"\/\/www.buttylife.com\/cdn\/shop\/products\/12_580993b2-881d-4b0d-aff2-fc64773564d4.jpg?v=1656481990"}},"requires_selling_plan":false,"selling_plan_allocations":[]},{"id":43232742670587,"title":"beige \/ 8XL","option1":"beige","option2":"8XL","option3":null,"sku":"UN18494-C2244-S7939","requires_shipping":true,"taxable":false,"featured_image":{"id":37691359592699,"product_id":7754518036731,"position":12,"created_at":"2022-06-28T19:53:10-10:00","updated_at":"2022-06-28T19:53:10-10:00","alt":null,"width":800,"height":800,"src":"\/\/www.buttylife.com\/cdn\/shop\/products\/12_580993b2-881d-4b0d-aff2-fc64773564d4.jpg?v=1656481990","variant_ids":[43232742375675,43232742408443,43232742441211,43232742473979,43232742506747,43232742539515,43232742572283,43232742605051,43232742637819,43232742670587]},"available":true,"name":"Three-layer Leak-proof Panties for Women - beige \/ 8XL","public_title":"beige \/ 8XL","options":["beige","8XL"],"price":1199,"weight":0,"compare_at_price":2499,"inventory_management":null,"barcode":null,"featured_media":{"alt":null,"id":30260306411771,"position":12,"preview_image":{"aspect_ratio":1.0,"height":800,"width":800,"src":"\/\/www.buttylife.com\/cdn\/shop\/products\/12_580993b2-881d-4b0d-aff2-fc64773564d4.jpg?v=1656481990"}},"requires_selling_plan":false,"selling_plan_allocations":[]},{"id":43232742703355,"title":"gray \/ M","option1":"gray","option2":"M","option3":null,"sku":"UN18494-C2851-S046","requires_shipping":true,"taxable":false,"featured_image":{"id":37691360313595,"product_id":7754518036731,"position":16,"created_at":"2022-06-28T19:53:17-10:00","updated_at":"2022-06-28T19:53:17-10:00","alt":null,"width":800,"height":800,"src":"\/\/www.buttylife.com\/cdn\/shop\/products\/10_1c71e736-830b-4a39-8473-05e3affbdbcb.jpg?v=1656481997","variant_ids":[43232742703355,43232742736123,43232742801659,43232742834427,43232742867195,43232742899963,43232742932731,43232742965499,43232742998267,43232743031035]},"available":true,"name":"Three-layer Leak-proof Panties for Women - gray \/ M","public_title":"gray \/ M","options":["gray","M"],"price":1199,"weight":0,"compare_at_price":2499,"inventory_management":null,"barcode":null,"featured_media":{"alt":null,"id":30260307165435,"position":16,"preview_image":{"aspect_ratio":1.0,"height":800,"width":800,"src":"\/\/www.buttylife.com\/cdn\/shop\/products\/10_1c71e736-830b-4a39-8473-05e3affbdbcb.jpg?v=1656481997"}},"requires_selling_plan":false,"selling_plan_allocations":[]},{"id":43232742736123,"title":"gray \/ L","option1":"gray","option2":"L","option3":null,"sku":"UN18494-C2851-S047","requires_shipping":true,"taxable":false,"featured_image":{"id":37691360313595,"product_id":7754518036731,"position":16,"created_at":"2022-06-28T19:53:17-10:00","updated_at":"2022-06-28T19:53:17-10:00","alt":null,"width":800,"height":800,"src":"\/\/www.buttylife.com\/cdn\/shop\/products\/10_1c71e736-830b-4a39-8473-05e3affbdbcb.jpg?v=1656481997","variant_ids":[43232742703355,43232742736123,43232742801659,43232742834427,43232742867195,43232742899963,43232742932731,43232742965499,43232742998267,43232743031035]},"available":true,"name":"Three-layer Leak-proof Panties for Women - gray \/ L","public_title":"gray \/ L","options":["gray","L"],"price":1199,"weight":0,"compare_at_price":2499,"inventory_management":null,"barcode":null,"featured_media":{"alt":null,"id":30260307165435,"position":16,"preview_image":{"aspect_ratio":1.0,"height":800,"width":800,"src":"\/\/www.buttylife.com\/cdn\/shop\/products\/10_1c71e736-830b-4a39-8473-05e3affbdbcb.jpg?v=1656481997"}},"requires_selling_plan":false,"selling_plan_allocations":[]},{"id":43232742801659,"title":"gray \/ XL","option1":"gray","option2":"XL","option3":null,"sku":"UN18494-C2851-S048","requires_shipping":true,"taxable":false,"featured_image":{"id":37691360313595,"product_id":7754518036731,"position":16,"created_at":"2022-06-28T19:53:17-10:00","updated_at":"2022-06-28T19:53:17-10:00","alt":null,"width":800,"height":800,"src":"\/\/www.buttylife.com\/cdn\/shop\/products\/10_1c71e736-830b-4a39-8473-05e3affbdbcb.jpg?v=1656481997","variant_ids":[43232742703355,43232742736123,43232742801659,43232742834427,43232742867195,43232742899963,43232742932731,43232742965499,43232742998267,43232743031035]},"available":true,"name":"Three-layer Leak-proof Panties for Women - gray \/ XL","public_title":"gray \/ XL","options":["gray","XL"],"price":1199,"weight":0,"compare_at_price":2499,"inventory_management":null,"barcode":null,"featured_media":{"alt":null,"id":30260307165435,"position":16,"preview_image":{"aspect_ratio":1.0,"height":800,"width":800,"src":"\/\/www.buttylife.com\/cdn\/shop\/products\/10_1c71e736-830b-4a39-8473-05e3affbdbcb.jpg?v=1656481997"}},"requires_selling_plan":false,"selling_plan_allocations":[]},{"id":43232742834427,"title":"gray \/ 2XL","option1":"gray","option2":"2XL","option3":null,"sku":"UN18494-C2851-S049","requires_shipping":true,"taxable":false,"featured_image":{"id":37691360313595,"product_id":7754518036731,"position":16,"created_at":"2022-06-28T19:53:17-10:00","updated_at":"2022-06-28T19:53:17-10:00","alt":null,"width":800,"height":800,"src":"\/\/www.buttylife.com\/cdn\/shop\/products\/10_1c71e736-830b-4a39-8473-05e3affbdbcb.jpg?v=1656481997","variant_ids":[43232742703355,43232742736123,43232742801659,43232742834427,43232742867195,43232742899963,43232742932731,43232742965499,43232742998267,43232743031035]},"available":true,"name":"Three-layer Leak-proof Panties for Women - gray \/ 2XL","public_title":"gray \/ 2XL","options":["gray","2XL"],"price":1199,"weight":0,"compare_at_price":2499,"inventory_management":null,"barcode":null,"featured_media":{"alt":null,"id":30260307165435,"position":16,"preview_image":{"aspect_ratio":1.0,"height":800,"width":800,"src":"\/\/www.buttylife.com\/cdn\/shop\/products\/10_1c71e736-830b-4a39-8473-05e3affbdbcb.jpg?v=1656481997"}},"requires_selling_plan":false,"selling_plan_allocations":[]},{"id":43232742867195,"title":"gray \/ 3XL","option1":"gray","option2":"3XL","option3":null,"sku":"UN18494-C2851-S050","requires_shipping":true,"taxable":false,"featured_image":{"id":37691360313595,"product_id":7754518036731,"position":16,"created_at":"2022-06-28T19:53:17-10:00","updated_at":"2022-06-28T19:53:17-10:00","alt":null,"width":800,"height":800,"src":"\/\/www.buttylife.com\/cdn\/shop\/products\/10_1c71e736-830b-4a39-8473-05e3affbdbcb.jpg?v=1656481997","variant_ids":[43232742703355,43232742736123,43232742801659,43232742834427,43232742867195,43232742899963,43232742932731,43232742965499,43232742998267,43232743031035]},"available":true,"name":"Three-layer Leak-proof Panties for Women - gray \/ 3XL","public_title":"gray \/ 3XL","options":["gray","3XL"],"price":1199,"weight":0,"compare_at_price":2499,"inventory_management":null,"barcode":null,"featured_media":{"alt":null,"id":30260307165435,"position":16,"preview_image":{"aspect_ratio":1.0,"height":800,"width":800,"src":"\/\/www.buttylife.com\/cdn\/shop\/products\/10_1c71e736-830b-4a39-8473-05e3affbdbcb.jpg?v=1656481997"}},"requires_selling_plan":false,"selling_plan_allocations":[]},{"id":43232742899963,"title":"gray \/ 4XL","option1":"gray","option2":"4XL","option3":null,"sku":"UN18494-C2851-S051","requires_shipping":true,"taxable":false,"featured_image":{"id":37691360313595,"product_id":7754518036731,"position":16,"created_at":"2022-06-28T19:53:17-10:00","updated_at":"2022-06-28T19:53:17-10:00","alt":null,"width":800,"height":800,"src":"\/\/www.buttylife.com\/cdn\/shop\/products\/10_1c71e736-830b-4a39-8473-05e3affbdbcb.jpg?v=1656481997","variant_ids":[43232742703355,43232742736123,43232742801659,43232742834427,43232742867195,43232742899963,43232742932731,43232742965499,43232742998267,43232743031035]},"available":true,"name":"Three-layer Leak-proof Panties for Women - gray \/ 4XL","public_title":"gray \/ 4XL","options":["gray","4XL"],"price":1199,"weight":0,"compare_at_price":2499,"inventory_management":null,"barcode":null,"featured_media":{"alt":null,"id":30260307165435,"position":16,"preview_image":{"aspect_ratio":1.0,"height":800,"width":800,"src":"\/\/www.buttylife.com\/cdn\/shop\/products\/10_1c71e736-830b-4a39-8473-05e3affbdbcb.jpg?v=1656481997"}},"requires_selling_plan":false,"selling_plan_allocations":[]},{"id":43232742932731,"title":"gray \/ 5XL","option1":"gray","option2":"5XL","option3":null,"sku":"UN18494-C2851-S052","requires_shipping":true,"taxable":false,"featured_image":{"id":37691360313595,"product_id":7754518036731,"position":16,"created_at":"2022-06-28T19:53:17-10:00","updated_at":"2022-06-28T19:53:17-10:00","alt":null,"width":800,"height":800,"src":"\/\/www.buttylife.com\/cdn\/shop\/products\/10_1c71e736-830b-4a39-8473-05e3affbdbcb.jpg?v=1656481997","variant_ids":[43232742703355,43232742736123,43232742801659,43232742834427,43232742867195,43232742899963,43232742932731,43232742965499,43232742998267,43232743031035]},"available":true,"name":"Three-layer Leak-proof Panties for Women - gray \/ 5XL","public_title":"gray \/ 5XL","options":["gray","5XL"],"price":1199,"weight":0,"compare_at_price":2499,"inventory_management":null,"barcode":null,"featured_media":{"alt":null,"id":30260307165435,"position":16,"preview_image":{"aspect_ratio":1.0,"height":800,"width":800,"src":"\/\/www.buttylife.com\/cdn\/shop\/products\/10_1c71e736-830b-4a39-8473-05e3affbdbcb.jpg?v=1656481997"}},"requires_selling_plan":false,"selling_plan_allocations":[]},{"id":43232742965499,"title":"gray \/ 6XL","option1":"gray","option2":"6XL","option3":null,"sku":"UN18494-C2851-S095","requires_shipping":true,"taxable":false,"featured_image":{"id":37691360313595,"product_id":7754518036731,"position":16,"created_at":"2022-06-28T19:53:17-10:00","updated_at":"2022-06-28T19:53:17-10:00","alt":null,"width":800,"height":800,"src":"\/\/www.buttylife.com\/cdn\/shop\/products\/10_1c71e736-830b-4a39-8473-05e3affbdbcb.jpg?v=1656481997","variant_ids":[43232742703355,43232742736123,43232742801659,43232742834427,43232742867195,43232742899963,43232742932731,43232742965499,43232742998267,43232743031035]},"available":true,"name":"Three-layer Leak-proof Panties for Women - gray \/ 6XL","public_title":"gray \/ 6XL","options":["gray","6XL"],"price":1199,"weight":0,"compare_at_price":2499,"inventory_management":null,"barcode":null,"featured_media":{"alt":null,"id":30260307165435,"position":16,"preview_image":{"aspect_ratio":1.0,"height":800,"width":800,"src":"\/\/www.buttylife.com\/cdn\/shop\/products\/10_1c71e736-830b-4a39-8473-05e3affbdbcb.jpg?v=1656481997"}},"requires_selling_plan":false,"selling_plan_allocations":[]},{"id":43232742998267,"title":"gray \/ 7XL","option1":"gray","option2":"7XL","option3":null,"sku":"UN18494-C2851-S5074","requires_shipping":true,"taxable":false,"featured_image":{"id":37691360313595,"product_id":7754518036731,"position":16,"created_at":"2022-06-28T19:53:17-10:00","updated_at":"2022-06-28T19:53:17-10:00","alt":null,"width":800,"height":800,"src":"\/\/www.buttylife.com\/cdn\/shop\/products\/10_1c71e736-830b-4a39-8473-05e3affbdbcb.jpg?v=1656481997","variant_ids":[43232742703355,43232742736123,43232742801659,43232742834427,43232742867195,43232742899963,43232742932731,43232742965499,43232742998267,43232743031035]},"available":true,"name":"Three-layer Leak-proof Panties for Women - gray \/ 7XL","public_title":"gray \/ 7XL","options":["gray","7XL"],"price":1199,"weight":0,"compare_at_price":2499,"inventory_management":null,"barcode":null,"featured_media":{"alt":null,"id":30260307165435,"position":16,"preview_image":{"aspect_ratio":1.0,"height":800,"width":800,"src":"\/\/www.buttylife.com\/cdn\/shop\/products\/10_1c71e736-830b-4a39-8473-05e3affbdbcb.jpg?v=1656481997"}},"requires_selling_plan":false,"selling_plan_allocations":[]},{"id":43232743031035,"title":"gray \/ 8XL","option1":"gray","option2":"8XL","option3":null,"sku":"UN18494-C2851-S7939","requires_shipping":true,"taxable":false,"featured_image":{"id":37691360313595,"product_id":7754518036731,"position":16,"created_at":"2022-06-28T19:53:17-10:00","updated_at":"2022-06-28T19:53:17-10:00","alt":null,"width":800,"height":800,"src":"\/\/www.buttylife.com\/cdn\/shop\/products\/10_1c71e736-830b-4a39-8473-05e3affbdbcb.jpg?v=1656481997","variant_ids":[43232742703355,43232742736123,43232742801659,43232742834427,43232742867195,43232742899963,43232742932731,43232742965499,43232742998267,43232743031035]},"available":true,"name":"Three-layer Leak-proof Panties for Women - gray \/ 8XL","public_title":"gray \/ 8XL","options":["gray","8XL"],"price":1199,"weight":0,"compare_at_price":2499,"inventory_management":null,"barcode":null,"featured_media":{"alt":null,"id":30260307165435,"position":16,"preview_image":{"aspect_ratio":1.0,"height":800,"width":800,"src":"\/\/www.buttylife.com\/cdn\/shop\/products\/10_1c71e736-830b-4a39-8473-05e3affbdbcb.jpg?v=1656481997"}},"requires_selling_plan":false,"selling_plan_allocations":[]},{"id":43232743063803,"title":"red \/ M","option1":"red","option2":"M","option3":null,"sku":"UN18494-C7821-S046","requires_shipping":true,"taxable":false,"featured_image":{"id":37691359330555,"product_id":7754518036731,"position":11,"created_at":"2022-06-28T19:53:08-10:00","updated_at":"2022-06-28T19:53:08-10:00","alt":null,"width":800,"height":800,"src":"\/\/www.buttylife.com\/cdn\/shop\/products\/14_dc1b5aab-3d35-41f9-ad60-aa5acaa0fe02.jpg?v=1656481988","variant_ids":[43232743063803,43232743096571,43232743129339,43232743162107,43232743194875,43232743227643,43232743260411,43232743293179,43232743325947,43232743358715]},"available":true,"name":"Three-layer Leak-proof Panties for Women - red \/ M","public_title":"red \/ M","options":["red","M"],"price":1199,"weight":0,"compare_at_price":2499,"inventory_management":null,"barcode":null,"featured_media":{"alt":null,"id":30260306149627,"position":11,"preview_image":{"aspect_ratio":1.0,"height":800,"width":800,"src":"\/\/www.buttylife.com\/cdn\/shop\/products\/14_dc1b5aab-3d35-41f9-ad60-aa5acaa0fe02.jpg?v=1656481988"}},"requires_selling_plan":false,"selling_plan_allocations":[]},{"id":43232743096571,"title":"red \/ L","option1":"red","option2":"L","option3":null,"sku":"UN18494-C7821-S047","requires_shipping":true,"taxable":false,"featured_image":{"id":37691359330555,"product_id":7754518036731,"position":11,"created_at":"2022-06-28T19:53:08-10:00","updated_at":"2022-06-28T19:53:08-10:00","alt":null,"width":800,"height":800,"src":"\/\/www.buttylife.com\/cdn\/shop\/products\/14_dc1b5aab-3d35-41f9-ad60-aa5acaa0fe02.jpg?v=1656481988","variant_ids":[43232743063803,43232743096571,43232743129339,43232743162107,43232743194875,43232743227643,43232743260411,43232743293179,43232743325947,43232743358715]},"available":true,"name":"Three-layer Leak-proof Panties for Women - red \/ L","public_title":"red \/ L","options":["red","L"],"price":1199,"weight":0,"compare_at_price":2499,"inventory_management":null,"barcode":null,"featured_media":{"alt":null,"id":30260306149627,"position":11,"preview_image":{"aspect_ratio":1.0,"height":800,"width":800,"src":"\/\/www.buttylife.com\/cdn\/shop\/products\/14_dc1b5aab-3d35-41f9-ad60-aa5acaa0fe02.jpg?v=1656481988"}},"requires_selling_plan":false,"selling_plan_allocations":[]},{"id":43232743129339,"title":"red \/ XL","option1":"red","option2":"XL","option3":null,"sku":"UN18494-C7821-S048","requires_shipping":true,"taxable":false,"featured_image":{"id":37691359330555,"product_id":7754518036731,"position":11,"created_at":"2022-06-28T19:53:08-10:00","updated_at":"2022-06-28T19:53:08-10:00","alt":null,"width":800,"height":800,"src":"\/\/www.buttylife.com\/cdn\/shop\/products\/14_dc1b5aab-3d35-41f9-ad60-aa5acaa0fe02.jpg?v=1656481988","variant_ids":[43232743063803,43232743096571,43232743129339,43232743162107,43232743194875,43232743227643,43232743260411,43232743293179,43232743325947,43232743358715]},"available":true,"name":"Three-layer Leak-proof Panties for Women - red \/ XL","public_title":"red \/ XL","options":["red","XL"],"price":1199,"weight":0,"compare_at_price":2499,"inventory_management":null,"barcode":null,"featured_media":{"alt":null,"id":30260306149627,"position":11,"preview_image":{"aspect_ratio":1.0,"height":800,"width":800,"src":"\/\/www.buttylife.com\/cdn\/shop\/products\/14_dc1b5aab-3d35-41f9-ad60-aa5acaa0fe02.jpg?v=1656481988"}},"requires_selling_plan":false,"selling_plan_allocations":[]},{"id":43232743162107,"title":"red \/ 2XL","option1":"red","option2":"2XL","option3":null,"sku":"UN18494-C7821-S049","requires_shipping":true,"taxable":false,"featured_image":{"id":37691359330555,"product_id":7754518036731,"position":11,"created_at":"2022-06-28T19:53:08-10:00","updated_at":"2022-06-28T19:53:08-10:00","alt":null,"width":800,"height":800,"src":"\/\/www.buttylife.com\/cdn\/shop\/products\/14_dc1b5aab-3d35-41f9-ad60-aa5acaa0fe02.jpg?v=1656481988","variant_ids":[43232743063803,43232743096571,43232743129339,43232743162107,43232743194875,43232743227643,43232743260411,43232743293179,43232743325947,43232743358715]},"available":true,"name":"Three-layer Leak-proof Panties for Women - red \/ 2XL","public_title":"red \/ 2XL","options":["red","2XL"],"price":1199,"weight":0,"compare_at_price":2499,"inventory_management":null,"barcode":null,"featured_media":{"alt":null,"id":30260306149627,"position":11,"preview_image":{"aspect_ratio":1.0,"height":800,"width":800,"src":"\/\/www.buttylife.com\/cdn\/shop\/products\/14_dc1b5aab-3d35-41f9-ad60-aa5acaa0fe02.jpg?v=1656481988"}},"requires_selling_plan":false,"selling_plan_allocations":[]},{"id":43232743194875,"title":"red \/ 3XL","option1":"red","option2":"3XL","option3":null,"sku":"UN18494-C7821-S050","requires_shipping":true,"taxable":false,"featured_image":{"id":37691359330555,"product_id":7754518036731,"position":11,"created_at":"2022-06-28T19:53:08-10:00","updated_at":"2022-06-28T19:53:08-10:00","alt":null,"width":800,"height":800,"src":"\/\/www.buttylife.com\/cdn\/shop\/products\/14_dc1b5aab-3d35-41f9-ad60-aa5acaa0fe02.jpg?v=1656481988","variant_ids":[43232743063803,43232743096571,43232743129339,43232743162107,43232743194875,43232743227643,43232743260411,43232743293179,43232743325947,43232743358715]},"available":true,"name":"Three-layer Leak-proof Panties for Women - red \/ 3XL","public_title":"red \/ 3XL","options":["red","3XL"],"price":1199,"weight":0,"compare_at_price":2499,"inventory_management":null,"barcode":null,"featured_media":{"alt":null,"id":30260306149627,"position":11,"preview_image":{"aspect_ratio":1.0,"height":800,"width":800,"src":"\/\/www.buttylife.com\/cdn\/shop\/products\/14_dc1b5aab-3d35-41f9-ad60-aa5acaa0fe02.jpg?v=1656481988"}},"requires_selling_plan":false,"selling_plan_allocations":[]},{"id":43232743227643,"title":"red \/ 4XL","option1":"red","option2":"4XL","option3":null,"sku":"UN18494-C7821-S051","requires_shipping":true,"taxable":false,"featured_image":{"id":37691359330555,"product_id":7754518036731,"position":11,"created_at":"2022-06-28T19:53:08-10:00","updated_at":"2022-06-28T19:53:08-10:00","alt":null,"width":800,"height":800,"src":"\/\/www.buttylife.com\/cdn\/shop\/products\/14_dc1b5aab-3d35-41f9-ad60-aa5acaa0fe02.jpg?v=1656481988","variant_ids":[43232743063803,43232743096571,43232743129339,43232743162107,43232743194875,43232743227643,43232743260411,43232743293179,43232743325947,43232743358715]},"available":true,"name":"Three-layer Leak-proof Panties for Women - red \/ 4XL","public_title":"red \/ 4XL","options":["red","4XL"],"price":1199,"weight":0,"compare_at_price":2499,"inventory_management":null,"barcode":null,"featured_media":{"alt":null,"id":30260306149627,"position":11,"preview_image":{"aspect_ratio":1.0,"height":800,"width":800,"src":"\/\/www.buttylife.com\/cdn\/shop\/products\/14_dc1b5aab-3d35-41f9-ad60-aa5acaa0fe02.jpg?v=1656481988"}},"requires_selling_plan":false,"selling_plan_allocations":[]},{"id":43232743260411,"title":"red \/ 5XL","option1":"red","option2":"5XL","option3":null,"sku":"UN18494-C7821-S052","requires_shipping":true,"taxable":false,"featured_image":{"id":37691359330555,"product_id":7754518036731,"position":11,"created_at":"2022-06-28T19:53:08-10:00","updated_at":"2022-06-28T19:53:08-10:00","alt":null,"width":800,"height":800,"src":"\/\/www.buttylife.com\/cdn\/shop\/products\/14_dc1b5aab-3d35-41f9-ad60-aa5acaa0fe02.jpg?v=1656481988","variant_ids":[43232743063803,43232743096571,43232743129339,43232743162107,43232743194875,43232743227643,43232743260411,43232743293179,43232743325947,43232743358715]},"available":true,"name":"Three-layer Leak-proof Panties for Women - red \/ 5XL","public_title":"red \/ 5XL","options":["red","5XL"],"price":1199,"weight":0,"compare_at_price":2499,"inventory_management":null,"barcode":null,"featured_media":{"alt":null,"id":30260306149627,"position":11,"preview_image":{"aspect_ratio":1.0,"height":800,"width":800,"src":"\/\/www.buttylife.com\/cdn\/shop\/products\/14_dc1b5aab-3d35-41f9-ad60-aa5acaa0fe02.jpg?v=1656481988"}},"requires_selling_plan":false,"selling_plan_allocations":[]},{"id":43232743293179,"title":"red \/ 6XL","option1":"red","option2":"6XL","option3":null,"sku":"UN18494-C7821-S095","requires_shipping":true,"taxable":false,"featured_image":{"id":37691359330555,"product_id":7754518036731,"position":11,"created_at":"2022-06-28T19:53:08-10:00","updated_at":"2022-06-28T19:53:08-10:00","alt":null,"width":800,"height":800,"src":"\/\/www.buttylife.com\/cdn\/shop\/products\/14_dc1b5aab-3d35-41f9-ad60-aa5acaa0fe02.jpg?v=1656481988","variant_ids":[43232743063803,43232743096571,43232743129339,43232743162107,43232743194875,43232743227643,43232743260411,43232743293179,43232743325947,43232743358715]},"available":true,"name":"Three-layer Leak-proof Panties for Women - red \/ 6XL","public_title":"red \/ 6XL","options":["red","6XL"],"price":1199,"weight":0,"compare_at_price":2499,"inventory_management":null,"barcode":null,"featured_media":{"alt":null,"id":30260306149627,"position":11,"preview_image":{"aspect_ratio":1.0,"height":800,"width":800,"src":"\/\/www.buttylife.com\/cdn\/shop\/products\/14_dc1b5aab-3d35-41f9-ad60-aa5acaa0fe02.jpg?v=1656481988"}},"requires_selling_plan":false,"selling_plan_allocations":[]},{"id":43232743325947,"title":"red \/ 7XL","option1":"red","option2":"7XL","option3":null,"sku":"UN18494-C7821-S5074","requires_shipping":true,"taxable":false,"featured_image":{"id":37691359330555,"product_id":7754518036731,"position":11,"created_at":"2022-06-28T19:53:08-10:00","updated_at":"2022-06-28T19:53:08-10:00","alt":null,"width":800,"height":800,"src":"\/\/www.buttylife.com\/cdn\/shop\/products\/14_dc1b5aab-3d35-41f9-ad60-aa5acaa0fe02.jpg?v=1656481988","variant_ids":[43232743063803,43232743096571,43232743129339,43232743162107,43232743194875,43232743227643,43232743260411,43232743293179,43232743325947,43232743358715]},"available":true,"name":"Three-layer Leak-proof Panties for Women - red \/ 7XL","public_title":"red \/ 7XL","options":["red","7XL"],"price":1199,"weight":0,"compare_at_price":2499,"inventory_management":null,"barcode":null,"featured_media":{"alt":null,"id":30260306149627,"position":11,"preview_image":{"aspect_ratio":1.0,"height":800,"width":800,"src":"\/\/www.buttylife.com\/cdn\/shop\/products\/14_dc1b5aab-3d35-41f9-ad60-aa5acaa0fe02.jpg?v=1656481988"}},"requires_selling_plan":false,"selling_plan_allocations":[]},{"id":43232743358715,"title":"red \/ 8XL","option1":"red","option2":"8XL","option3":null,"sku":"UN18494-C7821-S7939","requires_shipping":true,"taxable":false,"featured_image":{"id":37691359330555,"product_id":7754518036731,"position":11,"created_at":"2022-06-28T19:53:08-10:00","updated_at":"2022-06-28T19:53:08-10:00","alt":null,"width":800,"height":800,"src":"\/\/www.buttylife.com\/cdn\/shop\/products\/14_dc1b5aab-3d35-41f9-ad60-aa5acaa0fe02.jpg?v=1656481988","variant_ids":[43232743063803,43232743096571,43232743129339,43232743162107,43232743194875,43232743227643,43232743260411,43232743293179,43232743325947,43232743358715]},"available":true,"name":"Three-layer Leak-proof Panties for Women - red \/ 8XL","public_title":"red \/ 8XL","options":["red","8XL"],"price":1199,"weight":0,"compare_at_price":2499,"inventory_management":null,"barcode":null,"featured_media":{"alt":null,"id":30260306149627,"position":11,"preview_image":{"aspect_ratio":1.0,"height":800,"width":800,"src":"\/\/www.buttylife.com\/cdn\/shop\/products\/14_dc1b5aab-3d35-41f9-ad60-aa5acaa0fe02.jpg?v=1656481988"}},"requires_selling_plan":false,"selling_plan_allocations":[]},{"id":43232743391483,"title":"blue-purple \/ M","option1":"blue-purple","option2":"M","option3":null,"sku":"UN18494-C10448-S046","requires_shipping":true,"taxable":false,"featured_image":{"id":37691358904571,"product_id":7754518036731,"position":10,"created_at":"2022-06-28T19:53:06-10:00","updated_at":"2022-06-28T19:53:06-10:00","alt":null,"width":800,"height":800,"src":"\/\/www.buttylife.com\/cdn\/shop\/products\/9_36b9d07d-1cef-48fb-a7e6-eacb3aa779b7.jpg?v=1656481986","variant_ids":[43232743391483,43232743424251,43232743457019,43232743489787,43232743522555,43232743555323,43232743588091,43232743620859,43232743653627,43232743686395]},"available":true,"name":"Three-layer Leak-proof Panties for Women - blue-purple \/ M","public_title":"blue-purple \/ M","options":["blue-purple","M"],"price":1199,"weight":0,"compare_at_price":2499,"inventory_management":null,"barcode":null,"featured_media":{"alt":null,"id":30260305756411,"position":10,"preview_image":{"aspect_ratio":1.0,"height":800,"width":800,"src":"\/\/www.buttylife.com\/cdn\/shop\/products\/9_36b9d07d-1cef-48fb-a7e6-eacb3aa779b7.jpg?v=1656481986"}},"requires_selling_plan":false,"selling_plan_allocations":[]},{"id":43232743424251,"title":"blue-purple \/ L","option1":"blue-purple","option2":"L","option3":null,"sku":"UN18494-C10448-S047","requires_shipping":true,"taxable":false,"featured_image":{"id":37691358904571,"product_id":7754518036731,"position":10,"created_at":"2022-06-28T19:53:06-10:00","updated_at":"2022-06-28T19:53:06-10:00","alt":null,"width":800,"height":800,"src":"\/\/www.buttylife.com\/cdn\/shop\/products\/9_36b9d07d-1cef-48fb-a7e6-eacb3aa779b7.jpg?v=1656481986","variant_ids":[43232743391483,43232743424251,43232743457019,43232743489787,43232743522555,43232743555323,43232743588091,43232743620859,43232743653627,43232743686395]},"available":true,"name":"Three-layer Leak-proof Panties for Women - blue-purple \/ L","public_title":"blue-purple \/ L","options":["blue-purple","L"],"price":1199,"weight":0,"compare_at_price":2499,"inventory_management":null,"barcode":null,"featured_media":{"alt":null,"id":30260305756411,"position":10,"preview_image":{"aspect_ratio":1.0,"height":800,"width":800,"src":"\/\/www.buttylife.com\/cdn\/shop\/products\/9_36b9d07d-1cef-48fb-a7e6-eacb3aa779b7.jpg?v=1656481986"}},"requires_selling_plan":false,"selling_plan_allocations":[]},{"id":43232743457019,"title":"blue-purple \/ XL","option1":"blue-purple","option2":"XL","option3":null,"sku":"UN18494-C10448-S048","requires_shipping":true,"taxable":false,"featured_image":{"id":37691358904571,"product_id":7754518036731,"position":10,"created_at":"2022-06-28T19:53:06-10:00","updated_at":"2022-06-28T19:53:06-10:00","alt":null,"width":800,"height":800,"src":"\/\/www.buttylife.com\/cdn\/shop\/products\/9_36b9d07d-1cef-48fb-a7e6-eacb3aa779b7.jpg?v=1656481986","variant_ids":[43232743391483,43232743424251,43232743457019,43232743489787,43232743522555,43232743555323,43232743588091,43232743620859,43232743653627,43232743686395]},"available":true,"name":"Three-layer Leak-proof Panties for Women - blue-purple \/ XL","public_title":"blue-purple \/ XL","options":["blue-purple","XL"],"price":1199,"weight":0,"compare_at_price":2499,"inventory_management":null,"barcode":null,"featured_media":{"alt":null,"id":30260305756411,"position":10,"preview_image":{"aspect_ratio":1.0,"height":800,"width":800,"src":"\/\/www.buttylife.com\/cdn\/shop\/products\/9_36b9d07d-1cef-48fb-a7e6-eacb3aa779b7.jpg?v=1656481986"}},"requires_selling_plan":false,"selling_plan_allocations":[]},{"id":43232743489787,"title":"blue-purple \/ 2XL","option1":"blue-purple","option2":"2XL","option3":null,"sku":"UN18494-C10448-S049","requires_shipping":true,"taxable":false,"featured_image":{"id":37691358904571,"product_id":7754518036731,"position":10,"created_at":"2022-06-28T19:53:06-10:00","updated_at":"2022-06-28T19:53:06-10:00","alt":null,"width":800,"height":800,"src":"\/\/www.buttylife.com\/cdn\/shop\/products\/9_36b9d07d-1cef-48fb-a7e6-eacb3aa779b7.jpg?v=1656481986","variant_ids":[43232743391483,43232743424251,43232743457019,43232743489787,43232743522555,43232743555323,43232743588091,43232743620859,43232743653627,43232743686395]},"available":true,"name":"Three-layer Leak-proof Panties for Women - blue-purple \/ 2XL","public_title":"blue-purple \/ 2XL","options":["blue-purple","2XL"],"price":1199,"weight":0,"compare_at_price":2499,"inventory_management":null,"barcode":null,"featured_media":{"alt":null,"id":30260305756411,"position":10,"preview_image":{"aspect_ratio":1.0,"height":800,"width":800,"src":"\/\/www.buttylife.com\/cdn\/shop\/products\/9_36b9d07d-1cef-48fb-a7e6-eacb3aa779b7.jpg?v=1656481986"}},"requires_selling_plan":false,"selling_plan_allocations":[]},{"id":43232743522555,"title":"blue-purple \/ 3XL","option1":"blue-purple","option2":"3XL","option3":null,"sku":"UN18494-C10448-S050","requires_shipping":true,"taxable":false,"featured_image":{"id":37691358904571,"product_id":7754518036731,"position":10,"created_at":"2022-06-28T19:53:06-10:00","updated_at":"2022-06-28T19:53:06-10:00","alt":null,"width":800,"height":800,"src":"\/\/www.buttylife.com\/cdn\/shop\/products\/9_36b9d07d-1cef-48fb-a7e6-eacb3aa779b7.jpg?v=1656481986","variant_ids":[43232743391483,43232743424251,43232743457019,43232743489787,43232743522555,43232743555323,43232743588091,43232743620859,43232743653627,43232743686395]},"available":true,"name":"Three-layer Leak-proof Panties for Women - blue-purple \/ 3XL","public_title":"blue-purple \/ 3XL","options":["blue-purple","3XL"],"price":1199,"weight":0,"compare_at_price":2499,"inventory_management":null,"barcode":null,"featured_media":{"alt":null,"id":30260305756411,"position":10,"preview_image":{"aspect_ratio":1.0,"height":800,"width":800,"src":"\/\/www.buttylife.com\/cdn\/shop\/products\/9_36b9d07d-1cef-48fb-a7e6-eacb3aa779b7.jpg?v=1656481986"}},"requires_selling_plan":false,"selling_plan_allocations":[]},{"id":43232743555323,"title":"blue-purple \/ 4XL","option1":"blue-purple","option2":"4XL","option3":null,"sku":"UN18494-C10448-S051","requires_shipping":true,"taxable":false,"featured_image":{"id":37691358904571,"product_id":7754518036731,"position":10,"created_at":"2022-06-28T19:53:06-10:00","updated_at":"2022-06-28T19:53:06-10:00","alt":null,"width":800,"height":800,"src":"\/\/www.buttylife.com\/cdn\/shop\/products\/9_36b9d07d-1cef-48fb-a7e6-eacb3aa779b7.jpg?v=1656481986","variant_ids":[43232743391483,43232743424251,43232743457019,43232743489787,43232743522555,43232743555323,43232743588091,43232743620859,43232743653627,43232743686395]},"available":true,"name":"Three-layer Leak-proof Panties for Women - blue-purple \/ 4XL","public_title":"blue-purple \/ 4XL","options":["blue-purple","4XL"],"price":1199,"weight":0,"compare_at_price":2499,"inventory_management":null,"barcode":null,"featured_media":{"alt":null,"id":30260305756411,"position":10,"preview_image":{"aspect_ratio":1.0,"height":800,"width":800,"src":"\/\/www.buttylife.com\/cdn\/shop\/products\/9_36b9d07d-1cef-48fb-a7e6-eacb3aa779b7.jpg?v=1656481986"}},"requires_selling_plan":false,"selling_plan_allocations":[]},{"id":43232743588091,"title":"blue-purple \/ 5XL","option1":"blue-purple","option2":"5XL","option3":null,"sku":"UN18494-C10448-S052","requires_shipping":true,"taxable":false,"featured_image":{"id":37691358904571,"product_id":7754518036731,"position":10,"created_at":"2022-06-28T19:53:06-10:00","updated_at":"2022-06-28T19:53:06-10:00","alt":null,"width":800,"height":800,"src":"\/\/www.buttylife.com\/cdn\/shop\/products\/9_36b9d07d-1cef-48fb-a7e6-eacb3aa779b7.jpg?v=1656481986","variant_ids":[43232743391483,43232743424251,43232743457019,43232743489787,43232743522555,43232743555323,43232743588091,43232743620859,43232743653627,43232743686395]},"available":true,"name":"Three-layer Leak-proof Panties for Women - blue-purple \/ 5XL","public_title":"blue-purple \/ 5XL","options":["blue-purple","5XL"],"price":1199,"weight":0,"compare_at_price":2499,"inventory_management":null,"barcode":null,"featured_media":{"alt":null,"id":30260305756411,"position":10,"preview_image":{"aspect_ratio":1.0,"height":800,"width":800,"src":"\/\/www.buttylife.com\/cdn\/shop\/products\/9_36b9d07d-1cef-48fb-a7e6-eacb3aa779b7.jpg?v=1656481986"}},"requires_selling_plan":false,"selling_plan_allocations":[]},{"id":43232743620859,"title":"blue-purple \/ 6XL","option1":"blue-purple","option2":"6XL","option3":null,"sku":"UN18494-C10448-S095","requires_shipping":true,"taxable":false,"featured_image":{"id":37691358904571,"product_id":7754518036731,"position":10,"created_at":"2022-06-28T19:53:06-10:00","updated_at":"2022-06-28T19:53:06-10:00","alt":null,"width":800,"height":800,"src":"\/\/www.buttylife.com\/cdn\/shop\/products\/9_36b9d07d-1cef-48fb-a7e6-eacb3aa779b7.jpg?v=1656481986","variant_ids":[43232743391483,43232743424251,43232743457019,43232743489787,43232743522555,43232743555323,43232743588091,43232743620859,43232743653627,43232743686395]},"available":true,"name":"Three-layer Leak-proof Panties for Women - blue-purple \/ 6XL","public_title":"blue-purple \/ 6XL","options":["blue-purple","6XL"],"price":1199,"weight":0,"compare_at_price":2499,"inventory_management":null,"barcode":null,"featured_media":{"alt":null,"id":30260305756411,"position":10,"preview_image":{"aspect_ratio":1.0,"height":800,"width":800,"src":"\/\/www.buttylife.com\/cdn\/shop\/products\/9_36b9d07d-1cef-48fb-a7e6-eacb3aa779b7.jpg?v=1656481986"}},"requires_selling_plan":false,"selling_plan_allocations":[]},{"id":43232743653627,"title":"blue-purple \/ 7XL","option1":"blue-purple","option2":"7XL","option3":null,"sku":"UN18494-C10448-S5074","requires_shipping":true,"taxable":false,"featured_image":{"id":37691358904571,"product_id":7754518036731,"position":10,"created_at":"2022-06-28T19:53:06-10:00","updated_at":"2022-06-28T19:53:06-10:00","alt":null,"width":800,"height":800,"src":"\/\/www.buttylife.com\/cdn\/shop\/products\/9_36b9d07d-1cef-48fb-a7e6-eacb3aa779b7.jpg?v=1656481986","variant_ids":[43232743391483,43232743424251,43232743457019,43232743489787,43232743522555,43232743555323,43232743588091,43232743620859,43232743653627,43232743686395]},"available":true,"name":"Three-layer Leak-proof Panties for Women - blue-purple \/ 7XL","public_title":"blue-purple \/ 7XL","options":["blue-purple","7XL"],"price":1199,"weight":0,"compare_at_price":2499,"inventory_management":null,"barcode":null,"featured_media":{"alt":null,"id":30260305756411,"position":10,"preview_image":{"aspect_ratio":1.0,"height":800,"width":800,"src":"\/\/www.buttylife.com\/cdn\/shop\/products\/9_36b9d07d-1cef-48fb-a7e6-eacb3aa779b7.jpg?v=1656481986"}},"requires_selling_plan":false,"selling_plan_allocations":[]},{"id":43232743686395,"title":"blue-purple \/ 8XL","option1":"blue-purple","option2":"8XL","option3":null,"sku":"UN18494-C10448-S7939","requires_shipping":true,"taxable":false,"featured_image":{"id":37691358904571,"product_id":7754518036731,"position":10,"created_at":"2022-06-28T19:53:06-10:00","updated_at":"2022-06-28T19:53:06-10:00","alt":null,"width":800,"height":800,"src":"\/\/www.buttylife.com\/cdn\/shop\/products\/9_36b9d07d-1cef-48fb-a7e6-eacb3aa779b7.jpg?v=1656481986","variant_ids":[43232743391483,43232743424251,43232743457019,43232743489787,43232743522555,43232743555323,43232743588091,43232743620859,43232743653627,43232743686395]},"available":true,"name":"Three-layer Leak-proof Panties for Women - blue-purple \/ 8XL","public_title":"blue-purple \/ 8XL","options":["blue-purple","8XL"],"price":1199,"weight":0,"compare_at_price":2499,"inventory_management":null,"barcode":null,"featured_media":{"alt":null,"id":30260305756411,"position":10,"preview_image":{"aspect_ratio":1.0,"height":800,"width":800,"src":"\/\/www.buttylife.com\/cdn\/shop\/products\/9_36b9d07d-1cef-48fb-a7e6-eacb3aa779b7.jpg?v=1656481986"}},"requires_selling_plan":false,"selling_plan_allocations":[]},{"id":43232743719163,"title":"pink \/ M","option1":"pink","option2":"M","option3":null,"sku":"UN18494-C3217-S046","requires_shipping":true,"taxable":false,"featured_image":{"id":37691359985915,"product_id":7754518036731,"position":14,"created_at":"2022-06-28T19:53:13-10:00","updated_at":"2022-06-28T19:53:13-10:00","alt":null,"width":800,"height":800,"src":"\/\/www.buttylife.com\/cdn\/shop\/products\/13_1910e9ff-b1c4-4e5f-bc98-ea00483d5e13.jpg?v=1656481993","variant_ids":[43232743719163,43232743751931,43232743784699,43232743817467,43232743850235,43232743883003,43232743915771,43232743948539,43232743981307,43232744014075]},"available":true,"name":"Three-layer Leak-proof Panties for Women - pink \/ M","public_title":"pink \/ M","options":["pink","M"],"price":1199,"weight":0,"compare_at_price":2499,"inventory_management":null,"barcode":null,"featured_media":{"alt":null,"id":30260306804987,"position":14,"preview_image":{"aspect_ratio":1.0,"height":800,"width":800,"src":"\/\/www.buttylife.com\/cdn\/shop\/products\/13_1910e9ff-b1c4-4e5f-bc98-ea00483d5e13.jpg?v=1656481993"}},"requires_selling_plan":false,"selling_plan_allocations":[]},{"id":43232743751931,"title":"pink \/ L","option1":"pink","option2":"L","option3":null,"sku":"UN18494-C3217-S047","requires_shipping":true,"taxable":false,"featured_image":{"id":37691359985915,"product_id":7754518036731,"position":14,"created_at":"2022-06-28T19:53:13-10:00","updated_at":"2022-06-28T19:53:13-10:00","alt":null,"width":800,"height":800,"src":"\/\/www.buttylife.com\/cdn\/shop\/products\/13_1910e9ff-b1c4-4e5f-bc98-ea00483d5e13.jpg?v=1656481993","variant_ids":[43232743719163,43232743751931,43232743784699,43232743817467,43232743850235,43232743883003,43232743915771,43232743948539,43232743981307,43232744014075]},"available":true,"name":"Three-layer Leak-proof Panties for Women - pink \/ L","public_title":"pink \/ L","options":["pink","L"],"price":1199,"weight":0,"compare_at_price":2499,"inventory_management":null,"barcode":null,"featured_media":{"alt":null,"id":30260306804987,"position":14,"preview_image":{"aspect_ratio":1.0,"height":800,"width":800,"src":"\/\/www.buttylife.com\/cdn\/shop\/products\/13_1910e9ff-b1c4-4e5f-bc98-ea00483d5e13.jpg?v=1656481993"}},"requires_selling_plan":false,"selling_plan_allocations":[]},{"id":43232743784699,"title":"pink \/ XL","option1":"pink","option2":"XL","option3":null,"sku":"UN18494-C3217-S048","requires_shipping":true,"taxable":false,"featured_image":{"id":37691359985915,"product_id":7754518036731,"position":14,"created_at":"2022-06-28T19:53:13-10:00","updated_at":"2022-06-28T19:53:13-10:00","alt":null,"width":800,"height":800,"src":"\/\/www.buttylife.com\/cdn\/shop\/products\/13_1910e9ff-b1c4-4e5f-bc98-ea00483d5e13.jpg?v=1656481993","variant_ids":[43232743719163,43232743751931,43232743784699,43232743817467,43232743850235,43232743883003,43232743915771,43232743948539,43232743981307,43232744014075]},"available":true,"name":"Three-layer Leak-proof Panties for Women - pink \/ XL","public_title":"pink \/ XL","options":["pink","XL"],"price":1199,"weight":0,"compare_at_price":2499,"inventory_management":null,"barcode":null,"featured_media":{"alt":null,"id":30260306804987,"position":14,"preview_image":{"aspect_ratio":1.0,"height":800,"width":800,"src":"\/\/www.buttylife.com\/cdn\/shop\/products\/13_1910e9ff-b1c4-4e5f-bc98-ea00483d5e13.jpg?v=1656481993"}},"requires_selling_plan":false,"selling_plan_allocations":[]},{"id":43232743817467,"title":"pink \/ 2XL","option1":"pink","option2":"2XL","option3":null,"sku":"UN18494-C3217-S049","requires_shipping":true,"taxable":false,"featured_image":{"id":37691359985915,"product_id":7754518036731,"position":14,"created_at":"2022-06-28T19:53:13-10:00","updated_at":"2022-06-28T19:53:13-10:00","alt":null,"width":800,"height":800,"src":"\/\/www.buttylife.com\/cdn\/shop\/products\/13_1910e9ff-b1c4-4e5f-bc98-ea00483d5e13.jpg?v=1656481993","variant_ids":[43232743719163,43232743751931,43232743784699,43232743817467,43232743850235,43232743883003,43232743915771,43232743948539,43232743981307,43232744014075]},"available":true,"name":"Three-layer Leak-proof Panties for Women - pink \/ 2XL","public_title":"pink \/ 2XL","options":["pink","2XL"],"price":1199,"weight":0,"compare_at_price":2499,"inventory_management":null,"barcode":null,"featured_media":{"alt":null,"id":30260306804987,"position":14,"preview_image":{"aspect_ratio":1.0,"height":800,"width":800,"src":"\/\/www.buttylife.com\/cdn\/shop\/products\/13_1910e9ff-b1c4-4e5f-bc98-ea00483d5e13.jpg?v=1656481993"}},"requires_selling_plan":false,"selling_plan_allocations":[]},{"id":43232743850235,"title":"pink \/ 3XL","option1":"pink","option2":"3XL","option3":null,"sku":"UN18494-C3217-S050","requires_shipping":true,"taxable":false,"featured_image":{"id":37691359985915,"product_id":7754518036731,"position":14,"created_at":"2022-06-28T19:53:13-10:00","updated_at":"2022-06-28T19:53:13-10:00","alt":null,"width":800,"height":800,"src":"\/\/www.buttylife.com\/cdn\/shop\/products\/13_1910e9ff-b1c4-4e5f-bc98-ea00483d5e13.jpg?v=1656481993","variant_ids":[43232743719163,43232743751931,43232743784699,43232743817467,43232743850235,43232743883003,43232743915771,43232743948539,43232743981307,43232744014075]},"available":true,"name":"Three-layer Leak-proof Panties for Women - pink \/ 3XL","public_title":"pink \/ 3XL","options":["pink","3XL"],"price":1199,"weight":0,"compare_at_price":2499,"inventory_management":null,"barcode":null,"featured_media":{"alt":null,"id":30260306804987,"position":14,"preview_image":{"aspect_ratio":1.0,"height":800,"width":800,"src":"\/\/www.buttylife.com\/cdn\/shop\/products\/13_1910e9ff-b1c4-4e5f-bc98-ea00483d5e13.jpg?v=1656481993"}},"requires_selling_plan":false,"selling_plan_allocations":[]},{"id":43232743883003,"title":"pink \/ 4XL","option1":"pink","option2":"4XL","option3":null,"sku":"UN18494-C3217-S051","requires_shipping":true,"taxable":false,"featured_image":{"id":37691359985915,"product_id":7754518036731,"position":14,"created_at":"2022-06-28T19:53:13-10:00","updated_at":"2022-06-28T19:53:13-10:00","alt":null,"width":800,"height":800,"src":"\/\/www.buttylife.com\/cdn\/shop\/products\/13_1910e9ff-b1c4-4e5f-bc98-ea00483d5e13.jpg?v=1656481993","variant_ids":[43232743719163,43232743751931,43232743784699,43232743817467,43232743850235,43232743883003,43232743915771,43232743948539,43232743981307,43232744014075]},"available":true,"name":"Three-layer Leak-proof Panties for Women - pink \/ 4XL","public_title":"pink \/ 4XL","options":["pink","4XL"],"price":1199,"weight":0,"compare_at_price":2499,"inventory_management":null,"barcode":null,"featured_media":{"alt":null,"id":30260306804987,"position":14,"preview_image":{"aspect_ratio":1.0,"height":800,"width":800,"src":"\/\/www.buttylife.com\/cdn\/shop\/products\/13_1910e9ff-b1c4-4e5f-bc98-ea00483d5e13.jpg?v=1656481993"}},"requires_selling_plan":false,"selling_plan_allocations":[]},{"id":43232743915771,"title":"pink \/ 5XL","option1":"pink","option2":"5XL","option3":null,"sku":"UN18494-C3217-S052","requires_shipping":true,"taxable":false,"featured_image":{"id":37691359985915,"product_id":7754518036731,"position":14,"created_at":"2022-06-28T19:53:13-10:00","updated_at":"2022-06-28T19:53:13-10:00","alt":null,"width":800,"height":800,"src":"\/\/www.buttylife.com\/cdn\/shop\/products\/13_1910e9ff-b1c4-4e5f-bc98-ea00483d5e13.jpg?v=1656481993","variant_ids":[43232743719163,43232743751931,43232743784699,43232743817467,43232743850235,43232743883003,43232743915771,43232743948539,43232743981307,43232744014075]},"available":true,"name":"Three-layer Leak-proof Panties for Women - pink \/ 5XL","public_title":"pink \/ 5XL","options":["pink","5XL"],"price":1199,"weight":0,"compare_at_price":2499,"inventory_management":null,"barcode":null,"featured_media":{"alt":null,"id":30260306804987,"position":14,"preview_image":{"aspect_ratio":1.0,"height":800,"width":800,"src":"\/\/www.buttylife.com\/cdn\/shop\/products\/13_1910e9ff-b1c4-4e5f-bc98-ea00483d5e13.jpg?v=1656481993"}},"requires_selling_plan":false,"selling_plan_allocations":[]},{"id":43232743948539,"title":"pink \/ 6XL","option1":"pink","option2":"6XL","option3":null,"sku":"UN18494-C3217-S095","requires_shipping":true,"taxable":false,"featured_image":{"id":37691359985915,"product_id":7754518036731,"position":14,"created_at":"2022-06-28T19:53:13-10:00","updated_at":"2022-06-28T19:53:13-10:00","alt":null,"width":800,"height":800,"src":"\/\/www.buttylife.com\/cdn\/shop\/products\/13_1910e9ff-b1c4-4e5f-bc98-ea00483d5e13.jpg?v=1656481993","variant_ids":[43232743719163,43232743751931,43232743784699,43232743817467,43232743850235,43232743883003,43232743915771,43232743948539,43232743981307,43232744014075]},"available":true,"name":"Three-layer Leak-proof Panties for Women - pink \/ 6XL","public_title":"pink \/ 6XL","options":["pink","6XL"],"price":1199,"weight":0,"compare_at_price":2499,"inventory_management":null,"barcode":null,"featured_media":{"alt":null,"id":30260306804987,"position":14,"preview_image":{"aspect_ratio":1.0,"height":800,"width":800,"src":"\/\/www.buttylife.com\/cdn\/shop\/products\/13_1910e9ff-b1c4-4e5f-bc98-ea00483d5e13.jpg?v=1656481993"}},"requires_selling_plan":false,"selling_plan_allocations":[]},{"id":43232743981307,"title":"pink \/ 7XL","option1":"pink","option2":"7XL","option3":null,"sku":"UN18494-C3217-S5074","requires_shipping":true,"taxable":false,"featured_image":{"id":37691359985915,"product_id":7754518036731,"position":14,"created_at":"2022-06-28T19:53:13-10:00","updated_at":"2022-06-28T19:53:13-10:00","alt":null,"width":800,"height":800,"src":"\/\/www.buttylife.com\/cdn\/shop\/products\/13_1910e9ff-b1c4-4e5f-bc98-ea00483d5e13.jpg?v=1656481993","variant_ids":[43232743719163,43232743751931,43232743784699,43232743817467,43232743850235,43232743883003,43232743915771,43232743948539,43232743981307,43232744014075]},"available":true,"name":"Three-layer Leak-proof Panties for Women - pink \/ 7XL","public_title":"pink \/ 7XL","options":["pink","7XL"],"price":1199,"weight":0,"compare_at_price":2499,"inventory_management":null,"barcode":null,"featured_media":{"alt":null,"id":30260306804987,"position":14,"preview_image":{"aspect_ratio":1.0,"height":800,"width":800,"src":"\/\/www.buttylife.com\/cdn\/shop\/products\/13_1910e9ff-b1c4-4e5f-bc98-ea00483d5e13.jpg?v=1656481993"}},"requires_selling_plan":false,"selling_plan_allocations":[]},{"id":43232744014075,"title":"pink \/ 8XL","option1":"pink","option2":"8XL","option3":null,"sku":"UN18494-C3217-S7939","requires_shipping":true,"taxable":false,"featured_image":{"id":37691359985915,"product_id":7754518036731,"position":14,"created_at":"2022-06-28T19:53:13-10:00","updated_at":"2022-06-28T19:53:13-10:00","alt":null,"width":800,"height":800,"src":"\/\/www.buttylife.com\/cdn\/shop\/products\/13_1910e9ff-b1c4-4e5f-bc98-ea00483d5e13.jpg?v=1656481993","variant_ids":[43232743719163,43232743751931,43232743784699,43232743817467,43232743850235,43232743883003,43232743915771,43232743948539,43232743981307,43232744014075]},"available":true,"name":"Three-layer Leak-proof Panties for Women - pink \/ 8XL","public_title":"pink \/ 8XL","options":["pink","8XL"],"price":1199,"weight":0,"compare_at_price":2499,"inventory_management":null,"barcode":null,"featured_media":{"alt":null,"id":30260306804987,"position":14,"preview_image":{"aspect_ratio":1.0,"height":800,"width":800,"src":"\/\/www.buttylife.com\/cdn\/shop\/products\/13_1910e9ff-b1c4-4e5f-bc98-ea00483d5e13.jpg?v=1656481993"}},"requires_selling_plan":false,"selling_plan_allocations":[]},{"id":43232744046843,"title":"purple \/ M","option1":"purple","option2":"M","option3":null,"sku":"UN18494-C032-S046","requires_shipping":true,"taxable":false,"featured_image":{"id":37691360182523,"product_id":7754518036731,"position":15,"created_at":"2022-06-28T19:53:15-10:00","updated_at":"2022-06-28T19:53:15-10:00","alt":null,"width":800,"height":800,"src":"\/\/www.buttylife.com\/cdn\/shop\/products\/15_3acf8fae-db0a-4be1-bcf3-35c83e167487.jpg?v=1656481995","variant_ids":[43232744046843,43232744079611,43232744112379,43232744177915,43232744210683,43232744243451,43232744276219,43232744308987,43232744341755,43232744374523]},"available":true,"name":"Three-layer Leak-proof Panties for Women - purple \/ M","public_title":"purple \/ M","options":["purple","M"],"price":1199,"weight":0,"compare_at_price":2499,"inventory_management":null,"barcode":null,"featured_media":{"alt":null,"id":30260307001595,"position":15,"preview_image":{"aspect_ratio":1.0,"height":800,"width":800,"src":"\/\/www.buttylife.com\/cdn\/shop\/products\/15_3acf8fae-db0a-4be1-bcf3-35c83e167487.jpg?v=1656481995"}},"requires_selling_plan":false,"selling_plan_allocations":[]},{"id":43232744079611,"title":"purple \/ L","option1":"purple","option2":"L","option3":null,"sku":"UN18494-C032-S047","requires_shipping":true,"taxable":false,"featured_image":{"id":37691360182523,"product_id":7754518036731,"position":15,"created_at":"2022-06-28T19:53:15-10:00","updated_at":"2022-06-28T19:53:15-10:00","alt":null,"width":800,"height":800,"src":"\/\/www.buttylife.com\/cdn\/shop\/products\/15_3acf8fae-db0a-4be1-bcf3-35c83e167487.jpg?v=1656481995","variant_ids":[43232744046843,43232744079611,43232744112379,43232744177915,43232744210683,43232744243451,43232744276219,43232744308987,43232744341755,43232744374523]},"available":true,"name":"Three-layer Leak-proof Panties for Women - purple \/ L","public_title":"purple \/ L","options":["purple","L"],"price":1199,"weight":0,"compare_at_price":2499,"inventory_management":null,"barcode":null,"featured_media":{"alt":null,"id":30260307001595,"position":15,"preview_image":{"aspect_ratio":1.0,"height":800,"width":800,"src":"\/\/www.buttylife.com\/cdn\/shop\/products\/15_3acf8fae-db0a-4be1-bcf3-35c83e167487.jpg?v=1656481995"}},"requires_selling_plan":false,"selling_plan_allocations":[]},{"id":43232744112379,"title":"purple \/ XL","option1":"purple","option2":"XL","option3":null,"sku":"UN18494-C032-S048","requires_shipping":true,"taxable":false,"featured_image":{"id":37691360182523,"product_id":7754518036731,"position":15,"created_at":"2022-06-28T19:53:15-10:00","updated_at":"2022-06-28T19:53:15-10:00","alt":null,"width":800,"height":800,"src":"\/\/www.buttylife.com\/cdn\/shop\/products\/15_3acf8fae-db0a-4be1-bcf3-35c83e167487.jpg?v=1656481995","variant_ids":[43232744046843,43232744079611,43232744112379,43232744177915,43232744210683,43232744243451,43232744276219,43232744308987,43232744341755,43232744374523]},"available":true,"name":"Three-layer Leak-proof Panties for Women - purple \/ XL","public_title":"purple \/ XL","options":["purple","XL"],"price":1199,"weight":0,"compare_at_price":2499,"inventory_management":null,"barcode":null,"featured_media":{"alt":null,"id":30260307001595,"position":15,"preview_image":{"aspect_ratio":1.0,"height":800,"width":800,"src":"\/\/www.buttylife.com\/cdn\/shop\/products\/15_3acf8fae-db0a-4be1-bcf3-35c83e167487.jpg?v=1656481995"}},"requires_selling_plan":false,"selling_plan_allocations":[]},{"id":43232744177915,"title":"purple \/ 2XL","option1":"purple","option2":"2XL","option3":null,"sku":"UN18494-C032-S049","requires_shipping":true,"taxable":false,"featured_image":{"id":37691360182523,"product_id":7754518036731,"position":15,"created_at":"2022-06-28T19:53:15-10:00","updated_at":"2022-06-28T19:53:15-10:00","alt":null,"width":800,"height":800,"src":"\/\/www.buttylife.com\/cdn\/shop\/products\/15_3acf8fae-db0a-4be1-bcf3-35c83e167487.jpg?v=1656481995","variant_ids":[43232744046843,43232744079611,43232744112379,43232744177915,43232744210683,43232744243451,43232744276219,43232744308987,43232744341755,43232744374523]},"available":true,"name":"Three-layer Leak-proof Panties for Women - purple \/ 2XL","public_title":"purple \/ 2XL","options":["purple","2XL"],"price":1199,"weight":0,"compare_at_price":2499,"inventory_management":null,"barcode":null,"featured_media":{"alt":null,"id":30260307001595,"position":15,"preview_image":{"aspect_ratio":1.0,"height":800,"width":800,"src":"\/\/www.buttylife.com\/cdn\/shop\/products\/15_3acf8fae-db0a-4be1-bcf3-35c83e167487.jpg?v=1656481995"}},"requires_selling_plan":false,"selling_plan_allocations":[]},{"id":43232744210683,"title":"purple \/ 3XL","option1":"purple","option2":"3XL","option3":null,"sku":"UN18494-C032-S050","requires_shipping":true,"taxable":false,"featured_image":{"id":37691360182523,"product_id":7754518036731,"position":15,"created_at":"2022-06-28T19:53:15-10:00","updated_at":"2022-06-28T19:53:15-10:00","alt":null,"width":800,"height":800,"src":"\/\/www.buttylife.com\/cdn\/shop\/products\/15_3acf8fae-db0a-4be1-bcf3-35c83e167487.jpg?v=1656481995","variant_ids":[43232744046843,43232744079611,43232744112379,43232744177915,43232744210683,43232744243451,43232744276219,43232744308987,43232744341755,43232744374523]},"available":true,"name":"Three-layer Leak-proof Panties for Women - purple \/ 3XL","public_title":"purple \/ 3XL","options":["purple","3XL"],"price":1199,"weight":0,"compare_at_price":2499,"inventory_management":null,"barcode":null,"featured_media":{"alt":null,"id":30260307001595,"position":15,"preview_image":{"aspect_ratio":1.0,"height":800,"width":800,"src":"\/\/www.buttylife.com\/cdn\/shop\/products\/15_3acf8fae-db0a-4be1-bcf3-35c83e167487.jpg?v=1656481995"}},"requires_selling_plan":false,"selling_plan_allocations":[]},{"id":43232744243451,"title":"purple \/ 4XL","option1":"purple","option2":"4XL","option3":null,"sku":"UN18494-C032-S051","requires_shipping":true,"taxable":false,"featured_image":{"id":37691360182523,"product_id":7754518036731,"position":15,"created_at":"2022-06-28T19:53:15-10:00","updated_at":"2022-06-28T19:53:15-10:00","alt":null,"width":800,"height":800,"src":"\/\/www.buttylife.com\/cdn\/shop\/products\/15_3acf8fae-db0a-4be1-bcf3-35c83e167487.jpg?v=1656481995","variant_ids":[43232744046843,43232744079611,43232744112379,43232744177915,43232744210683,43232744243451,43232744276219,43232744308987,43232744341755,43232744374523]},"available":true,"name":"Three-layer Leak-proof Panties for Women - purple \/ 4XL","public_title":"purple \/ 4XL","options":["purple","4XL"],"price":1199,"weight":0,"compare_at_price":2499,"inventory_management":null,"barcode":null,"featured_media":{"alt":null,"id":30260307001595,"position":15,"preview_image":{"aspect_ratio":1.0,"height":800,"width":800,"src":"\/\/www.buttylife.com\/cdn\/shop\/products\/15_3acf8fae-db0a-4be1-bcf3-35c83e167487.jpg?v=1656481995"}},"requires_selling_plan":false,"selling_plan_allocations":[]},{"id":43232744276219,"title":"purple \/ 5XL","option1":"purple","option2":"5XL","option3":null,"sku":"UN18494-C032-S052","requires_shipping":true,"taxable":false,"featured_image":{"id":37691360182523,"product_id":7754518036731,"position":15,"created_at":"2022-06-28T19:53:15-10:00","updated_at":"2022-06-28T19:53:15-10:00","alt":null,"width":800,"height":800,"src":"\/\/www.buttylife.com\/cdn\/shop\/products\/15_3acf8fae-db0a-4be1-bcf3-35c83e167487.jpg?v=1656481995","variant_ids":[43232744046843,43232744079611,43232744112379,43232744177915,43232744210683,43232744243451,43232744276219,43232744308987,43232744341755,43232744374523]},"available":true,"name":"Three-layer Leak-proof Panties for Women - purple \/ 5XL","public_title":"purple \/ 5XL","options":["purple","5XL"],"price":1199,"weight":0,"compare_at_price":2499,"inventory_management":null,"barcode":null,"featured_media":{"alt":null,"id":30260307001595,"position":15,"preview_image":{"aspect_ratio":1.0,"height":800,"width":800,"src":"\/\/www.buttylife.com\/cdn\/shop\/products\/15_3acf8fae-db0a-4be1-bcf3-35c83e167487.jpg?v=1656481995"}},"requires_selling_plan":false,"selling_plan_allocations":[]},{"id":43232744308987,"title":"purple \/ 6XL","option1":"purple","option2":"6XL","option3":null,"sku":"UN18494-C032-S095","requires_shipping":true,"taxable":false,"featured_image":{"id":37691360182523,"product_id":7754518036731,"position":15,"created_at":"2022-06-28T19:53:15-10:00","updated_at":"2022-06-28T19:53:15-10:00","alt":null,"width":800,"height":800,"src":"\/\/www.buttylife.com\/cdn\/shop\/products\/15_3acf8fae-db0a-4be1-bcf3-35c83e167487.jpg?v=1656481995","variant_ids":[43232744046843,43232744079611,43232744112379,43232744177915,43232744210683,43232744243451,43232744276219,43232744308987,43232744341755,43232744374523]},"available":true,"name":"Three-layer Leak-proof Panties for Women - purple \/ 6XL","public_title":"purple \/ 6XL","options":["purple","6XL"],"price":1199,"weight":0,"compare_at_price":2499,"inventory_management":null,"barcode":null,"featured_media":{"alt":null,"id":30260307001595,"position":15,"preview_image":{"aspect_ratio":1.0,"height":800,"width":800,"src":"\/\/www.buttylife.com\/cdn\/shop\/products\/15_3acf8fae-db0a-4be1-bcf3-35c83e167487.jpg?v=1656481995"}},"requires_selling_plan":false,"selling_plan_allocations":[]},{"id":43232744341755,"title":"purple \/ 7XL","option1":"purple","option2":"7XL","option3":null,"sku":"UN18494-C032-S5074","requires_shipping":true,"taxable":false,"featured_image":{"id":37691360182523,"product_id":7754518036731,"position":15,"created_at":"2022-06-28T19:53:15-10:00","updated_at":"2022-06-28T19:53:15-10:00","alt":null,"width":800,"height":800,"src":"\/\/www.buttylife.com\/cdn\/shop\/products\/15_3acf8fae-db0a-4be1-bcf3-35c83e167487.jpg?v=1656481995","variant_ids":[43232744046843,43232744079611,43232744112379,43232744177915,43232744210683,43232744243451,43232744276219,43232744308987,43232744341755,43232744374523]},"available":true,"name":"Three-layer Leak-proof Panties for Women - purple \/ 7XL","public_title":"purple \/ 7XL","options":["purple","7XL"],"price":1199,"weight":0,"compare_at_price":2499,"inventory_management":null,"barcode":null,"featured_media":{"alt":null,"id":30260307001595,"position":15,"preview_image":{"aspect_ratio":1.0,"height":800,"width":800,"src":"\/\/www.buttylife.com\/cdn\/shop\/products\/15_3acf8fae-db0a-4be1-bcf3-35c83e167487.jpg?v=1656481995"}},"requires_selling_plan":false,"selling_plan_allocations":[]},{"id":43232744374523,"title":"purple \/ 8XL","option1":"purple","option2":"8XL","option3":null,"sku":"UN18494-C032-S7939","requires_shipping":true,"taxable":false,"featured_image":{"id":37691360182523,"product_id":7754518036731,"position":15,"created_at":"2022-06-28T19:53:15-10:00","updated_at":"2022-06-28T19:53:15-10:00","alt":null,"width":800,"height":800,"src":"\/\/www.buttylife.com\/cdn\/shop\/products\/15_3acf8fae-db0a-4be1-bcf3-35c83e167487.jpg?v=1656481995","variant_ids":[43232744046843,43232744079611,43232744112379,43232744177915,43232744210683,43232744243451,43232744276219,43232744308987,43232744341755,43232744374523]},"available":true,"name":"Three-layer Leak-proof Panties for Women - purple \/ 8XL","public_title":"purple \/ 8XL","options":["purple","8XL"],"price":1199,"weight":0,"compare_at_price":2499,"inventory_management":null,"barcode":null,"featured_media":{"alt":null,"id":30260307001595,"position":15,"preview_image":{"aspect_ratio":1.0,"height":800,"width":800,"src":"\/\/www.buttylife.com\/cdn\/shop\/products\/15_3acf8fae-db0a-4be1-bcf3-35c83e167487.jpg?v=1656481995"}},"requires_selling_plan":false,"selling_plan_allocations":[]},{"id":43232744407291,"title":"black \/ M","option1":"black","option2":"M","option3":null,"sku":"UN18494-C020-S046","requires_shipping":true,"taxable":false,"featured_image":{"id":37691359691003,"product_id":7754518036731,"position":13,"created_at":"2022-06-28T19:53:11-10:00","updated_at":"2022-06-28T19:53:11-10:00","alt":null,"width":800,"height":800,"src":"\/\/www.buttylife.com\/cdn\/shop\/products\/11_77f2bf73-4e82-4d0d-81f9-ddcd8107e7ae.jpg?v=1656481991","variant_ids":[43232744407291,43232744440059,43232744472827,43232744505595,43232744538363,43232744571131,43232744603899,43232744636667,43232744669435,43232744702203]},"available":true,"name":"Three-layer Leak-proof Panties for Women - black \/ M","public_title":"black \/ M","options":["black","M"],"price":1199,"weight":0,"compare_at_price":2499,"inventory_management":null,"barcode":null,"featured_media":{"alt":null,"id":30260306510075,"position":13,"preview_image":{"aspect_ratio":1.0,"height":800,"width":800,"src":"\/\/www.buttylife.com\/cdn\/shop\/products\/11_77f2bf73-4e82-4d0d-81f9-ddcd8107e7ae.jpg?v=1656481991"}},"requires_selling_plan":false,"selling_plan_allocations":[]},{"id":43232744440059,"title":"black \/ L","option1":"black","option2":"L","option3":null,"sku":"UN18494-C020-S047","requires_shipping":true,"taxable":false,"featured_image":{"id":37691359691003,"product_id":7754518036731,"position":13,"created_at":"2022-06-28T19:53:11-10:00","updated_at":"2022-06-28T19:53:11-10:00","alt":null,"width":800,"height":800,"src":"\/\/www.buttylife.com\/cdn\/shop\/products\/11_77f2bf73-4e82-4d0d-81f9-ddcd8107e7ae.jpg?v=1656481991","variant_ids":[43232744407291,43232744440059,43232744472827,43232744505595,43232744538363,43232744571131,43232744603899,43232744636667,43232744669435,43232744702203]},"available":true,"name":"Three-layer Leak-proof Panties for Women - black \/ L","public_title":"black \/ L","options":["black","L"],"price":1199,"weight":0,"compare_at_price":2499,"inventory_management":null,"barcode":null,"featured_media":{"alt":null,"id":30260306510075,"position":13,"preview_image":{"aspect_ratio":1.0,"height":800,"width":800,"src":"\/\/www.buttylife.com\/cdn\/shop\/products\/11_77f2bf73-4e82-4d0d-81f9-ddcd8107e7ae.jpg?v=1656481991"}},"requires_selling_plan":false,"selling_plan_allocations":[]},{"id":43232744472827,"title":"black \/ XL","option1":"black","option2":"XL","option3":null,"sku":"UN18494-C020-S048","requires_shipping":true,"taxable":false,"featured_image":{"id":37691359691003,"product_id":7754518036731,"position":13,"created_at":"2022-06-28T19:53:11-10:00","updated_at":"2022-06-28T19:53:11-10:00","alt":null,"width":800,"height":800,"src":"\/\/www.buttylife.com\/cdn\/shop\/products\/11_77f2bf73-4e82-4d0d-81f9-ddcd8107e7ae.jpg?v=1656481991","variant_ids":[43232744407291,43232744440059,43232744472827,43232744505595,43232744538363,43232744571131,43232744603899,43232744636667,43232744669435,43232744702203]},"available":true,"name":"Three-layer Leak-proof Panties for Women - black \/ XL","public_title":"black \/ XL","options":["black","XL"],"price":1199,"weight":0,"compare_at_price":2499,"inventory_management":null,"barcode":null,"featured_media":{"alt":null,"id":30260306510075,"position":13,"preview_image":{"aspect_ratio":1.0,"height":800,"width":800,"src":"\/\/www.buttylife.com\/cdn\/shop\/products\/11_77f2bf73-4e82-4d0d-81f9-ddcd8107e7ae.jpg?v=1656481991"}},"requires_selling_plan":false,"selling_plan_allocations":[]},{"id":43232744505595,"title":"black \/ 2XL","option1":"black","option2":"2XL","option3":null,"sku":"UN18494-C020-S049","requires_shipping":true,"taxable":false,"featured_image":{"id":37691359691003,"product_id":7754518036731,"position":13,"created_at":"2022-06-28T19:53:11-10:00","updated_at":"2022-06-28T19:53:11-10:00","alt":null,"width":800,"height":800,"src":"\/\/www.buttylife.com\/cdn\/shop\/products\/11_77f2bf73-4e82-4d0d-81f9-ddcd8107e7ae.jpg?v=1656481991","variant_ids":[43232744407291,43232744440059,43232744472827,43232744505595,43232744538363,43232744571131,43232744603899,43232744636667,43232744669435,43232744702203]},"available":true,"name":"Three-layer Leak-proof Panties for Women - black \/ 2XL","public_title":"black \/ 2XL","options":["black","2XL"],"price":1199,"weight":0,"compare_at_price":2499,"inventory_management":null,"barcode":null,"featured_media":{"alt":null,"id":30260306510075,"position":13,"preview_image":{"aspect_ratio":1.0,"height":800,"width":800,"src":"\/\/www.buttylife.com\/cdn\/shop\/products\/11_77f2bf73-4e82-4d0d-81f9-ddcd8107e7ae.jpg?v=1656481991"}},"requires_selling_plan":false,"selling_plan_allocations":[]},{"id":43232744538363,"title":"black \/ 3XL","option1":"black","option2":"3XL","option3":null,"sku":"UN18494-C020-S050","requires_shipping":true,"taxable":false,"featured_image":{"id":37691359691003,"product_id":7754518036731,"position":13,"created_at":"2022-06-28T19:53:11-10:00","updated_at":"2022-06-28T19:53:11-10:00","alt":null,"width":800,"height":800,"src":"\/\/www.buttylife.com\/cdn\/shop\/products\/11_77f2bf73-4e82-4d0d-81f9-ddcd8107e7ae.jpg?v=1656481991","variant_ids":[43232744407291,43232744440059,43232744472827,43232744505595,43232744538363,43232744571131,43232744603899,43232744636667,43232744669435,43232744702203]},"available":true,"name":"Three-layer Leak-proof Panties for Women - black \/ 3XL","public_title":"black \/ 3XL","options":["black","3XL"],"price":1199,"weight":0,"compare_at_price":2499,"inventory_management":null,"barcode":null,"featured_media":{"alt":null,"id":30260306510075,"position":13,"preview_image":{"aspect_ratio":1.0,"height":800,"width":800,"src":"\/\/www.buttylife.com\/cdn\/shop\/products\/11_77f2bf73-4e82-4d0d-81f9-ddcd8107e7ae.jpg?v=1656481991"}},"requires_selling_plan":false,"selling_plan_allocations":[]},{"id":43232744571131,"title":"black \/ 4XL","option1":"black","option2":"4XL","option3":null,"sku":"UN18494-C020-S051","requires_shipping":true,"taxable":false,"featured_image":{"id":37691359691003,"product_id":7754518036731,"position":13,"created_at":"2022-06-28T19:53:11-10:00","updated_at":"2022-06-28T19:53:11-10:00","alt":null,"width":800,"height":800,"src":"\/\/www.buttylife.com\/cdn\/shop\/products\/11_77f2bf73-4e82-4d0d-81f9-ddcd8107e7ae.jpg?v=1656481991","variant_ids":[43232744407291,43232744440059,43232744472827,43232744505595,43232744538363,43232744571131,43232744603899,43232744636667,43232744669435,43232744702203]},"available":true,"name":"Three-layer Leak-proof Panties for Women - black \/ 4XL","public_title":"black \/ 4XL","options":["black","4XL"],"price":1199,"weight":0,"compare_at_price":2499,"inventory_management":null,"barcode":null,"featured_media":{"alt":null,"id":30260306510075,"position":13,"preview_image":{"aspect_ratio":1.0,"height":800,"width":800,"src":"\/\/www.buttylife.com\/cdn\/shop\/products\/11_77f2bf73-4e82-4d0d-81f9-ddcd8107e7ae.jpg?v=1656481991"}},"requires_selling_plan":false,"selling_plan_allocations":[]},{"id":43232744603899,"title":"black \/ 5XL","option1":"black","option2":"5XL","option3":null,"sku":"UN18494-C020-S052","requires_shipping":true,"taxable":false,"featured_image":{"id":37691359691003,"product_id":7754518036731,"position":13,"created_at":"2022-06-28T19:53:11-10:00","updated_at":"2022-06-28T19:53:11-10:00","alt":null,"width":800,"height":800,"src":"\/\/www.buttylife.com\/cdn\/shop\/products\/11_77f2bf73-4e82-4d0d-81f9-ddcd8107e7ae.jpg?v=1656481991","variant_ids":[43232744407291,43232744440059,43232744472827,43232744505595,43232744538363,43232744571131,43232744603899,43232744636667,43232744669435,43232744702203]},"available":true,"name":"Three-layer Leak-proof Panties for Women - black \/ 5XL","public_title":"black \/ 5XL","options":["black","5XL"],"price":1199,"weight":0,"compare_at_price":2499,"inventory_management":null,"barcode":null,"featured_media":{"alt":null,"id":30260306510075,"position":13,"preview_image":{"aspect_ratio":1.0,"height":800,"width":800,"src":"\/\/www.buttylife.com\/cdn\/shop\/products\/11_77f2bf73-4e82-4d0d-81f9-ddcd8107e7ae.jpg?v=1656481991"}},"requires_selling_plan":false,"selling_plan_allocations":[]},{"id":43232744636667,"title":"black \/ 6XL","option1":"black","option2":"6XL","option3":null,"sku":"UN18494-C020-S095","requires_shipping":true,"taxable":false,"featured_image":{"id":37691359691003,"product_id":7754518036731,"position":13,"created_at":"2022-06-28T19:53:11-10:00","updated_at":"2022-06-28T19:53:11-10:00","alt":null,"width":800,"height":800,"src":"\/\/www.buttylife.com\/cdn\/shop\/products\/11_77f2bf73-4e82-4d0d-81f9-ddcd8107e7ae.jpg?v=1656481991","variant_ids":[43232744407291,43232744440059,43232744472827,43232744505595,43232744538363,43232744571131,43232744603899,43232744636667,43232744669435,43232744702203]},"available":true,"name":"Three-layer Leak-proof Panties for Women - black \/ 6XL","public_title":"black \/ 6XL","options":["black","6XL"],"price":1199,"weight":0,"compare_at_price":2499,"inventory_management":null,"barcode":null,"featured_media":{"alt":null,"id":30260306510075,"position":13,"preview_image":{"aspect_ratio":1.0,"height":800,"width":800,"src":"\/\/www.buttylife.com\/cdn\/shop\/products\/11_77f2bf73-4e82-4d0d-81f9-ddcd8107e7ae.jpg?v=1656481991"}},"requires_selling_plan":false,"selling_plan_allocations":[]},{"id":43232744669435,"title":"black \/ 7XL","option1":"black","option2":"7XL","option3":null,"sku":"UN18494-C020-S5074","requires_shipping":true,"taxable":false,"featured_image":{"id":37691359691003,"product_id":7754518036731,"position":13,"created_at":"2022-06-28T19:53:11-10:00","updated_at":"2022-06-28T19:53:11-10:00","alt":null,"width":800,"height":800,"src":"\/\/www.buttylife.com\/cdn\/shop\/products\/11_77f2bf73-4e82-4d0d-81f9-ddcd8107e7ae.jpg?v=1656481991","variant_ids":[43232744407291,43232744440059,43232744472827,43232744505595,43232744538363,43232744571131,43232744603899,43232744636667,43232744669435,43232744702203]},"available":true,"name":"Three-layer Leak-proof Panties for Women - black \/ 7XL","public_title":"black \/ 7XL","options":["black","7XL"],"price":1199,"weight":0,"compare_at_price":2499,"inventory_management":null,"barcode":null,"featured_media":{"alt":null,"id":30260306510075,"position":13,"preview_image":{"aspect_ratio":1.0,"height":800,"width":800,"src":"\/\/www.buttylife.com\/cdn\/shop\/products\/11_77f2bf73-4e82-4d0d-81f9-ddcd8107e7ae.jpg?v=1656481991"}},"requires_selling_plan":false,"selling_plan_allocations":[]},{"id":43232744702203,"title":"black \/ 8XL","option1":"black","option2":"8XL","option3":null,"sku":"UN18494-C020-S7939","requires_shipping":true,"taxable":false,"featured_image":{"id":37691359691003,"product_id":7754518036731,"position":13,"created_at":"2022-06-28T19:53:11-10:00","updated_at":"2022-06-28T19:53:11-10:00","alt":null,"width":800,"height":800,"src":"\/\/www.buttylife.com\/cdn\/shop\/products\/11_77f2bf73-4e82-4d0d-81f9-ddcd8107e7ae.jpg?v=1656481991","variant_ids":[43232744407291,43232744440059,43232744472827,43232744505595,43232744538363,43232744571131,43232744603899,43232744636667,43232744669435,43232744702203]},"available":true,"name":"Three-layer Leak-proof Panties for Women - black \/ 8XL","public_title":"black \/ 8XL","options":["black","8XL"],"price":1199,"weight":0,"compare_at_price":2499,"inventory_management":null,"barcode":null,"featured_media":{"alt":null,"id":30260306510075,"position":13,"preview_image":{"aspect_ratio":1.0,"height":800,"width":800,"src":"\/\/www.buttylife.com\/cdn\/shop\/products\/11_77f2bf73-4e82-4d0d-81f9-ddcd8107e7ae.jpg?v=1656481991"}},"requires_selling_plan":false,"selling_plan_allocations":[]}],"images":["\/\/www.buttylife.com\/cdn\/shop\/products\/1_2cef14d2-3ea9-4972-8900-fc4ec2e2c3fd.jpg?v=1656481975","\/\/www.buttylife.com\/cdn\/shop\/products\/2_55ba3789-9c74-404f-a08f-441167c7d8fa.jpg?v=1656481975","\/\/www.buttylife.com\/cdn\/shop\/products\/3_1ee7d070-36f9-485e-bc2d-3ade1d614d95.jpg?v=1656481976","\/\/www.buttylife.com\/cdn\/shop\/products\/4_c188137e-954b-4ff2-829e-dec4d7cc8b77.jpg?v=1656481976","\/\/www.buttylife.com\/cdn\/shop\/products\/5_a24a2e09-9ff8-49aa-a390-0eff9bb17058.jpg?v=1656481976","\/\/www.buttylife.com\/cdn\/shop\/products\/6_ab5959af-9faa-4af9-8a6f-b01eb28044fa.jpg?v=1656481976","\/\/www.buttylife.com\/cdn\/shop\/products\/7_0e4eb8f5-3a78-48cc-9053-fd6c1239d292.jpg?v=1656481976","\/\/www.buttylife.com\/cdn\/shop\/products\/8_1dc2808c-88b9-4903-a153-9caf663a41e1.jpg?v=1656481976","\/\/www.buttylife.com\/cdn\/shop\/products\/16_c7ed9e13-2413-4331-bb35-bb7dd324c582.jpg?v=1656481984","\/\/www.buttylife.com\/cdn\/shop\/products\/9_36b9d07d-1cef-48fb-a7e6-eacb3aa779b7.jpg?v=1656481986","\/\/www.buttylife.com\/cdn\/shop\/products\/14_dc1b5aab-3d35-41f9-ad60-aa5acaa0fe02.jpg?v=1656481988","\/\/www.buttylife.com\/cdn\/shop\/products\/12_580993b2-881d-4b0d-aff2-fc64773564d4.jpg?v=1656481990","\/\/www.buttylife.com\/cdn\/shop\/products\/11_77f2bf73-4e82-4d0d-81f9-ddcd8107e7ae.jpg?v=1656481991","\/\/www.buttylife.com\/cdn\/shop\/products\/13_1910e9ff-b1c4-4e5f-bc98-ea00483d5e13.jpg?v=1656481993","\/\/www.buttylife.com\/cdn\/shop\/products\/15_3acf8fae-db0a-4be1-bcf3-35c83e167487.jpg?v=1656481995","\/\/www.buttylife.com\/cdn\/shop\/products\/10_1c71e736-830b-4a39-8473-05e3affbdbcb.jpg?v=1656481997"],"featured_image":"\/\/www.buttylife.com\/cdn\/shop\/products\/1_2cef14d2-3ea9-4972-8900-fc4ec2e2c3fd.jpg?v=1656481975","options":["Color","Size"],"media":[{"alt":null,"id":30260304838907,"position":1,"preview_image":{"aspect_ratio":1.0,"height":800,"width":800,"src":"\/\/www.buttylife.com\/cdn\/shop\/products\/1_2cef14d2-3ea9-4972-8900-fc4ec2e2c3fd.jpg?v=1656481975"},"aspect_ratio":1.0,"height":800,"media_type":"image","src":"\/\/www.buttylife.com\/cdn\/shop\/products\/1_2cef14d2-3ea9-4972-8900-fc4ec2e2c3fd.jpg?v=1656481975","width":800},{"alt":null,"id":30260304871675,"position":2,"preview_image":{"aspect_ratio":1.0,"height":800,"width":800,"src":"\/\/www.buttylife.com\/cdn\/shop\/products\/2_55ba3789-9c74-404f-a08f-441167c7d8fa.jpg?v=1656481975"},"aspect_ratio":1.0,"height":800,"media_type":"image","src":"\/\/www.buttylife.com\/cdn\/shop\/products\/2_55ba3789-9c74-404f-a08f-441167c7d8fa.jpg?v=1656481975","width":800},{"alt":null,"id":30260304904443,"position":3,"preview_image":{"aspect_ratio":1.0,"height":800,"width":800,"src":"\/\/www.buttylife.com\/cdn\/shop\/products\/3_1ee7d070-36f9-485e-bc2d-3ade1d614d95.jpg?v=1656481976"},"aspect_ratio":1.0,"height":800,"media_type":"image","src":"\/\/www.buttylife.com\/cdn\/shop\/products\/3_1ee7d070-36f9-485e-bc2d-3ade1d614d95.jpg?v=1656481976","width":800},{"alt":null,"id":30260304937211,"position":4,"preview_image":{"aspect_ratio":1.0,"height":800,"width":800,"src":"\/\/www.buttylife.com\/cdn\/shop\/products\/4_c188137e-954b-4ff2-829e-dec4d7cc8b77.jpg?v=1656481976"},"aspect_ratio":1.0,"height":800,"media_type":"image","src":"\/\/www.buttylife.com\/cdn\/shop\/products\/4_c188137e-954b-4ff2-829e-dec4d7cc8b77.jpg?v=1656481976","width":800},{"alt":null,"id":30260304969979,"position":5,"preview_image":{"aspect_ratio":1.0,"height":800,"width":800,"src":"\/\/www.buttylife.com\/cdn\/shop\/products\/5_a24a2e09-9ff8-49aa-a390-0eff9bb17058.jpg?v=1656481976"},"aspect_ratio":1.0,"height":800,"media_type":"image","src":"\/\/www.buttylife.com\/cdn\/shop\/products\/5_a24a2e09-9ff8-49aa-a390-0eff9bb17058.jpg?v=1656481976","width":800},{"alt":null,"id":30260305002747,"position":6,"preview_image":{"aspect_ratio":1.0,"height":800,"width":800,"src":"\/\/www.buttylife.com\/cdn\/shop\/products\/6_ab5959af-9faa-4af9-8a6f-b01eb28044fa.jpg?v=1656481976"},"aspect_ratio":1.0,"height":800,"media_type":"image","src":"\/\/www.buttylife.com\/cdn\/shop\/products\/6_ab5959af-9faa-4af9-8a6f-b01eb28044fa.jpg?v=1656481976","width":800},{"alt":null,"id":30260305035515,"position":7,"preview_image":{"aspect_ratio":1.0,"height":800,"width":800,"src":"\/\/www.buttylife.com\/cdn\/shop\/products\/7_0e4eb8f5-3a78-48cc-9053-fd6c1239d292.jpg?v=1656481976"},"aspect_ratio":1.0,"height":800,"media_type":"image","src":"\/\/www.buttylife.com\/cdn\/shop\/products\/7_0e4eb8f5-3a78-48cc-9053-fd6c1239d292.jpg?v=1656481976","width":800},{"alt":null,"id":30260305068283,"position":8,"preview_image":{"aspect_ratio":1.0,"height":800,"width":800,"src":"\/\/www.buttylife.com\/cdn\/shop\/products\/8_1dc2808c-88b9-4903-a153-9caf663a41e1.jpg?v=1656481976"},"aspect_ratio":1.0,"height":800,"media_type":"image","src":"\/\/www.buttylife.com\/cdn\/shop\/products\/8_1dc2808c-88b9-4903-a153-9caf663a41e1.jpg?v=1656481976","width":800},{"alt":null,"id":30260305428731,"position":9,"preview_image":{"aspect_ratio":1.0,"height":800,"width":800,"src":"\/\/www.buttylife.com\/cdn\/shop\/products\/16_c7ed9e13-2413-4331-bb35-bb7dd324c582.jpg?v=1656481984"},"aspect_ratio":1.0,"height":800,"media_type":"image","src":"\/\/www.buttylife.com\/cdn\/shop\/products\/16_c7ed9e13-2413-4331-bb35-bb7dd324c582.jpg?v=1656481984","width":800},{"alt":null,"id":30260305756411,"position":10,"preview_image":{"aspect_ratio":1.0,"height":800,"width":800,"src":"\/\/www.buttylife.com\/cdn\/shop\/products\/9_36b9d07d-1cef-48fb-a7e6-eacb3aa779b7.jpg?v=1656481986"},"aspect_ratio":1.0,"height":800,"media_type":"image","src":"\/\/www.buttylife.com\/cdn\/shop\/products\/9_36b9d07d-1cef-48fb-a7e6-eacb3aa779b7.jpg?v=1656481986","width":800},{"alt":null,"id":30260306149627,"position":11,"preview_image":{"aspect_ratio":1.0,"height":800,"width":800,"src":"\/\/www.buttylife.com\/cdn\/shop\/products\/14_dc1b5aab-3d35-41f9-ad60-aa5acaa0fe02.jpg?v=1656481988"},"aspect_ratio":1.0,"height":800,"media_type":"image","src":"\/\/www.buttylife.com\/cdn\/shop\/products\/14_dc1b5aab-3d35-41f9-ad60-aa5acaa0fe02.jpg?v=1656481988","width":800},{"alt":null,"id":30260306411771,"position":12,"preview_image":{"aspect_ratio":1.0,"height":800,"width":800,"src":"\/\/www.buttylife.com\/cdn\/shop\/products\/12_580993b2-881d-4b0d-aff2-fc64773564d4.jpg?v=1656481990"},"aspect_ratio":1.0,"height":800,"media_type":"image","src":"\/\/www.buttylife.com\/cdn\/shop\/products\/12_580993b2-881d-4b0d-aff2-fc64773564d4.jpg?v=1656481990","width":800},{"alt":null,"id":30260306510075,"position":13,"preview_image":{"aspect_ratio":1.0,"height":800,"width":800,"src":"\/\/www.buttylife.com\/cdn\/shop\/products\/11_77f2bf73-4e82-4d0d-81f9-ddcd8107e7ae.jpg?v=1656481991"},"aspect_ratio":1.0,"height":800,"media_type":"image","src":"\/\/www.buttylife.com\/cdn\/shop\/products\/11_77f2bf73-4e82-4d0d-81f9-ddcd8107e7ae.jpg?v=1656481991","width":800},{"alt":null,"id":30260306804987,"position":14,"preview_image":{"aspect_ratio":1.0,"height":800,"width":800,"src":"\/\/www.buttylife.com\/cdn\/shop\/products\/13_1910e9ff-b1c4-4e5f-bc98-ea00483d5e13.jpg?v=1656481993"},"aspect_ratio":1.0,"height":800,"media_type":"image","src":"\/\/www.buttylife.com\/cdn\/shop\/products\/13_1910e9ff-b1c4-4e5f-bc98-ea00483d5e13.jpg?v=1656481993","width":800},{"alt":null,"id":30260307001595,"position":15,"preview_image":{"aspect_ratio":1.0,"height":800,"width":800,"src":"\/\/www.buttylife.com\/cdn\/shop\/products\/15_3acf8fae-db0a-4be1-bcf3-35c83e167487.jpg?v=1656481995"},"aspect_ratio":1.0,"height":800,"media_type":"image","src":"\/\/www.buttylife.com\/cdn\/shop\/products\/15_3acf8fae-db0a-4be1-bcf3-35c83e167487.jpg?v=1656481995","width":800},{"alt":null,"id":30260307165435,"position":16,"preview_image":{"aspect_ratio":1.0,"height":800,"width":800,"src":"\/\/www.buttylife.com\/cdn\/shop\/products\/10_1c71e736-830b-4a39-8473-05e3affbdbcb.jpg?v=1656481997"},"aspect_ratio":1.0,"height":800,"media_type":"image","src":"\/\/www.buttylife.com\/cdn\/shop\/products\/10_1c71e736-830b-4a39-8473-05e3affbdbcb.jpg?v=1656481997","width":800}],"requires_selling_plan":false,"selling_plan_groups":[],"content":"\u003cp data-mce-fragment=\"1\"\u003e2022 Latest Design,\u003cspan style=\"color: #ec9136;\"\u003e\u003cstrong\u003e quick absorbs and lock Liquids and keep your underwear dry,\u003c\/strong\u003e\u003c\/span\u003e No odor all day long!\u003cbr\u003e\u003cbr\u003e\u003cspan style=\"color: #487e9c;\"\u003e\u003cstrong\u003eLadies...does any of these sound familiar to you?\u003c\/strong\u003e\u003c\/span\u003e\u003cbr\u003e\u003cstrong\u003eIncontinence Issues?\u003c\/strong\u003e\u003cbr\u003e\u003cstrong\u003eHeavy Period Flow?\u003c\/strong\u003e\u003cbr\u003e\u003cstrong\u003eLeaks \u0026amp; Stains?\u003c\/strong\u003e\u003cbr\u003e\u003cbr\u003eAfter my first pregnancy I couldn't laugh or sneeze for a long time without peeing myself…I even had a problem wetting the bed.. and the most inconvenient were my leaks throughout the day at work… sadly nobody knew it but me.\u003cbr\u003e\u003cbr\u003e\u003cspan style=\"color: #487e9c;\"\u003e\u003cstrong\u003eIt's called incontinence and it's actually really common for women of all ages and could be caused by any of the following:\u003c\/strong\u003e\u003c\/span\u003e\u003cbr\u003e\u003cimg data-lazy-loaded=\"1024\" data-lg-size=\"3000x3000\" data-height=\"auto\" data-width=\"100%\" data-gemlang=\"en\" height=\"318\" width=\"480\" alt=\"\" src=\"https:\/\/ucarecdn.com\/96ab873d-2262-44e7-8e0b-cb41d418a52d\/-\/format\/auto\/-\/preview\/1024x1024\/-\/quality\/lighter\/incontinence_causes.jpg\" title=\"\" style=\"display: block; margin-left: auto; margin-right: auto;\" data-mce-fragment=\"1\" data-mce-src=\"https:\/\/ucarecdn.com\/96ab873d-2262-44e7-8e0b-cb41d418a52d\/-\/format\/auto\/-\/preview\/1024x1024\/-\/quality\/lighter\/incontinence_causes.jpg\" data-mce-selected=\"1\"\u003e\u003cbr\u003e\u003cspan style=\"color: #487e9c;\"\u003e\u003cstrong\u003eHow does Leakproof Panties Work?\u003c\/strong\u003e\u003c\/span\u003e\u003cbr\u003eOur panties come with three layers of leak-proof protection material:\u003cbr\u003e\u003cimg src=\"https:\/\/img.cdncloud.top\/uploader\/c6e5a0bdec152723bd7422b54f719cc3.gif\" width=\"481\" height=\"443\" style=\"display: block; margin-left: auto; margin-right: auto;\" data-mce-fragment=\"1\" data-mce-src=\"https:\/\/img.cdncloud.top\/uploader\/c6e5a0bdec152723bd7422b54f719cc3.gif\"\u003e\u003cbr\u003e\u003cspan style=\"color: #ec9136;\"\u003e\u003cstrong\u003eClose to skin:\u003c\/strong\u003e\u003c\/span\u003e Comfortable Fabric Layer\u003cbr\u003eWe make our panties of 92% nylon and 8% spandex\u003cbr\u003e\u003cimg src=\"https:\/\/cdn.cloudfastin.top\/image\/2022\/04\/efd7d9e8446737f4f1a12e8bc4a1282fdd288292f95330c39368bb52ff532776.jpeg\" alt=\"undefined\" width=\"480\" height=\"480\" style=\"display: block; margin-left: auto; margin-right: auto;\" data-mce-fragment=\"1\" data-mce-src=\"https:\/\/cdn.cloudfastin.top\/image\/2022\/04\/efd7d9e8446737f4f1a12e8bc4a1282fdd288292f95330c39368bb52ff532776.jpeg\"\u003e\u003cbr\u003e\u003cspan style=\"color: #ec9136;\"\u003e\u003cstrong\u003eMiddle:\u003c\/strong\u003e \u003c\/span\u003eHygroscopic and Leakproof Layer\u003cbr\u003e2022 Latest development of leak-proof materials, Quick absorbs 30-50 mL of liquid and lock them in, which is equivalent to 2-3 standard tampons or pads. And keep your panties dry at all day!\u003cbr\u003e\u003cimg src=\"https:\/\/img.cdncloud.top\/uploader\/f9dd7b0413e4e01cb6a0623408741ecd.gif\" style=\"display: block; margin-left: auto; margin-right: auto;\" width=\"480\" height=\"600\" data-mce-fragment=\"1\" data-mce-src=\"https:\/\/img.cdncloud.top\/uploader\/f9dd7b0413e4e01cb6a0623408741ecd.gif\"\u003e\u003cbr\u003e\u003cspan style=\"color: #ec9136;\"\u003e\u003cstrong\u003eOutermost Layer:\u003c\/strong\u003e \u003c\/span\u003eBreathable Antibacterial Layer\u003cbr\u003ePanties from odor-suppressing textile that keeps all your smells from spreading.24 hours strong antibacterial, close protection, away from itching\u003cbr\u003e\u003cimg src=\"https:\/\/img.cdncloud.top\/uploader\/48c7bc3a4a89d866f0ca68fd370900f4.jpg\" width=\"481\" height=\"624\" style=\"display: block; margin-left: auto; margin-right: auto;\" data-mce-fragment=\"1\" data-mce-src=\"https:\/\/img.cdncloud.top\/uploader\/48c7bc3a4a89d866f0ca68fd370900f4.jpg\"\u003e\u003cbr\u003ethese stretchy and high-waisted Abs Shaping Pants will flatten your waistline and tummy while giving your booty a nice little boost! With optimal compression that holds everything firmly in place, it will create a flattering silhouette even under the tightest dress!\u003cbr\u003e\u003cimg src=\"https:\/\/img.staticdj.com\/7a62fc1ac1190170c001e9d383ac398d.gif\" style=\"display: block; margin-left: auto; margin-right: auto;\" data-mce-fragment=\"1\" data-mce-src=\"https:\/\/img.staticdj.com\/7a62fc1ac1190170c001e9d383ac398d.gif\"\u003e\u003cbr\u003e\u003cspan style=\"color: #ec9136;\"\u003e\u003cstrong\u003eIt helps tighten your bottom and lift your buttock naturally,\u003c\/strong\u003e\u003c\/span\u003e gives you the curves you want, and makes your butts look bigger, sexier, and more beautiful.\u003cbr\u003e\u003cimg src=\"https:\/\/img.cdncloud.top\/uploader\/ea42bba44f0953e1c5e8b5ff5d936767.jpg\" width=\"480\" height=\"417\" style=\"display: block; margin-left: auto; margin-right: auto;\" data-mce-fragment=\"1\" data-mce-src=\"https:\/\/img.cdncloud.top\/uploader\/ea42bba44f0953e1c5e8b5ff5d936767.jpg\"\u003e\u003cbr\u003e\u003cspan style=\"color: #ec9136;\"\u003e\u003cstrong\u003eWashable \u0026amp; Reusable\u003c\/strong\u003e\u003c\/span\u003e\u003cbr\u003eYou don't need to worry about replacing your leak-proof panties because you can machine-wash them as many times as you want without losing their effectiveness.\u003cbr\u003e\u003cimg src=\"https:\/\/media.giphy.com\/media\/O6Wl7mj7rTTM4dS2HZ\/giphy.gif\" style=\"display: block; margin-left: auto; margin-right: auto;\" width=\"480\" height=\"272\" data-mce-fragment=\"1\" data-mce-src=\"https:\/\/media.giphy.com\/media\/O6Wl7mj7rTTM4dS2HZ\/giphy.gif\"\u003e\u003cbr\u003e\u003cspan style=\"color: #ec9136;\"\u003e\u003cstrong\u003eSAVE THE PLANET. SAVE MONEY TOO.\u003c\/strong\u003e\u003c\/span\u003e\u003cbr\u003ePads and tampons and applicators are the 5th most common plastic found floating in our oceans - that's so deadly for marine life. Most women will use as many as 11,000 disposable menstrual pads and tampons in their lifetime! Over 12 billion tampons and pads are thrown out, 90% of those are made from plastic that cannot be broken down. It takes roughly 600 years for a tampon or pad to degrade in a landfill.\u003cbr\u003e\u003cimg src=\"https:\/\/cdn.hotishop.com\/image\/2022\/03\/524a6effe94479e491fcb9d6504165b81bd9cc375a7f8892c7fb4e40bcce9092.jpeg\" width=\"480\" height=\"270\" style=\"display: block; margin-left: auto; margin-right: auto;\" data-mce-fragment=\"1\" data-mce-src=\"https:\/\/cdn.hotishop.com\/image\/2022\/03\/524a6effe94479e491fcb9d6504165b81bd9cc375a7f8892c7fb4e40bcce9092.jpeg\"\u003e\u003cbr\u003eOur leakproof underwear lasts an average of 3 years which means you're personally eliminating thousands of unnecessarily tossed pads or tampons. Best part? You're saving a bundle of money not buying all those indestructible pads or tampons.\u003c\/p\u003e\n\u003cp data-mce-fragment=\"1\"\u003e\u003cspan style=\"color: #487e9c;\"\u003e\u003cstrong data-mce-fragment=\"1\"\u003eSPECIFICATIONS\u003c\/strong\u003e\u003c\/span\u003e\u003c\/p\u003e\n\u003cul\u003e\n\u003cli\u003e\n\u003cp\u003e\u003cstrong\u003eProduct Type:\u003c\/strong\u003e Underpants\u003c\/p\u003e\n\u003c\/li\u003e\n\u003cli\u003e\n\u003cp\u003e\u003cstrong\u003eGender:\u003c\/strong\u003e Women\u003c\/p\u003e\n\u003c\/li\u003e\n\u003cli\u003e\n\u003cp\u003e\u003cstrong\u003eMaterial:\u003c\/strong\u003e Nylon; Cotton\u003c\/p\u003e\n\u003c\/li\u003e\n\u003cli\u003e\n\u003cp\u003e\u003cstrong\u003eSize:\u003c\/strong\u003e M-8XL\u003c\/p\u003e\n\u003c\/li\u003e\n\u003cli\u003e\n\u003cp\u003e\u003cstrong\u003eColor:\u003c\/strong\u003e 8 options\u003c\/p\u003e\n\u003c\/li\u003e\n\u003cli\u003e\n\u003cp\u003e\u003cstrong\u003ePackage:\u003c\/strong\u003e 1 * Three-layer Leak-proof Pantie\u003c\/p\u003e\n\u003c\/li\u003e\n\u003c\/ul\u003e\n\u003cp data-mce-fragment=\"1\"\u003e\u003cspan style=\"color: #ff2a00;\"\u003e\u003cstrong data-mce-fragment=\"1\"\u003e\u003cimg alt=\"\" src=\"https:\/\/cdn.shopifycdn.net\/s\/files\/1\/0356\/3048\/1544\/files\/c397efc275db80573d0516d5f61c9019_5fd77945-d1ba-41bf-8f9f-d635d6046451_480x480.jpg?v=1625455732\" style=\"display: block; margin-left: auto; margin-right: auto;\"\u003e\u003c\/strong\u003e\u003c\/span\u003e\u003c\/p\u003e\n\u003cp data-mce-fragment=\"1\"\u003e \u003c\/p\u003e"}
Three-layer Leak-proof Panties for Women
Product Description
2022 Latest Design, quick absorbs and lock Liquids and keep your underwear dry, No odor all day long!

Ladies...does any of these sound familiar to you?
Incontinence Issues?
Heavy Period Flow?
Leaks & Stains?

After my first pregnancy I couldn't laugh or sneeze for a long time without peeing myself…I even had a problem wetting the bed.. and the most inconvenient were my leaks throughout the day at work… sadly nobody knew it but me.

It's called incontinence and it's actually really common for women of all ages and could be caused by any of the following: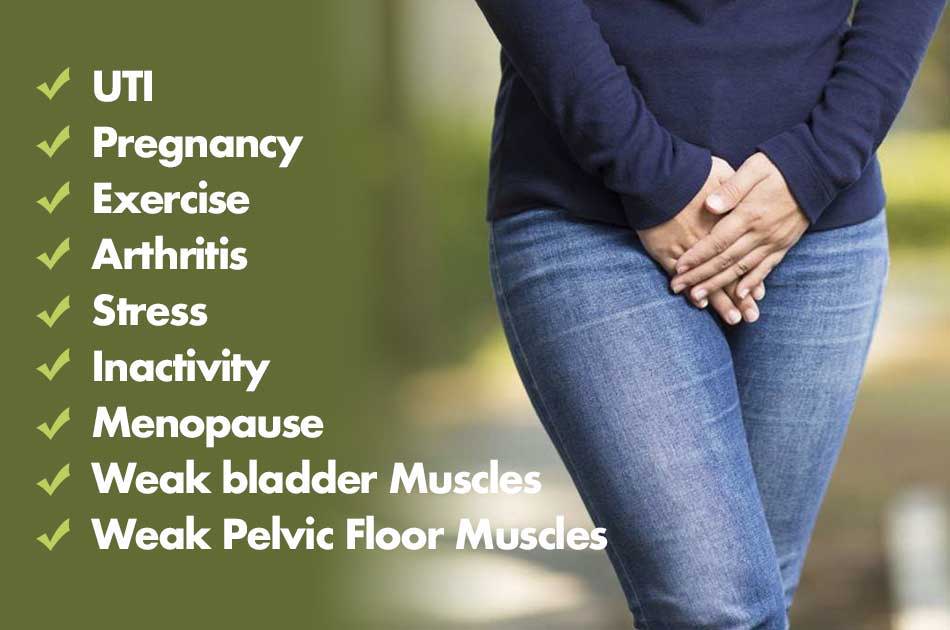 How does Leakproof Panties Work?
Our panties come with three layers of leak-proof protection material:


Close to skin: Comfortable Fabric Layer
We make our panties of 92% nylon and 8% spandex


Middle: Hygroscopic and Leakproof Layer
2022 Latest development of leak-proof materials, Quick absorbs 30-50 mL of liquid and lock them in, which is equivalent to 2-3 standard tampons or pads. And keep your panties dry at all day!


Outermost Layer: Breathable Antibacterial Layer
Panties from odor-suppressing textile that keeps all your smells from spreading.24 hours strong antibacterial, close protection, away from itching


these stretchy and high-waisted Abs Shaping Pants will flatten your waistline and tummy while giving your booty a nice little boost! With optimal compression that holds everything firmly in place, it will create a flattering silhouette even under the tightest dress!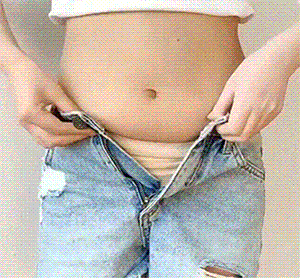 It helps tighten your bottom and lift your buttock naturally, gives you the curves you want, and makes your butts look bigger, sexier, and more beautiful.


Washable & Reusable
You don't need to worry about replacing your leak-proof panties because you can machine-wash them as many times as you want without losing their effectiveness.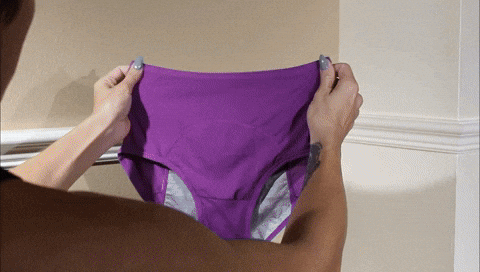 SAVE THE PLANET. SAVE MONEY TOO.
Pads and tampons and applicators are the 5th most common plastic found floating in our oceans - that's so deadly for marine life. Most women will use as many as 11,000 disposable menstrual pads and tampons in their lifetime! Over 12 billion tampons and pads are thrown out, 90% of those are made from plastic that cannot be broken down. It takes roughly 600 years for a tampon or pad to degrade in a landfill.


Our leakproof underwear lasts an average of 3 years which means you're personally eliminating thousands of unnecessarily tossed pads or tampons. Best part? You're saving a bundle of money not buying all those indestructible pads or tampons.
SPECIFICATIONS
Product Type: Underpants

Gender: Women

Material: Nylon; Cotton

Size: M-8XL

Color: 8 options

Package: 1 * Three-layer Leak-proof Pantie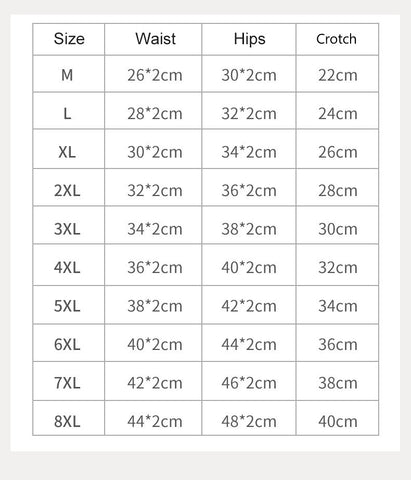 people are currently looking at this product