{"id":7996406104315,"title":"Viking God Guardian Ride Bell Keychain","handle":"viking-god-guardian-ride-bell-keychain","description":"\u003ch3 data-mce-fragment=\"1\"\u003e\u003cspan data-mce-fragment=\"1\" style=\"color: #2b00ff;\"\u003eFEATURES\u003c\/span\u003e\u003c\/h3\u003e\n\u003cul\u003e\n\u003cli\u003e\n\u003cp\u003e\u003cstrong\u003eBe the first to own this unique bell and hang it from the lowest part of your bike and motorcycle to keep the road Gremlins away. Ride Safe!!\u003c\/strong\u003e\u003c\/p\u003e\n\u003c\/li\u003e\n\u003c\/ul\u003e\n\u003cp style=\"text-align: center;\"\u003e\u003cstrong\u003e\u003cimg src=\"https:\/\/cdn.shopifycdn.net\/s\/files\/1\/0356\/3048\/1544\/files\/1_5ac11210-b99b-4239-9be3-6af9000ebcbd_480x480.jpg?v=1669778248\" alt=\"\"\u003e\u003c\/strong\u003e\u003c\/p\u003e\n\u003cul\u003e\n\u003cli\u003e\n\u003cp\u003e\u003cstrong\u003eBells have been used for centuries to repel mischievous spirits and bring good will, luck and blessings.\u003c\/strong\u003eThese bells should be attached anywhere extra love and protection is wanted!Attach them to a keyring, pet, door or gate, or wherever you so choose! Good luck will abound!\u003c\/p\u003e\n\u003c\/li\u003e\n\u003c\/ul\u003e\n\u003cp style=\"text-align: center;\"\u003e\u003cimg src=\"https:\/\/cdn.shopifycdn.net\/s\/files\/1\/0356\/3048\/1544\/files\/2_4969908a-202b-4f53-99cb-ce345ca815ae_480x480.jpg?v=1669778596\" alt=\"\"\u003e\u003c\/p\u003e\n\u003cul\u003e\n\u003cli\u003e\n\u003cp\u003e\u003cstrong\u003eThese amazing high quality and detail, bells come in a variety of styles,\u003c\/strong\u003e but they all have one thing in common: they bring extra good luck to whomever receives them.\u003c\/p\u003e\n\u003c\/li\u003e\n\u003c\/ul\u003e\n\u003ch3 data-mce-fragment=\"1\"\u003e\u003cspan data-mce-fragment=\"1\" style=\"color: #2b00ff;\"\u003eSPECIFICATIONS\u003c\/span\u003e\u003c\/h3\u003e\n\u003cul data-mce-fragment=\"1\"\u003e\n\u003cli data-mce-fragment=\"1\"\u003e\n\u003cp data-mce-fragment=\"1\"\u003e\u003cstrong data-mce-fragment=\"1\"\u003eItem Type:\u003c\/strong\u003e\u003cspan data-mce-fragment=\"1\"\u003e Accessorie\u003c\/span\u003e\u003c\/p\u003e\n\u003c\/li\u003e\n\u003cli data-mce-fragment=\"1\"\u003e\n\u003cp data-mce-fragment=\"1\"\u003e\u003cstrong data-mce-fragment=\"1\"\u003eStyle:\u003c\/strong\u003e\u003cspan data-mce-fragment=\"1\"\u003e Viking\u003c\/span\u003e\u003cbr data-mce-fragment=\"1\"\u003e\u003c\/p\u003e\n\u003c\/li\u003e\n\u003cli data-mce-fragment=\"1\"\u003e\n\u003cp data-mce-fragment=\"1\"\u003e\u003cstrong data-mce-fragment=\"1\"\u003eShape:\u003c\/strong\u003e\u003cspan data-mce-fragment=\"1\"\u003e Face\u003c\/span\u003e\u003cbr data-mce-fragment=\"1\"\u003e\u003c\/p\u003e\n\u003c\/li\u003e\n\u003cli data-mce-fragment=\"1\"\u003e\n\u003cp data-mce-fragment=\"1\"\u003e\u003cstrong data-mce-fragment=\"1\"\u003ePendant material:\u003c\/strong\u003e Metal\u003cbr data-mce-fragment=\"1\"\u003e\u003c\/p\u003e\n\u003c\/li\u003e\n\u003cli data-mce-fragment=\"1\"\u003e\n\u003cp data-mce-fragment=\"1\"\u003e\u003cstrong data-mce-fragment=\"1\"\u003eMaterial:\u003c\/strong\u003e\u003cspan data-mce-fragment=\"1\"\u003e Metal\u003c\/span\u003e\u003cbr data-mce-fragment=\"1\"\u003e\u003c\/p\u003e\n\u003c\/li\u003e\n\u003cli data-mce-fragment=\"1\"\u003e\n\u003cp data-mce-fragment=\"1\"\u003e\u003cstrong data-mce-fragment=\"1\"\u003eCategory:\u003c\/strong\u003e\u003cspan data-mce-fragment=\"1\"\u003e \u003c\/span\u003eKeychain\u003c\/p\u003e\n\u003c\/li\u003e\n\u003cli data-mce-fragment=\"1\"\u003e\n\u003cp data-mce-fragment=\"1\"\u003e\u003cstrong data-mce-fragment=\"1\"\u003eColor:\u003c\/strong\u003e\u003cspan data-mce-fragment=\"1\"\u003e Silver\u003c\/span\u003e\u003c\/p\u003e\n\u003c\/li\u003e\n\u003cli data-mce-fragment=\"1\"\u003e\n\u003cstrong data-mce-fragment=\"1\"\u003eSize:\u003c\/strong\u003e\u003cspan data-mce-fragment=\"1\"\u003e 3*3*4cm \/ 1.2*1.2*1.6in\u003c\/span\u003e\n\u003c\/li\u003e\n\u003c\/ul\u003e\n\u003ch3 data-mce-fragment=\"1\"\u003e\u003cspan data-mce-fragment=\"1\" style=\"color: #2b00ff;\"\u003ePACKAGE\u003c\/span\u003e\u003c\/h3\u003e\n\u003cul data-mce-fragment=\"1\"\u003e\n\u003cli data-mce-fragment=\"1\"\u003e1* Viking God Guardian Ride Bell Keychain\u003c\/li\u003e\n\u003c\/ul\u003e\n\u003ch3 data-mce-fragment=\"1\"\u003e\u003cspan data-mce-fragment=\"1\" style=\"color: #2b00ff;\"\u003e\u003cstrong data-mce-fragment=\"1\"\u003eNOTE\u003c\/strong\u003e\u003c\/span\u003e\u003c\/h3\u003e\n\u003cul data-mce-fragment=\"1\"\u003e\n\u003cli data-mce-fragment=\"1\"\u003e\n\u003cp data-mce-fragment=\"1\"\u003e\u003cspan data-mce-fragment=\"1\"\u003ePlease allow slight measurement deviations due to manual measurement.\u003c\/span\u003e\u003c\/p\u003e\n\u003c\/li\u003e\n\u003cli data-mce-fragment=\"1\"\u003e\n\u003cp data-mce-fragment=\"1\"\u003e\u003cspan data-mce-fragment=\"1\"\u003eDue to the different monitor and light effect, the actual color of the item might be slightly different from the color showed in the pictures.\u003c\/span\u003e\u003c\/p\u003e\n\u003c\/li\u003e\n\u003c\/ul\u003e","published_at":"2022-11-30T04:44:06-10:00","created_at":"2022-11-30T04:44:13-10:00","vendor":"buttylife","type":"","tags":["gift","gifts"],"price":1299,"price_min":1299,"price_max":1299,"available":true,"price_varies":false,"compare_at_price":2499,"compare_at_price_min":2499,"compare_at_price_max":2499,"compare_at_price_varies":false,"variants":[{"id":44164333502715,"title":"Default Title","option1":"Default Title","option2":null,"option3":null,"sku":"CP21714-X16661","requires_shipping":true,"taxable":false,"featured_image":null,"available":true,"name":"Viking God Guardian Ride Bell Keychain","public_title":null,"options":["Default Title"],"price":1299,"weight":0,"compare_at_price":2499,"inventory_management":null,"barcode":"","requires_selling_plan":false,"selling_plan_allocations":[]}],"images":["\/\/www.buttylife.com\/cdn\/shop\/products\/1_64f746e5-cb9b-4c14-9cf5-bbfc4f05ad9b.jpg?v=1669819453","\/\/www.buttylife.com\/cdn\/shop\/products\/2_204319e0-e3a1-4c0c-8f91-9649249f858e.jpg?v=1669819453","\/\/www.buttylife.com\/cdn\/shop\/products\/3_aebb7a06-50f8-4a00-bc5e-21d040ecd5ab.jpg?v=1669819453","\/\/www.buttylife.com\/cdn\/shop\/products\/4_3a819af9-66c7-42c9-8821-bc2ea4fcfdf8.jpg?v=1669819453","\/\/www.buttylife.com\/cdn\/shop\/products\/5_10e72020-4a70-4dec-8e2b-d3506ec11223.jpg?v=1669819453","\/\/www.buttylife.com\/cdn\/shop\/products\/6_b32ac4ff-a71a-4b97-9d25-cdc143949696.jpg?v=1669819453","\/\/www.buttylife.com\/cdn\/shop\/products\/7_93545aea-3eaf-4b85-bd85-a9dacaa24669.jpg?v=1669819453","\/\/www.buttylife.com\/cdn\/shop\/products\/8_c7a28dc1-62e8-499e-af7e-c6545278a2f9.jpg?v=1669819453","\/\/www.buttylife.com\/cdn\/shop\/products\/baidi_ade949a5-1367-478c-a725-dd004d72e014.jpg?v=1669819453","\/\/www.buttylife.com\/cdn\/shop\/products\/9f51552b11f9d48d1aa47638aceefcfb_131ed079-5d40-45dd-99ce-36bcc2e54f28.jpg?v=1669819453","\/\/www.buttylife.com\/cdn\/shop\/products\/2_6799f8ff-9487-4d95-8bc1-bc3133ea9d1d.jpg?v=1669819453"],"featured_image":"\/\/www.buttylife.com\/cdn\/shop\/products\/1_64f746e5-cb9b-4c14-9cf5-bbfc4f05ad9b.jpg?v=1669819453","options":["Title"],"media":[{"alt":null,"id":31396491198715,"position":1,"preview_image":{"aspect_ratio":1.0,"height":800,"width":800,"src":"\/\/www.buttylife.com\/cdn\/shop\/products\/1_64f746e5-cb9b-4c14-9cf5-bbfc4f05ad9b.jpg?v=1669819453"},"aspect_ratio":1.0,"height":800,"media_type":"image","src":"\/\/www.buttylife.com\/cdn\/shop\/products\/1_64f746e5-cb9b-4c14-9cf5-bbfc4f05ad9b.jpg?v=1669819453","width":800},{"alt":null,"id":31396491231483,"position":2,"preview_image":{"aspect_ratio":1.0,"height":800,"width":800,"src":"\/\/www.buttylife.com\/cdn\/shop\/products\/2_204319e0-e3a1-4c0c-8f91-9649249f858e.jpg?v=1669819453"},"aspect_ratio":1.0,"height":800,"media_type":"image","src":"\/\/www.buttylife.com\/cdn\/shop\/products\/2_204319e0-e3a1-4c0c-8f91-9649249f858e.jpg?v=1669819453","width":800},{"alt":null,"id":31396491264251,"position":3,"preview_image":{"aspect_ratio":1.0,"height":800,"width":800,"src":"\/\/www.buttylife.com\/cdn\/shop\/products\/3_aebb7a06-50f8-4a00-bc5e-21d040ecd5ab.jpg?v=1669819453"},"aspect_ratio":1.0,"height":800,"media_type":"image","src":"\/\/www.buttylife.com\/cdn\/shop\/products\/3_aebb7a06-50f8-4a00-bc5e-21d040ecd5ab.jpg?v=1669819453","width":800},{"alt":null,"id":31396491297019,"position":4,"preview_image":{"aspect_ratio":1.0,"height":800,"width":800,"src":"\/\/www.buttylife.com\/cdn\/shop\/products\/4_3a819af9-66c7-42c9-8821-bc2ea4fcfdf8.jpg?v=1669819453"},"aspect_ratio":1.0,"height":800,"media_type":"image","src":"\/\/www.buttylife.com\/cdn\/shop\/products\/4_3a819af9-66c7-42c9-8821-bc2ea4fcfdf8.jpg?v=1669819453","width":800},{"alt":null,"id":31396491329787,"position":5,"preview_image":{"aspect_ratio":1.0,"height":800,"width":800,"src":"\/\/www.buttylife.com\/cdn\/shop\/products\/5_10e72020-4a70-4dec-8e2b-d3506ec11223.jpg?v=1669819453"},"aspect_ratio":1.0,"height":800,"media_type":"image","src":"\/\/www.buttylife.com\/cdn\/shop\/products\/5_10e72020-4a70-4dec-8e2b-d3506ec11223.jpg?v=1669819453","width":800},{"alt":null,"id":31396491362555,"position":6,"preview_image":{"aspect_ratio":1.0,"height":800,"width":800,"src":"\/\/www.buttylife.com\/cdn\/shop\/products\/6_b32ac4ff-a71a-4b97-9d25-cdc143949696.jpg?v=1669819453"},"aspect_ratio":1.0,"height":800,"media_type":"image","src":"\/\/www.buttylife.com\/cdn\/shop\/products\/6_b32ac4ff-a71a-4b97-9d25-cdc143949696.jpg?v=1669819453","width":800},{"alt":null,"id":31396491395323,"position":7,"preview_image":{"aspect_ratio":1.0,"height":800,"width":800,"src":"\/\/www.buttylife.com\/cdn\/shop\/products\/7_93545aea-3eaf-4b85-bd85-a9dacaa24669.jpg?v=1669819453"},"aspect_ratio":1.0,"height":800,"media_type":"image","src":"\/\/www.buttylife.com\/cdn\/shop\/products\/7_93545aea-3eaf-4b85-bd85-a9dacaa24669.jpg?v=1669819453","width":800},{"alt":null,"id":31396491428091,"position":8,"preview_image":{"aspect_ratio":1.0,"height":800,"width":800,"src":"\/\/www.buttylife.com\/cdn\/shop\/products\/8_c7a28dc1-62e8-499e-af7e-c6545278a2f9.jpg?v=1669819453"},"aspect_ratio":1.0,"height":800,"media_type":"image","src":"\/\/www.buttylife.com\/cdn\/shop\/products\/8_c7a28dc1-62e8-499e-af7e-c6545278a2f9.jpg?v=1669819453","width":800},{"alt":null,"id":31396491460859,"position":9,"preview_image":{"aspect_ratio":1.0,"height":800,"width":800,"src":"\/\/www.buttylife.com\/cdn\/shop\/products\/baidi_ade949a5-1367-478c-a725-dd004d72e014.jpg?v=1669819453"},"aspect_ratio":1.0,"height":800,"media_type":"image","src":"\/\/www.buttylife.com\/cdn\/shop\/products\/baidi_ade949a5-1367-478c-a725-dd004d72e014.jpg?v=1669819453","width":800},{"alt":null,"id":31396491493627,"position":10,"preview_image":{"aspect_ratio":1.0,"height":800,"width":800,"src":"\/\/www.buttylife.com\/cdn\/shop\/products\/9f51552b11f9d48d1aa47638aceefcfb_131ed079-5d40-45dd-99ce-36bcc2e54f28.jpg?v=1669819453"},"aspect_ratio":1.0,"height":800,"media_type":"image","src":"\/\/www.buttylife.com\/cdn\/shop\/products\/9f51552b11f9d48d1aa47638aceefcfb_131ed079-5d40-45dd-99ce-36bcc2e54f28.jpg?v=1669819453","width":800},{"alt":null,"id":31396491526395,"position":11,"preview_image":{"aspect_ratio":1.0,"height":800,"width":800,"src":"\/\/www.buttylife.com\/cdn\/shop\/products\/2_6799f8ff-9487-4d95-8bc1-bc3133ea9d1d.jpg?v=1669819453"},"aspect_ratio":1.0,"height":800,"media_type":"image","src":"\/\/www.buttylife.com\/cdn\/shop\/products\/2_6799f8ff-9487-4d95-8bc1-bc3133ea9d1d.jpg?v=1669819453","width":800}],"requires_selling_plan":false,"selling_plan_groups":[],"content":"\u003ch3 data-mce-fragment=\"1\"\u003e\u003cspan data-mce-fragment=\"1\" style=\"color: #2b00ff;\"\u003eFEATURES\u003c\/span\u003e\u003c\/h3\u003e\n\u003cul\u003e\n\u003cli\u003e\n\u003cp\u003e\u003cstrong\u003eBe the first to own this unique bell and hang it from the lowest part of your bike and motorcycle to keep the road Gremlins away. Ride Safe!!\u003c\/strong\u003e\u003c\/p\u003e\n\u003c\/li\u003e\n\u003c\/ul\u003e\n\u003cp style=\"text-align: center;\"\u003e\u003cstrong\u003e\u003cimg src=\"https:\/\/cdn.shopifycdn.net\/s\/files\/1\/0356\/3048\/1544\/files\/1_5ac11210-b99b-4239-9be3-6af9000ebcbd_480x480.jpg?v=1669778248\" alt=\"\"\u003e\u003c\/strong\u003e\u003c\/p\u003e\n\u003cul\u003e\n\u003cli\u003e\n\u003cp\u003e\u003cstrong\u003eBells have been used for centuries to repel mischievous spirits and bring good will, luck and blessings.\u003c\/strong\u003eThese bells should be attached anywhere extra love and protection is wanted!Attach them to a keyring, pet, door or gate, or wherever you so choose! Good luck will abound!\u003c\/p\u003e\n\u003c\/li\u003e\n\u003c\/ul\u003e\n\u003cp style=\"text-align: center;\"\u003e\u003cimg src=\"https:\/\/cdn.shopifycdn.net\/s\/files\/1\/0356\/3048\/1544\/files\/2_4969908a-202b-4f53-99cb-ce345ca815ae_480x480.jpg?v=1669778596\" alt=\"\"\u003e\u003c\/p\u003e\n\u003cul\u003e\n\u003cli\u003e\n\u003cp\u003e\u003cstrong\u003eThese amazing high quality and detail, bells come in a variety of styles,\u003c\/strong\u003e but they all have one thing in common: they bring extra good luck to whomever receives them.\u003c\/p\u003e\n\u003c\/li\u003e\n\u003c\/ul\u003e\n\u003ch3 data-mce-fragment=\"1\"\u003e\u003cspan data-mce-fragment=\"1\" style=\"color: #2b00ff;\"\u003eSPECIFICATIONS\u003c\/span\u003e\u003c\/h3\u003e\n\u003cul data-mce-fragment=\"1\"\u003e\n\u003cli data-mce-fragment=\"1\"\u003e\n\u003cp data-mce-fragment=\"1\"\u003e\u003cstrong data-mce-fragment=\"1\"\u003eItem Type:\u003c\/strong\u003e\u003cspan data-mce-fragment=\"1\"\u003e Accessorie\u003c\/span\u003e\u003c\/p\u003e\n\u003c\/li\u003e\n\u003cli data-mce-fragment=\"1\"\u003e\n\u003cp data-mce-fragment=\"1\"\u003e\u003cstrong data-mce-fragment=\"1\"\u003eStyle:\u003c\/strong\u003e\u003cspan data-mce-fragment=\"1\"\u003e Viking\u003c\/span\u003e\u003cbr data-mce-fragment=\"1\"\u003e\u003c\/p\u003e\n\u003c\/li\u003e\n\u003cli data-mce-fragment=\"1\"\u003e\n\u003cp data-mce-fragment=\"1\"\u003e\u003cstrong data-mce-fragment=\"1\"\u003eShape:\u003c\/strong\u003e\u003cspan data-mce-fragment=\"1\"\u003e Face\u003c\/span\u003e\u003cbr data-mce-fragment=\"1\"\u003e\u003c\/p\u003e\n\u003c\/li\u003e\n\u003cli data-mce-fragment=\"1\"\u003e\n\u003cp data-mce-fragment=\"1\"\u003e\u003cstrong data-mce-fragment=\"1\"\u003ePendant material:\u003c\/strong\u003e Metal\u003cbr data-mce-fragment=\"1\"\u003e\u003c\/p\u003e\n\u003c\/li\u003e\n\u003cli data-mce-fragment=\"1\"\u003e\n\u003cp data-mce-fragment=\"1\"\u003e\u003cstrong data-mce-fragment=\"1\"\u003eMaterial:\u003c\/strong\u003e\u003cspan data-mce-fragment=\"1\"\u003e Metal\u003c\/span\u003e\u003cbr data-mce-fragment=\"1\"\u003e\u003c\/p\u003e\n\u003c\/li\u003e\n\u003cli data-mce-fragment=\"1\"\u003e\n\u003cp data-mce-fragment=\"1\"\u003e\u003cstrong data-mce-fragment=\"1\"\u003eCategory:\u003c\/strong\u003e\u003cspan data-mce-fragment=\"1\"\u003e \u003c\/span\u003eKeychain\u003c\/p\u003e\n\u003c\/li\u003e\n\u003cli data-mce-fragment=\"1\"\u003e\n\u003cp data-mce-fragment=\"1\"\u003e\u003cstrong data-mce-fragment=\"1\"\u003eColor:\u003c\/strong\u003e\u003cspan data-mce-fragment=\"1\"\u003e Silver\u003c\/span\u003e\u003c\/p\u003e\n\u003c\/li\u003e\n\u003cli data-mce-fragment=\"1\"\u003e\n\u003cstrong data-mce-fragment=\"1\"\u003eSize:\u003c\/strong\u003e\u003cspan data-mce-fragment=\"1\"\u003e 3*3*4cm \/ 1.2*1.2*1.6in\u003c\/span\u003e\n\u003c\/li\u003e\n\u003c\/ul\u003e\n\u003ch3 data-mce-fragment=\"1\"\u003e\u003cspan data-mce-fragment=\"1\" style=\"color: #2b00ff;\"\u003ePACKAGE\u003c\/span\u003e\u003c\/h3\u003e\n\u003cul data-mce-fragment=\"1\"\u003e\n\u003cli data-mce-fragment=\"1\"\u003e1* Viking God Guardian Ride Bell Keychain\u003c\/li\u003e\n\u003c\/ul\u003e\n\u003ch3 data-mce-fragment=\"1\"\u003e\u003cspan data-mce-fragment=\"1\" style=\"color: #2b00ff;\"\u003e\u003cstrong data-mce-fragment=\"1\"\u003eNOTE\u003c\/strong\u003e\u003c\/span\u003e\u003c\/h3\u003e\n\u003cul data-mce-fragment=\"1\"\u003e\n\u003cli data-mce-fragment=\"1\"\u003e\n\u003cp data-mce-fragment=\"1\"\u003e\u003cspan data-mce-fragment=\"1\"\u003ePlease allow slight measurement deviations due to manual measurement.\u003c\/span\u003e\u003c\/p\u003e\n\u003c\/li\u003e\n\u003cli data-mce-fragment=\"1\"\u003e\n\u003cp data-mce-fragment=\"1\"\u003e\u003cspan data-mce-fragment=\"1\"\u003eDue to the different monitor and light effect, the actual color of the item might be slightly different from the color showed in the pictures.\u003c\/span\u003e\u003c\/p\u003e\n\u003c\/li\u003e\n\u003c\/ul\u003e"}
Viking God Guardian Ride Bell Keychain
Product Description
FEATURES
Be the first to own this unique bell and hang it from the lowest part of your bike and motorcycle to keep the road Gremlins away. Ride Safe!!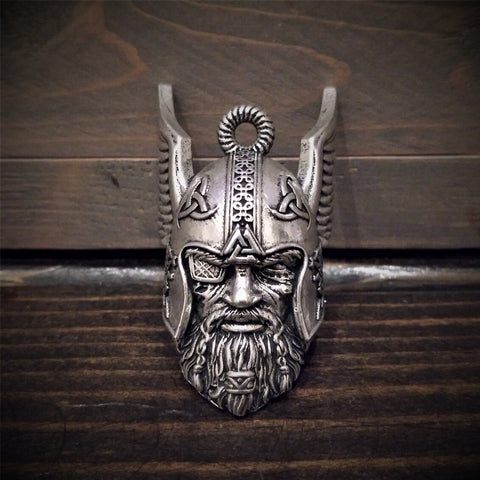 Bells have been used for centuries to repel mischievous spirits and bring good will, luck and blessings.These bells should be attached anywhere extra love and protection is wanted!Attach them to a keyring, pet, door or gate, or wherever you so choose! Good luck will abound!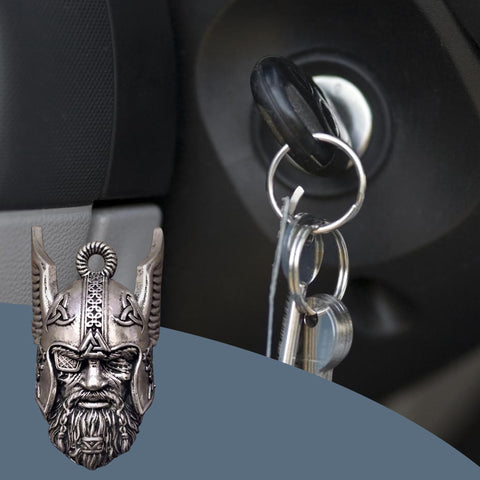 These amazing high quality and detail, bells come in a variety of styles, but they all have one thing in common: they bring extra good luck to whomever receives them.
SPECIFICATIONS
Item Type: Accessorie

Style: Viking


Shape: Face


Pendant material: Metal


Material: Metal


Category: Keychain

Color: Silver

Size:

 3*3*4cm / 1.2*1.2*1.6in
PACKAGE
1* Viking God Guardian Ride Bell Keychain
NOTE
Please allow slight measurement deviations due to manual measurement.

Due to the different monitor and light effect, the actual color of the item might be slightly different from the color showed in the pictures.
people are currently looking at this product